Our vacation is over, we're back in NYC and I'm seriously jet lagged. I've heard that it takes one day for each hour time difference. So, I should be fine by the time I post this. But meanwhile, I wake up in the morning (which would really be the evening in Lisbon or Italy) with a strong desire for a bowl of pasta or a heaping dish of cod fish-potato casserole accompanied by fresh spring Italian cherry tomatoes and a hearty glass of wine. Not your normal breakfast craving. But, you see my appetite is all turned around, dinner for breakfast and breakfast food for dinner.
Though when I think about Lisbon and the food I discovered there, one specialty item settles softly on my memory palate, the Pastel de nata and those I could eat morning, noon or night. They are small, sweet egg custard pies and they were sold everywhere.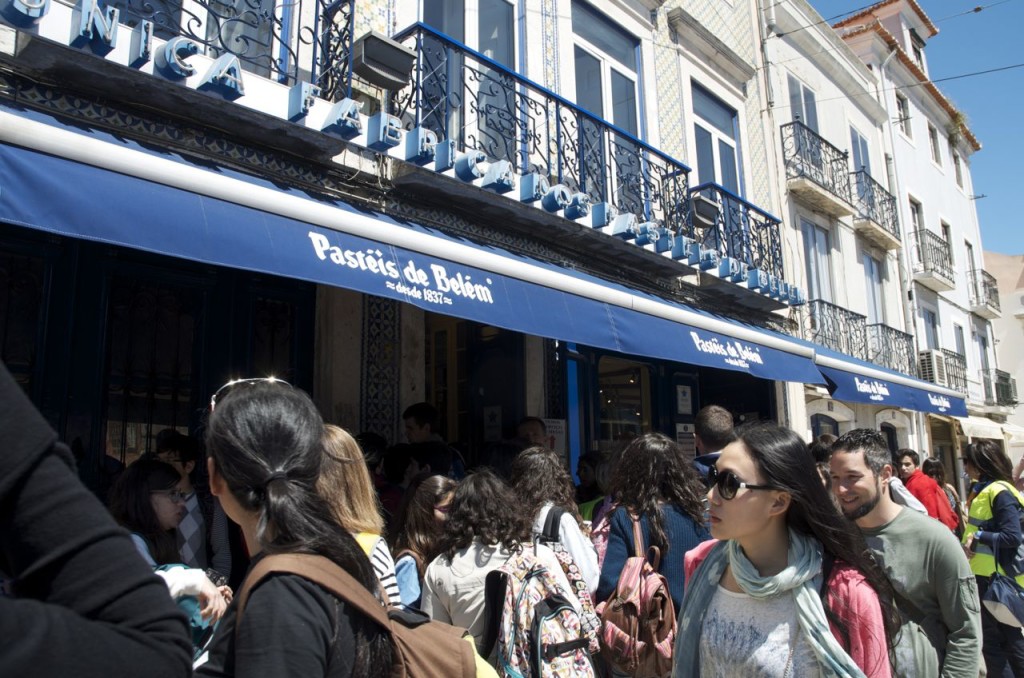 We took a long bus ride halfway across Lisbon to the Belem district to seek out a bakery that we were told made the best Pastel de nata in the city and therefore the world. We were also told to prepare to wait in line to purchase them. They were right about the hordes of people because when the bus passed 'Pasteis de Belem' there indeed was a long line of eager customers snaking, zig-zag fashion in front of the bakery, making it nearly impossible for a passersby to use the sidewalk. There was even a traffic cop to manage the crowd. And yes, they were the best little desserts that I had ever tasted.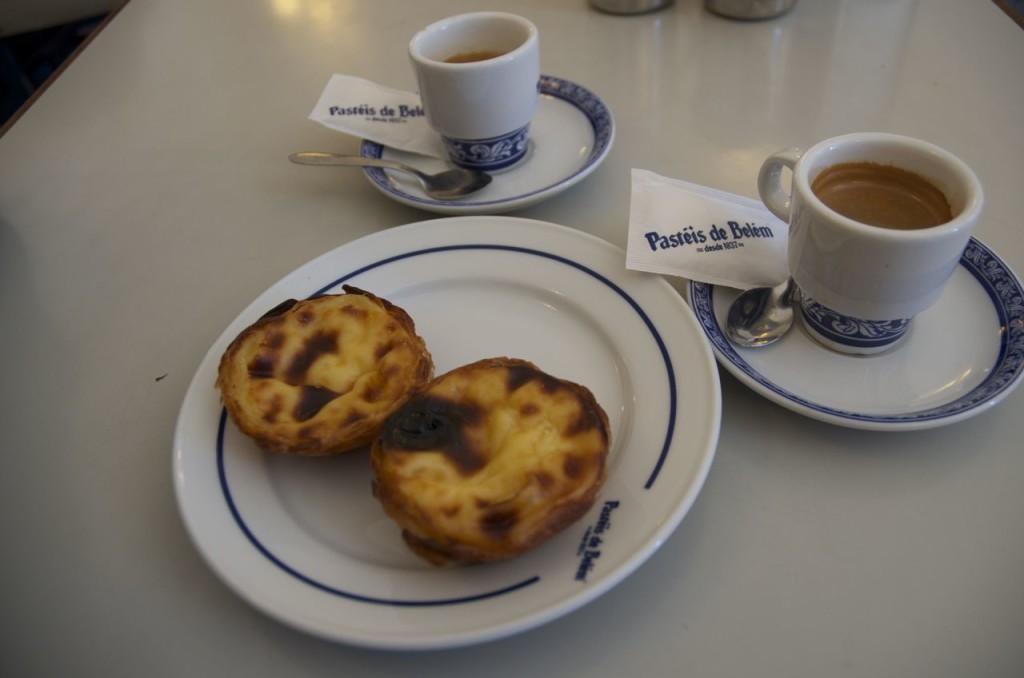 These little goodies are deceptively unassuming treats. They do not have a gooey facade of decadent dripping sweetness. They are not draped in a chocolate ganache or decorated with garish colored sugar. In fact, each little dessert has a unique scorched spot and for a dessert they almost look naked. When the waiter brought these treats to the table he also brought two tin shakers, one with powered sugar and one with cinnamon and the diner was expected to adorn the desserts with as much extra flavor as they wished. Shoppers by the hundreds come to this bakery daily and the place is so busy preparing these little egg custard pies that they arrive so heavenly warm that even after the first bite this dessert remains at a near body temperature while you sip a cup of espresso.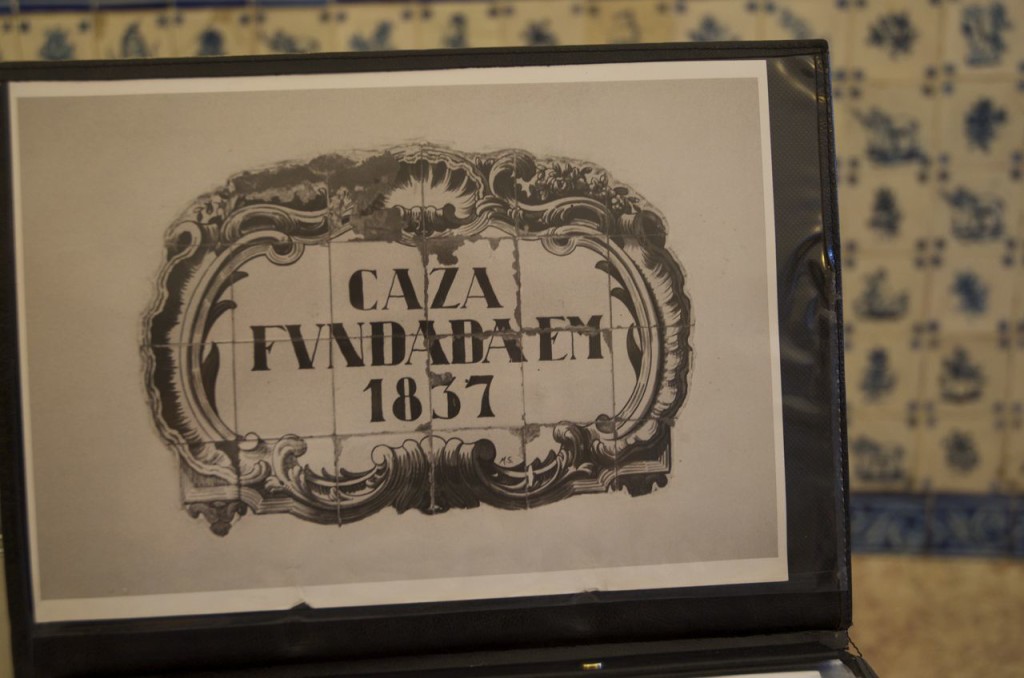 The pastel de nata were originally prepared by Catholic monks at the Jeronimos Monastery before the 18th century. Back then convents and monasteries used large quantities of egg-whites for starching clothes, such as nun's habits. It became quite common for monasteries and convents to use the leftover egg yolks to make cakes and pastries, resulting in a wide assortment of sweet pastry recipes throughout the country.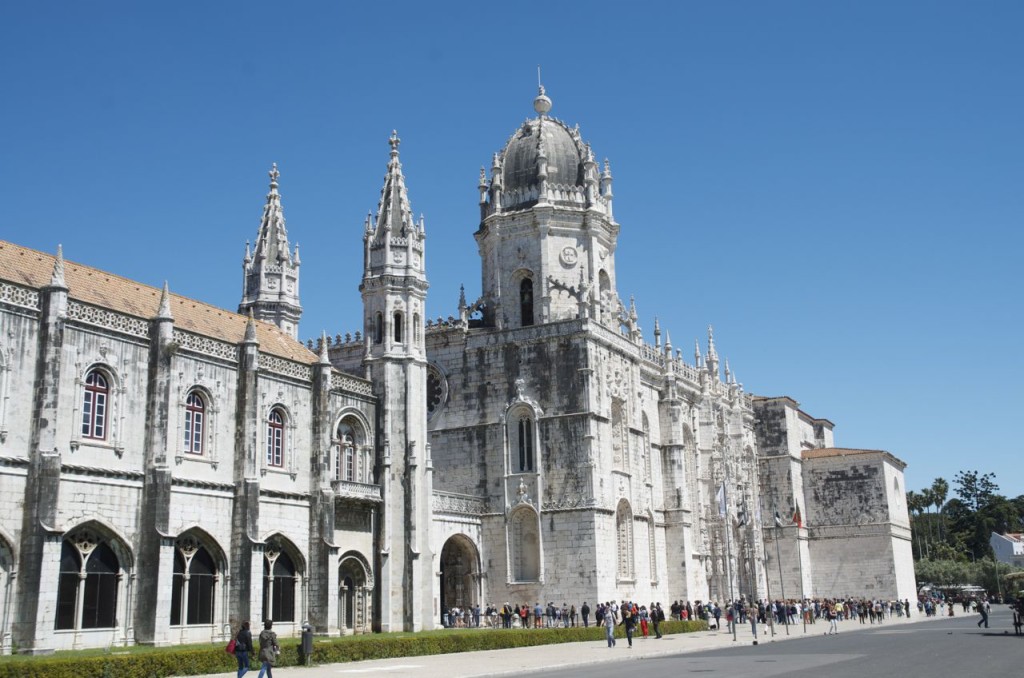 Then in 1820, after the Liberal Revolution, and with the threat of the extinction of religious orders and the impending closing of many convents and monasteries, monks at Mosteiro do Jeronimos (now a UNESCO world Heritage site) began selling pastes de nata at a nearby sugar refinery to secure some revenue. May 28, 1834 marked the dissolution of all monasteries in Portugal and the property of 500 male monastic orders became nationalized. When the Mosteiro dos Jeronimos was closed the recipe for pastel de nata was sold to the sugar refinery, whose owners in 1837 opened the Fabrica de Pasteis de Belem. The descendants of the bakery continue to own the business to this day.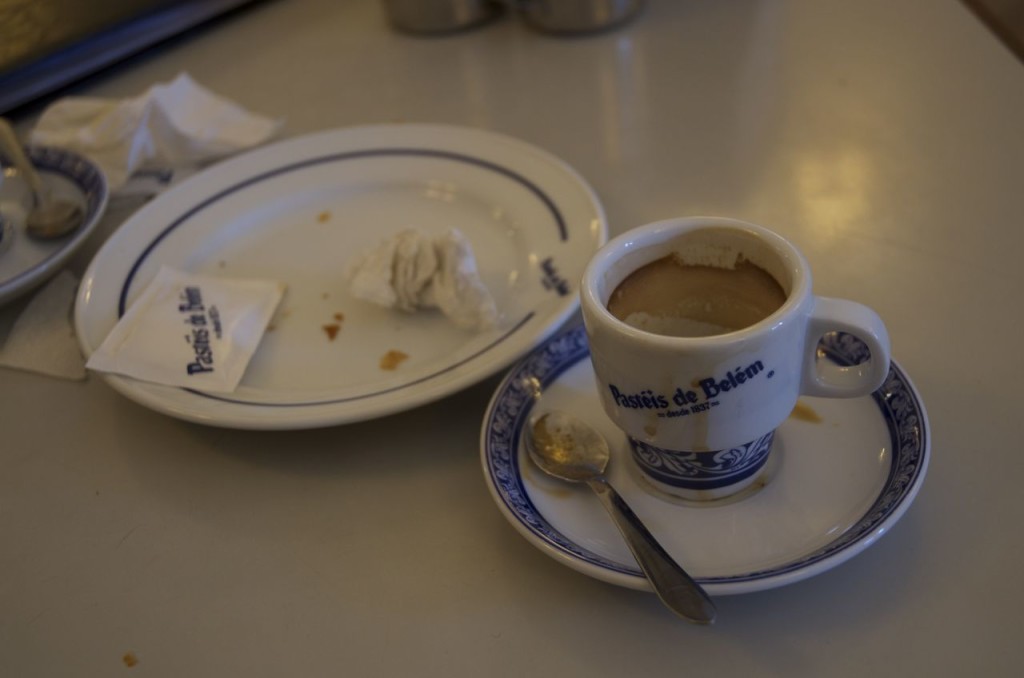 It's not difficult to finish these luscious egg tarts in a couple of bites and the accompanying three or four tablespoons of strong espresso in a few sips. Then what?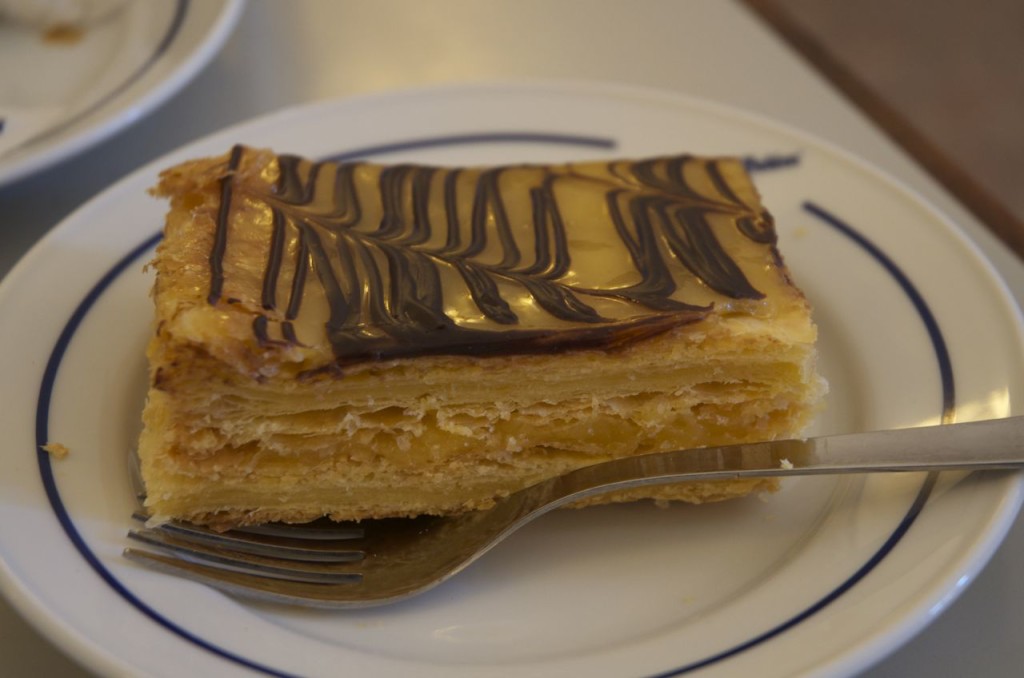 Well, you order another round of pastel de nata or you order something else and don't forget to get another demitasse of rich espresso. I next ordered a Napoleon type dessert. This looked totally sumptuous and it came without the customary cream and instead was layered with a luscious filling of what tasted very similar to the custard in the pastel de nata.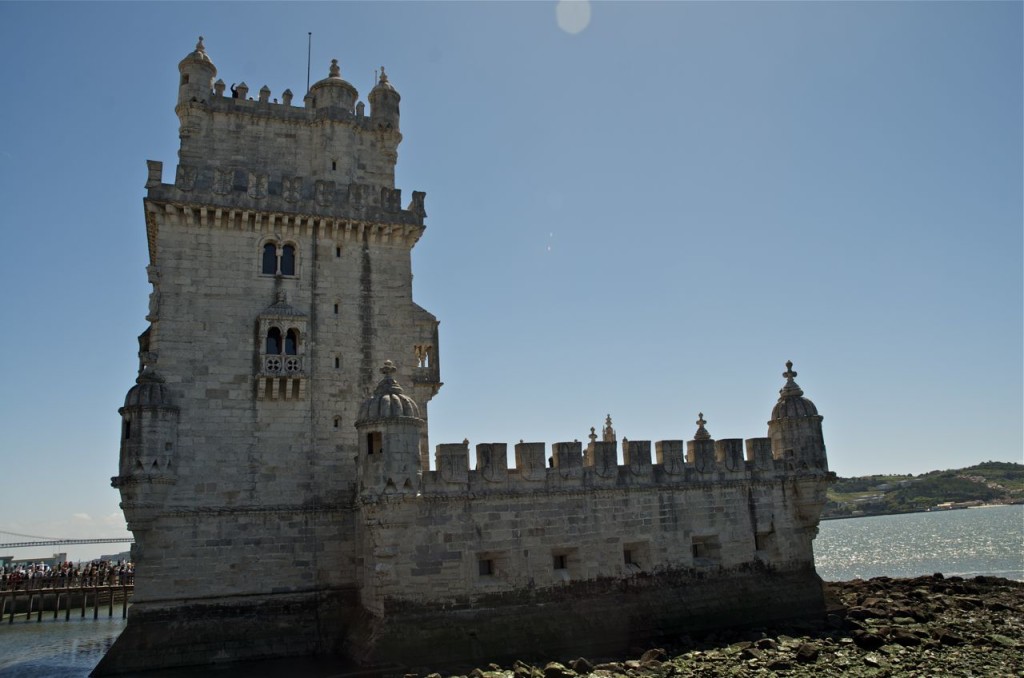 A short walk from the bakery is the Torre de Belem, a tower commissioned in 1514 by Manuel I to stand as a fortress in the middle of the Tagus River. This had once been the starting point for the navigators who set out to discover trade routes and to explore the world. This structure soon became a symbol of Portugal's great era of expansion. Over the years the river has receded and the tower now sits on the rocky shores of the Tagus River instead of in the middle of a roaring body of water. The tower that had once housed the king as he blessed the vessels that sailed off into the new and exciting world, now hosts busloads of tourists.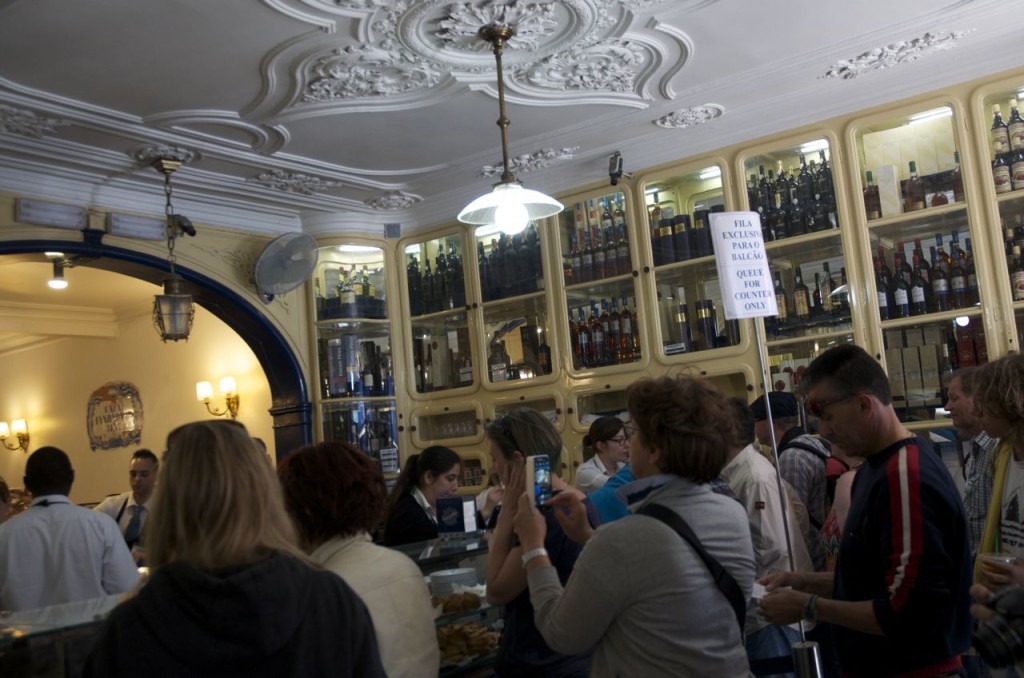 I took a walk about in the Fabrica de Pasteis de Belem to get a look at all that it had to offer. There was not just desserts to be had by the masses that crowd into this bakery, but local wines, olive oil and other yummy sweet treats were for sale, as well.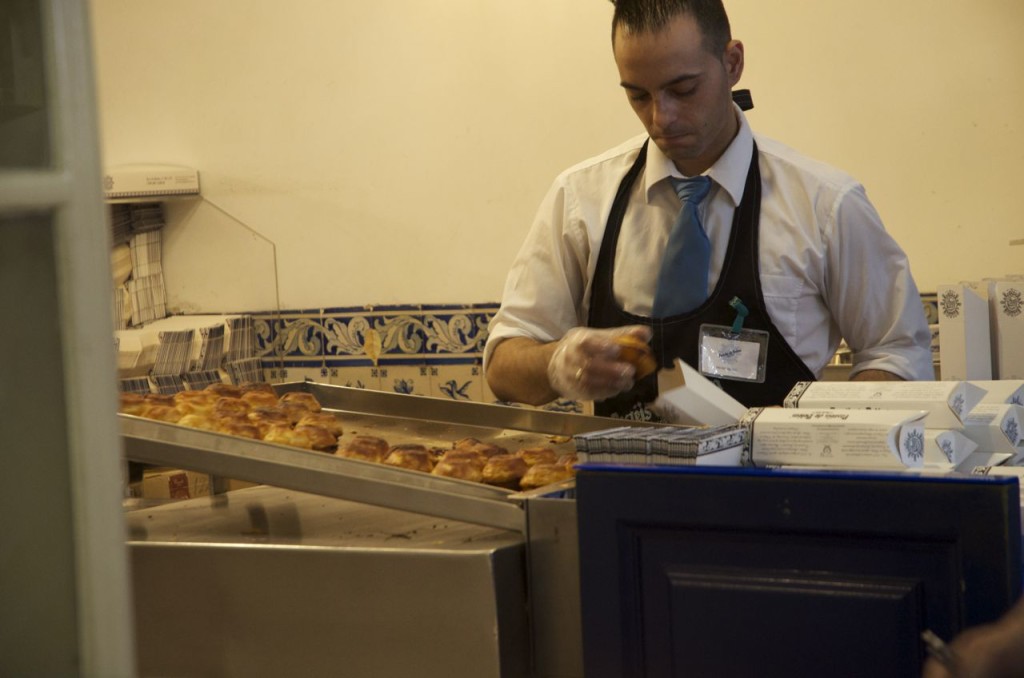 I watched the many trays of pastel de nata being brought out from the back room. Each little delicacy was hand packed into the specially designed carry-away boxes. I've heard that the recipe for this dessert is a closely guarded secret and though this is not a regular custard made from cornstarch and eggs, no one will disclose the secret ingredients or special techniques required to make these delicious goodies. But I have read that it might have something to do with the oven's high temperature. Which would explain the lusciously scorched tops.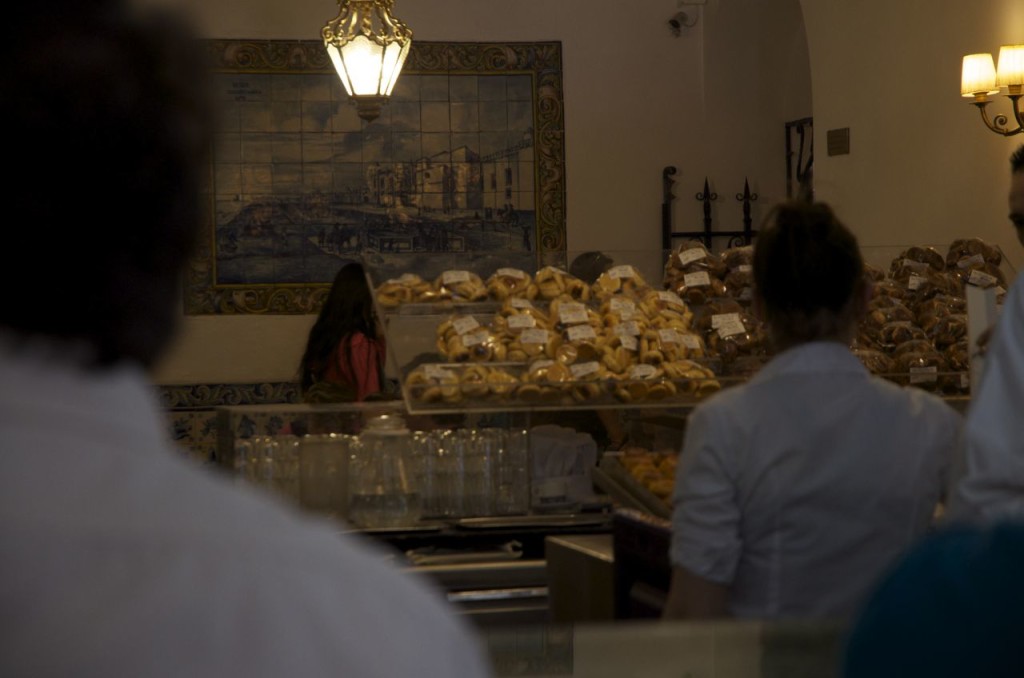 But I do know that there are hundreds and hundreds of these pastries sold every day. I thought about bringing some home with me, but even if the custom's officer would let me bring a bag of them onto the airplane, I'm afraid they'd be a mess by the time they reached NYC. For now I'll just have to sit in my stupefied jet lagged state and let this dessert remain one of those dreamy experiences that comes from traveling  to new and exciting places.