Our decision to downsize to a smaller apartment has resulted in sifting, sorting, donating, and disposing of a variety of personal items. What I wasn't expecting, though I shouldn't be that surprised, is the level of emotional debris that's getting stirred up in this process.
In a very old plastic bag I found Dolly. I hadn't seen this little treasure in I don't know how many years, but when I saw her broken body, the one remaining arm and her mussed hair I couldn't believe the tenderness that swelled up in me.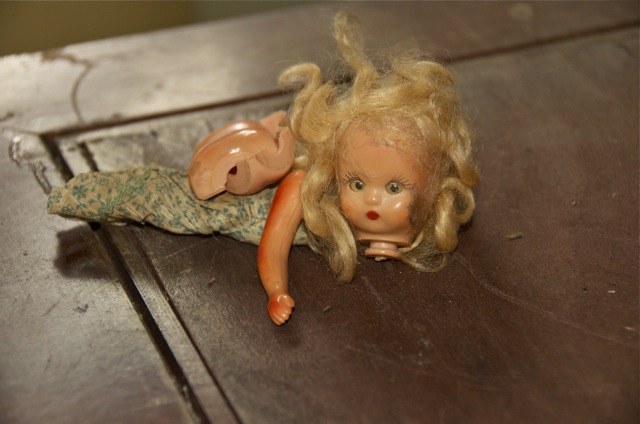 Mom and dad gave me Dolly years and years ago. I was never a doll-kind-of-girl, preferring to draw and fiddle with paper and pencil or dig in the dirt, though for some reason this little plastic creature has stayed with me all these years. She has long ago lost both legs and one arm while her dress, though discolored by time and dirty fingers, does not have one ripped seam or tear.
Dolly was in a box with other items; a cobalt blue Shirley Temple pitcher, various antique cups, crystal candy dishes and slipped in between these breakable items was mom's old make-up and lipstick case.
It is a Yardley product from the 50's and there is still a blob of brilliant red lipstick in the tube. The twisting mechanism no longer works but I could not believe how when I stuck my nose close to the thing that the smell of my mother struck me smack in my memory bone!!! Sweet and powdery, it was an unmistakable odor.
Mom was a quiet woman and I associate that sweet smell with her gentleness. She never left the house without her smear of lipstick, even if her hair was wrapped in curlers. Her pocketbook smelled, too, of this powdery goodness.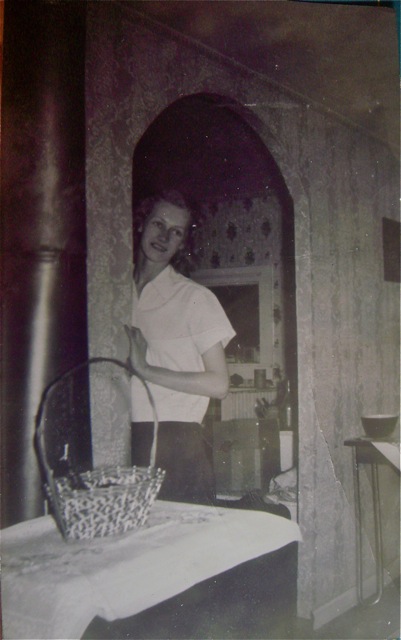 I found photos that dad took of mom when my sister and I were very young. He captured something in those images of mom that I can, even today, get in touch with though I have no memories of actually being present when he clicked the shutter on his Brownie Camera. But that soft, sweet sense is there. And she is wearing her red lipstick.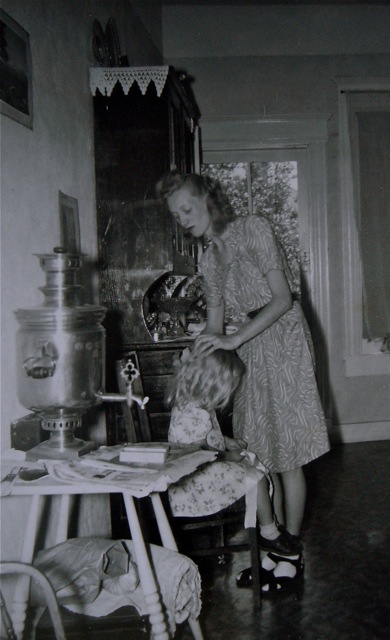 Over the years life got difficult for my parents; joblessness and hard times made them brittle and the odor of cigarettes and chewing gum got mixed in with mom's Yardley sweetness.
I'm making so many decisions these days with the move about what to discard but I have to realize that it's not the memories that are being disposed of, only the possessions.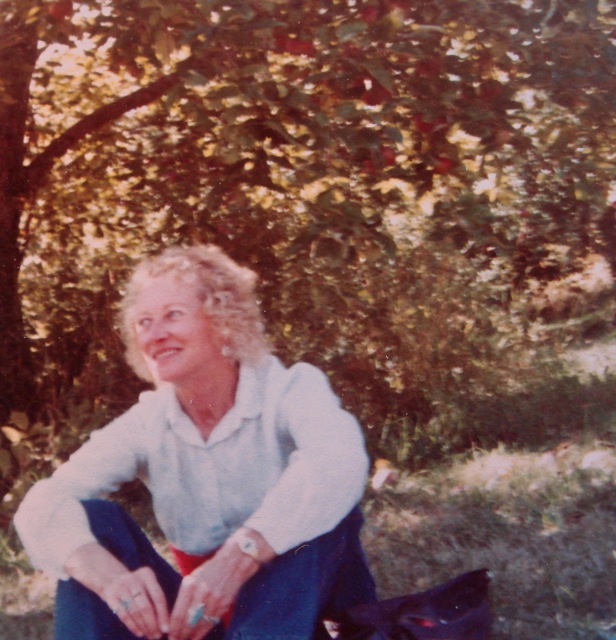 I found a photo of mom in her later years, looking younger and happier than she had for a long time. She's sitting under an apple tree, her hair newly permed, wearing her favorite turquois rings. And I can see that her preference for lipstick has changed to a softer bright shade of pink.