It's mid-December. The weather outside today is dreary, cold and it looks like New York was saved from a major winter storm that crept across the USA heading to the East coast. Miraculously it by-passed us. I get nostalgic about summer when the cold weather sets in, remembering the green, flowering gardens, children running and playing in the parks. I think about all the fun things we did in the sweltering heat; picnics, sitting under a shade tree in the park eating ice cream watching people walk by, and this summer we traveled out to Coney Island where we viewed the Mermaid Parade on a beastly hot day in July.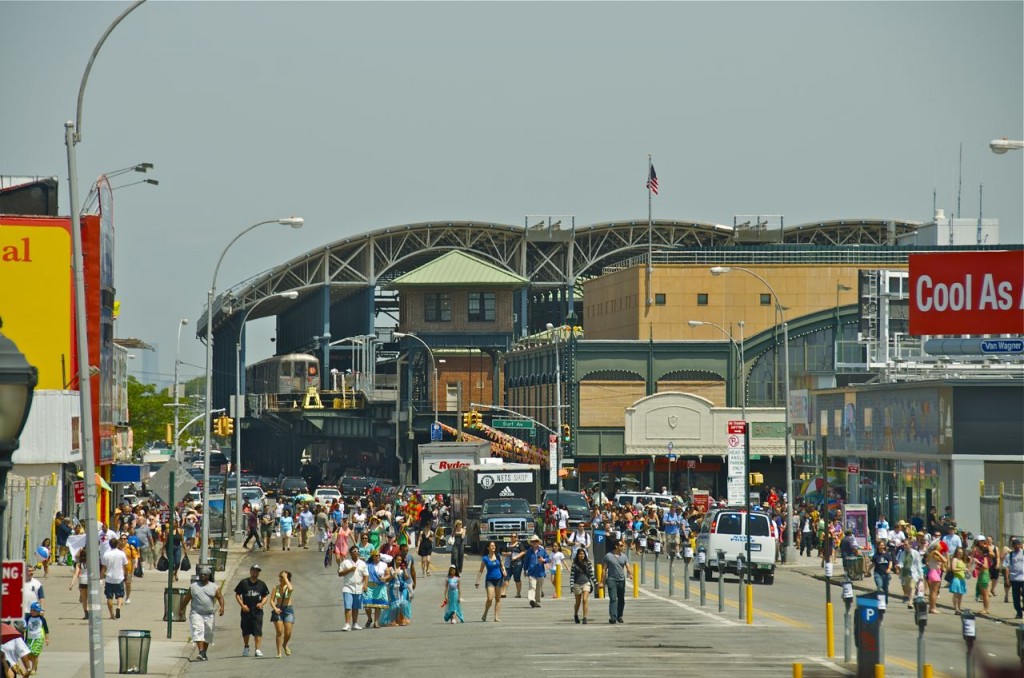 The trip on the subway took a little over an hour. It would have taken us longer if we'd gone by car because we'd have to find parking once we got there. Taking the D Train was a perfect solution. We weren't the only ones on the train. Everyone in this photograph had just exited the train station and was headed for the boardwalk.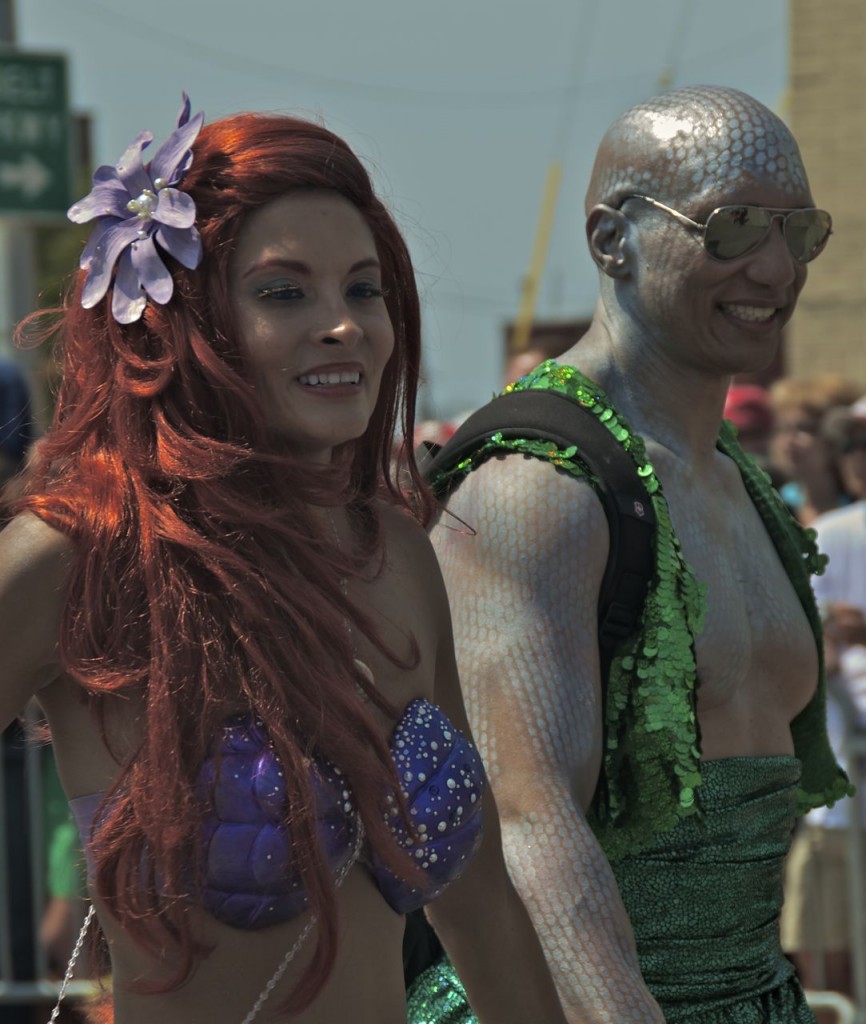 The streets were filled with couples dressed for the occasion.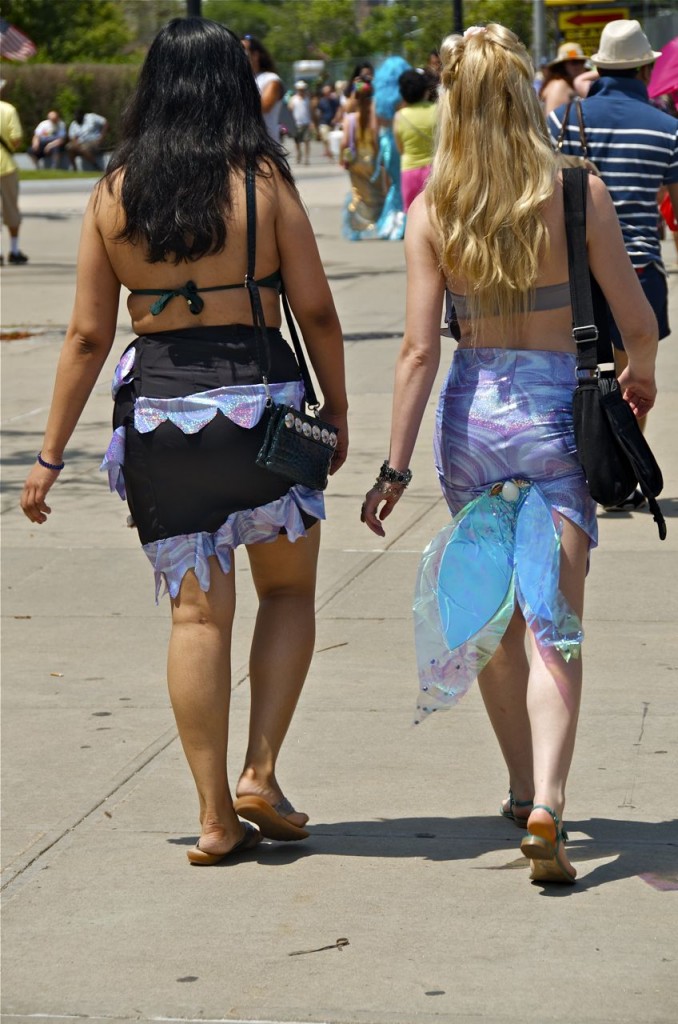 When some folks walk along the sidewalk they had their own personalized swagger and wiggle.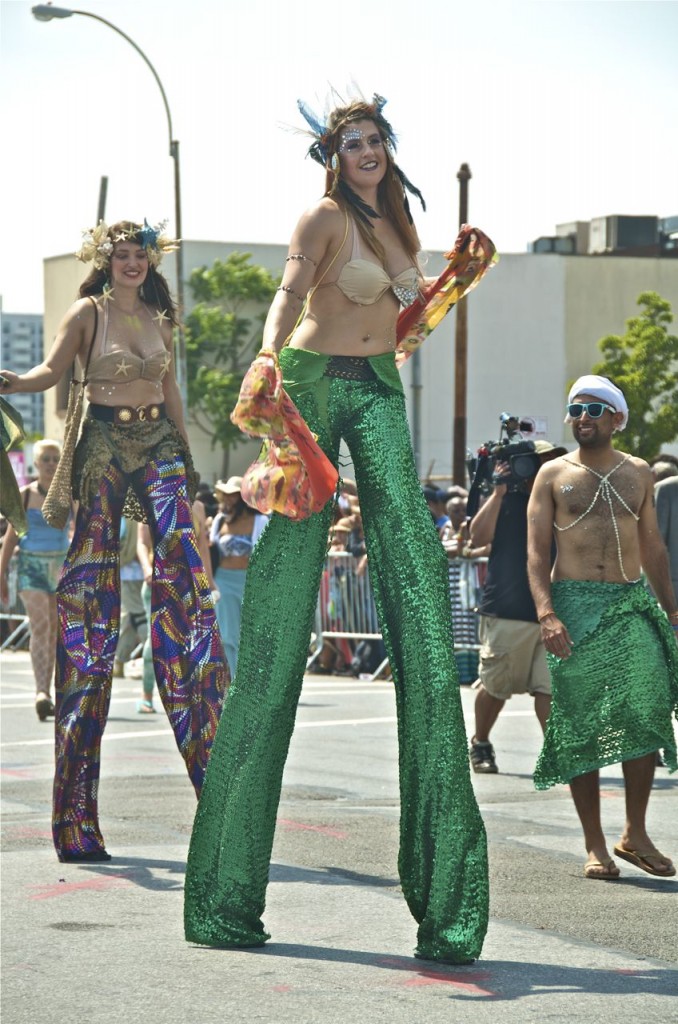 A couple ladies reinterpreted the concept of high stepp'in!!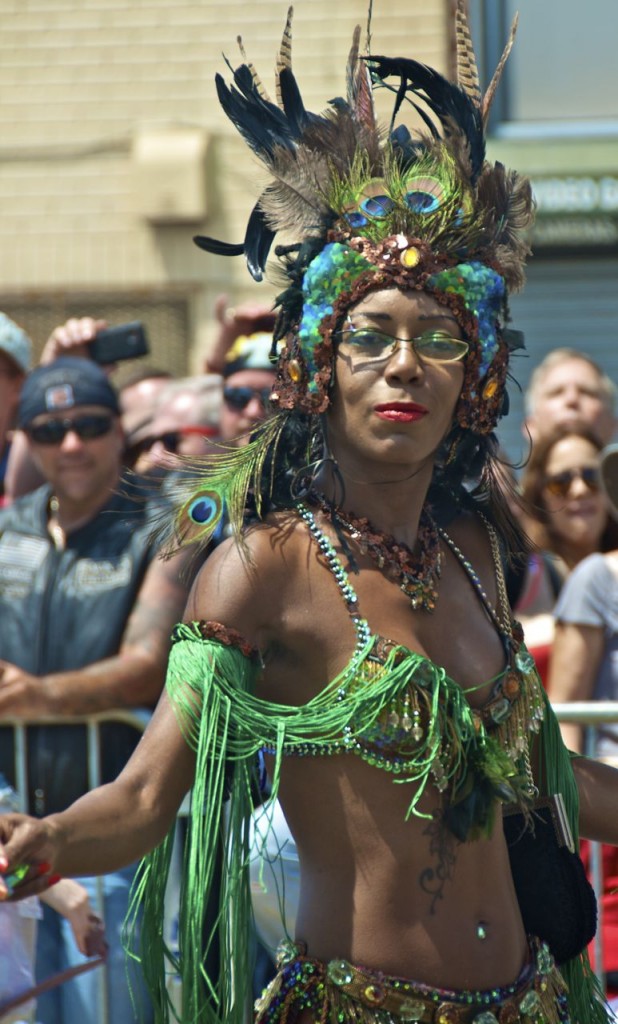 Hats, not just costumes, were part of the parade, too.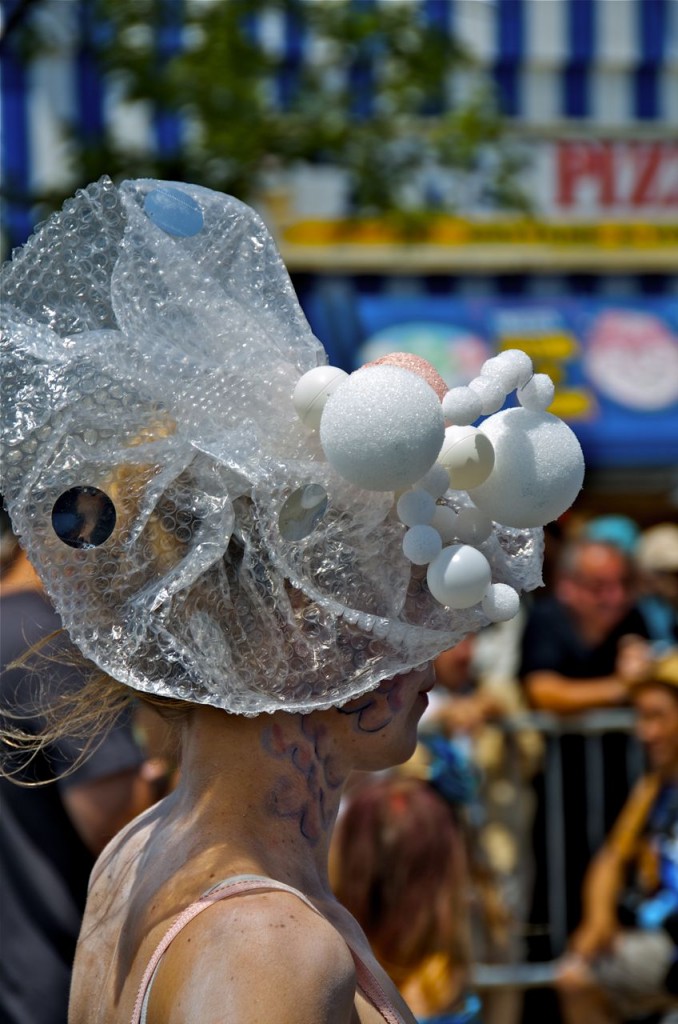 Who needs velvet and jewels when there's bubble wrap and Styrofoam balls to design with.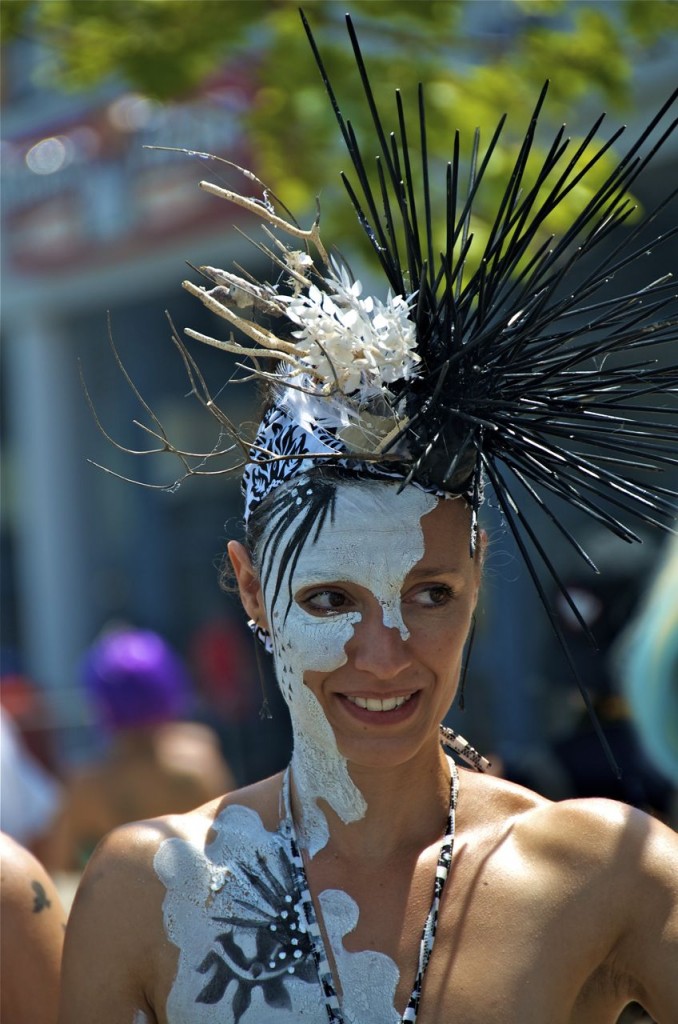 Here is a sea urchin beauty.

Bedazzled in green and a garden of earthly delight flowers.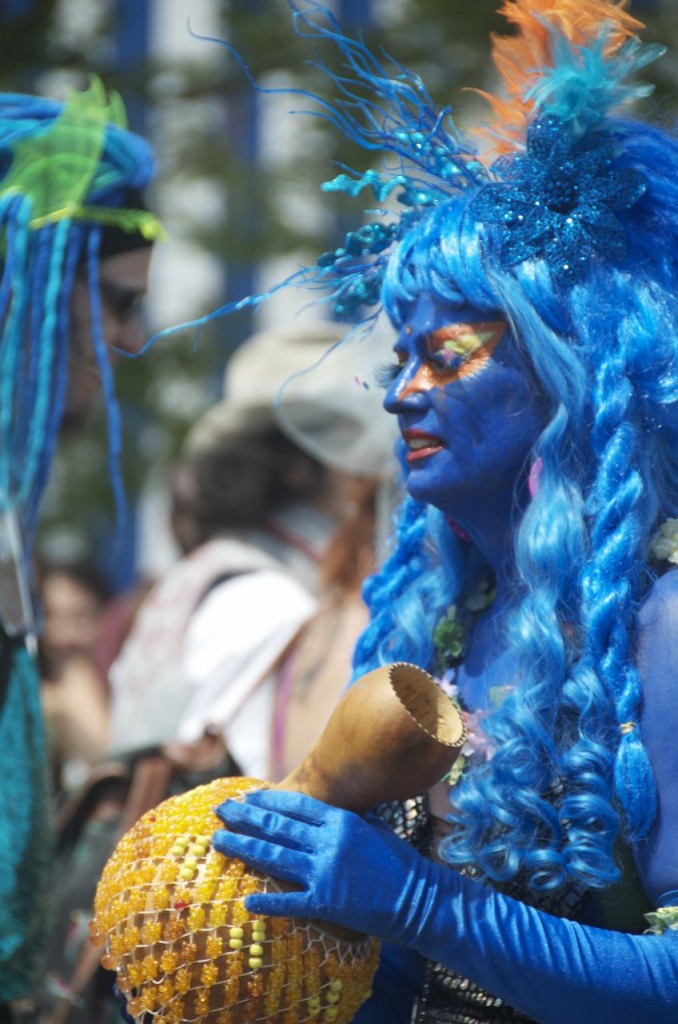 Put on your blue dancing shoes and join the parade.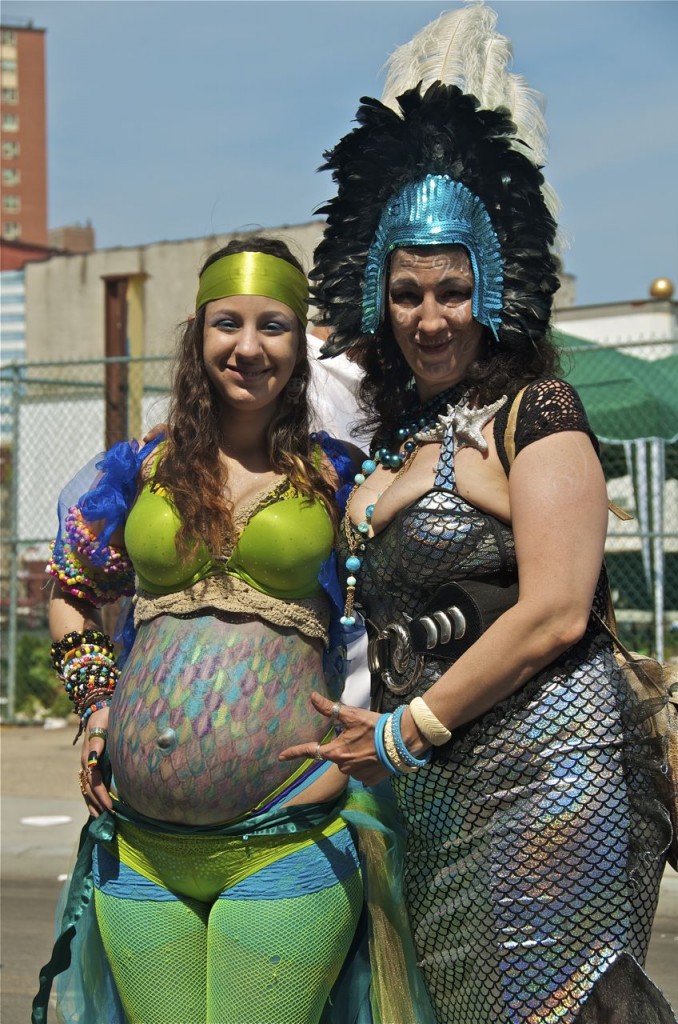 Bring your baby to the Mermaid Parade Day.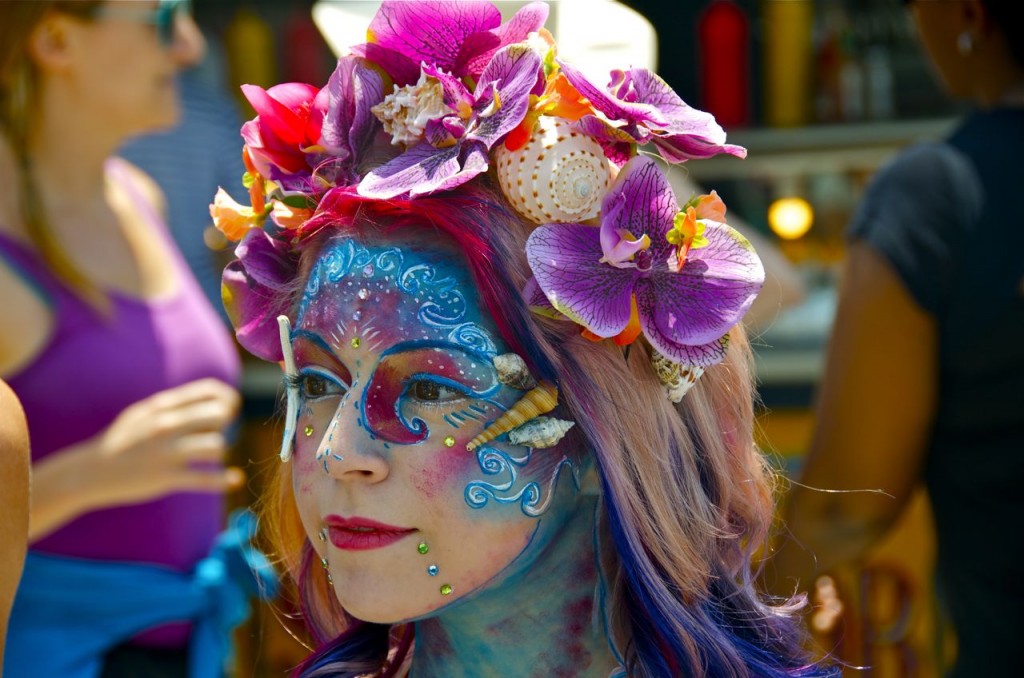 Pretty painted lady.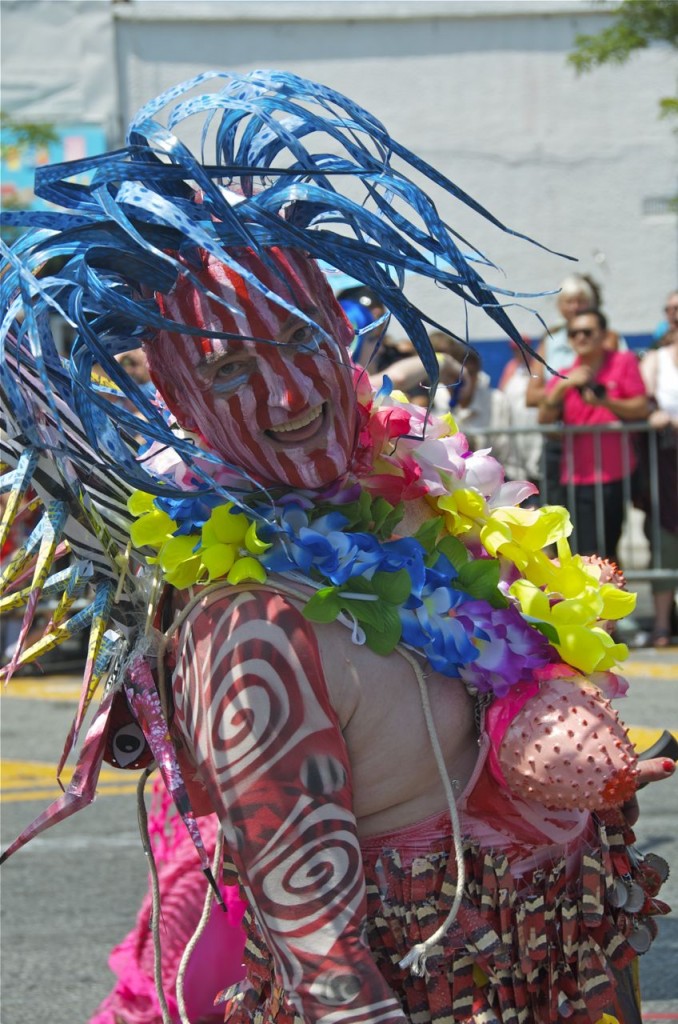 The guys got into the spirit, too. Not sure what the theme is here, but he flaunted, pranced and strutted with the best.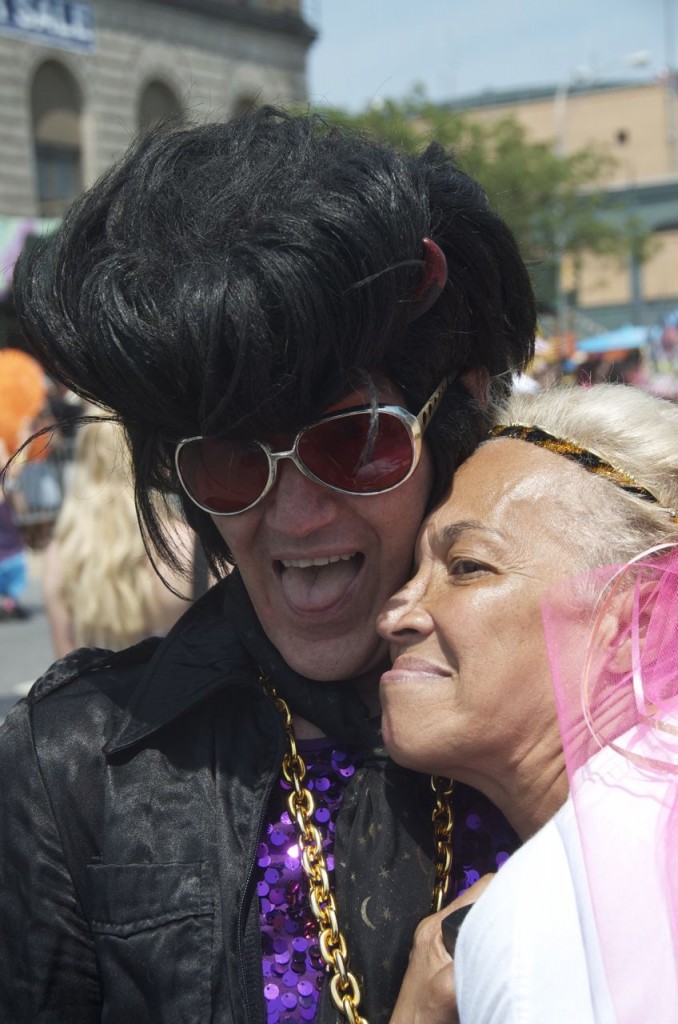 Elvis as a devil showed up. The woman standing next to me went crazy when she saw this guy coming towards us. They kissed and hugged as if they were old friends. Perhaps they were.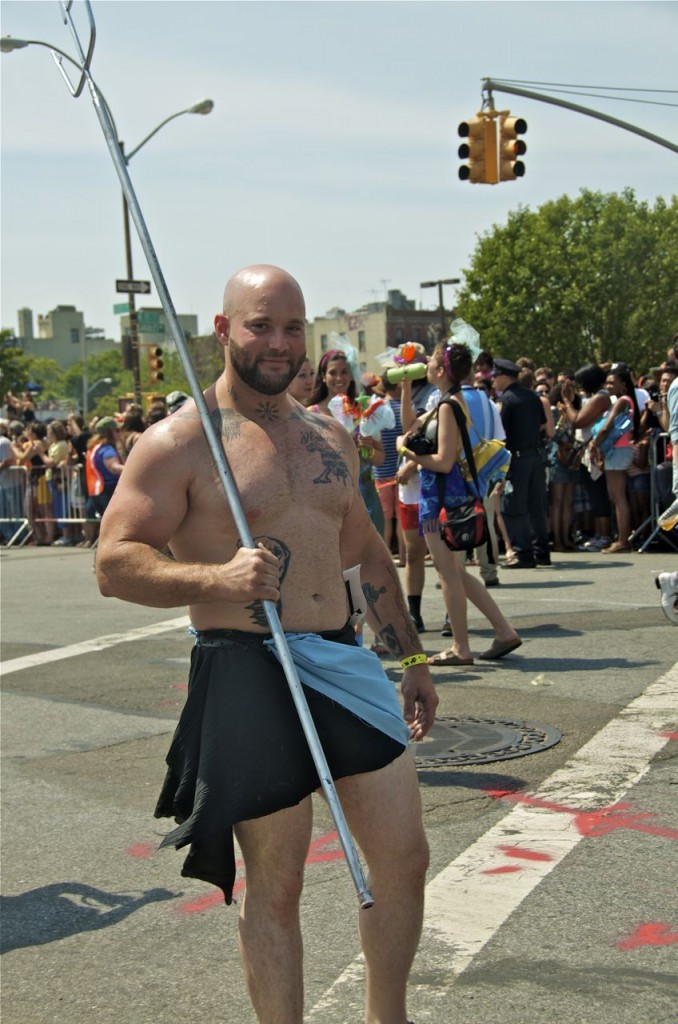 There were several Neptunes. But this guy was my favorite. What do you think?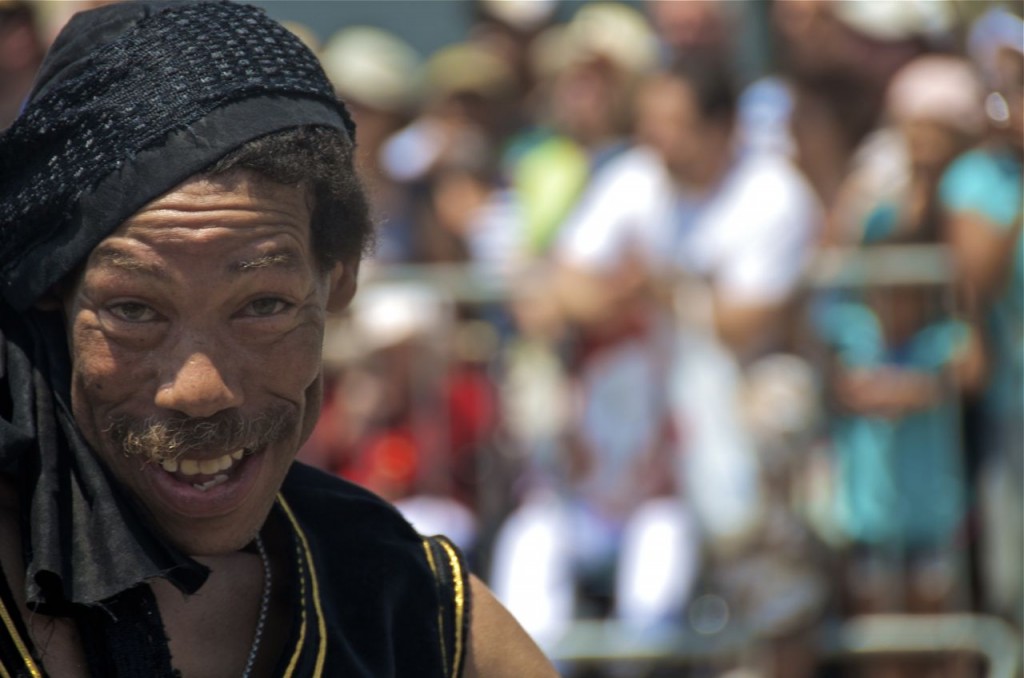 And no Mermaid Parade is complete unless there's a pirate lurking somewhere along the parade rout.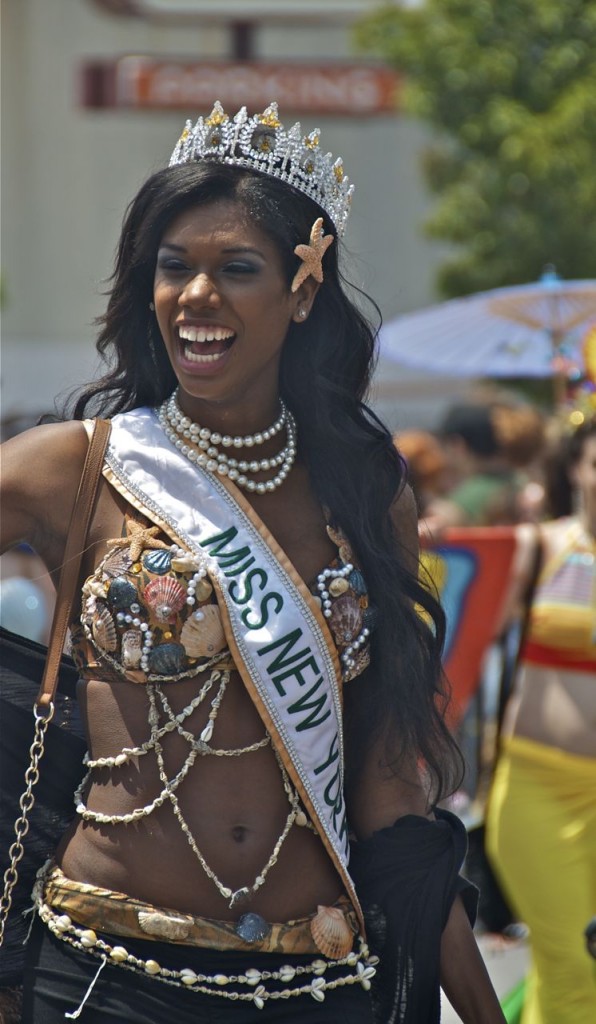 Miss New York showed up, too.
A lot of thought and work went into many of the costumes and this beautiful unicorn pranced the entire length of the parade in those high heels.
She was delighting the crowd in red and black, heavy marching boots and a garter securing a flask.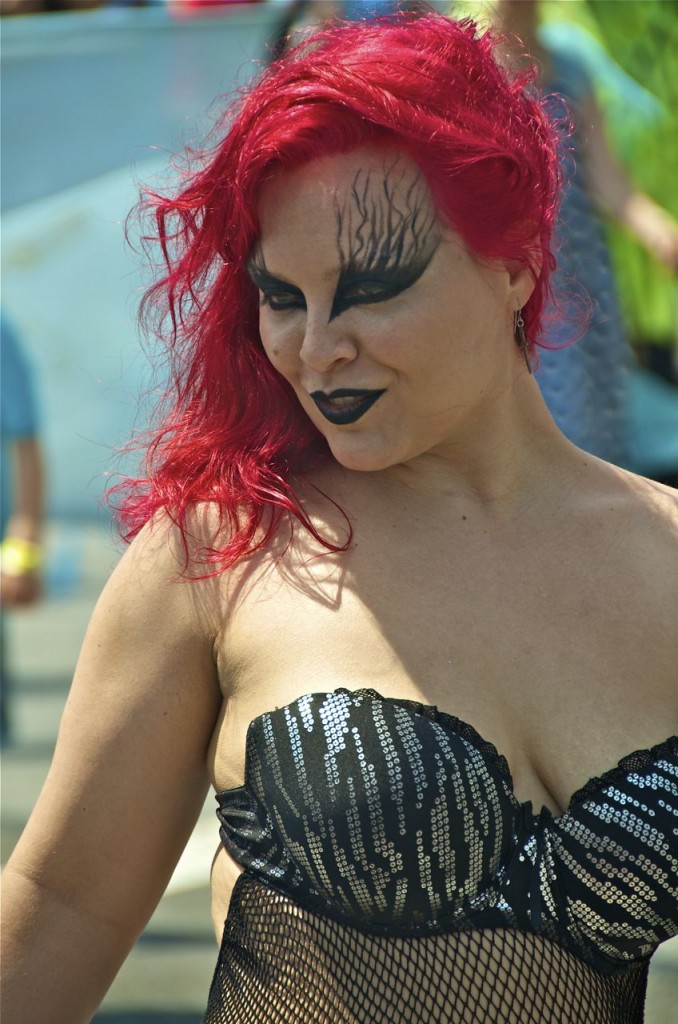 Here is one of Neptune's beauties.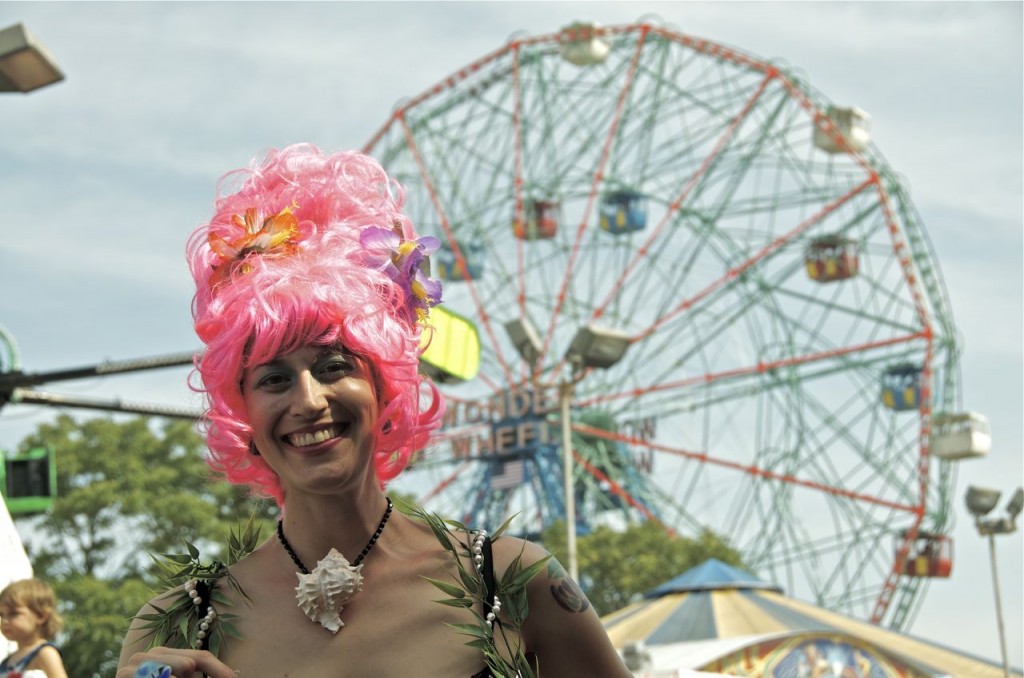 The place was filled with smiling faces, magical hairdos, sea shells and don't forget the Coney Island rides on the boardwalk.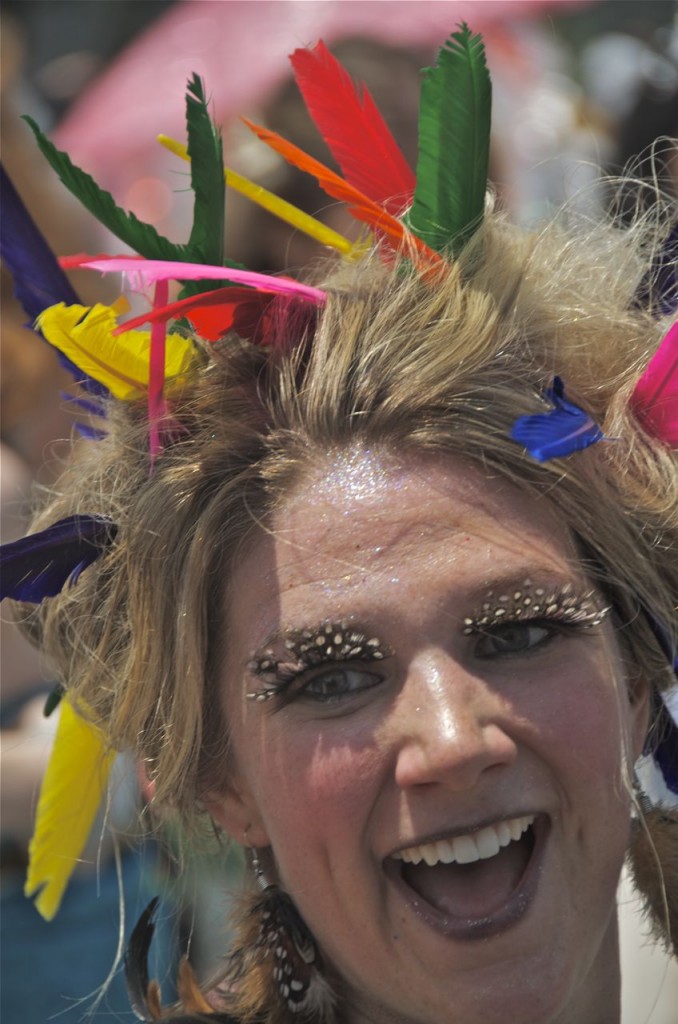 Everyone was laughing, clapping and having a great time. I'm certainly coming back next year.