I come from a long line of pie baking women. So, it only stands to reason that I'd end up being a pie baker, myself. Really, now, a woman could inherit a lot worse.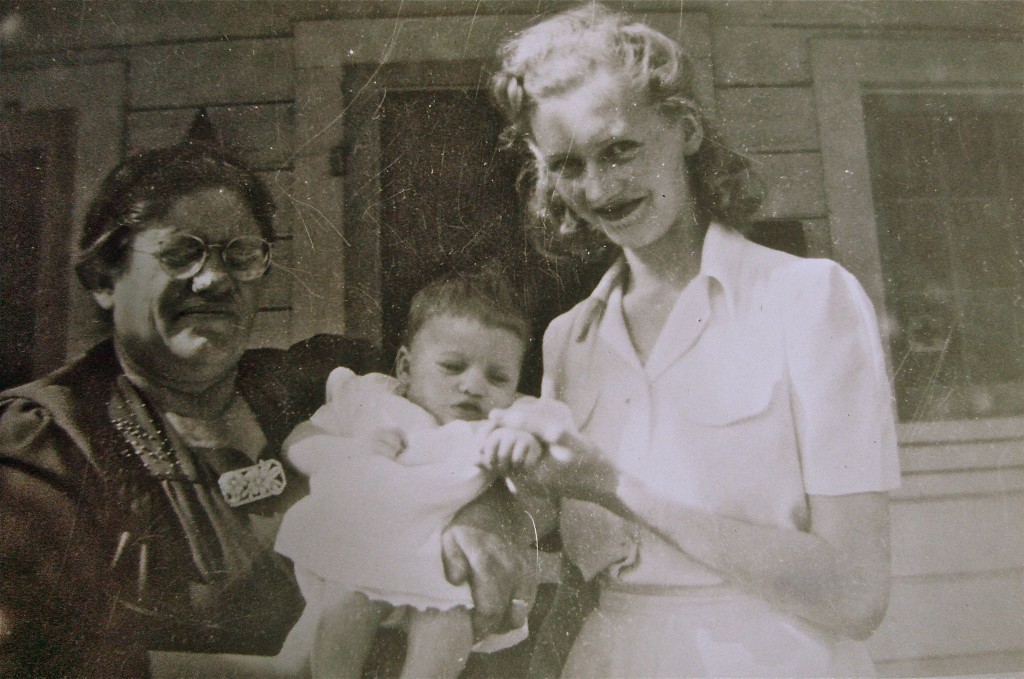 This is a photo of my pie baking lineage. Grandma is the stout older woman, my mother the tall skinny blond and that's me in the middle. I certainly don't look like much of a pie baker from this photo, but even at this early age I'm sure that my hands were programed to understand the feel of a good flaky pastry. I wonder some times when I look at this photo of my mother holding my hand up to the camera, if she is showing off the possibility of my baking skills. Did grandma pass the pie crust gauntlet to my mother and was it now my turn to take on the responsibility of keeping the family's pastry spirit alive?
If you haven't already guessed from these photos, I was born quite a while ago. Though by my clock I cannot believe how fast time flies. Grandma lived through the Great Depression and in those difficult times, scraping together meals as best she could became a way of life for her. She saved every scrap of food, hoarded sugar, and pinched pennies until they squealed as my father used to say.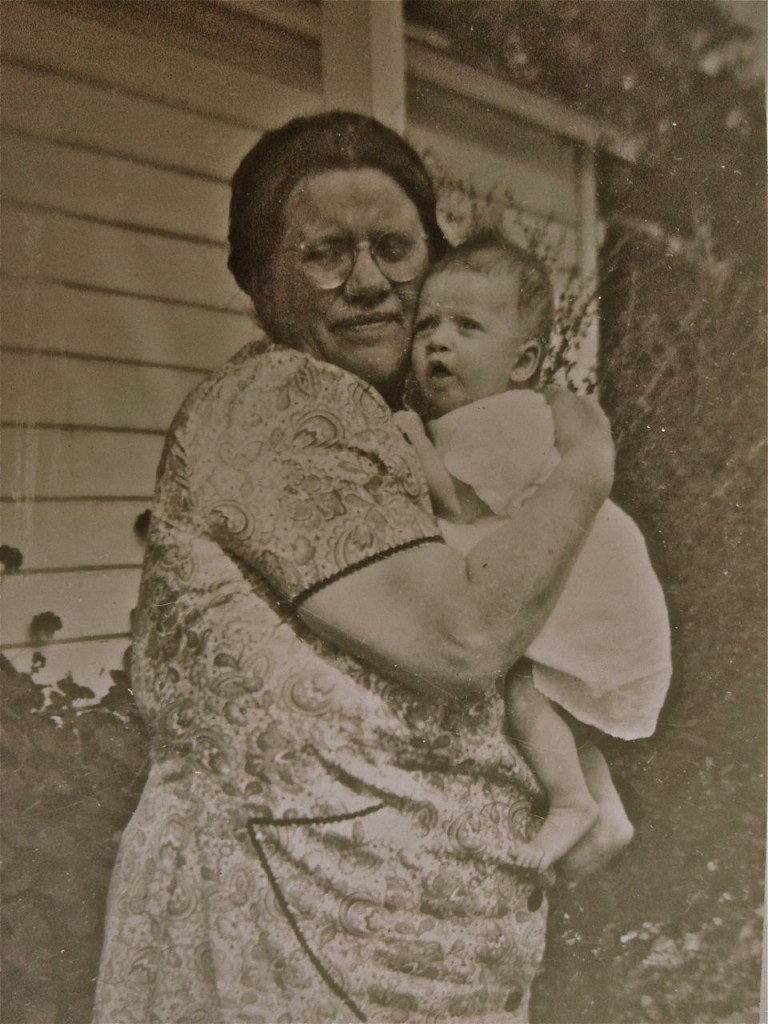 My father was in bootcamp during WWII when I was born. I was told he secured a leave and we first met around the same time that this photo was taken. I was certainly too young to remember our first meeting. But I do have early, I mean very early memories of grandma's baking. To this day the smell of butter, sugar and vanilla extract startle me back to a nearly primordial memory, and for a brief period of time I'm transported to another era, another time zone, and no matter what's going on around me at that moment, I feel grandma's spirit standing beside me, her soft doughy body snuggling me close to her puffy bosom.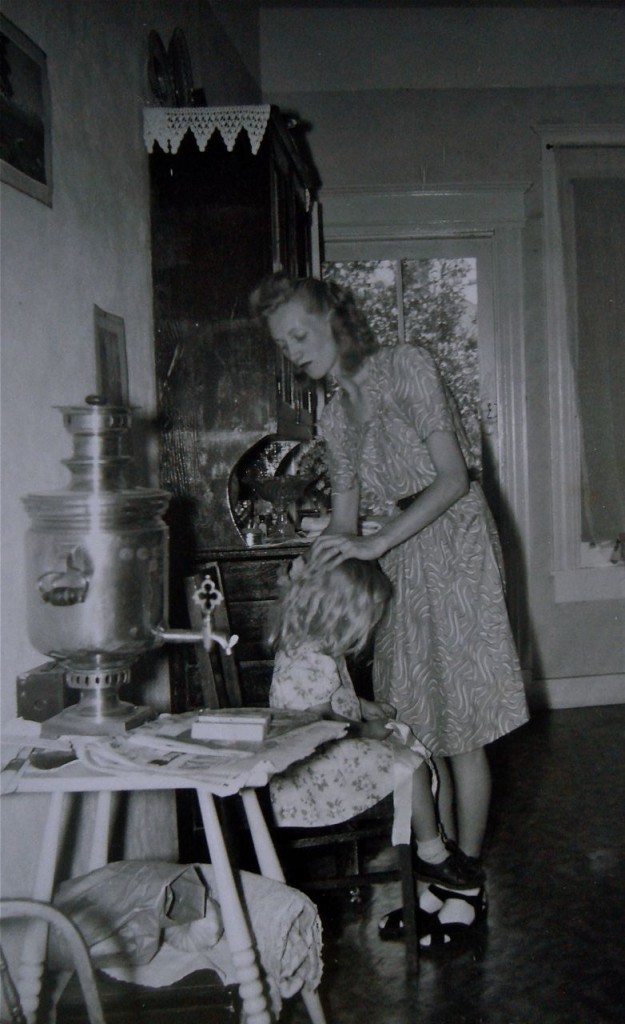 Mom was a gentle soul. She was a dutiful daughter and wife, and an easy going mother. But life was not always kind to her, though she took these difficulties in stride and hoped that they'd quickly pass. Yet, through the good and bad times she continued to bake pies, cookies, bread and streusel studded coffee cakes. She could knock out a top-knotch pie in no time, but I think she had the most fun baking cookies. She'd start making Christmas cookies in the middle of December, wrapping them tightly in plastic and then stored these delicious morsels in a box out of the reach of our eager fingers on the top shelf of a kitchen cupboard. We'd come home from school on a rainy Northwest winter afternoon, the house smelling like it was made of sugar, butter and gingerbread. If the Holidays weren't exciting enough, the smell of all those goodies waiting for us in that cupboard nearly drove us wild with excitement.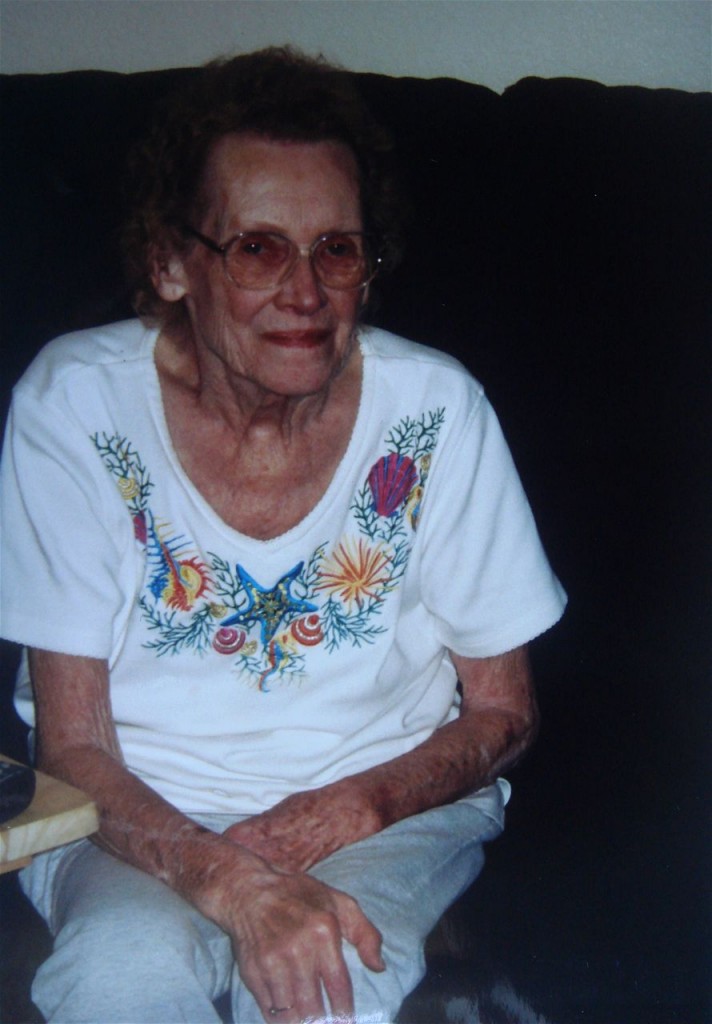 Over time mom lost interest in cooking and baking. Unlike grandma who cooked even when her cognitive ability began to decline and she used salt for sugar in her baking, or forget that she'd put something in the oven then sat in the living room watching TV while the house filled with smoke from the scorching food, mom, simply stopped baking and said she'd done enough cooking. But mom never lost her sweet tooth and certainly appreciated any cookies or cake that we brought her. Arthritis and weakened muscles forced her to find other interests and she became a voracious mystery fan and discovered the world of the detective novel.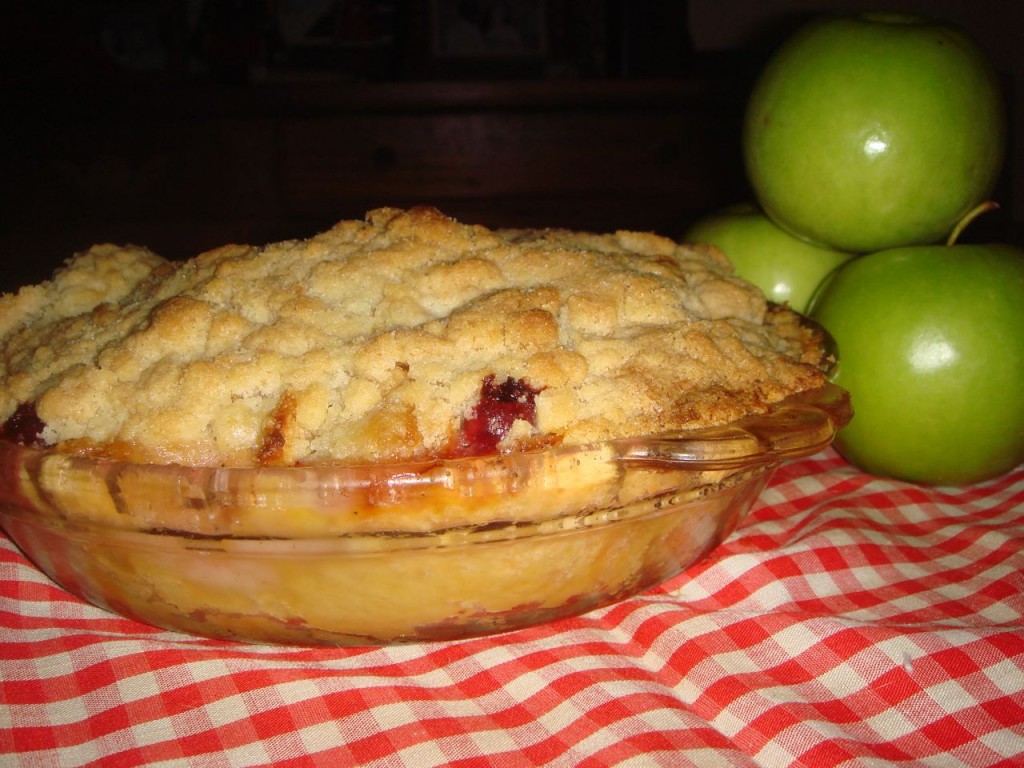 I didn't start baking pies until I was in my 30's when one day I realized I could do it. I suppose that skill had been there all along, dormant, untapped but utilized in other ways, like getting a college degree and starting a family. Baking came easy to me once I got started and I certainly made my husband and kids happy with those pastry goodies. My daughter has started her family, a lovely happy addition to my life, and she's now beginning to bake. I can see she's got the knack, too, and rarely fails at anything that she bakes. I suspect my grandson, my only grandchild, might be carrying his great-great-grandmother's baking skills. He loves food, eats almost everything that's put in front of him and he likes to fiddle around in the kitchen helping to cook and bake. But what makes me think that my grandmother's cooking genes are running through his veins is because he's discovered the cooking channel and one of his favorite programs, besides soccer games, is "Chopped". Now I ask you, do you think he'll be baking his grandma a pie one of these days?
Below you will find my recipe for an apple crumb pie.
APPLE CRUMB PIE
9-inch pie pan …. Bake at 375 degrees for 50 to 60 minutes
PIE CRUST: (This will make enough dough for two pie crusts. Divid the dough in half and use one crust for a pie and wrap the other half in plastic and refrigerate for another time. It will keep up to a month if frozen.)
2 cups flour, sifted before measuring
½ teaspoon salt
1 ½ sticks of chilled, unsalted butter, cut into ¼ inch slices
3 to 4 tablespoons cold water
Add salt to flour and mix well so that the salt is nicely incorporated into the flour. Add the butter to the flour and blend with either a pastry blender or two table knives held together with a rubber band using a slicing motion until the mixture resembles coarse meal. Sprinkle water over the surface of the flour and butter mixture and then gently blend with a fork until the mixture begins to hold together. At this point the dough should be dry enough to handle. WARNING: Do not over work the dough at this point or it will become tough and you will lose the desired flaky quality of pie dough. Divide the dough in half and shape each half into flattened disks, cover with plastic wrap and refrigerate for at least one hour. Remove one packet of the chilled dough (Reserve the other packet of dough for another pie.) and place between two sheets of plastic wrap and begin to flatten with a rolling pin pressing lightly at first to get a smooth surface. Then rolling from the center out to the edges flatten the dough to a round that will be at least one inch larger than the size of the pan that you will be using. Remove the top layer of the plastic wrap and using the bottom sheet of plastic carefully lift the circle of pie dough and flip the dough into the pan. Remove the remaining plastic wrap and press the dough so that it fits comfortably and tightly against the sides of the pan.
CRUMB TOPPING:
1 stick of butter, chilled, unsalted, cut into ¼ inch slices
½ cup sugar (brown or white, or a combination)
1 cup flour
Combined all ingredients and then using a pastry blender, or a fork, work the mixture until it resembles a coarse meal and set aside.
APPLE PIE FILLING
5 Grany Smith apples, peeled, cored and thinly sliced
4 to 5 Tablespoons sugar (depending on how sweet or tart you like your pies)
3 Tablespoons flour
½ teaspoon cinnamon
¼ teaspoon ground nutmeg
Combined together the sugar, flour, cinnamon and nutmeg and then add to the sliced apples mixing well to coat all the apples. Pour apples into the pastry lined pie pan. Carefully spoon the crumb topping mixture over the apples and pat crumbs light to keep the mixture from falling off the pie and then bake.
NOTE: To add extra flavor to an apple pie add a handful or two of fresh cranberries if in season, but dried cranberries or dried cherries will do just as well.