By MARGARET MENDEL
One of my favorite places to visit in The Bronx is Arthur Avenue, sometimes known as the other Little Italy of New York City. Last week my friend, Susan, and I hopped on a subway and headed uptown to do a bit of shopping and sightseeing in this neighborhood. We had no idea when we made our plans that it would turn out to be the hottest day of the already blistering NYC summer.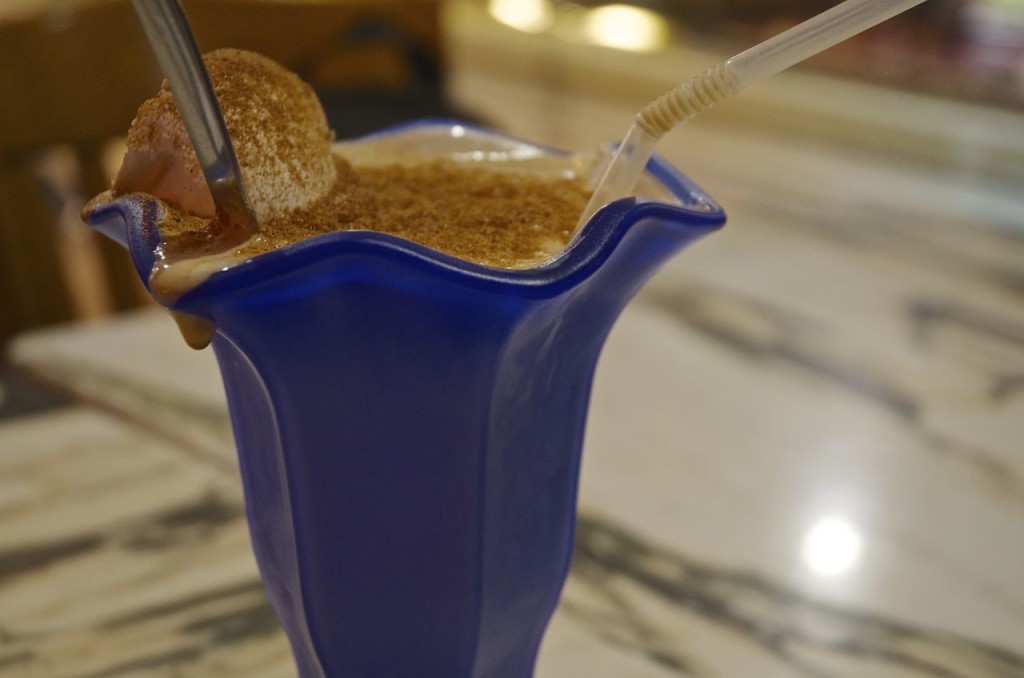 So by the time we arrived at our destination, all we could think of was iced latte and, well of course, a freshly baked goodie from one of the local Italian pastry shops. The iced latte didn't come in the usual ice cube ladened glass. Instead the beverage was brought to our table as a frothy mix of coffee, crushed ice, a hefty dollop of fresh whipped cream and a deliciously fragrant dusting of cinnamon and cocoa. Filled to nearly overflowing, the delicious coffee drink needed our quick attention because as the whipped cream slid into the glass the coffee began to drip lazily down the side of the fluted glass. It was a latte slushy and more satisfying than any coffee beverage I've ever tasted.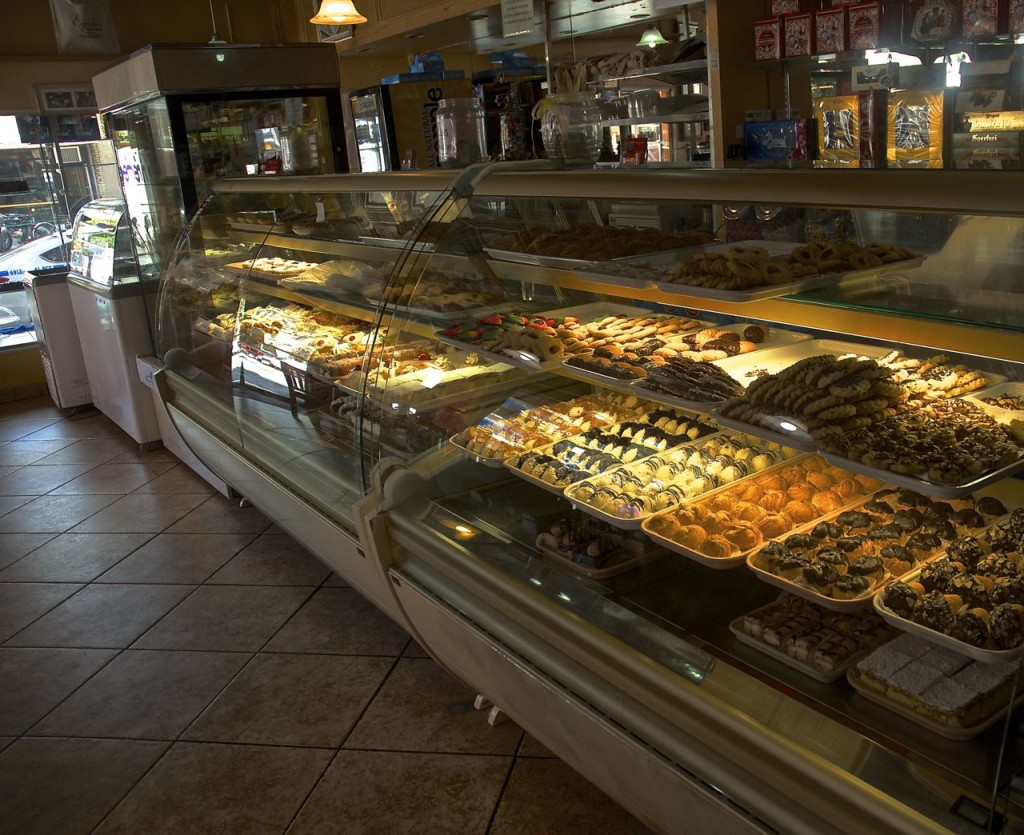 I have been to this bakery many times and knew there would be more than enough pastry to choose from. The goodies in the display case that glistened as though they were jewelry, made my mouth water. There were Cannoli, some plain, some dipped in chocolate offering two varieties of fillings, either a chocolate or vanilla cream. Biscotti, a crunchy twice baked cookie would have been a wise choice if we were drinking regular coffee, because these delicious bites are fantastic when dunked in a hot beverage. There were several different flavors of the chewy Marzipan cookies on display. A freshly made tray of Tiramisu was being lowered into the display case as we entered the bakery. Though this is one of my favorite treats, it was just a little after breakfast and was a bit too rich for me this early in the day. There was a full tray of Pignolata, a soft pastry, some drenched in a luscious glistening syrup while others were generously coated in a dark shiny chocolate.
Susan chose Rum Baba to go with her beverage. It is a round yeast cake about two inches tall with a slight tapering at one end. The cake is always saturated in a sweet syrup that has been laced with rum or often just rum flavoring and is filled either with whipped cream or a pastry cream.
I decided to have a Sfogliatelle. I believe that this Italian delight must only be eaten when it's freshly baked, otherwise the ricotta cheese filling makes the crisp outer pastry soggy. I knew I'd get a good one at this traditional bakery.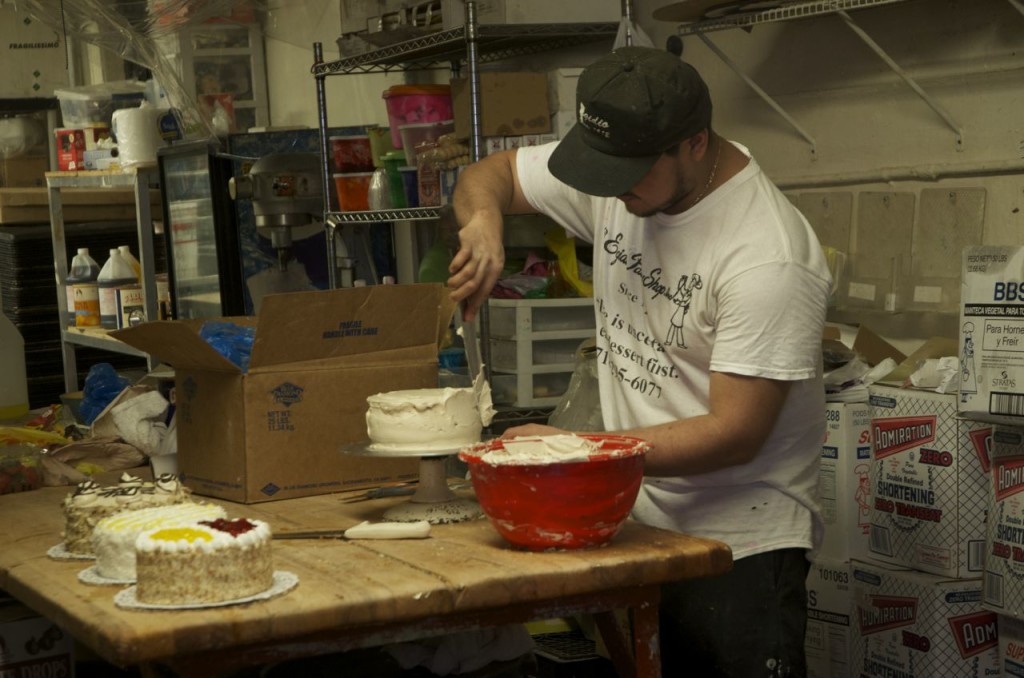 After we left the bakery, having filled our bellies with much sweet goodness, we passed the opened door to the back of the bakery. Two young men were busy preparing cakes. Butter cream, chocolate sauce, fruit jams and nuts were the responsibility of this young man. We watched as he slowly turned the trivet with the cake that he said was a chocolate cake filled with a chocolate ganache and covered in the classic butter cream that the bakery was famous for. There were several more cakes cooling on the other side of the kitchen, waiting for his attention.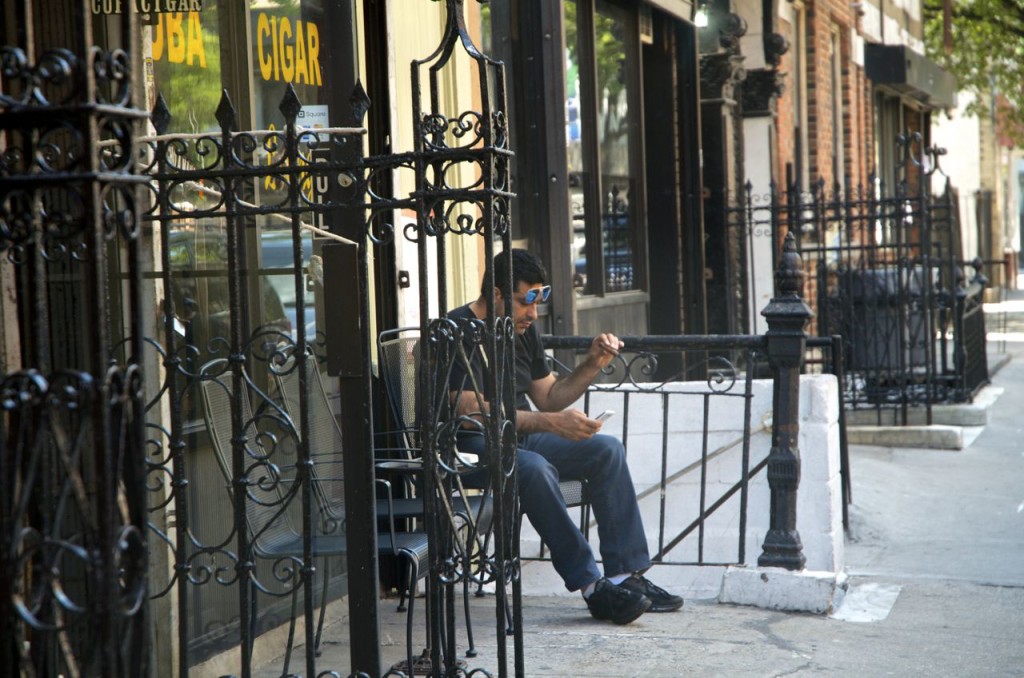 I had received a request to bring home a couple of cigars from a small smoke shop. It's owned by a family that takes pride in rolling their own cigars. It was a short walk from the bakery and as we walked up the block we saw the owner enjoying an early morning cigar and checking his email. His tobacco is from Cuban seeds grown in Puerto Rico. We asked him what he will do when the real Cuban cigars hit the market, since the embargo has been lifted. His answer, "We'll sell them, too."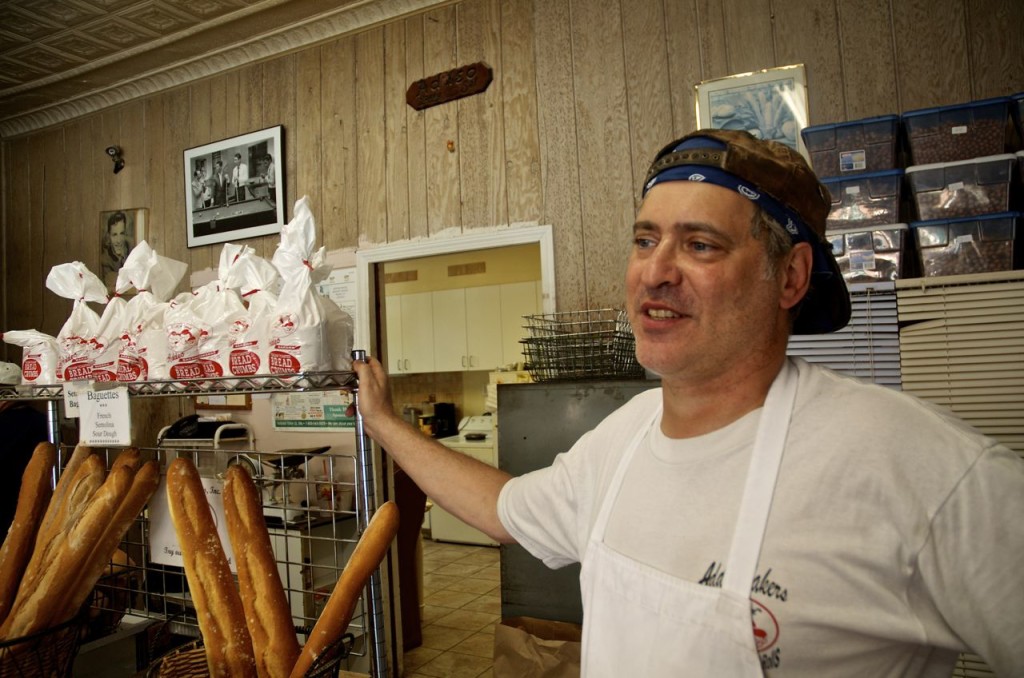 One of our intended stops was at the Addeo & Sons Bakery. Susan was on the hunt for the delicious prochuto bread they are famous for. It is a crispy circular loaf of yeast dough filled with dried and cured meats and is often dotted with crispy fried fat bits. Now I ask you does it get any yummier sounding than that? Unfortunately we were there on a Wednesday and they only bake this specialty loaf on Thursday through Saturday night. The baker said he was sorry but, there was none left. But he was a jolly guy and the proud grandson of the founder of the bakery and he offered to show us around.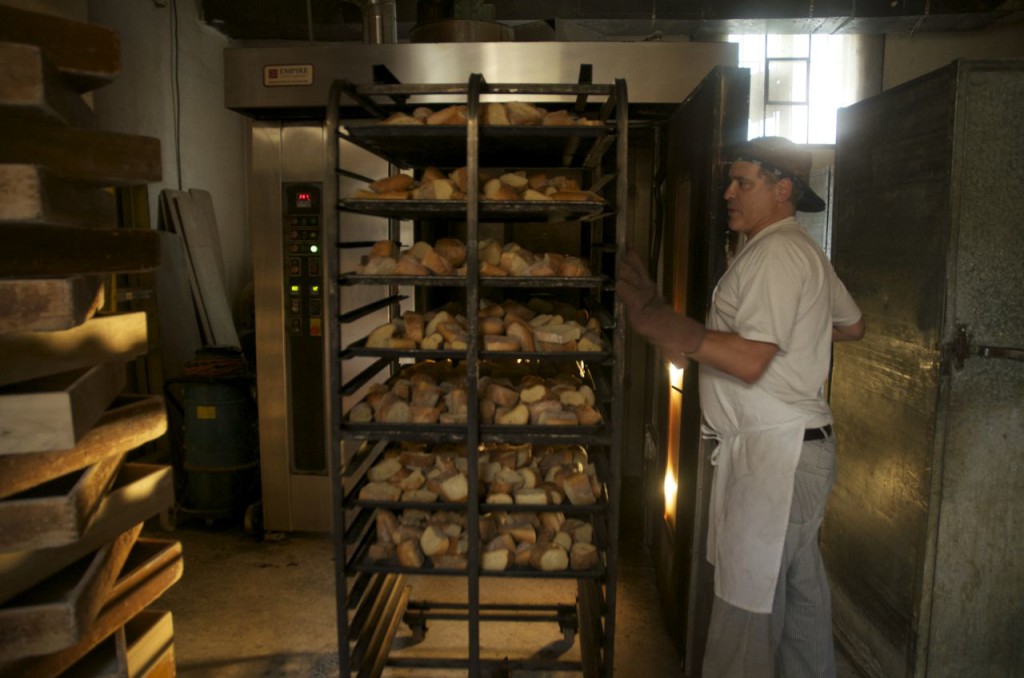 He said it was time to take the day old bread from the drying oven. This afternoon these chunks of bread will be turned into unseasoned bread crumbs.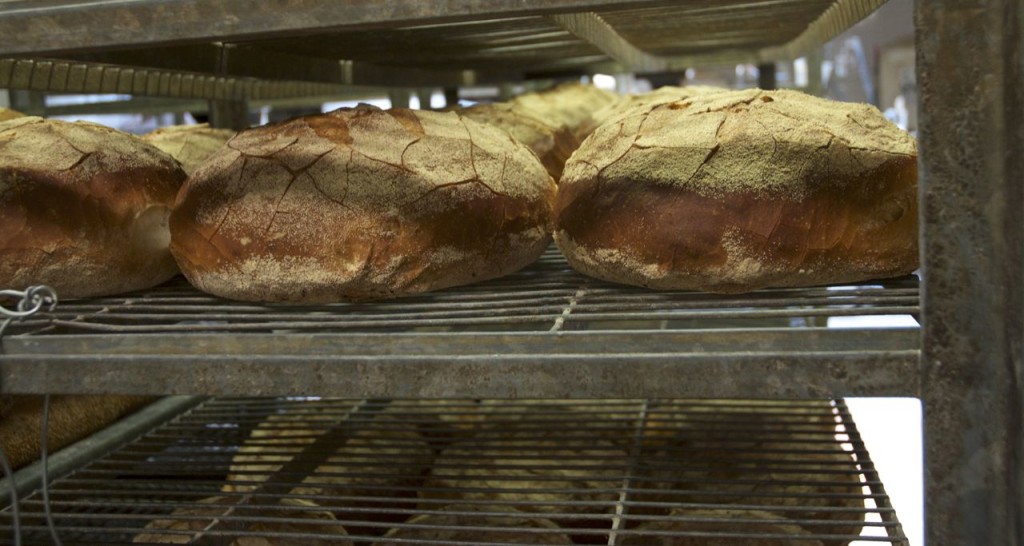 This room was beastly hot with several ovens going at the same time, and the fresh out the oven breads cooling on the racks.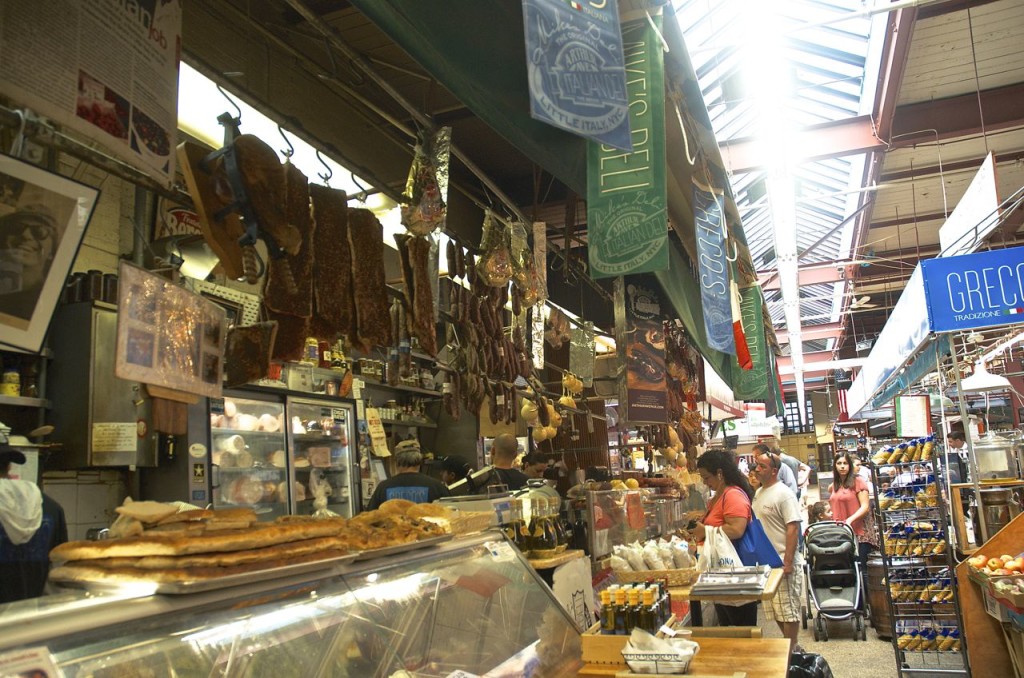 Mikes Deli is a classic! It is at one end of the large Arthur Avenue Market. This deli has every kind of cold cut, salami, prochuto, and a long list of any cheese you could possibly want. They'll make you a sandwich. They'll slice a quarter pound if that's what you want. They've got it all. The dried meats and salami hang from hooks, an inviting and mouthwatering advertisement. We heard the clerks talking to the customers. "What do you want lady? You want it lean? Sure I got lean. We got everything."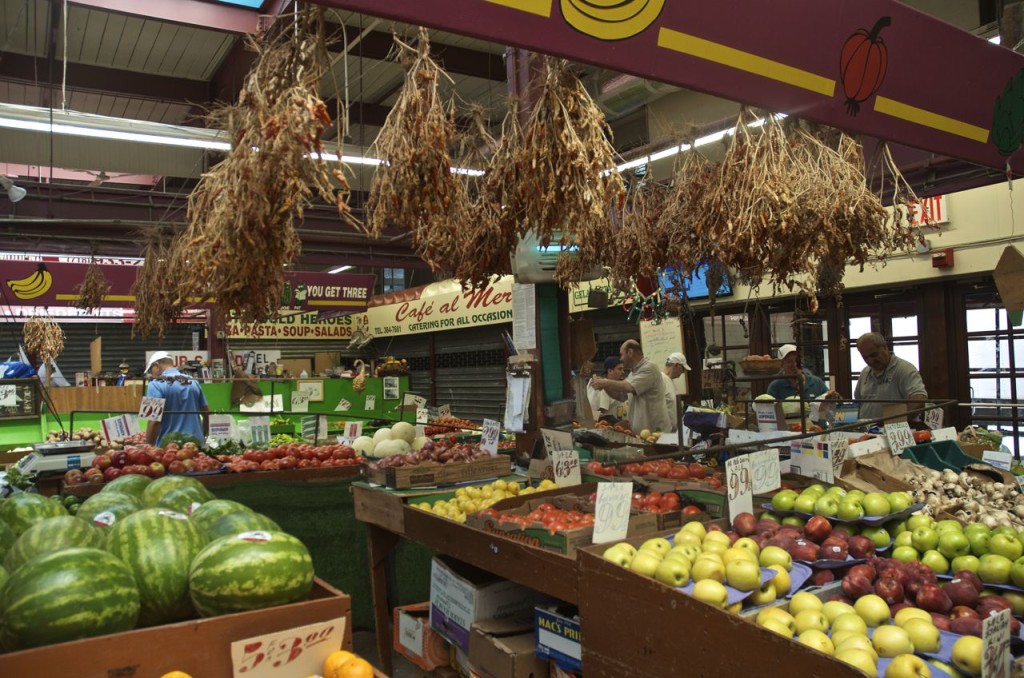 The vegetable and fruit market across from Mike's is about as unfussy as it gets. You can buy one tomato or take home a bushel if you intend to make a lot of sauce. The melons, the apples, mushrooms, green and red peppers are all fresh and not overpriced.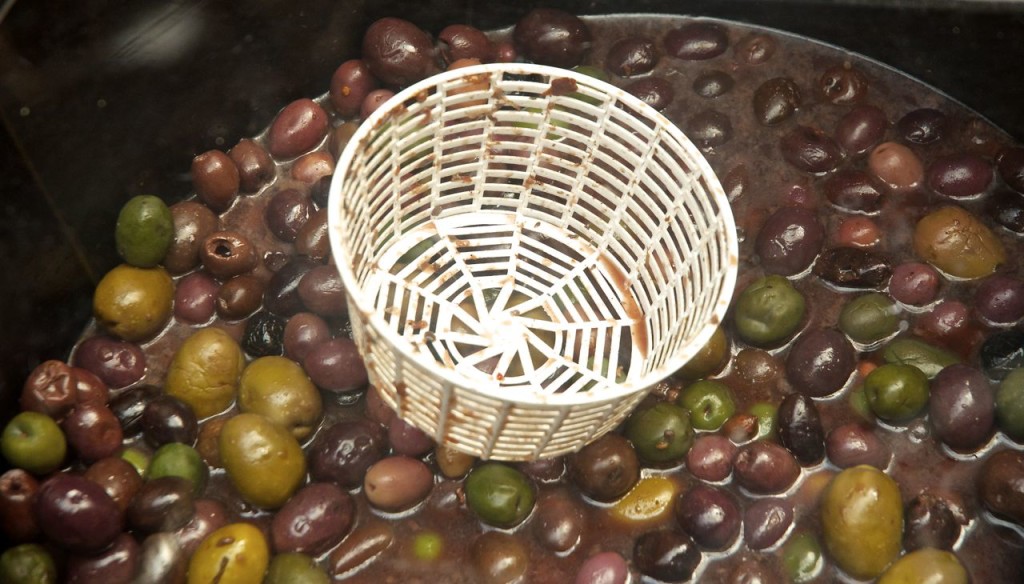 Large barrels of olives, green, red, black, kalamata, salted fish, sun dried tomatoes, it's all there in one area waiting to come home with you.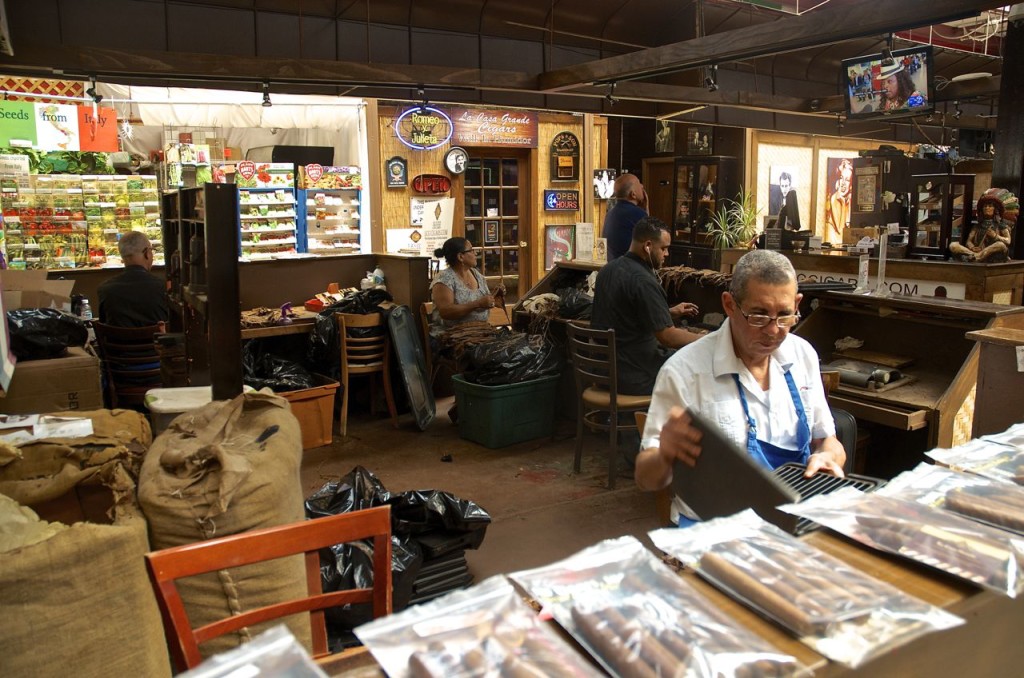 A cigar factory and store is located at the other end of this market. This area has a heavy spicy aroma. Huge gunny sacks of tobacco leaves sit slumped together in a corner of the store. One woman spends all day unloading the leaves, smoothing them out, making them ready to be transformed into cigars.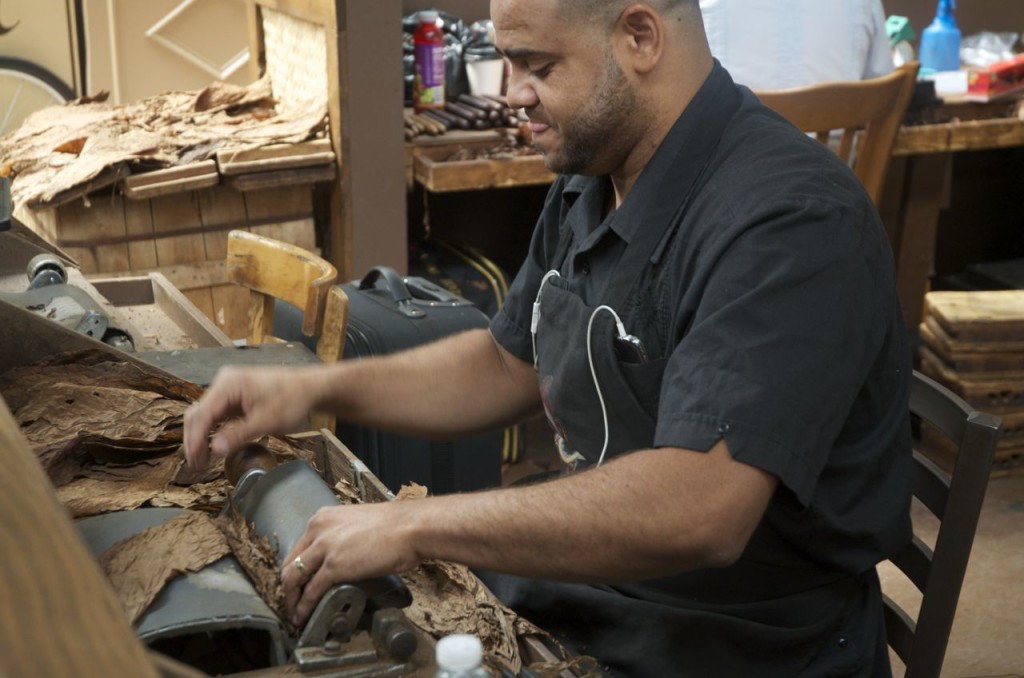 Hundreds of cigars are produced here every day. Several men roll the tobacco by hand and then insert them into machines that compress the cigars, giving them an even smoke.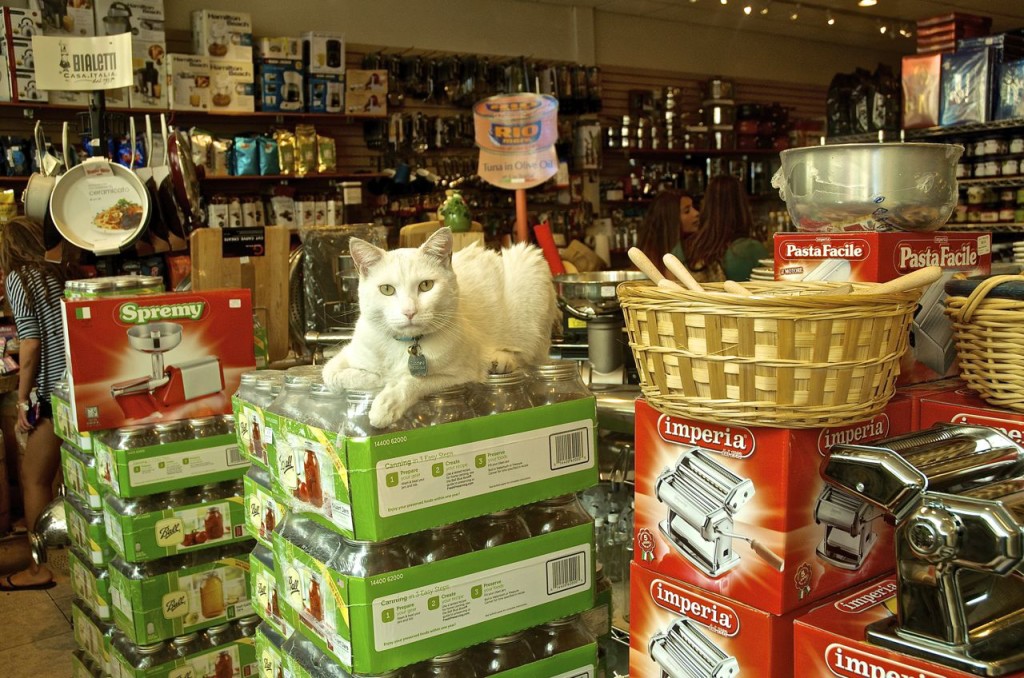 We visited an Italian specialty store. This lovely green eyed cat stood watch over the crates of canning jars, pasta machines and Spremy sauce makers. We were told there was another cat, though it liked to sleep under things not out in the open like its seriously vigilant compadre. This store had tons of interesting things to purchase including little white lacy Confirmation dresses for girls and delightfully manly silken suits with vests for a little boy's Confirmation. I purchased a bag of interesting looking pasta, but I had no need for a pasta machine.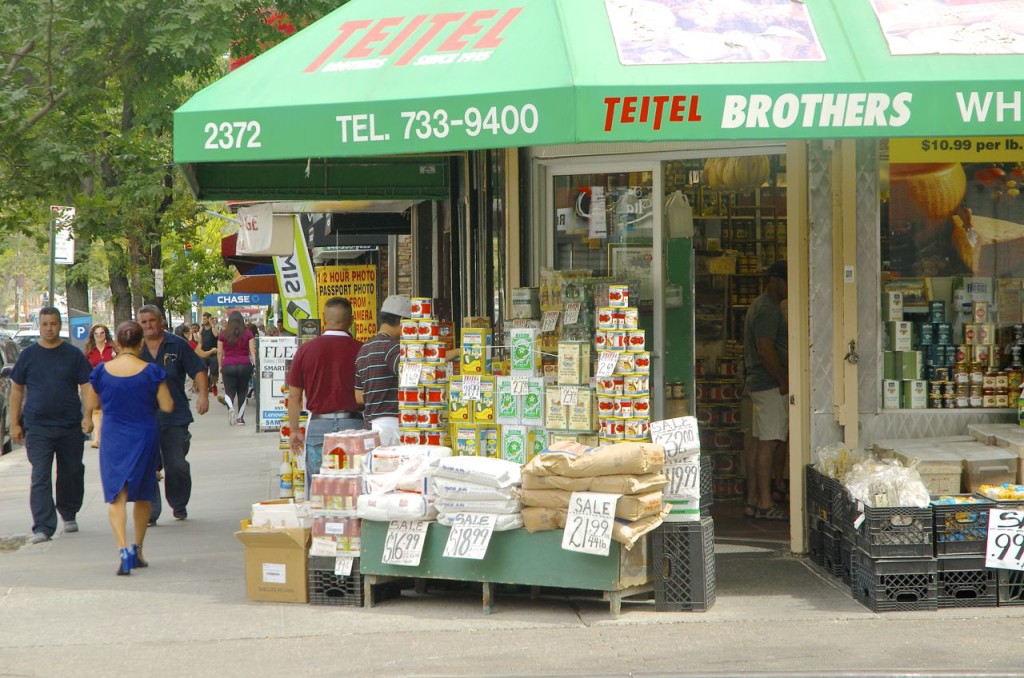 The Teitel Brothers is a lovely little store. I get several pounds of dried fruit each year from this shop for my holiday baking. And they always have dried porcini mushrooms. When shopping in this area I always purchase a large batch of these mushrooms to enhance my sauces and soups. The owner is always in the store and his staff is friendly and helpful. They stock dozens and dozens of cheeses, cured and dried meats and they have a yummy selection of salted and pickled olives.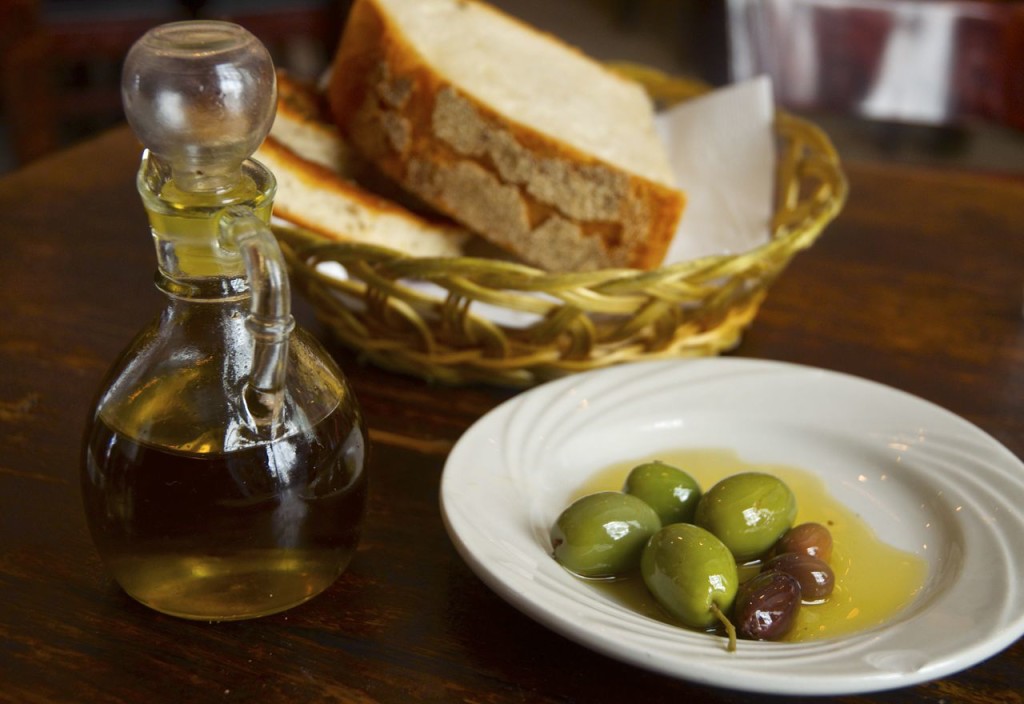 Well, did I mention that Susan and I were also going to have lunch on Arthur Avenue? What a great way to start our meal, an order of martinis, fresh olives from a local shop, fresh crusty bread from Addeo and a nutty olive oil to dip the bread into.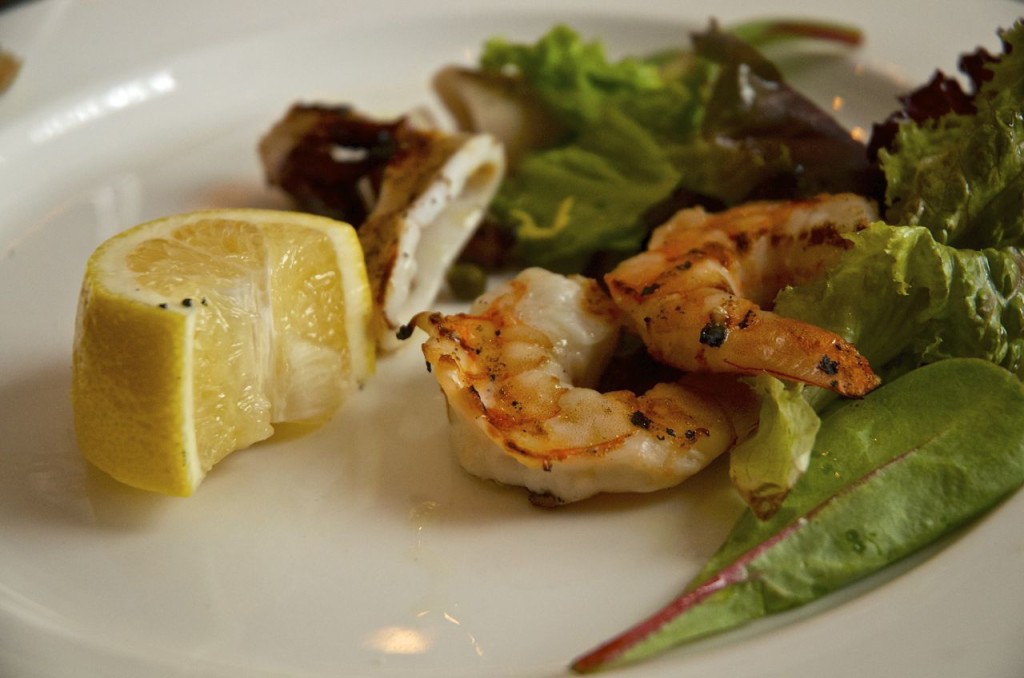 We decided to share. First we ordered a grilled squid and shrimp salad, drizzled very lightly with a squeeze of lemon. The char on the seafood and the ever so delicate drizzle of the tart citrus was a perfect accompaniment to the soft greens.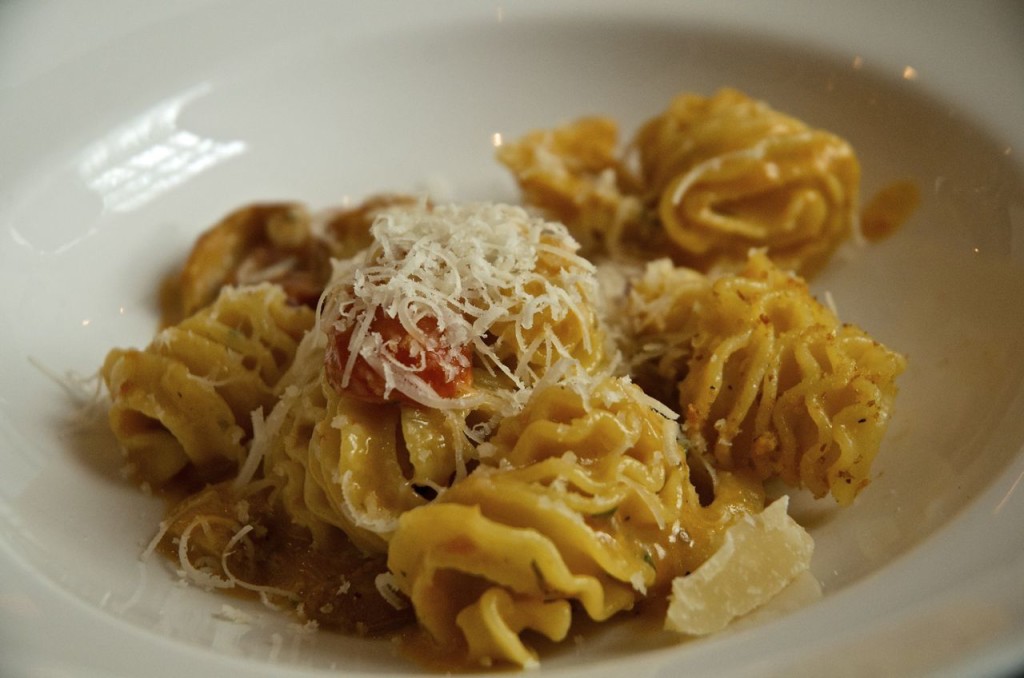 For our main dish we ordered Raditori (the name of the shape of the pasta) baked in aluminum foil with a mushroom and fresh tomato sauce. It came to the table securely wrapped in the foil sitting inside the dish it would be served in. When the waiter pierced the foil a delicious odor billowed out of the opening. The pasta and its sauce was slid into the serving dish and several grinds of pecarino cheese was layered across the top of the pasta.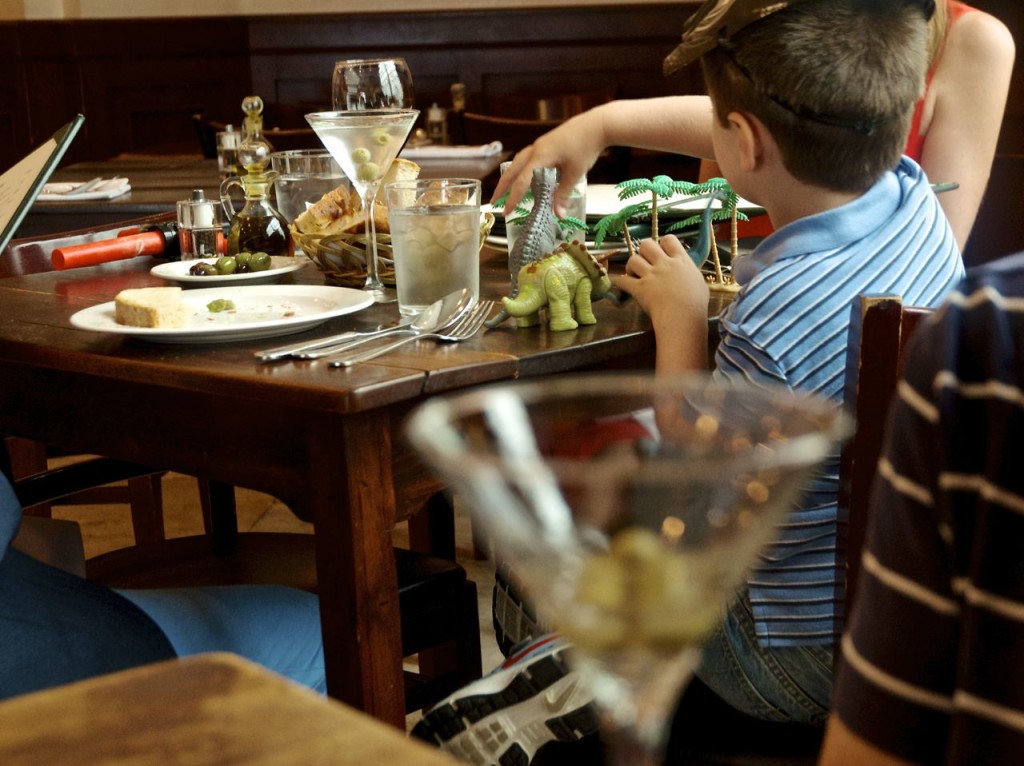 We sat for more than an hour eating our food, talking and finishing our martinis. When we first sat at our table several tourists were just finishing their coffees and paying their bill. Then a short while later a family of three sat next to us. Mom had a glass of ruby red, Dad a martini while Junior played with his dinosaurs and drank water.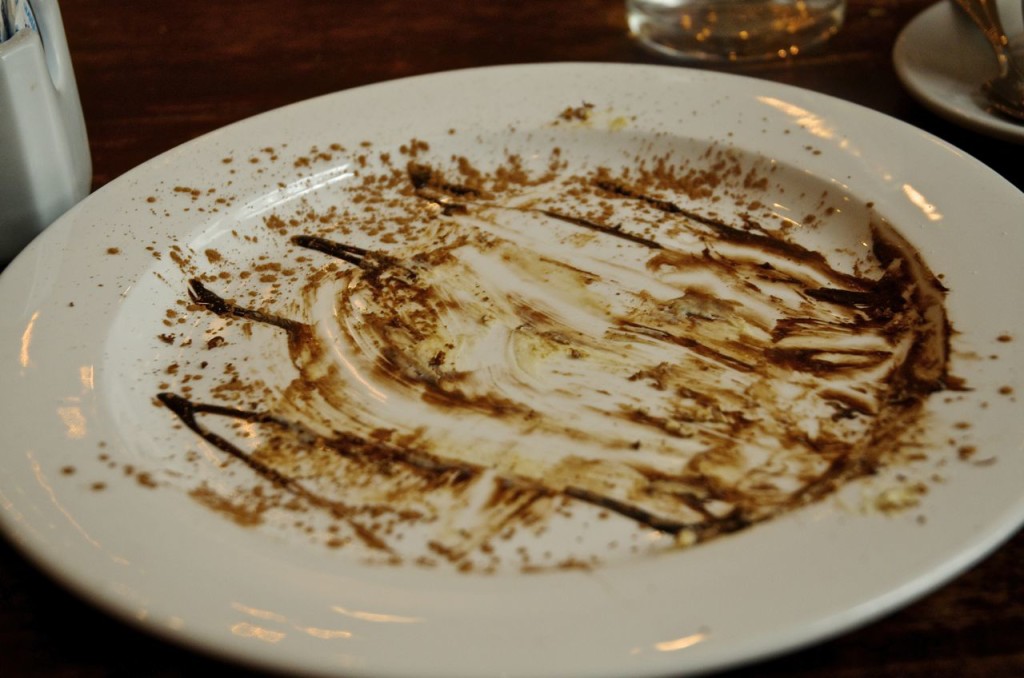 We didn't know if we could eat another bite when the waiter asked us if we were ready for dessert. But, a tiramisu from this place! We could not resist. Though we were so delighted to see it arrive that I forgot to take a picture. Trust me, it was as delicious looking at it was tasty.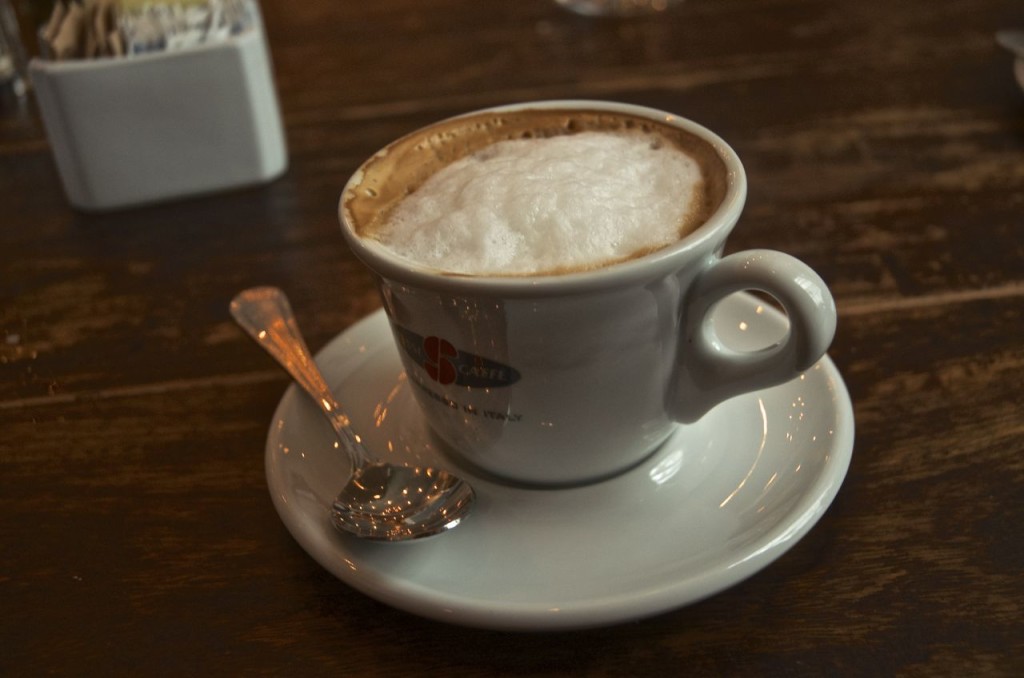 A cup of cappuccino was a perfect ending to this meal. The coffee was even extra strong, extra tasty and a welcomed jolt of caffeine that would help to get us back home again.