By MARGARET MENDEL
Well, today I got the final version of the cover for PUSHING WATER my novel due to be published later this year. There is still the publisher's galley to read. I'll use that time to edit a few things that have slipped by unnoticed. But the major work is done. The novel is nearing the end process. It will be published as both an ebook and a paperback.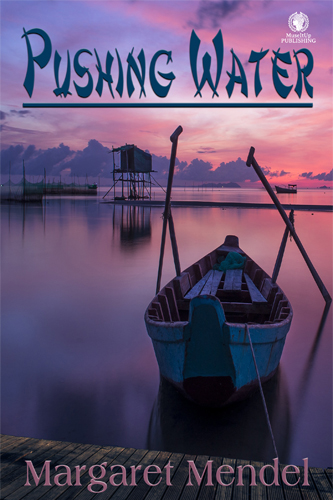 Here is the Book Blurb for PUSHING WATER:
VIETNAM 1939
When Sarah, an American expat working as an archivist for the French Colonial government in Hanoi, discovers the body of a murdered Vietnamese coworker, her life is changed forever. Angry at the authority's lack of interest in the case, she decides to take matters into her own hands and find the killer. When she uncovers a devastating secret French Colonial government communiqué hidden in a packet of poetry, she suspects this led to her coworker's murder. The more Sarah digs into the death, the more entangled she becomes in Vietnamese rebel activity.
Her life is further complicated by the arrival of an old friend, Julia, who brings remembrances of a past Sarah would rather forget. Then Albee, Sarah's part time lover, shows up. He claims to be an archeologist working on a dig in China, though she suspects this is a cover for his communist activities.
Sarah is devastated when a Vietnamese friend is arrested and executed for revolutionary activities. Heartsick, Sarah and Julia decide to leave Hanoi. Though their efforts to return to the United States is thwarted by a travel blockade in the Hanoi Harbor. The wait is annoying but they have no idea that very soon their lives will be turned upside-down.