I've stopped complaining about something I can do nothing about, in particular, the weather. In every storm I believe there is a rainbow waiting to come out, and I keep looking for the brighter side to this winter that seems to drag on and on. And then I realized that one good thing about February is that midway through this dreary month, the public schools have a week off and that means we get a couple of days to spend alone with our grandson. Now if that doesn't bring sunshine into our lives, nothing will.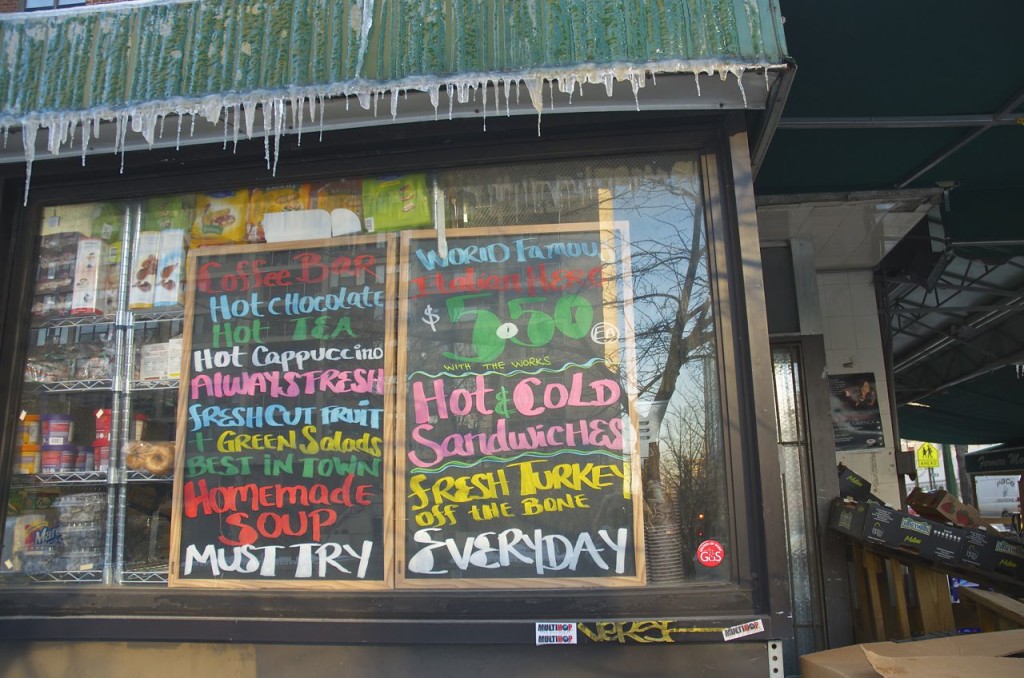 On my way to picking up our grandson in Brooklyn, I passed this jolly sign of inviting goodies. Mmm, everything always sounds devilishly hot and yummy. The street might be packed with snow and the sidewalks dotted with icy patches, but I can testify that the hot fresh turkey off the bone sandwich is a real winner, and for $5.50, with the works, it's a bargain.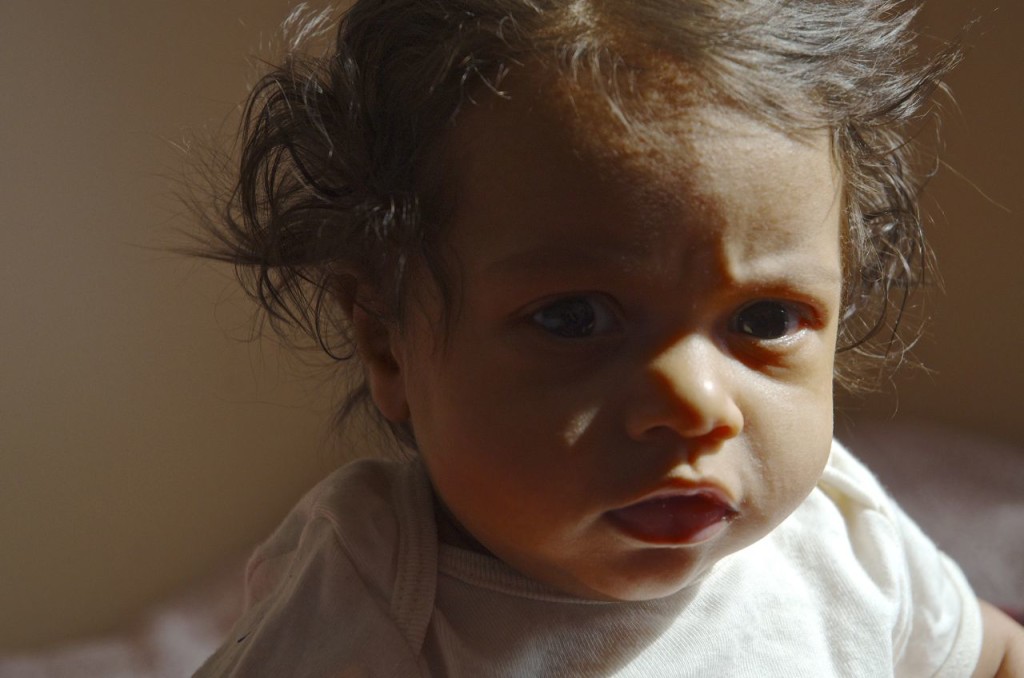 I get to Brooklyn, come out of the underground subway station and the sun is shining, the air is fresh, and it is snowing; a sunny snow storm. Well, that was a first for me. The sidewalks are a bit more unpredictably icy in Brooklyn, but the best treat of all is waiting for me when I arrive at my daughter's apartment. Our newest grandchild, almost three months old, is awake and she's just had her morning bath. She sort of recognizes me by now as she slowly lets me into her very young world. I hold her, play with her and I try to imprint myself and my camera onto her sweet little brain.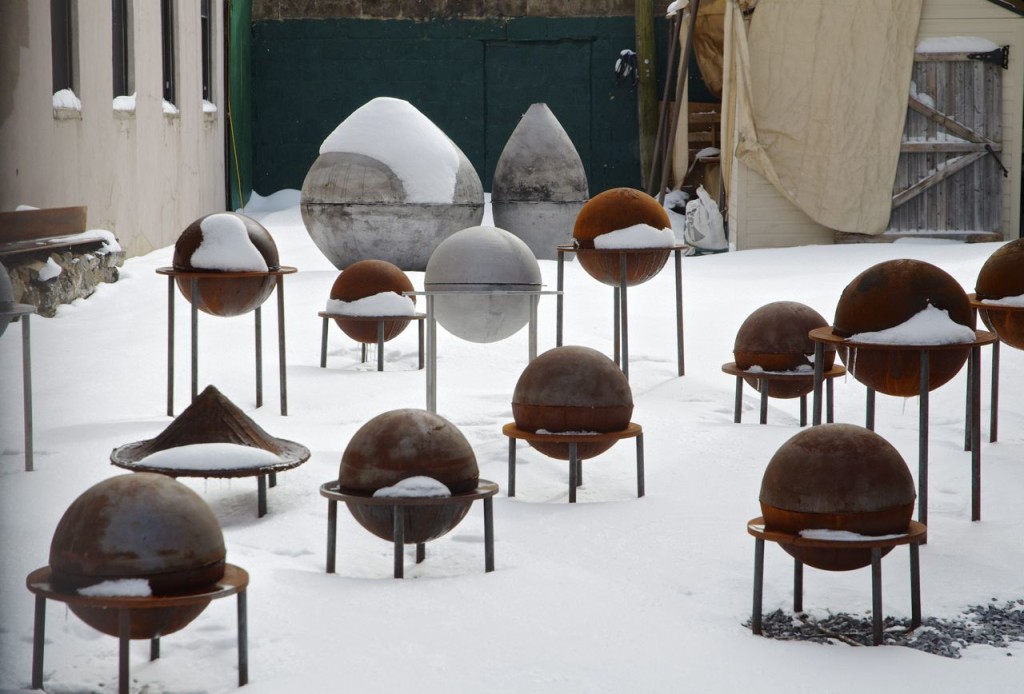 When it's finally time to leave and travel back to Manhattan, Devon and I pass this interesting art instigation in someone's backyard. At first I thought it was a display of BBQ grills. Then I realized as I looked more closely that they were neither hibachis or grills, but spheres, and one pointy thing, perched on stands. I want to come back this way again and see what this yard looks like  in the spring.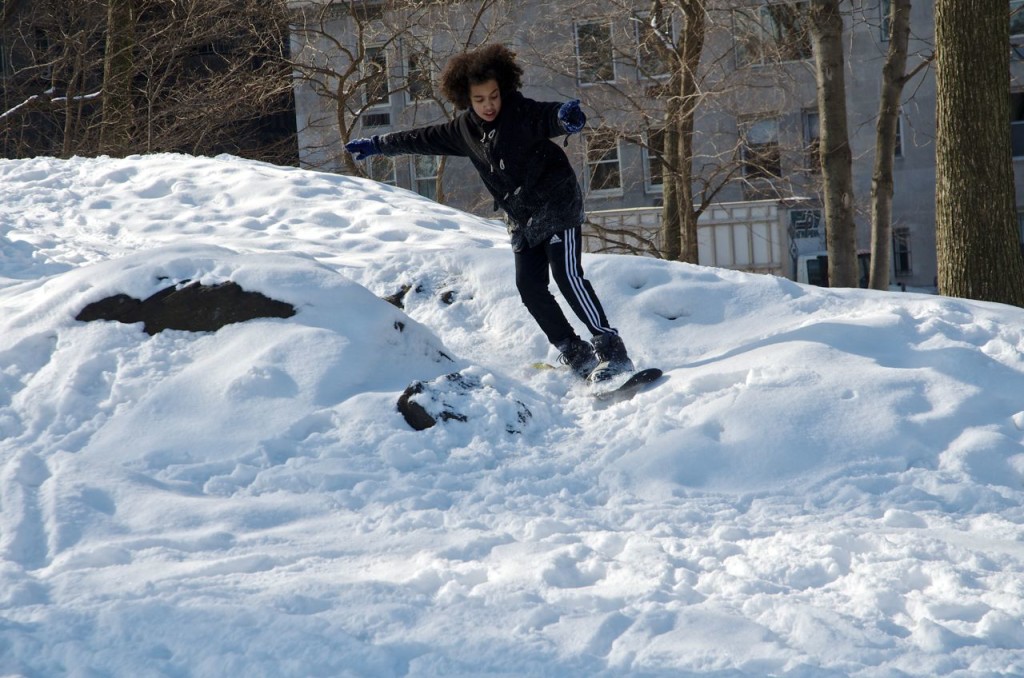 Devon brought his snow board with the expressed intent of snowboarding in Central Park. The sun is brilliant, the snow has stopped falling and there is hardly a soul any where in the park. The hills are not as spectacular as they would be at a ski resort, but they are just fine and today they are Devon's private winter play land.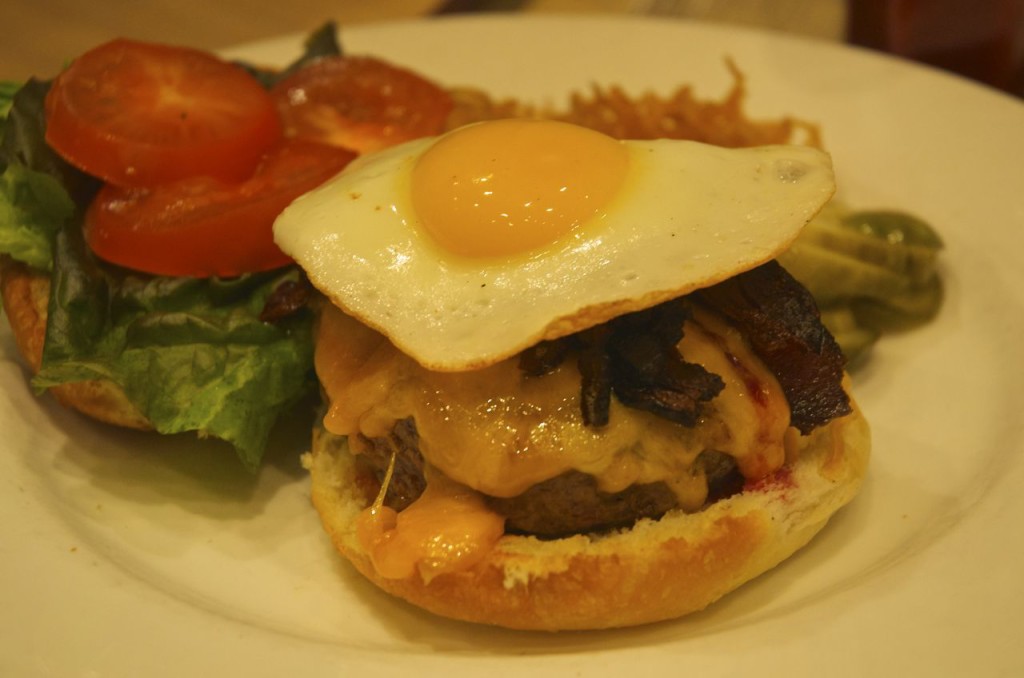 But when the sun goes down and the temperature dips into the single digits, it's time to concentrate on indoor activities and grandpa has come up with a delightful idea. We always go out for a hamburger dinner with our grandson, so why not begin to judge the burgers and see what we come up with. There are dozens of places that serve hamburgers all within a mile radius of where we live. So we set up a list of criterion for what makes a burger a burger: size of patty; is it greasy; cookedness (a word we made up to indicate whether the chef got the order right, rare, medium or well done); price; and about 10 other issues that we thought were important to the taste of the burgers, like type of bun, did it look good on the plate, how much did they charge for extras and what kind of ketchup was served with the burger.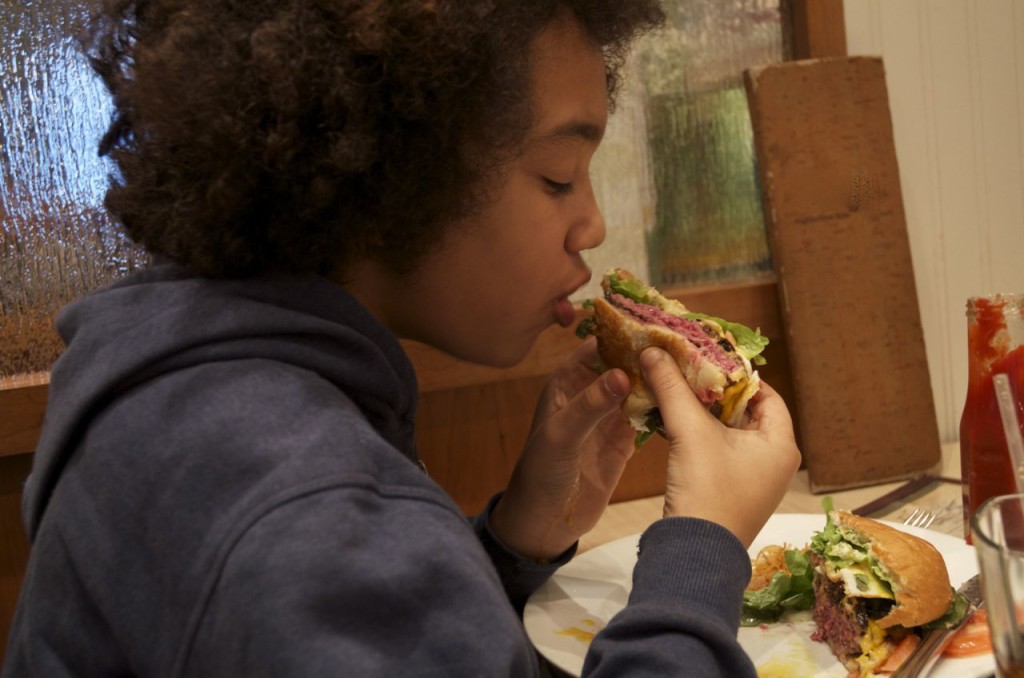 We decided to go out for hamburgers on the two night that Devon would be staying with us. The first night it was bitterly cold outside and we jogged across the street to the closest place that served hamburgers, and ordered the barn burger. It is a decadent burger with cheese, bacon and a fried egg, not exactly the low cholesterol or diet worthy food on a bun, but really good. We gave it a high rating, but then it is on the upper end of the burger world. We thought that the homemade thick and densely flavored ketchup got an extra high rating.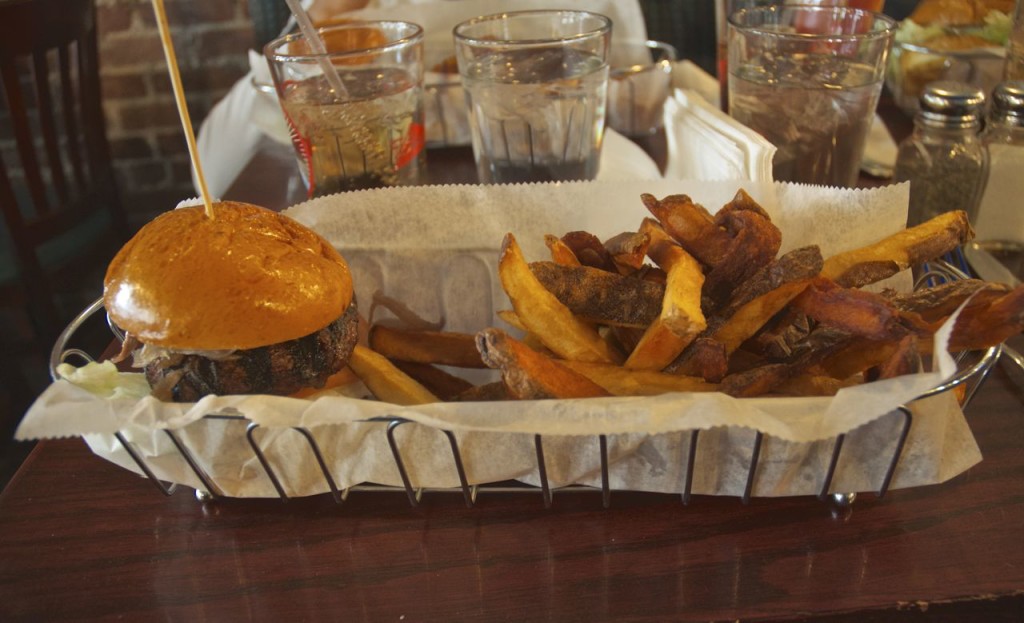 The following day we decided to eat a hamburger earlier in the day and went to a place three blocks from where we live. The interesting thing about this restaurant is that it is kosher and they do not serve dairy. So a cheese burger would have been cooked with a non dairy cheese product. We opted to forgo the cheese and went for the plain burger. The fries were really good. We ordered them extra crispy, and they were perfect. The burger was cooked on a wood burning grill and the meat had a luscious smoky flavor. Devon thought the outside of the meat was too charred for his personal taste, but that the inside was nicely done medium rare.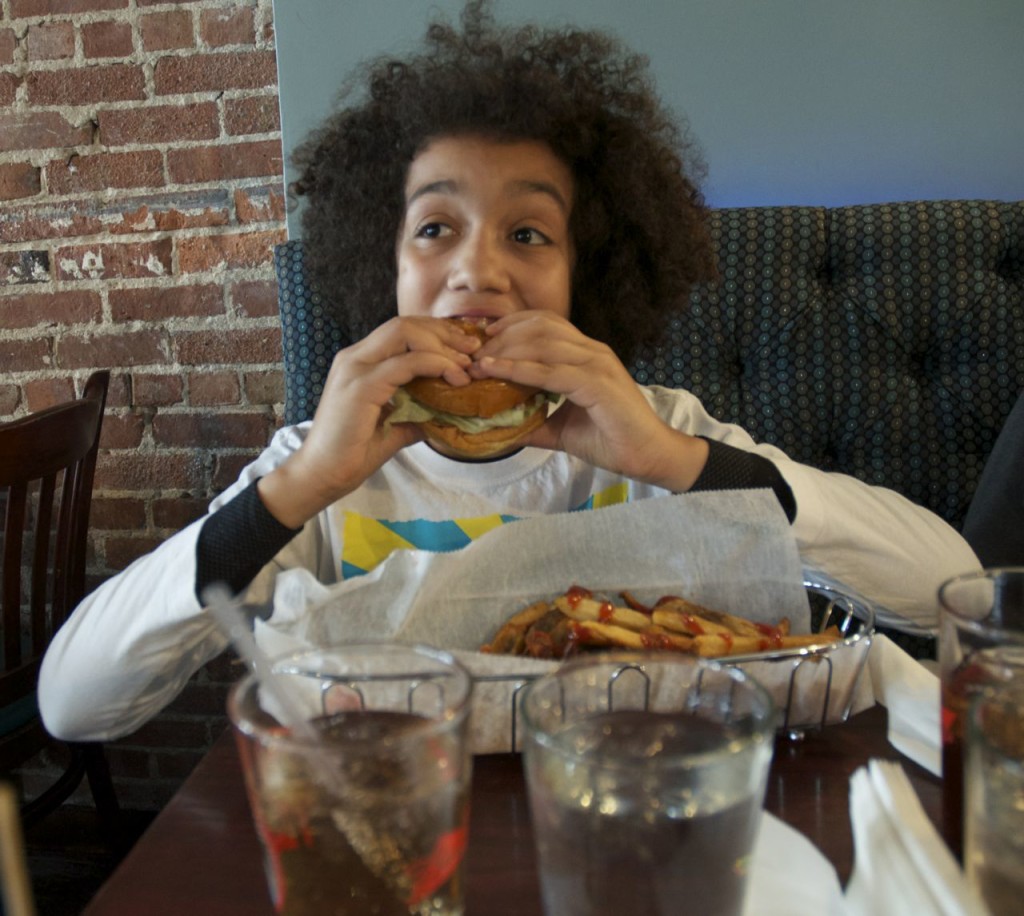 This place got pretty high marks, too, but the potatoes ranked the highest. The ketchup was an ordinary store bought variety, but then with such good fries, ketchup is only a bit of bling in the world of condiments.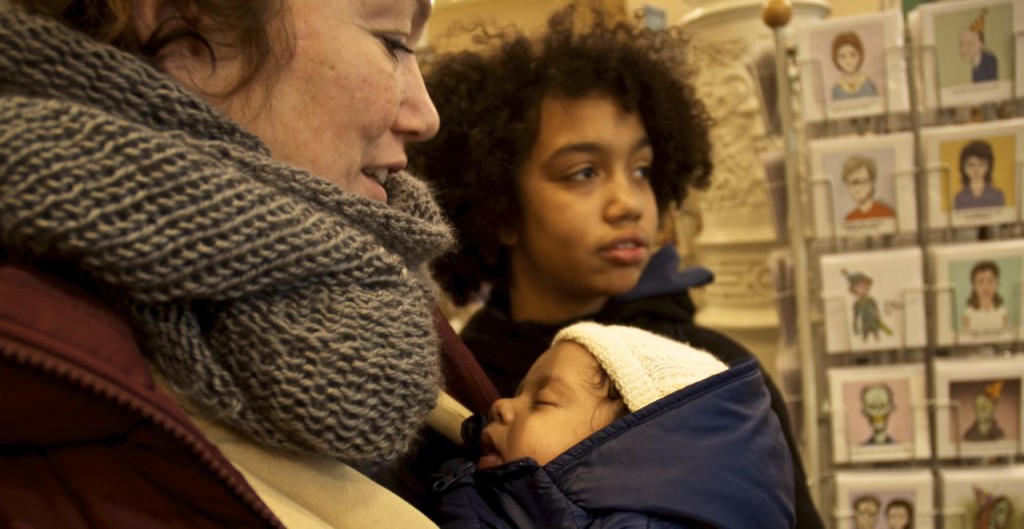 The visit with Devon went too quickly and then it was time to deliver him back to his mother. We met at Barnes & Noble, where while we waited for his mom to arrive, Devon browsed the cook book section looking at books specializing in meat dishes. He wanted to get a mega American style cookbook that had a large section on meat cookery. But his mom suggested that instead, because he likes to get things in the mail, that he could subscribe to one of the magazines he enjoyed looking at. He liked this idea.
They were heading back into Brooklyn to have lunch with friends. Dalia, sound asleep in her babbjorn (a type of front baby carrier), resting close to her warm mother, and I wondered what a baby dream world looked like.
And, yes, after visiting with my daughter and the grandkids the wintery streets didn't seem so cold or windy. Isn't it lovely how love can melt away the winter blahs.