I've been a city dweller for quite a few years. First I lived in Portland, Oregon. Then in the 60's I moved to San Francisco, where I lived for many years. But for most of my adult life, and what has turned out to be my most informative years, I've resided in NYC. I love the noise, the hustle of a crowd, and the never-ending array of experiences in the big city. Yet, when I visit family, who are certainly not city dwellers, I am awe struck by the open space that surrounds them, the quiet, and the slow easy pace of their country living.
A couple weeks ago I visited one of my sisters who lives in the high dessert of Oregon. Two other sisters were joining us and it was to be our first gathering in over six years. We talked, did a little this and did a little that. We took long rides in the country. And since my sister lives so far from anything, it always took a long time to get anywhere.

One day we were on a mission. We were going to Prairie City, a small community about 30 miles away, to visit a kind of touristy craft shop in this little town that had but one gas station, a feed store and a small mom and pop variety/grocery store. We were going to buy a bottle of chocolate wine that would be our dessert that evening.
Along the way we saw a huge rainbow softly slicing across the sky. There was a storm in the distant hills yet we traveled along the road bathed in a beautiful brilliant sunlight.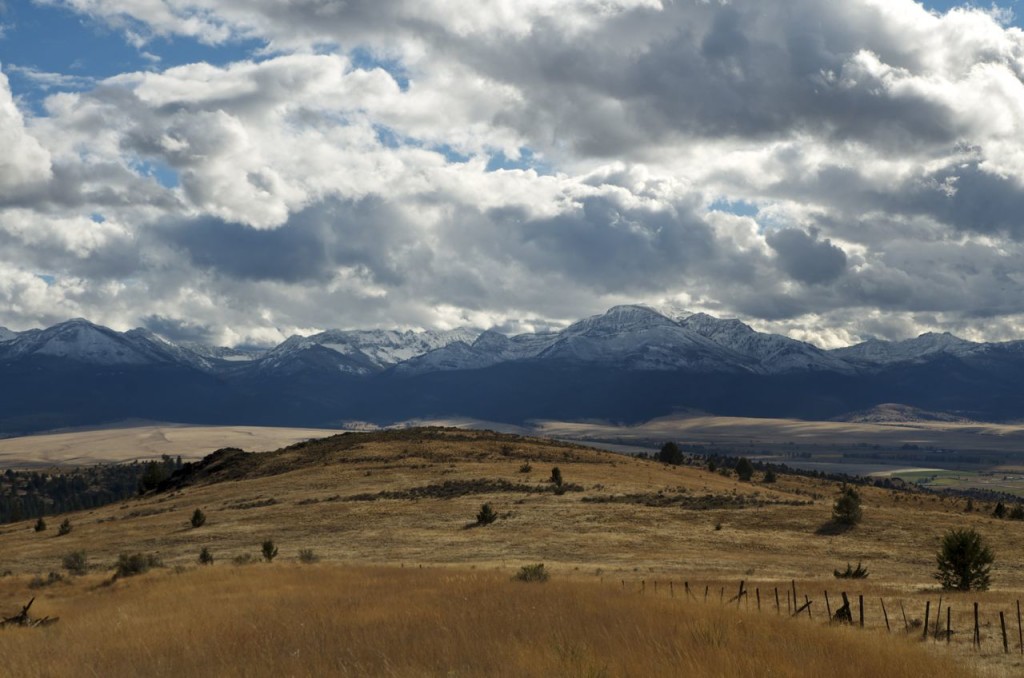 After we bought the bottle of Chocolate Wine and a couple cups of strong coffee, my sister decided to take us on a tour of the area. She is a long time resident of this part of Oregon and has become a wonderful craft person. She refinishes antique furniture. Another one of her skills is decorating slices of old weathered barn wood with beautiful nature scenes using a wood-burning tool. She sometimes goes hunting with her husband; she's an avid rock hound and this dear sister of mine wouldn't swap her house in the country for one in the city for any amount of money.
As we sipped our coffees she drove us to a hill that overlooked a string of plateaus and a mountain range that encircled a huge valley. Many of these peaks were once volcanoes. Now they sit dormant. This area sprawls across a tricky fault line that periodically rumbles as the land shifts and moves ever so slightly.
Looking out onto the horizon I try to imagine what it must have been like for the early pioneers as they drifted into this region more than a hundred years ago. The Oregon Trail, a 2,000 miles trek, originated in Missouri. The trail followed the Missouri River as it flowed north and then continued along the Columbia River, veering southwest and down into the Oregon Territory. Some settlers broke off from the Oregon Trail, following the John Day River they traveled into the high desert country. Ruts made by these old prairie schooners are still visible in some areas of this wilderness and in the pastureland.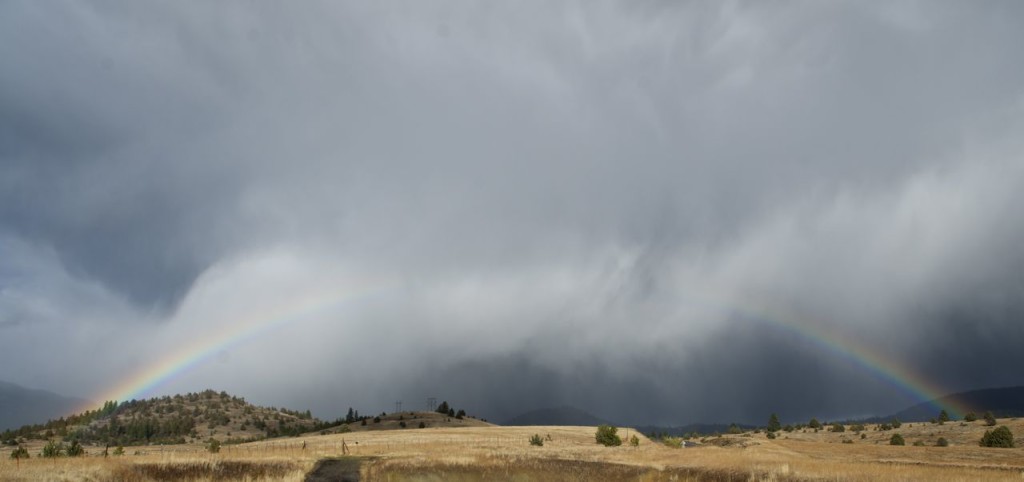 On one side of this hill we viewed the mountain range with all its glory, while on the opposite side of the hill, where my sister had parked her car, a huge dark cloud and a rainbow began to close in on us.
I wondered, had the pioneers seen rainbows as they traveled through all those thousands of miles of unorganized territory? Did they have the patience and energy to appreciate the beauty of such a scene?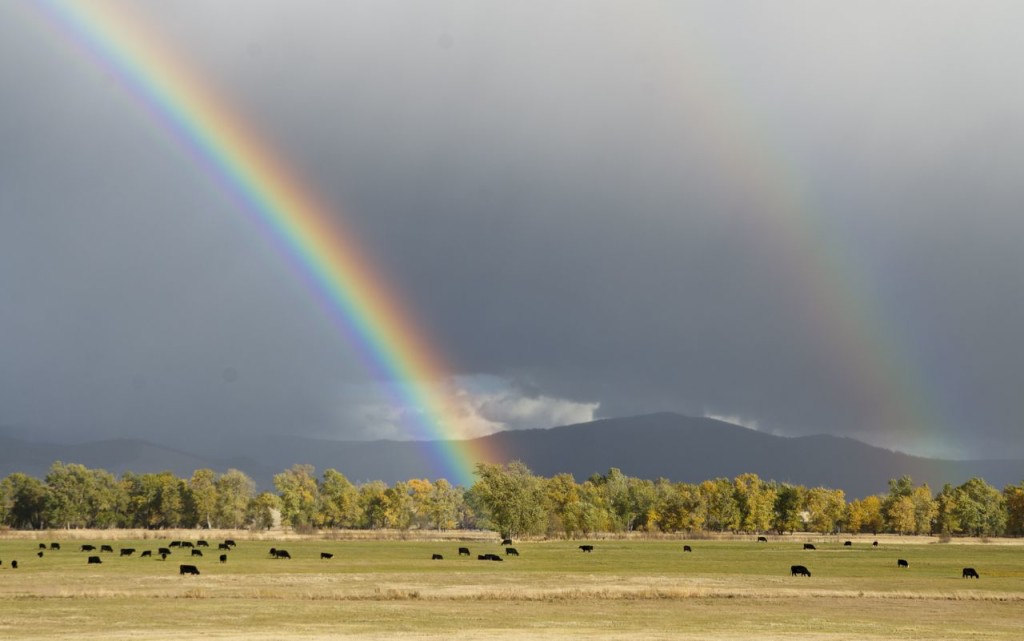 It seemed there was a rainbow everywhere we drove that day. We even spied a double rainbow arcing across an immense pasture.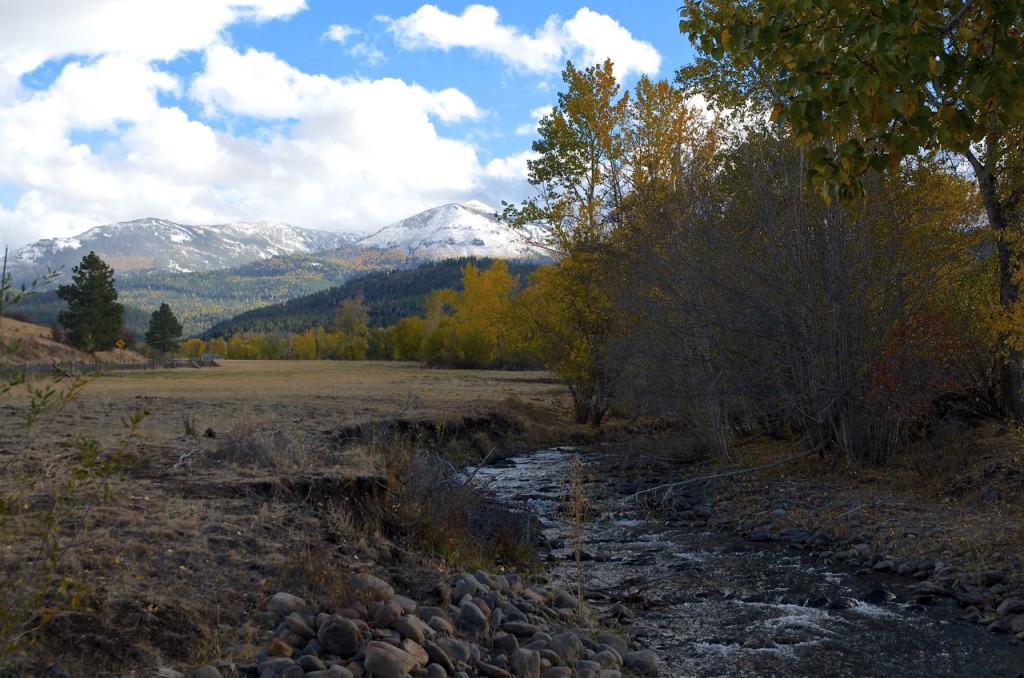 We were in no hurry. We had nowhere to be. So my sister drove us up into the Strawberry Mountains. The day before, we had observed dark storm clouds covering these mountains. Now their peaks were dusted with snow and a bright sun made the tops of these mountains glisten. We rolled down our windows; the air was rich and sweet smelling.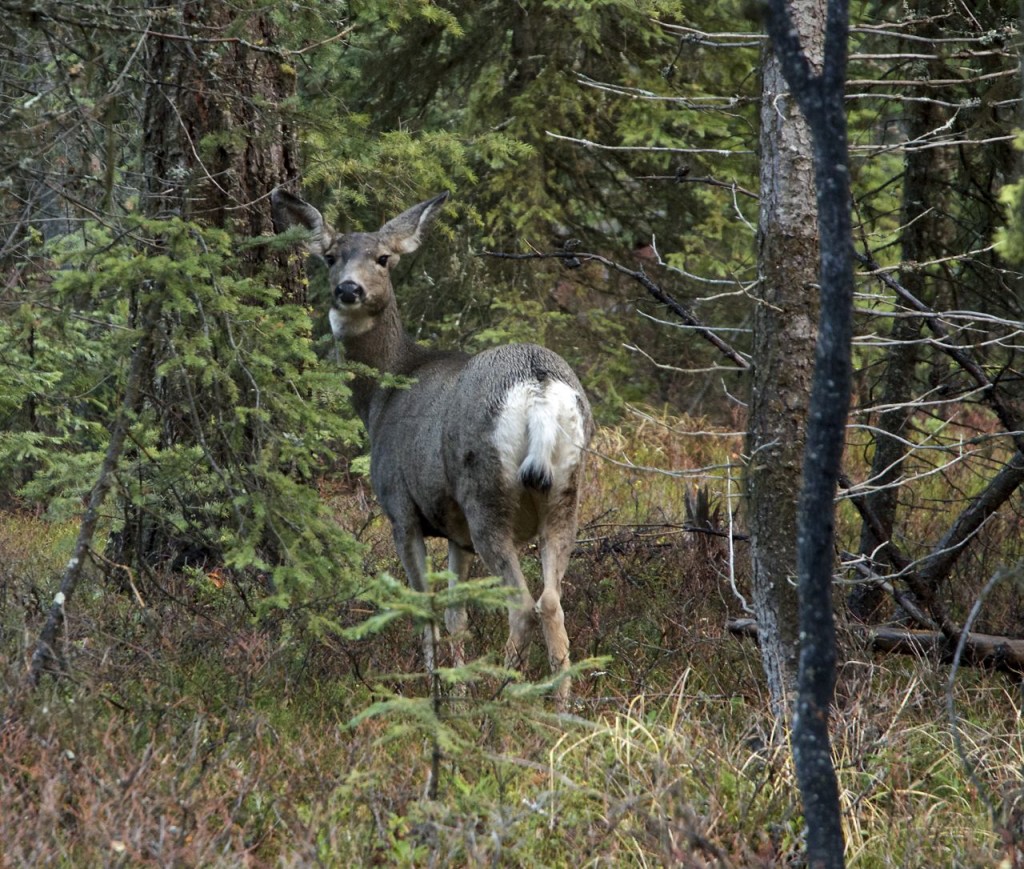 We drove up a rugged road, climbing higher into the dense forest. When we reached the campgrounds of this national park, we saw tents, campers and trailers parked everywhere. In three days deer hunting season would start and these campers were staking out their territory early. We drove as far up the mountain as we could, then turned around and headed back down to the main road. Halfway down the mountain, we saw small herds of mule deer ambling through the woods, munching on the grass, not seeming to be bothered at all. They even briefly tolerated our photo sessions with them. They were beautiful, strong, healthy looking animals. I was sad to think any one of them might be killed within the week.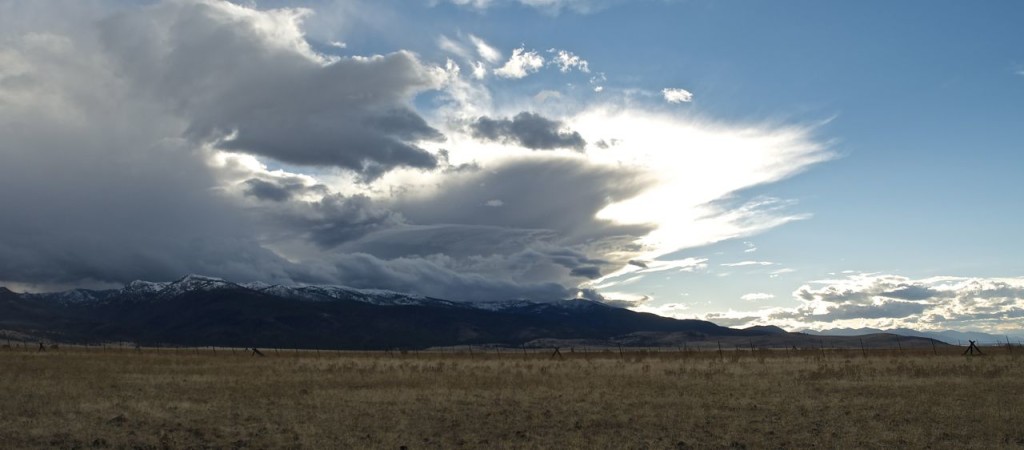 Reaching the bottom of the Strawberry Mountains, looking back we saw a huge bank of clouds closing in on the entire mountain range. Part of the sky looked as though it was exploding. The air, now very chilly, a wind began to blow and large raindrops hit the windshield.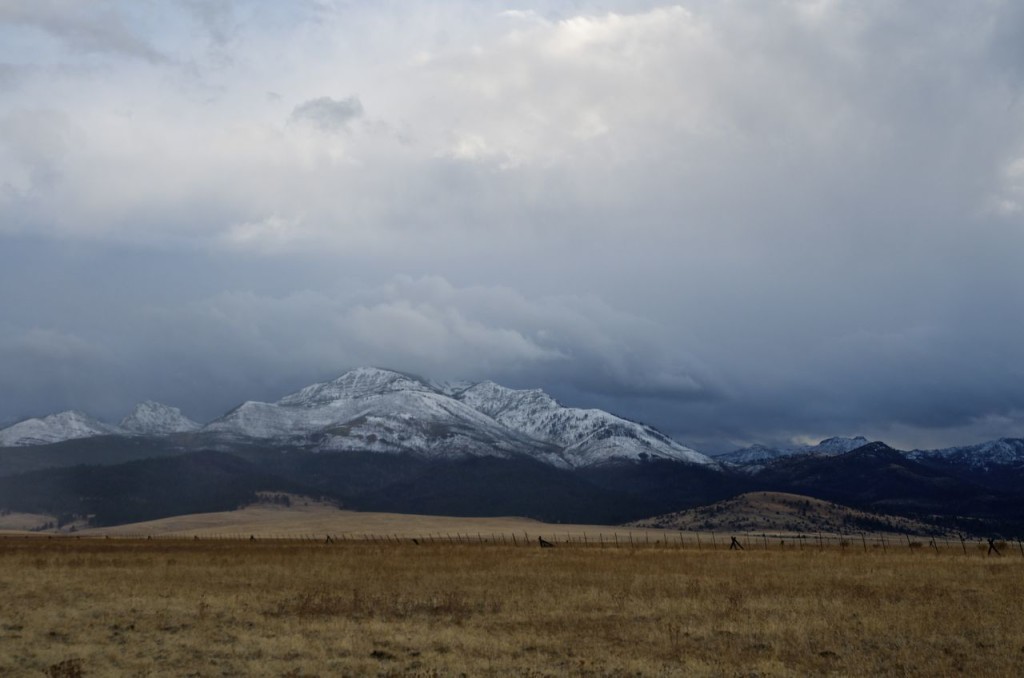 As we drove home the clouds grew darker and darker, moving ominously closer to us. I've watched storms traveling across the Manhattan horizon. I've seen the shore of the Atlantic Ocean engulfed in a massive hurricane quickly moving onto the land. Yet, those scenes paled in the drama of watching these giant mountains being absorbed by this dense, grey mist. In no time this magnificent horizon disappeared.
We'd spent the day driving around this beautiful area, it was time to head home, make dinner and have some Chocolate Wine. The dessert was certainly a sweet and delicious treat. My brother-in-law is contemplating making some of this wine during the long winter months. He said he'd start from scratch using one of his bottles of homemade elderberry wine. His recipe sounded a little too labor intensive for me. I've concocted a simplified version of this Chocolate Wine and I'd like to share it with you.
CHOCOLATE WINE
1 bottle of Red Zinfandel
2 cups whole milk
1 shot of  Kahlua
1 ounce dark chocolate coarsely grated
Cocoa powder for garnish
Boil and reduce wine to half.
Put grated chocolate in a heat proof bowl.
When wine is reduced, remove from stove.
Let wine cool slightly,
Then while still quite warm,
pour wine over grated chocolate.
Whisk mixture to insure chocolate is fully incorporated and melted (No lumps).
Add Kahlua to chocolate/wine mixture.
Bring milk to a boil.
Pour half of the hot boiled milk into the wine/chocolate mixture.
Froth the remaining milk in a blender.
Pour chocolate wine into to mugs.
Top with dollops of frothy milk.
Dust lightly with cocoa powder.
This would be delicious with cookies.