It was a gloriously warm and bright autumn Halloween day. It was shirtsleeve weather. I busied myself with knocking things off my todo list. By late afternoon I'd finished a bit of writing, washed the breakfast dishes in the sink and knocked off a few other tasks I'd been putting off since returning from my visit to the northwest. Then I read for a while waiting for some friends to arrive. Tonight we were going to the NYC Village Halloween Parade.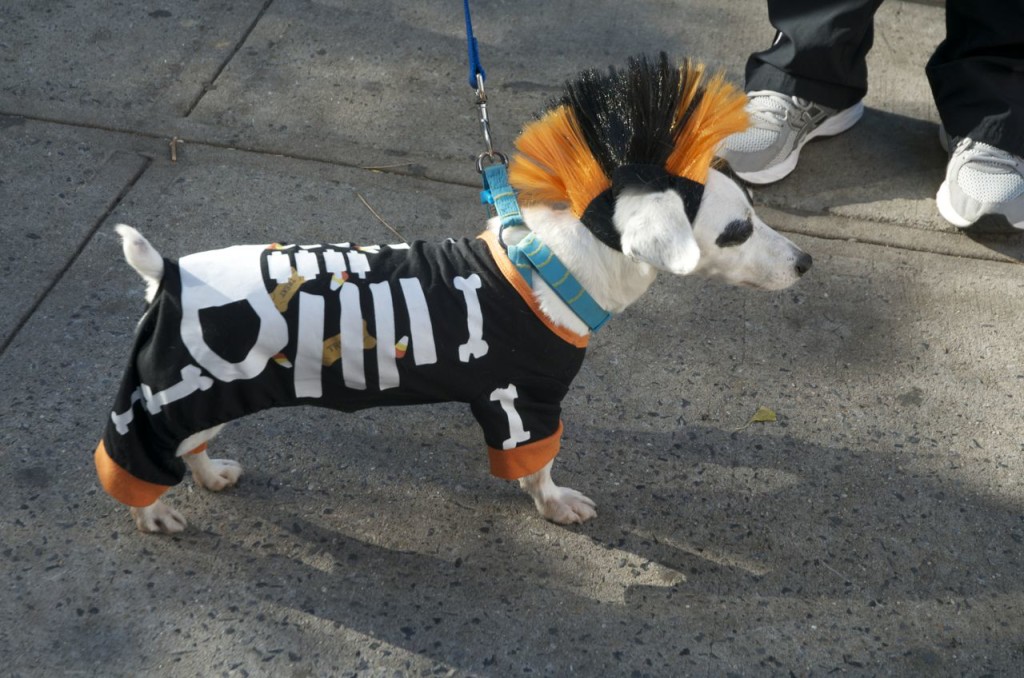 Stepping out into the late afternoon light it was easy to see what day it was. Even the dogs were dressed for the occasion. This pup took a pee, then he stood quite still while the school kids in their princess and super hero costumes jostled with each other attempting to feel the little dog's head piece.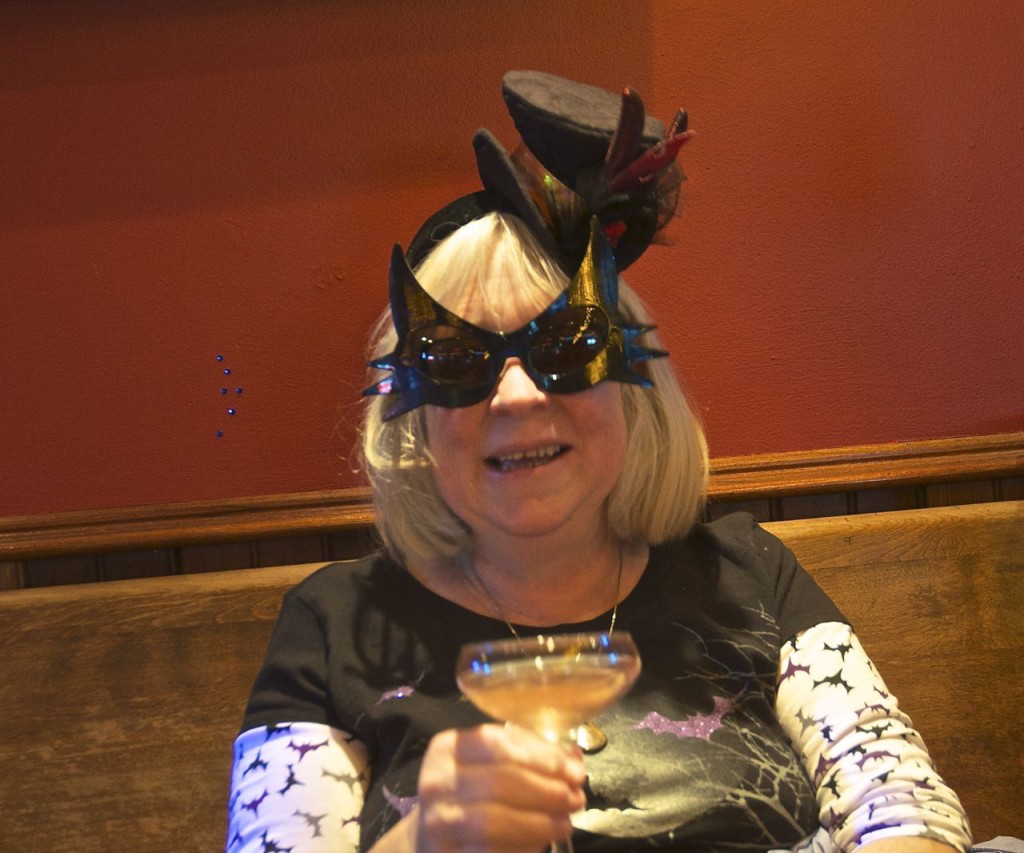 As we headed for the subway, we discovered that no one had eaten lunch. It was nearly dinner time. So we decided it was time to head off to the local Dive Bar and have a bite to eat. And while we were at it, a martini sounded like a great way to start off the Halloween festivities.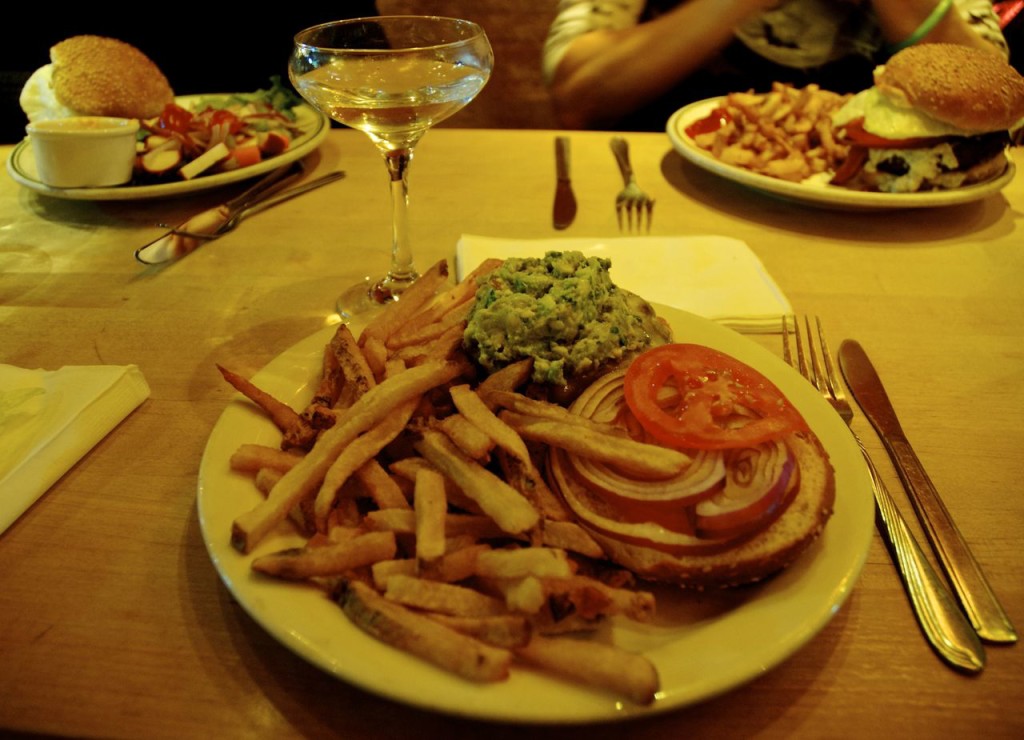 The burgers at the Dive Bar are always dependably good. I loved mine with a dollop of guacamole, and part of the price for this yummy delight goes to a breast cancer research fund.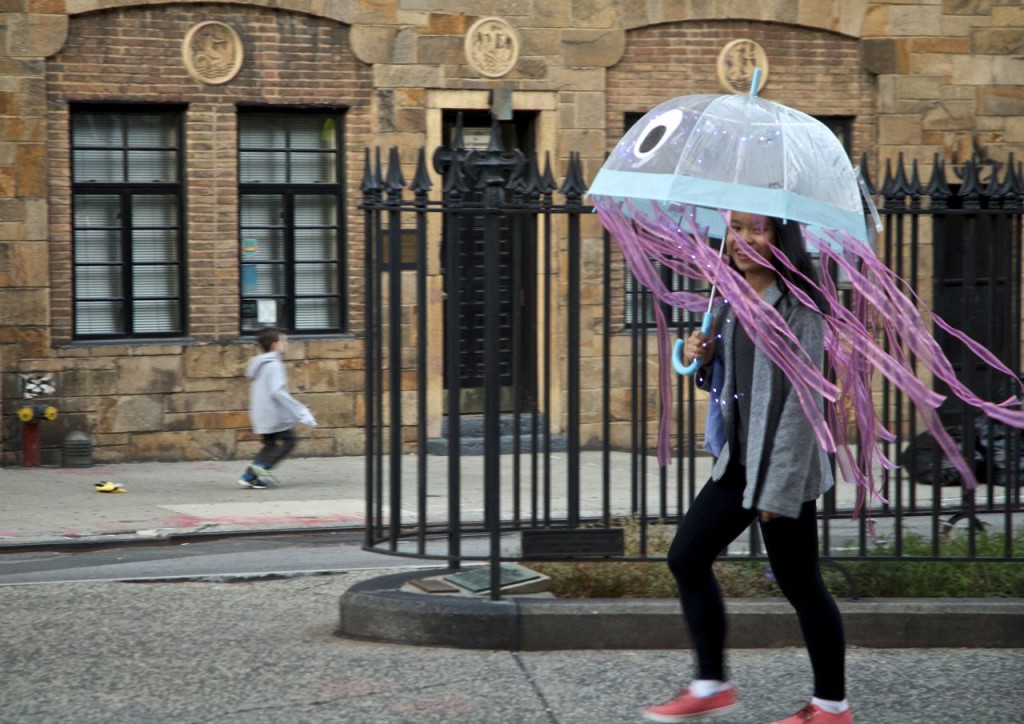 Our meal eaten, our drinks downed, it was time to get on the subway and head for the Village. When we got off the train it was easy to see that something big was happening in this part of the city. The streets were blocked off, cops were stationed at every intersection and even though it was more than an hour before the parade would start, the streets were hopping with activity. We walked around for a while, taking photos and joining in the fun.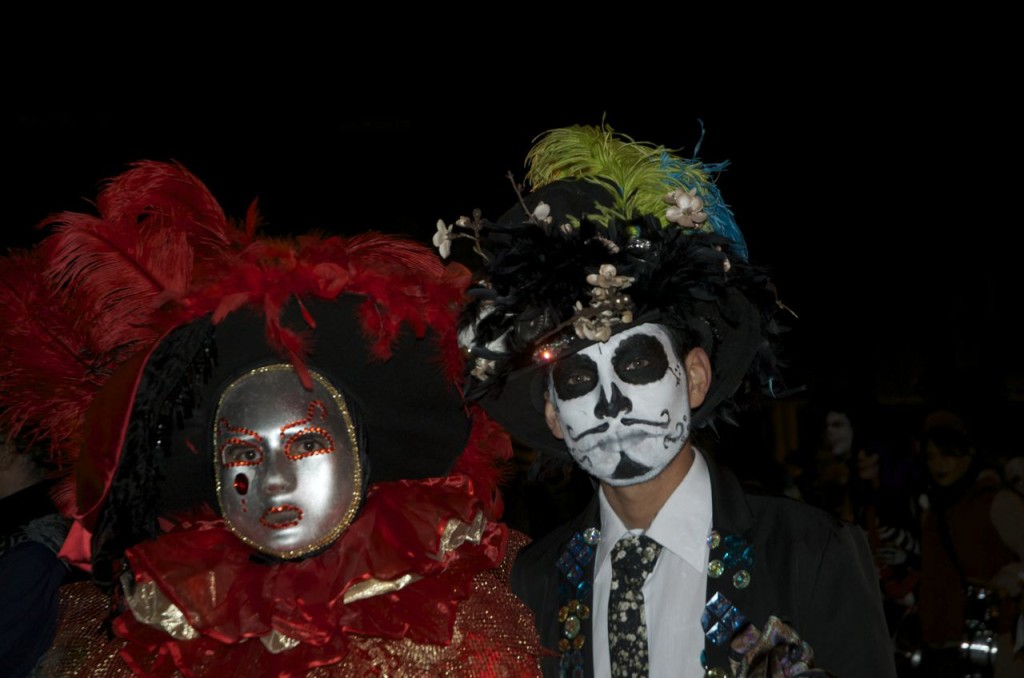 Then the city went dark as though the lights in this giant theater were turned off, and the curtain was lifted. Let the festivities begin. The head of the parade consisted of princesses, nymphs and fairies dusting the viewers with pixie dust (glitter) and calling out, "Happy Halloween."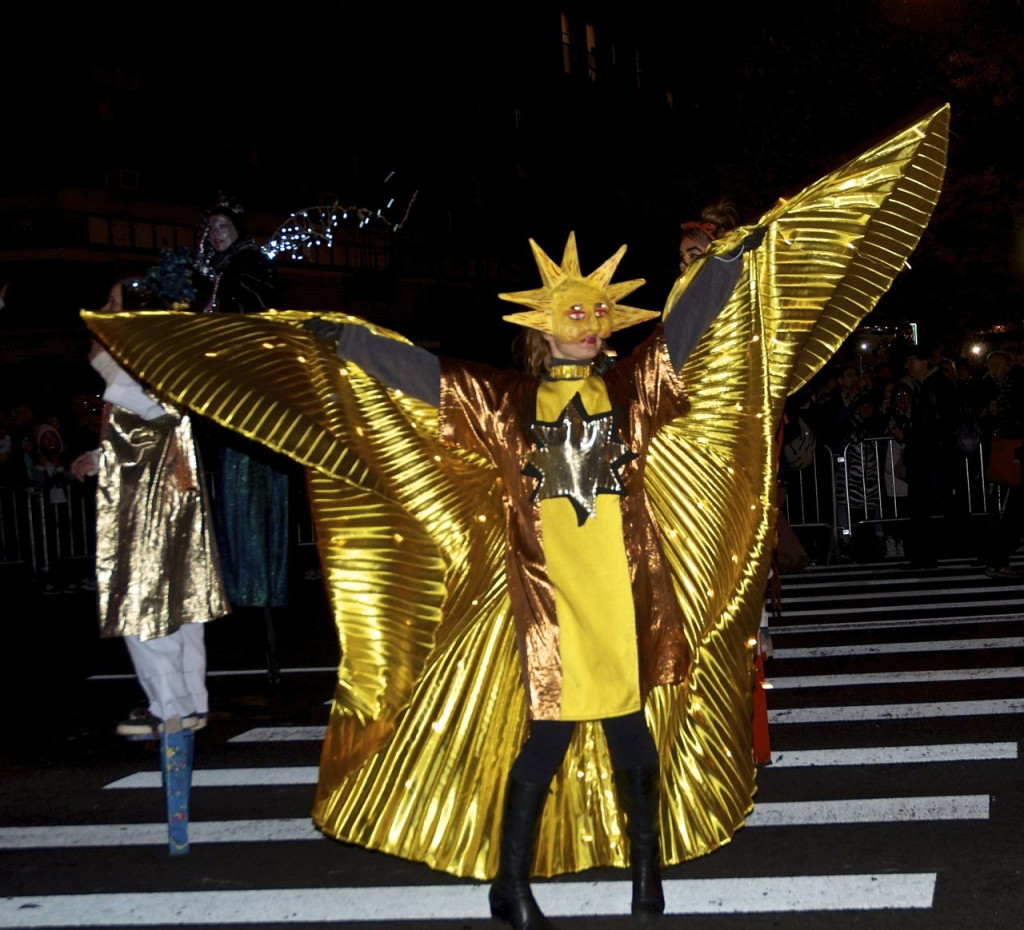 A grand golden swath of light glided along the street, so elegant and magical, that in the darkness I could have believed this apparition might have the ability to fly.
Gruesome dystopian creatures quickly moved along the parade route, fearless, angry looking and very dramatic.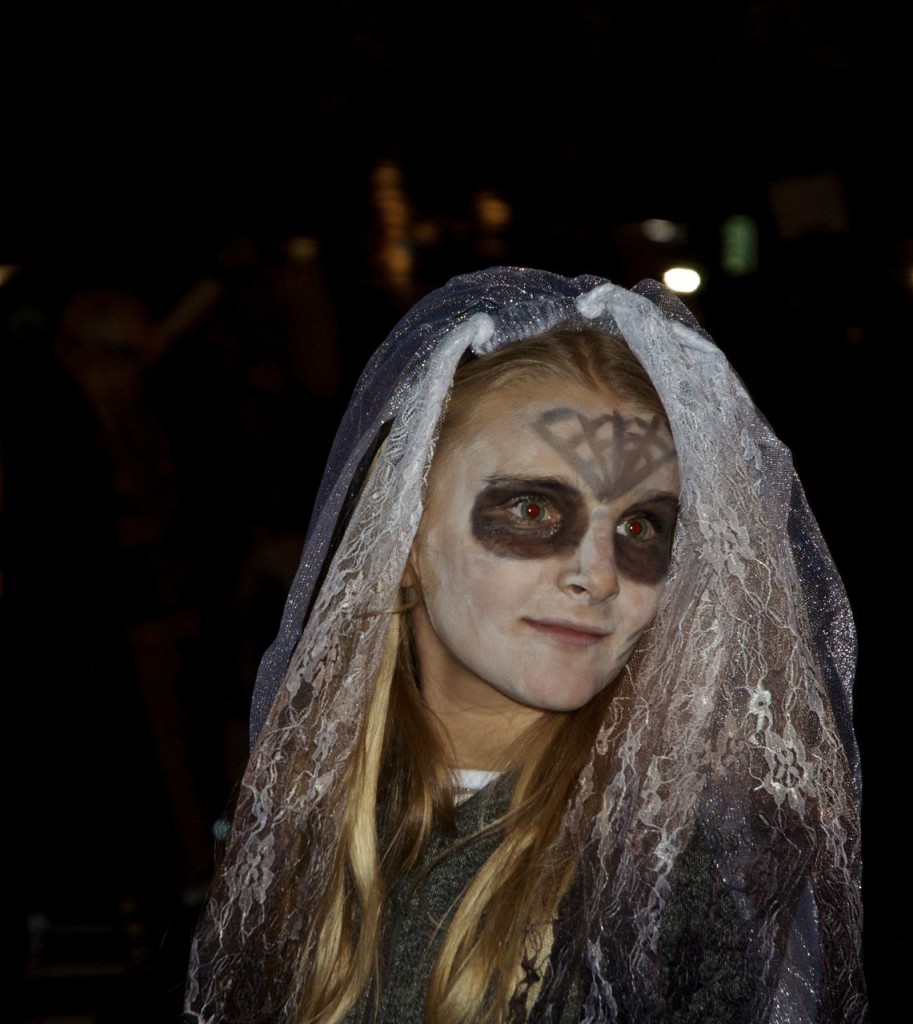 The angelic look took many forms.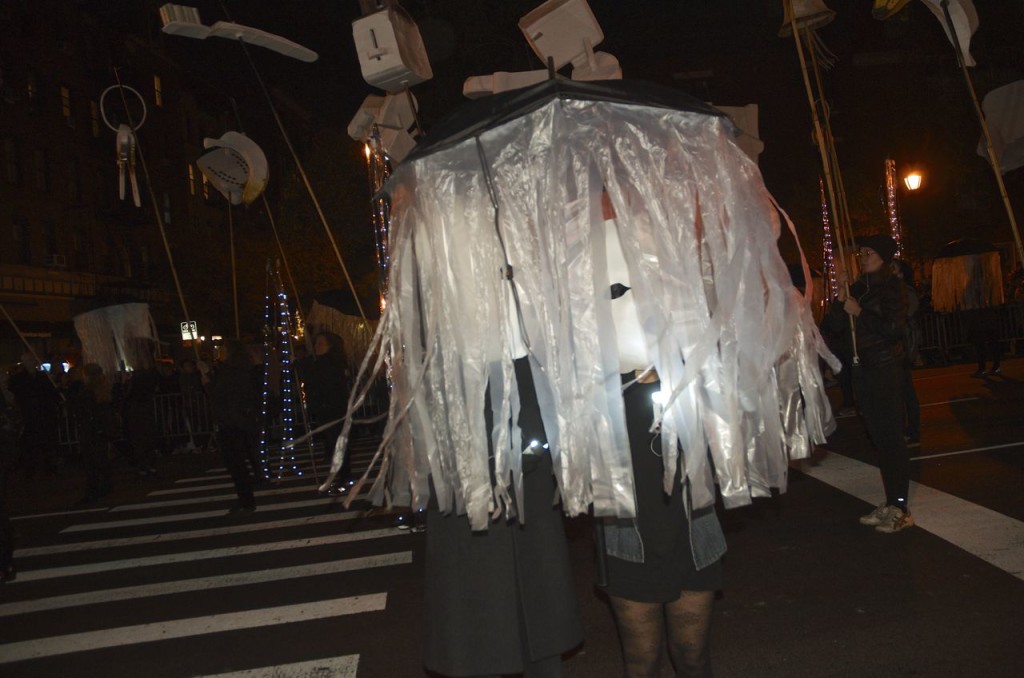 There were groups of marchers that were unique and very organized. This interesting section of the parade had wonderfully decorated umbrellas with mysterious large headed creatures hiding under the frothy plastic frills.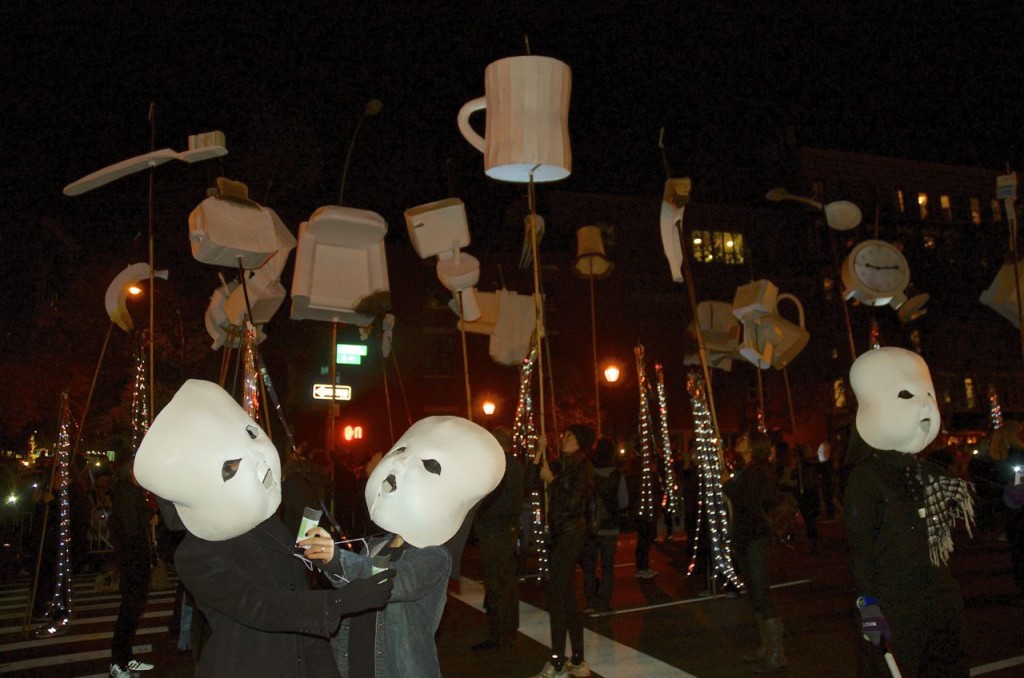 Then the procession stopped. The umbrellas were lowered and the big headed creatures began to sing a lovely haunting tune. It was quite theatrical and spectacular.
When the music was completed, the umbrellas were lifted up again. The strange creatures waved farewell and they continued on their way up the street.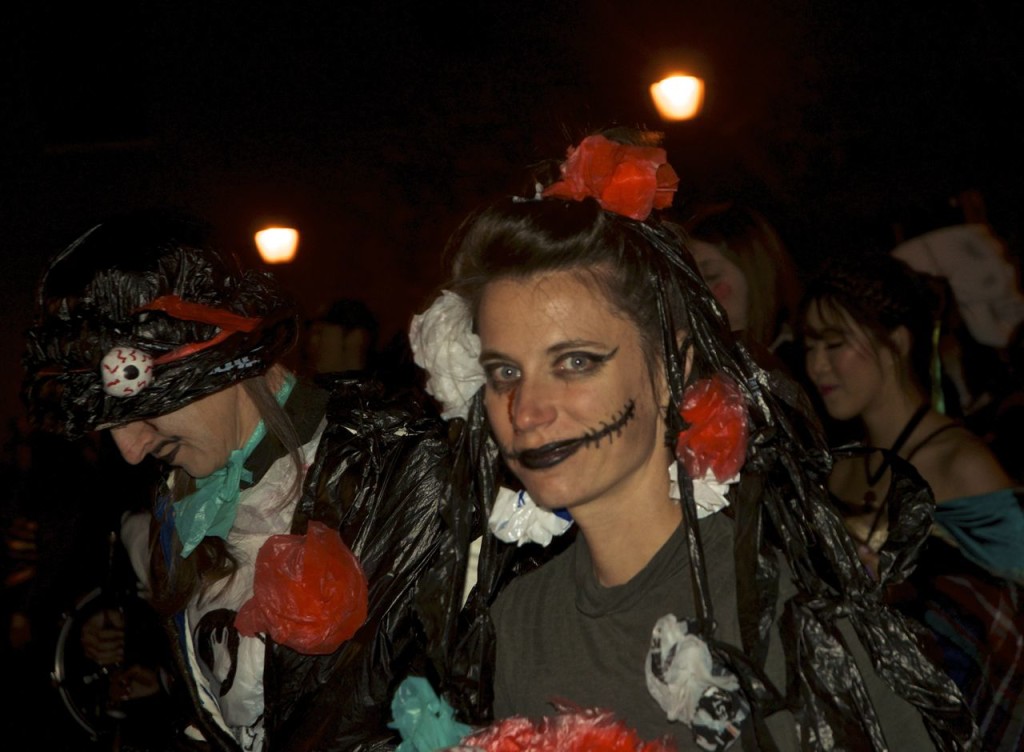 Some people created costumes out of trash bags and carry away bags from the grocery store. A bit of black eyeliner pencil sliced across the face and the effect is perfect.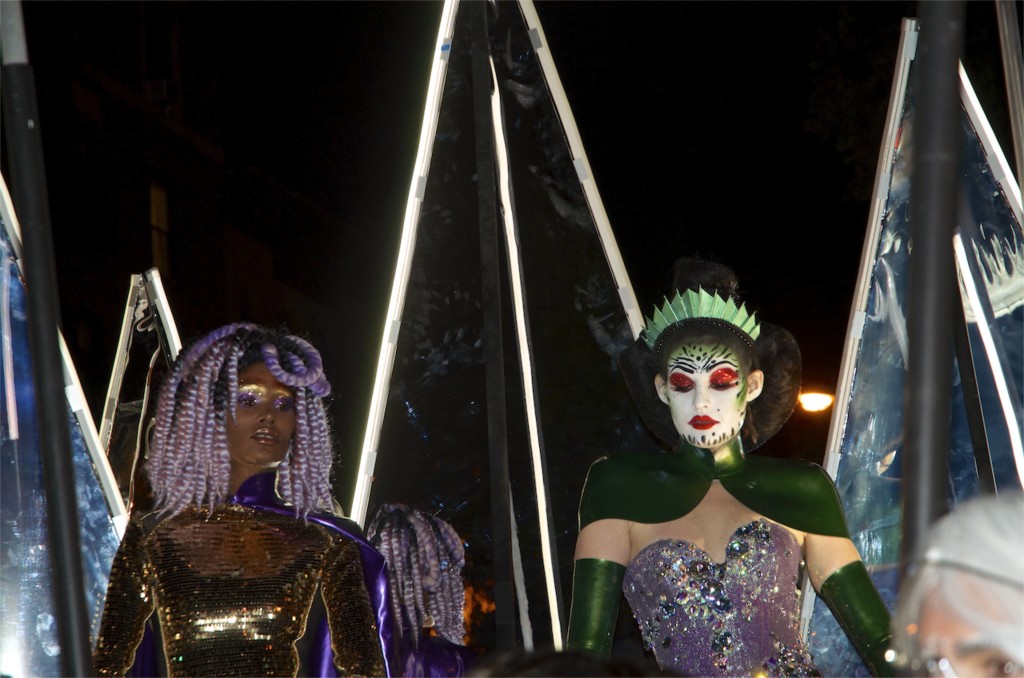 There were a half dozen floats, some with rock bands others with elegant other worldly beauties, dancing, or simply letting their beauty tell a story.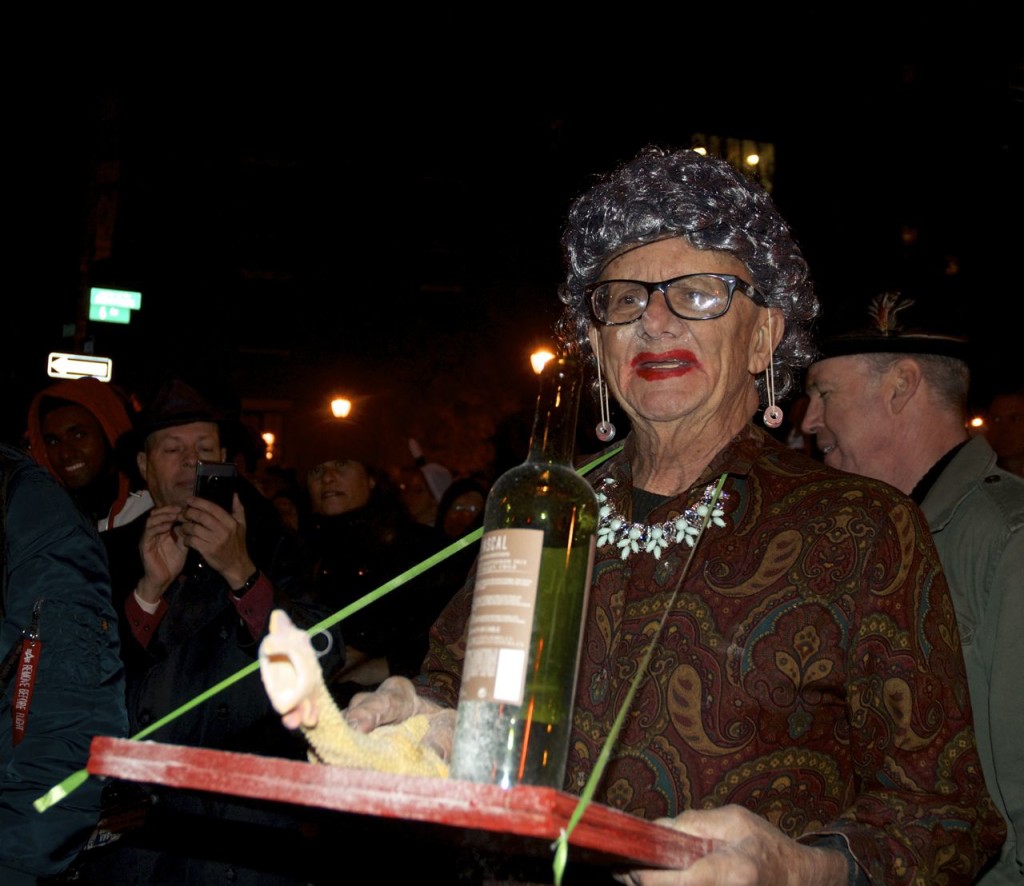 And then you have a Julia Childs, her famous chicken and a bottle of wine. "Bon appetit," this marcher shouted at the crowd while he banged the rubber chicken against the cutting board that had been secured around his neck with a green ribbon.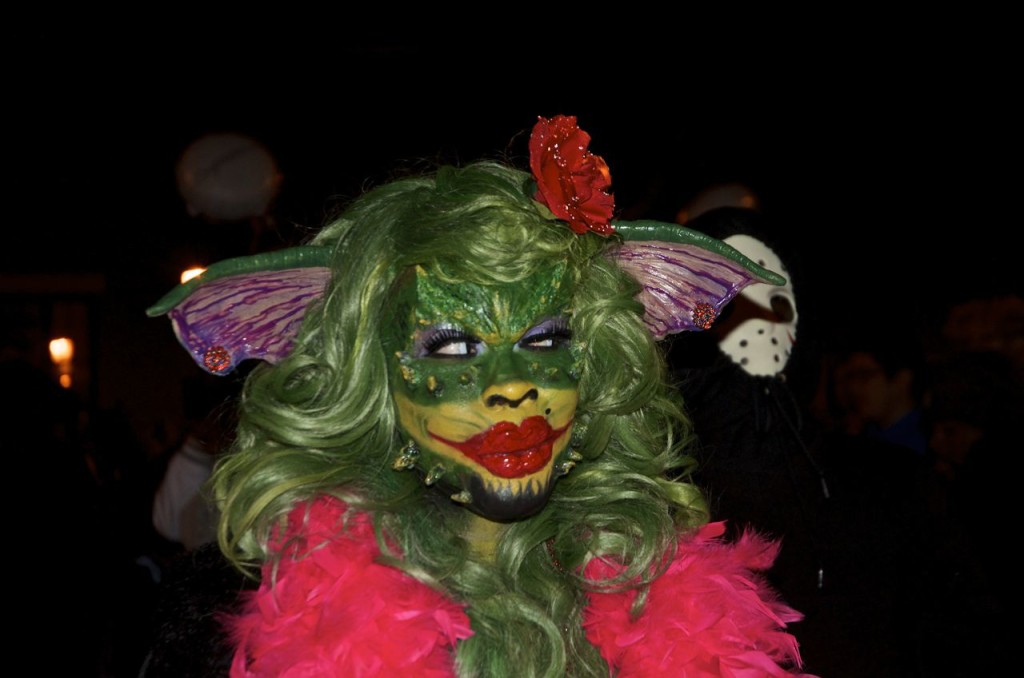 This green beauty moved slowly toward where we were standing. The deliberateness of her (or perhaps his) action added to the drama. Elegant and seductive, surely this could have been a monstrous creature who is only able to be itself on the night when all freakish entities are allowed to come out and play.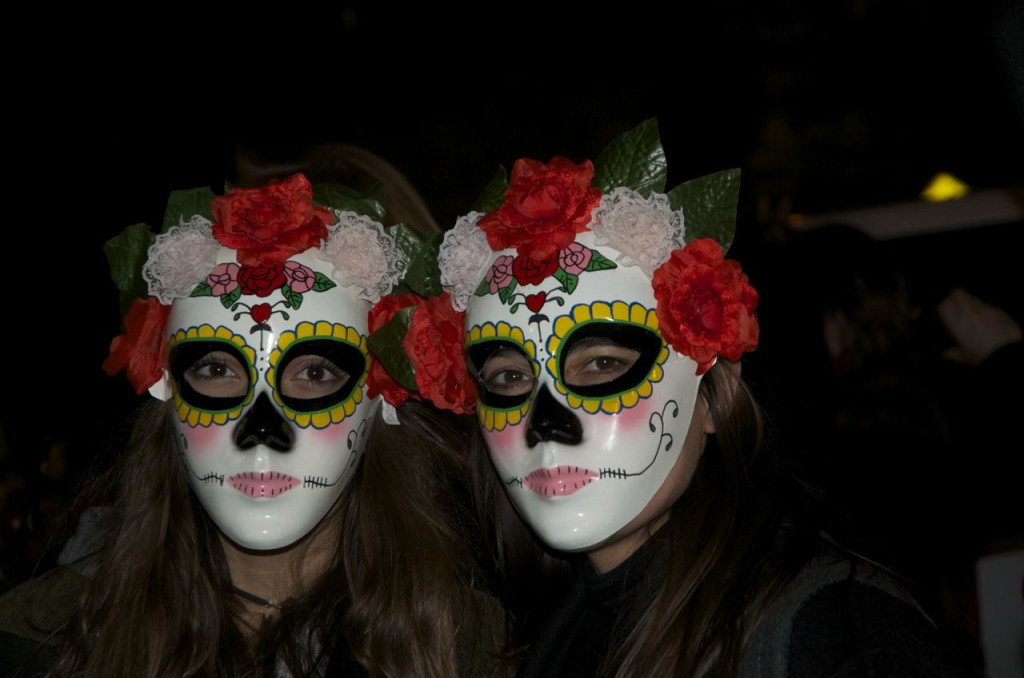 Could we call these two masked ladies Tweedle-De and Tweedle-Dom with a twist? But they are really lovely as a pair.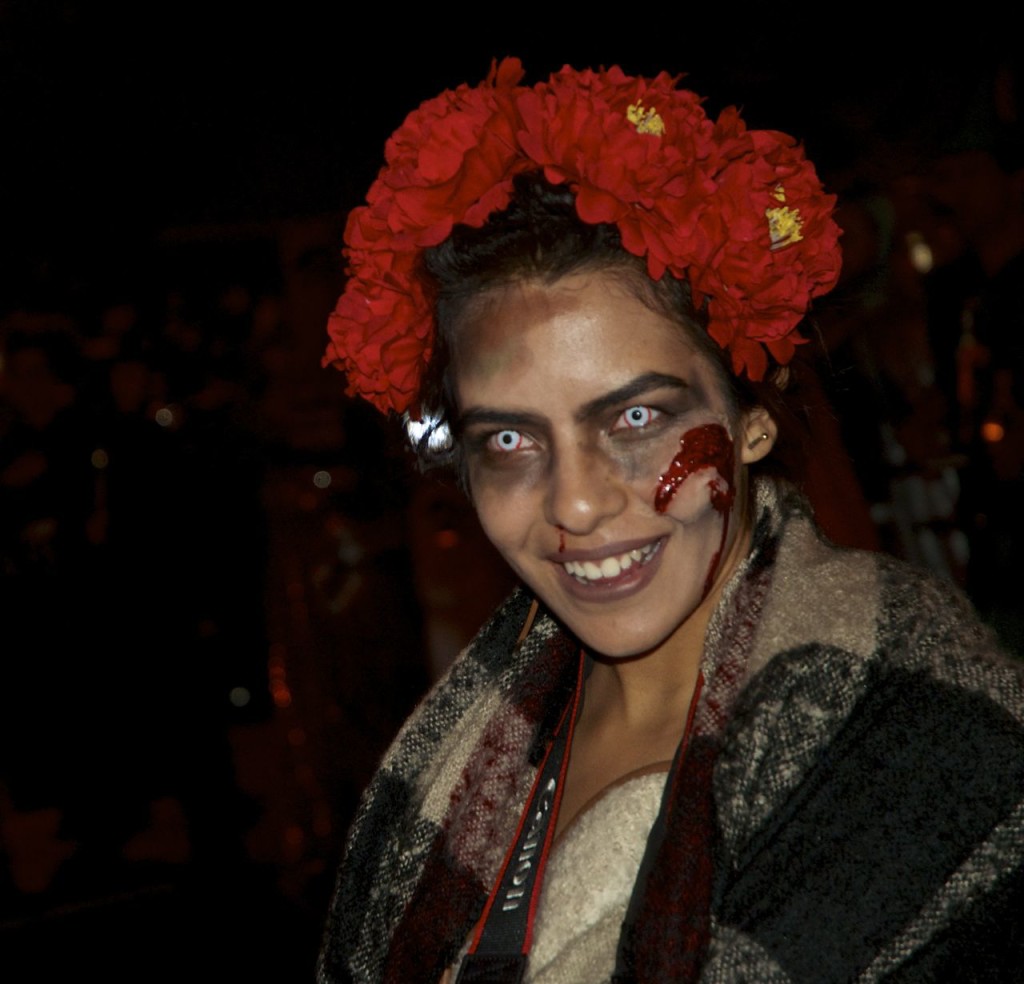 This hauntingly beautiful walking dead reminded me of Frida Kahlo.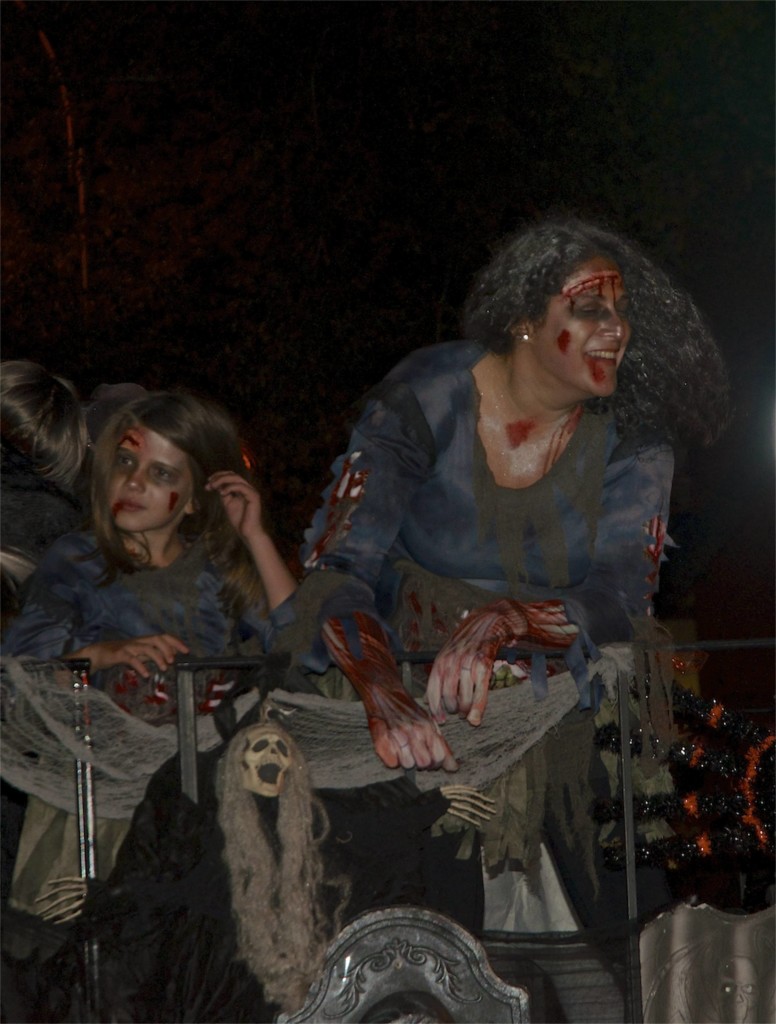 I got a kick out of this Zombe mother and daughter team. When the mother howled and acted her part, grabbing for the crowd, hungry for human flesh, the little girl growled too and clawed at the air.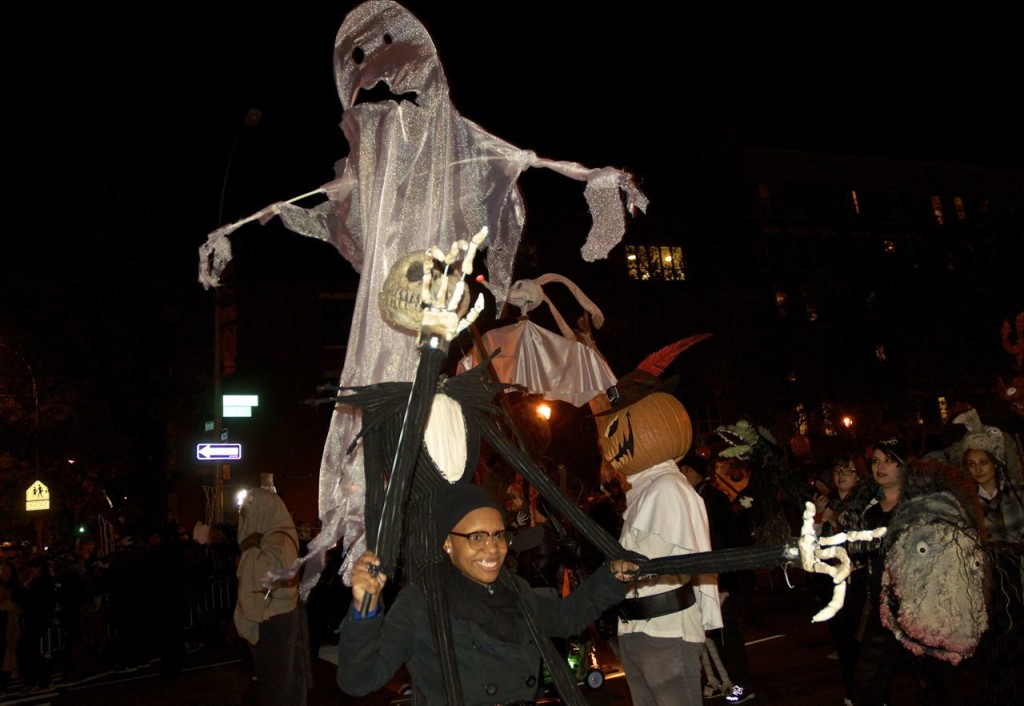 It was a long parade with an estimated 60,000 participants and a whopping 2 million viewers. I don't know if there were that many people standing next to me but where I was standing, there was a thick tangle of people behind me. The first parade was held 42 years ago. Back then it was a small simple community affair. Now it's a major event and from the smiles and good cheer that floated past the viewers, it looks like this parade is going to keep happening for many years to come.