I've lived in NYC for almost 35 years and would you believe that I've never visited the Statue of Liberty or set foot on Ellis Island. I don't know how many New Yorkers haven't visited these tourist sites but I figured it was about time that I checked them out. So, the other day a friend of mine and I took a subway to the end of Manhattan to ride the ferry to see what they were like.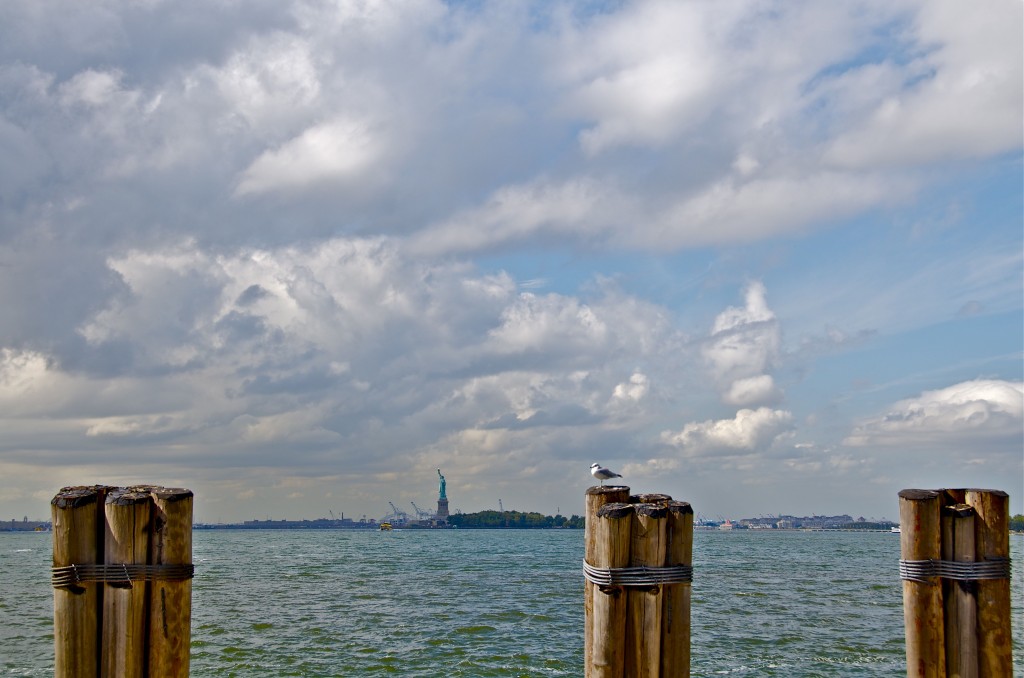 It was a cloudy day with a hint of fall in the air and the view from the shore line is really quite spectacular. And though it was clear where Lady Liberty stood, Ellis Island was not so easy to figure out.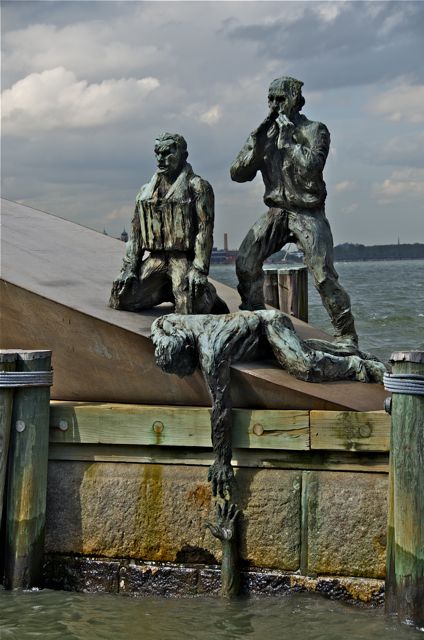 Because we were quickly escorted into a line to board the ferry I didn't get a chance to see who had created this sculpture dockside, but it clearly had been a memorial for more than one drowned soul. It was a very powerful scene.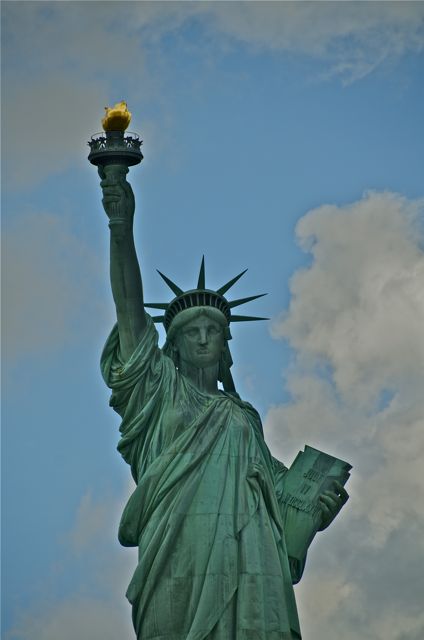 I got a good look at the Lady as we neared the Statue of Liberty. I know that she stands with a powerful pose and that she is recognized around the world, but I've never really gotten a good look at her face so close-up. She is not a beauty by today's standards but she is certainly the depiction of a powerful woman. Everything about her is formidable. She is the figure of a mature woman with a strong straight nose, eyes that glare down at the viewer with her potent mighty raised arm holding the lighted torch power. I like her even more now that I've seen her up so close.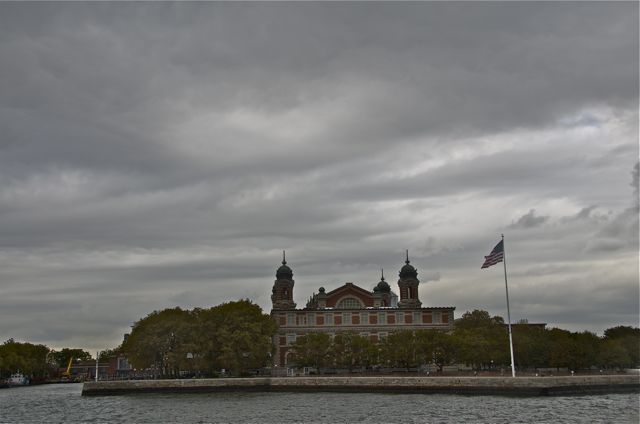 The sky turned dark and storm clouds began to gather as we neared Ellis Island, an omious background for this place that had 8 million immigrants pass through its doors between 1892 and 1952.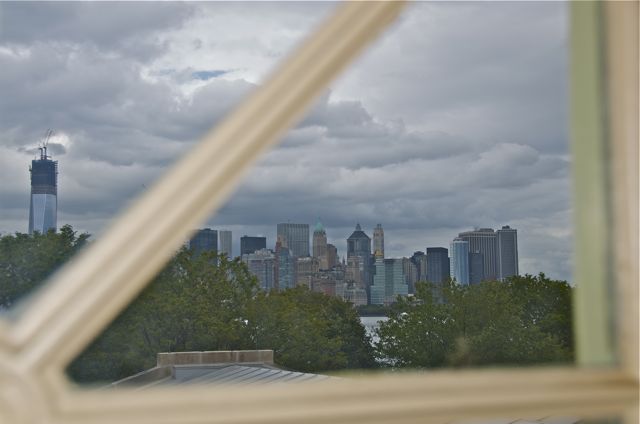 Here is a view of Manhattan from the reception area on the second floor of Ellis Island. Though this place was officially closed in 1954 it didn't become a part of the Statue of Liberty National Monument until 1965. And then in 1998 the U.S. Supreme Court found that most of the island to be part of New Jersey.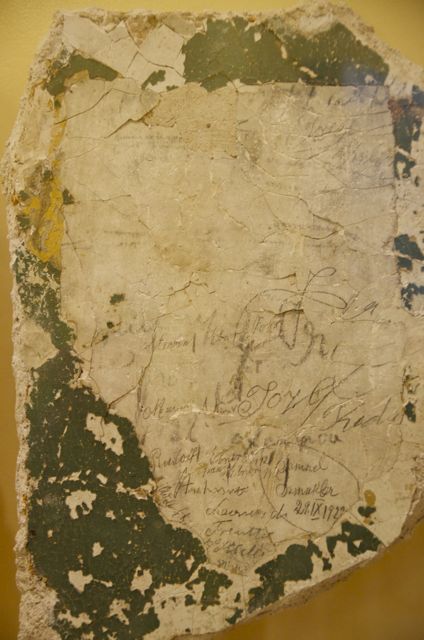 Graffiti is also a part of the artifacts left behind by the immigrants that passed through the doors of this place. After the closing of Ellis Island the building began revealing what lay beneath the decades of paint that had been brushed across the walls. During the 1980s restoration, conservators salvaged and preserved much of the graffiti.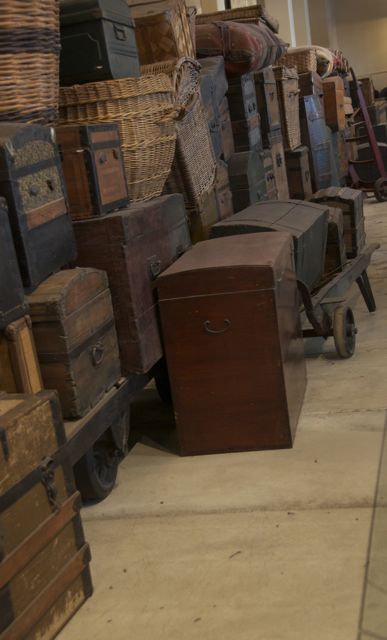 A long string of vintage luggage greets the visitors when they walk through the front doors.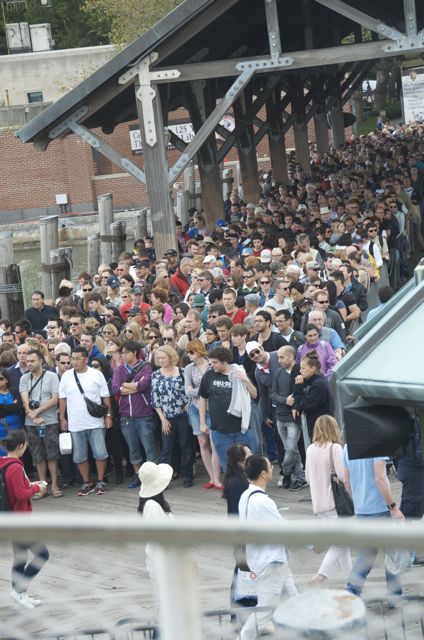 This is a view of visitors waiting to get back on the boat and head home to Manhattan. But if they were dressed in clothing from another era they could just as well have been immigrants waiting to embark on journey into a new life in a new land.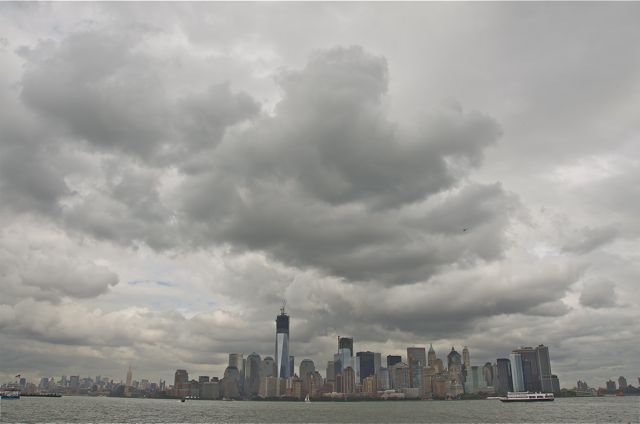 The dark clouds began to gather over Manhattan as we left Ellis Island. The water was a bit choppy but not that uncomfortable.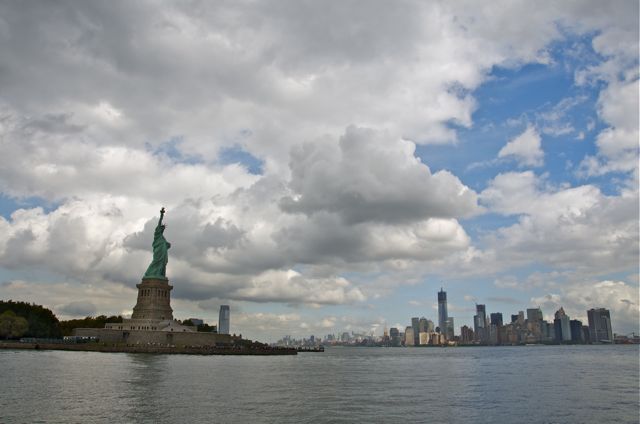 This is probably my favorite photo of the day. We had just pulled out of the Statue of Liberty Island dock. The boat made a wide turn and then as we headed south toward Ellis Island I got a view of what an immigrant must have seen before they landed on Ellis Island. Of course, there were far fewer buildings in Manhattan and certainly no World Trade building, but it must have been thrilling to see this for the first time.