The other day I visited an historical site, The Morris-Jumel Mansion, the oldest house in Manhattan. I'd like to take you along on my visit and tell you what I learned.
In 1765 The New York Mercury, a Sunday weekly newspaper, that boasted of being the first eastern paper to publish Mark Twain, as well as, the first newspaper to provide regular coverage of baseball, published a land-for-sale ad. The property extended from the Hudson River to the Harlem River in upper Manhattan. A potential owner was enticed with oystering, clamming and fishing and orchards of quince and other fruits, and extensive views of Long Island, Staten Island and New Jersey.
The property was purchased by Roger Morris, a retired British officer who had served in Canada, and his wife, Mary. By 1770 they had built a grand mansion that would serve as a summer country home while they maintained a residence at Broadway and Stone Street, in what we now call the Lower Wall Street area.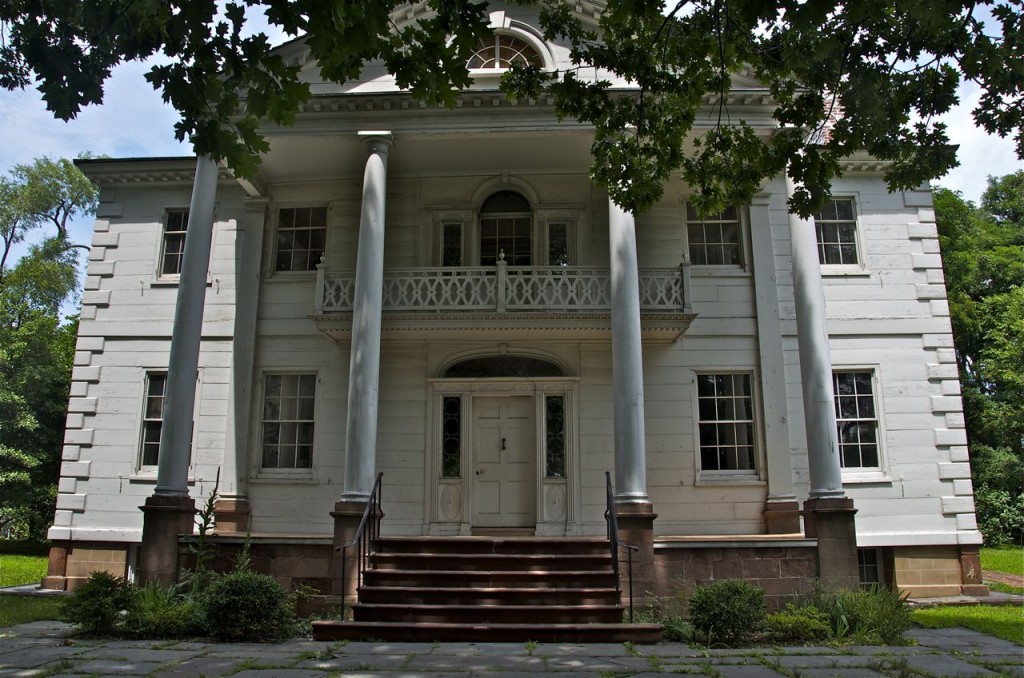 For unknown reasons, Morris traveled to England in 1775, the same year that the Revolutionary War began, leaving his wife, Mary, in charge of the house. Mary was, like her husband, a loyal Tory and she vacated the property when the American forces approached from the south in 1776. George Washington took over the mansion and used it as his headquarters in September and October of 1776, before he was forced to escape the advancing British troops.
The Morris family never returned to the mansion even though the English controlled New York. The Tory forces took control of the property and then at the end of the war in 1783, when the British left, the Morris family sold their household goods and moved to England.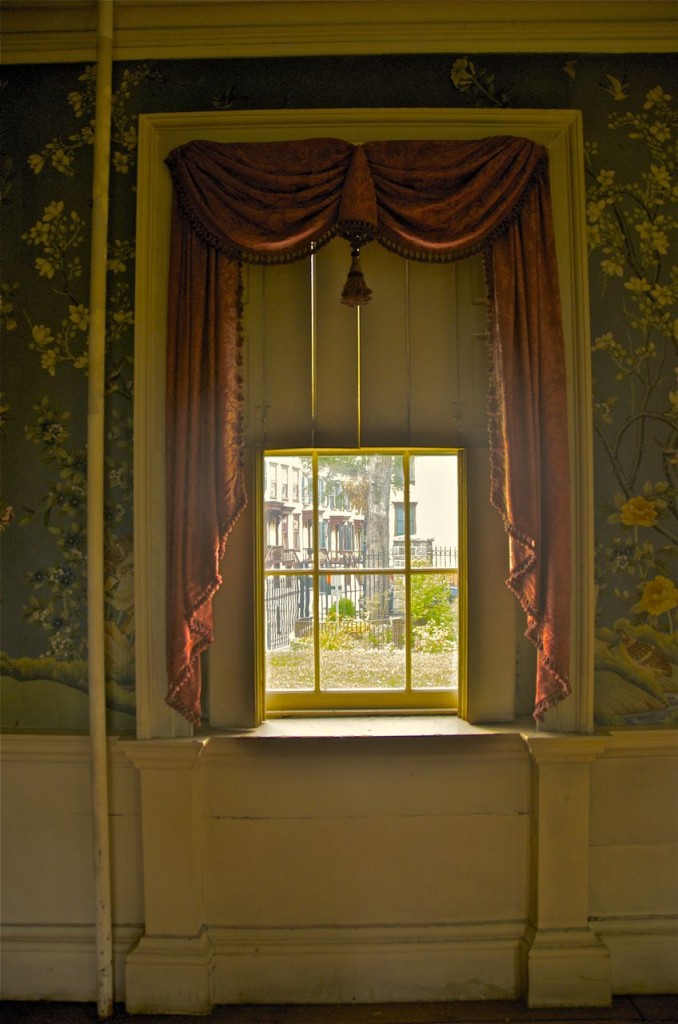 The house is a grand old thing and after the end of the war it was confiscated by the Commissioners of Forfeiture and used for many years as a farm house and tavern named "Calumet Hall" it was a popular stopover for travelers along the Albany Post Road. George Washington returned to the house again in 1790 and visited with John Adams, John Quincy Adams, Thomas Jefferson and Alexander Hamilton.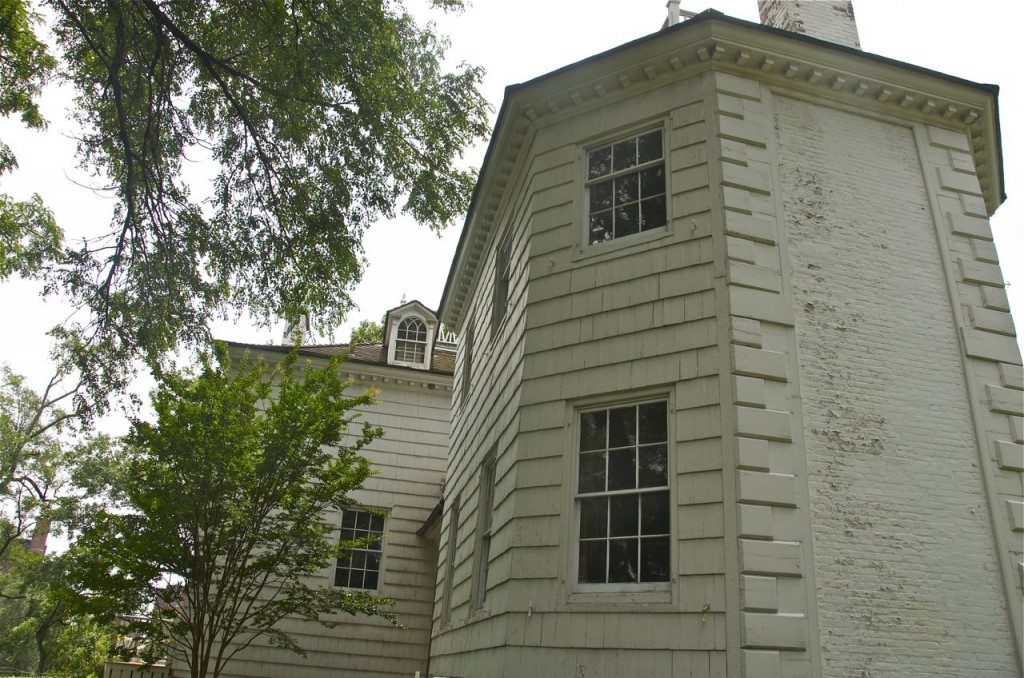 The house has some interesting features, one of which is a two-story octagonal room at the rear of the mansion, which is believed to be the first of its kind in the country.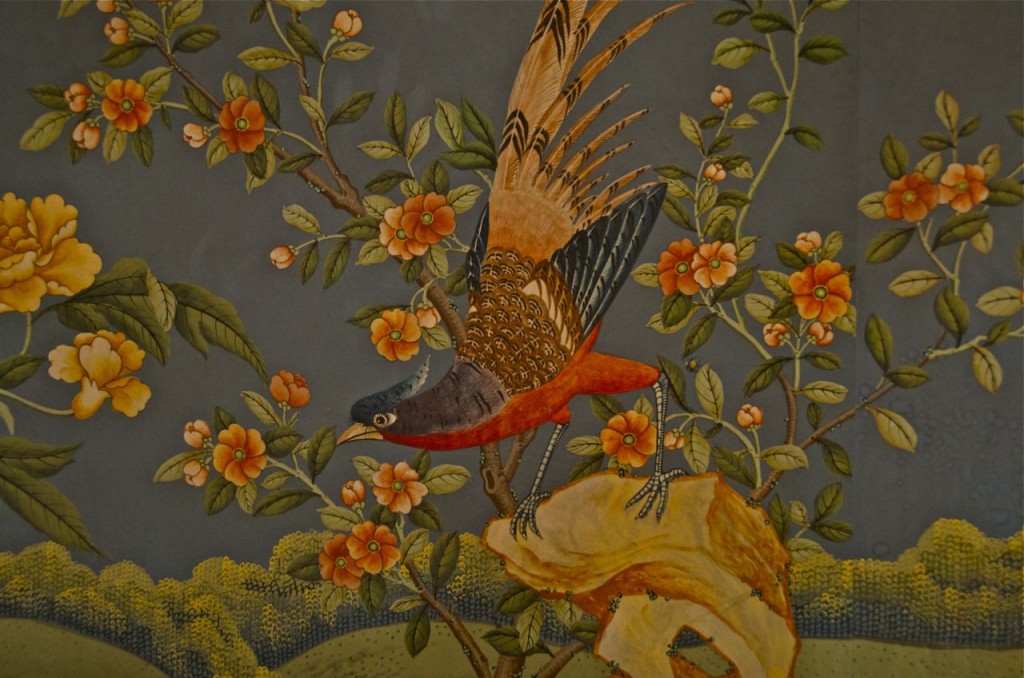 The house was put on the market in 1810 and purchased by Stephen Jumel, a wealthy wine merchant and importer from France. It was intended as a home for himself, his wife, Eliza Bowen Jumel, along with their adopted daughter, Mary Bowen, who was believed to be the daughter of Eliza's stepsister. Anxious to be accepted into New York society, the house was remodeled adding a Federal style entrance and decking out the interior in the Empire style. Elaborate wallpaper was ordered, expensive furniture was delivered, but suspicions hung over the Jumel's head that made them less than appealing to New York society. It had been well known that Eliza was Stephen's mistress before they married, and then there was the rumors that Eliza had been a prostitute before that. And who really was the mother of this adopted daughter?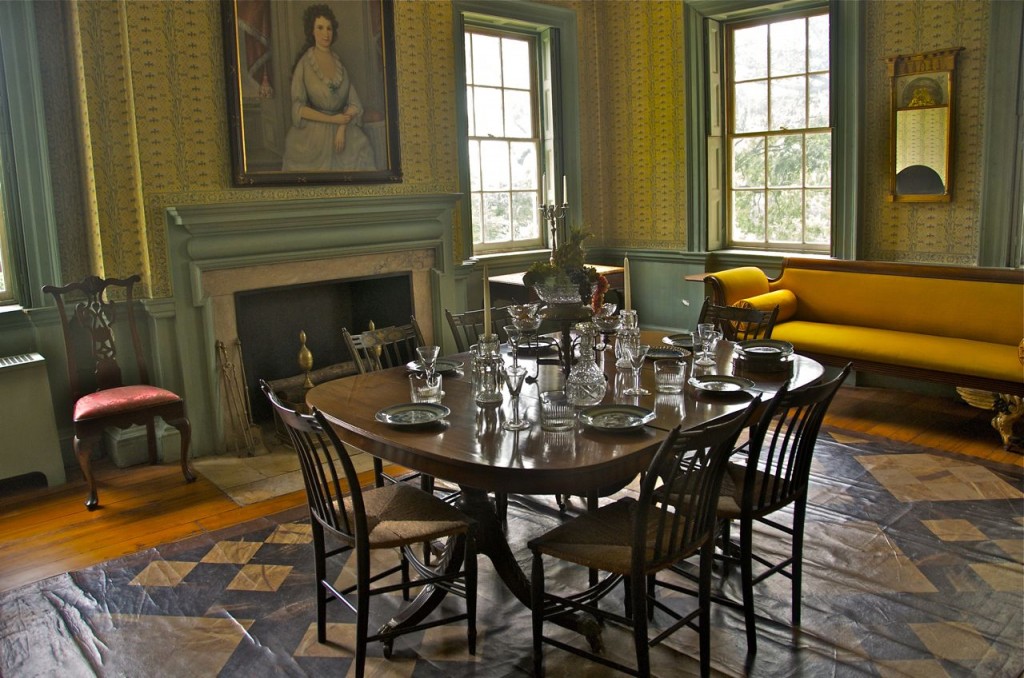 No matter how fancy the Jumel's decorated their home they were outcasts inNew York society. So, in 1815 they relocated to France, though Eliza returned off and on from 1817 – 1821, and then she eventually returned for good in 1826, with her husband giving her the power of attorney. Stephen returned to America in 1828, and in 1832 he died from injuries received in a carriage accident, leaving Eliza the wealthiest woman in New York City.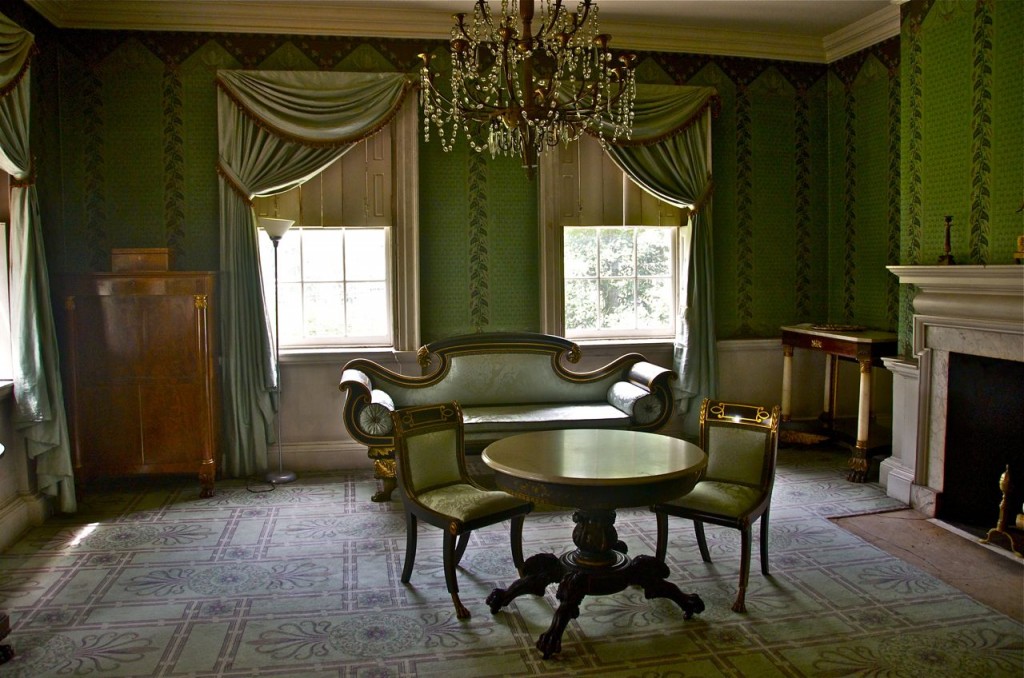 In 1833 Eliza married Aaron Burr, who was by then 77 years old and in financial ruin. Burr, had been born into English gentry, had a distinguished military career and law practice. He had been appointed attorney general and was Vice President during the Thomas Jefferson's Presidency. But it is the duel in 1804 with Alexander Hamilton that he is probably most famous. Burr believed that Hamilton had ruined his reputation with his constant lies and 'besmirching' him as a candidate, causing him to lose the presidential election 1800. Burr challenged Hamilton to a duel on July 7, 1804 and shot him dead.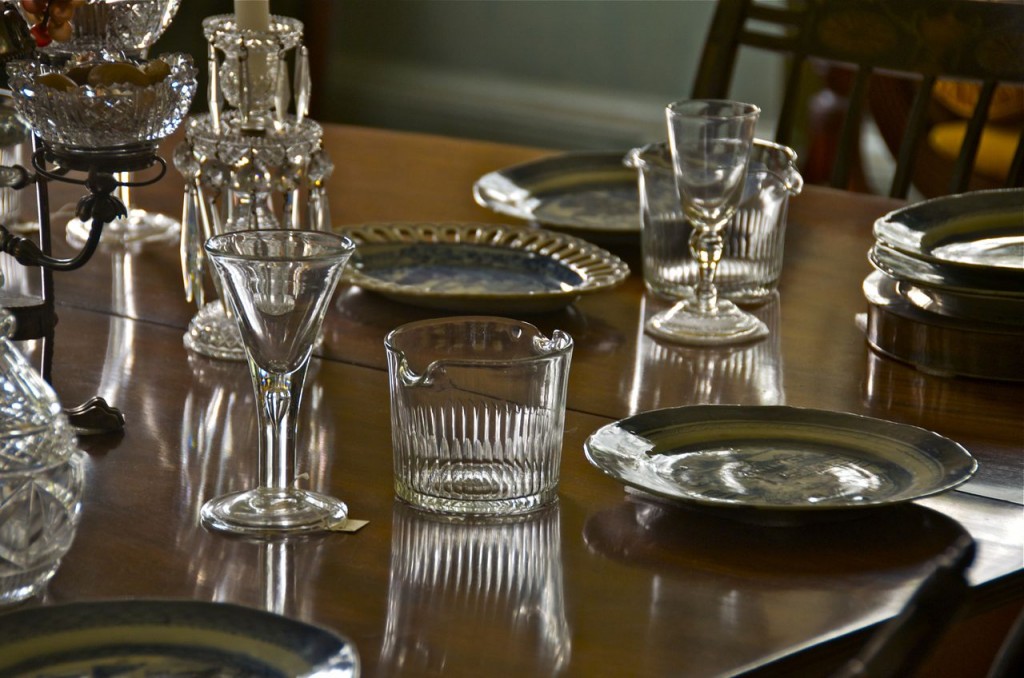 Eliza was in her late 50's when she married Burr, and it was not a match made in heaven. In 1834 Eliza filed for divorce, which was granted in 1836 a few hours after Burr passed away permitting Eliza to say that she was the widow of a Vice President.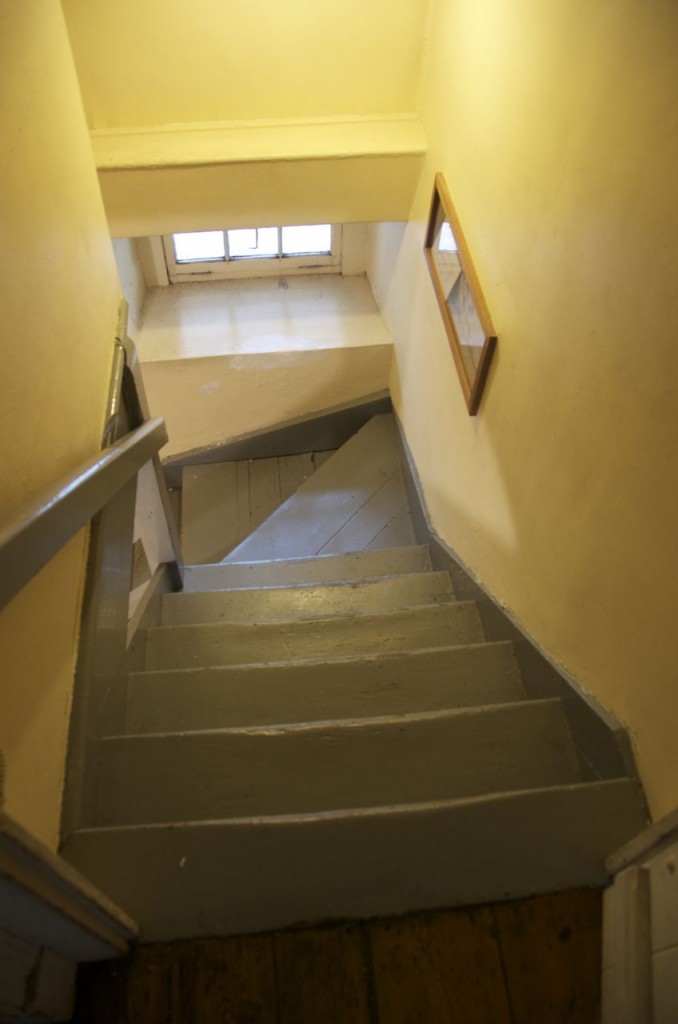 The kitchen is an interesting but dreary place and I wouldn't be surprised that if a ghost were to hang out in this house, it would be in the kitchen. The stairwell to the kitchen, though today lit by electricity, looks like it would have been a treacherous part of the house with only one small window to light the way during the day, and goodness, a not so easy walk at night with just a candle or a lantern.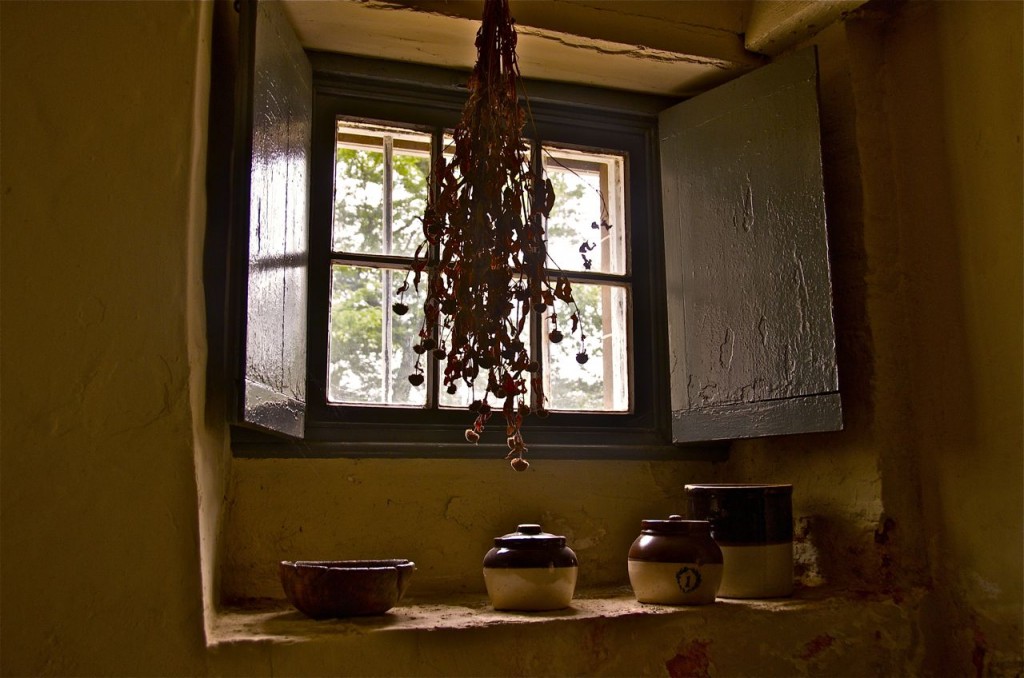 There are some lovely scenes in this scullery, with earthenware on the windowsill and herbs hanging in a window. But there are only two windows in the entire room.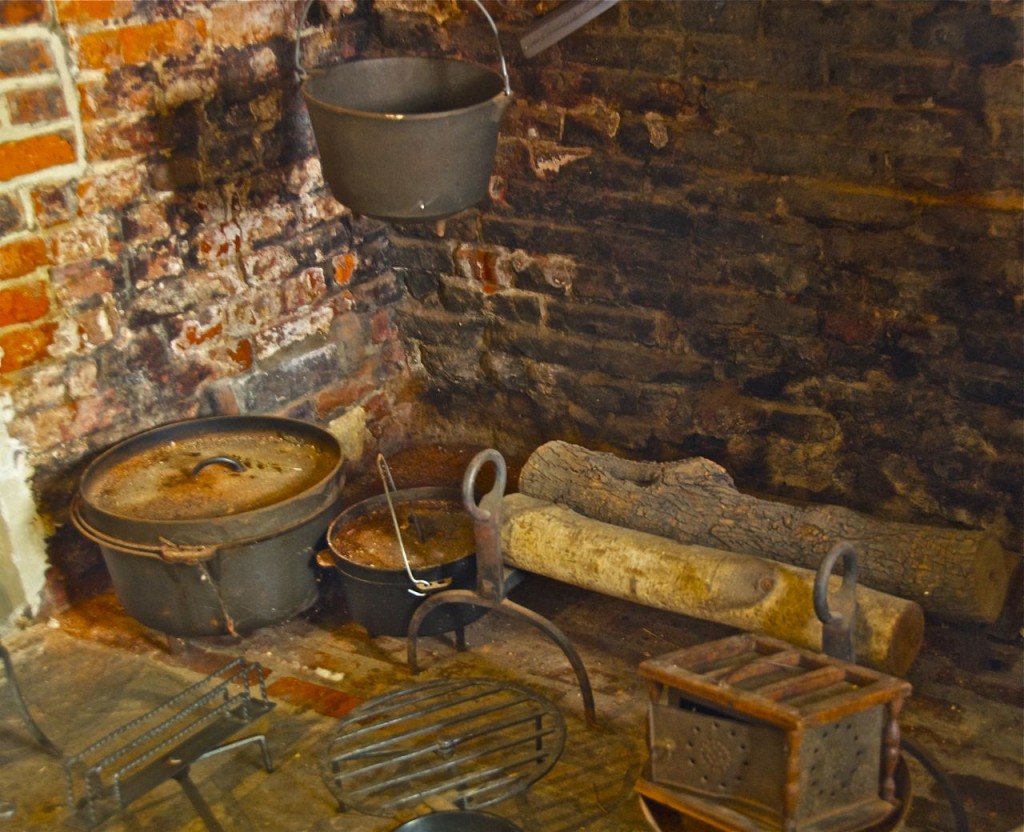 There are a few old cast iron pots on display and logs stuck in the huge fire place that was the only stove back in Eliza's time. There is a beehive oven on one edge of the pit where bread and pudding deserts were baked.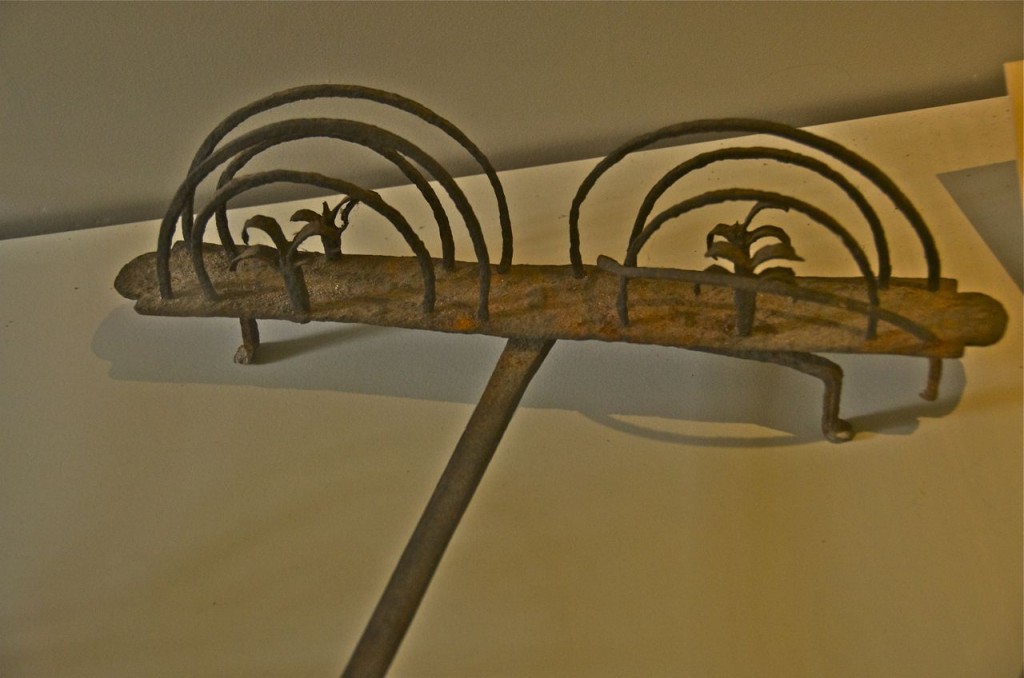 This is a 'revolving toaster'. "To make toast, sliced bread was placed within the slots of the revolving toaster, and was then put close to the hearth fire. Once the side facing the fire was toasted, the rack could be spun around to toast the other side. A toaster was an object that revealed the artistic skill of the blacksmith. It was commonly embellished with curlicues, scrolls, and even hearts. These patterns were transferred to the piece of toast by shielding it from the direct exposure of the fire."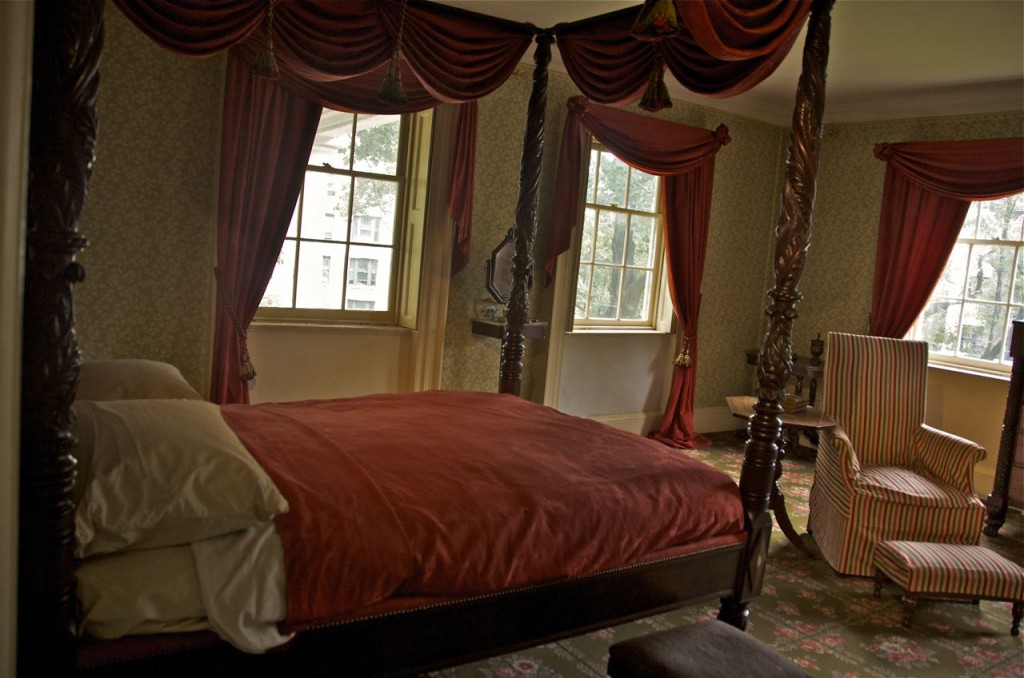 This was Aaron Burr's bedroom while he lived in the mansion.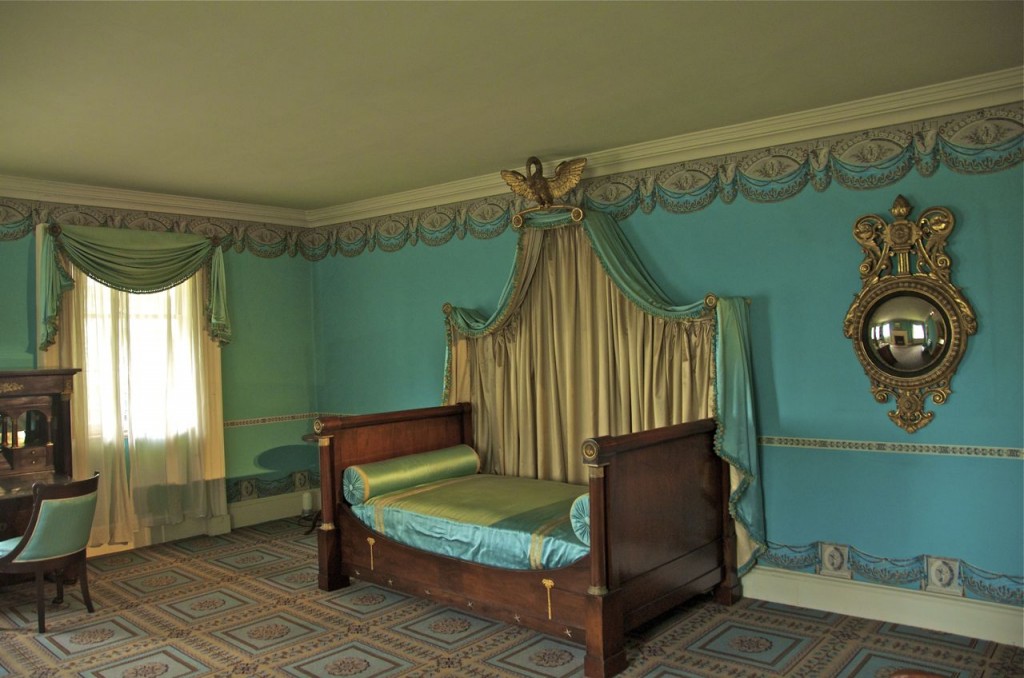 Eliza lived in the mansion from 1810 to 1865. While living in Paris in the 1820's the Jumel's had many pieces of 19th century French style furniture shipped to the New York mansion. Eliza claimed that much of her furniture and artwork came from the court of Emperor Napoleon Bonaparte, though there is no documentation supporting her assertion.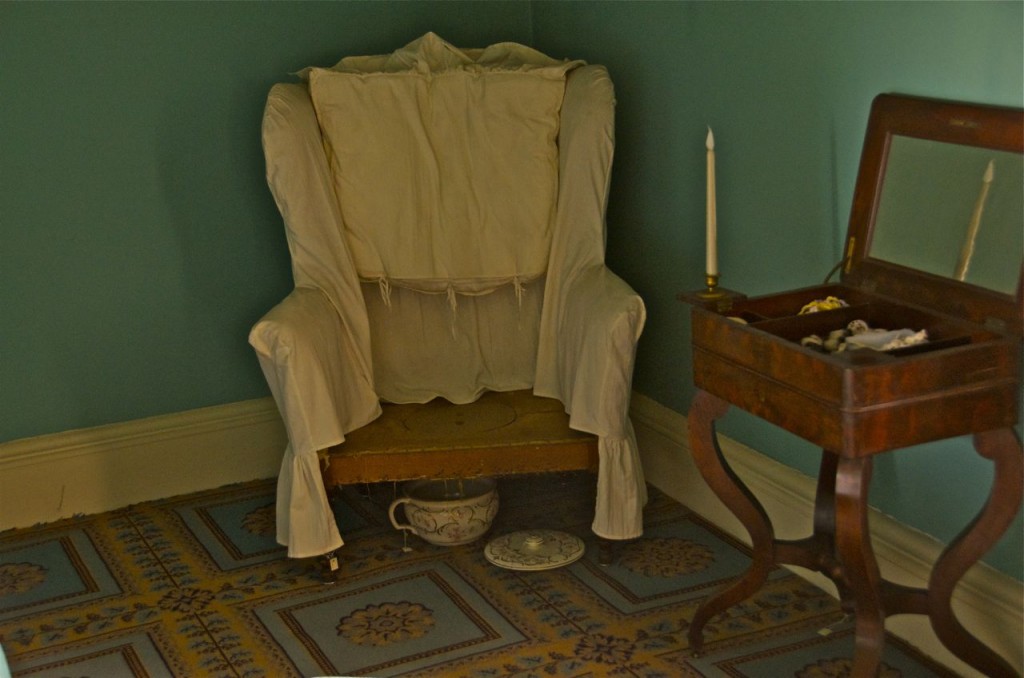 In a small room off Eliza's bedroom is Madame Jumel's dressing room with a 'unique chair'. These rooms are typically considered closets by the English and 'boudoirs' by the French. But in this room is a winged and tufted piece of furnature that is actually a commode chair.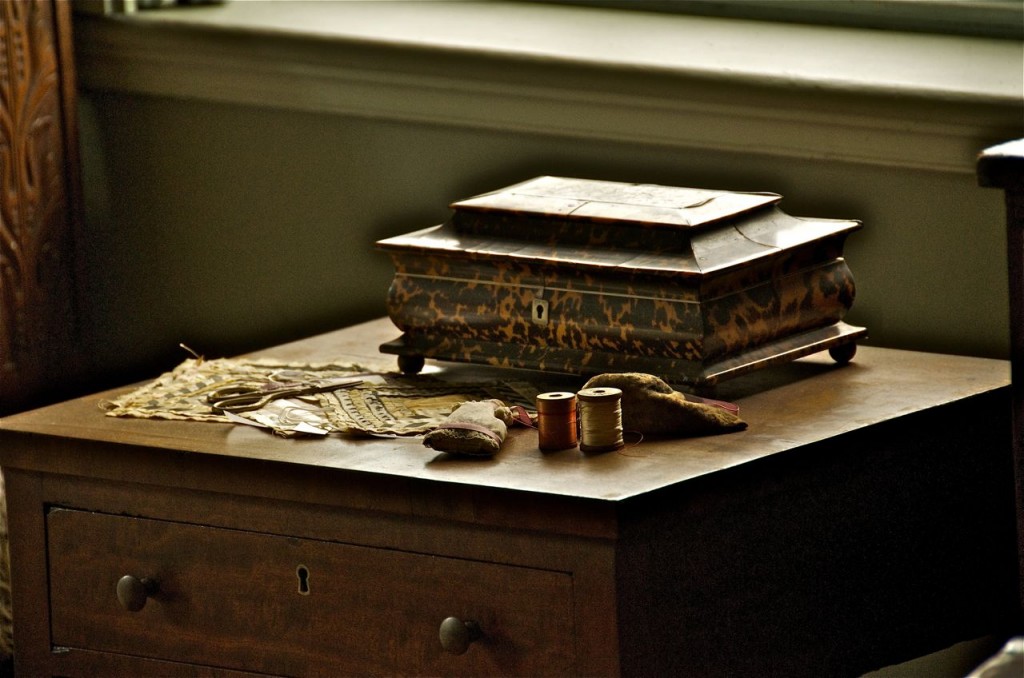 There are few personalized items in the house, but I found this vignette of sewing items to be lovely. The rooms are cordoned off so there was no way I could take a closer look.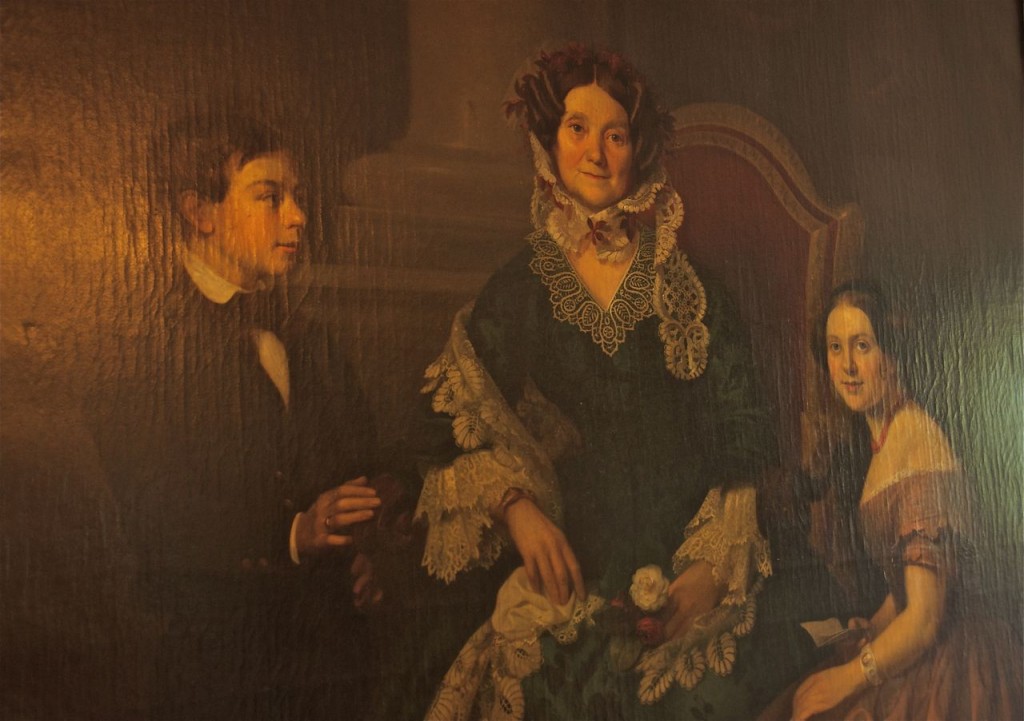 This is a life size portrait of Eliza and her grandson and granddaughter from her adopted daughter, Mary Bowen. Eliza apparently in her later years became mentally unbalanced and was seen riding around the property on horseback with an army of homeless men who were armed with sticks for rifles, in mock parade.
Since Eliza's death in 1856 there have been many factions struggling to gain control of the property, and since then the house has seen many owners and much intrigue. In the early 1900's the Department of Parks retained administration of the property and turned it into a Historical Museum and now the mansion and its grounds get 15,000 visitors a year. Recently a crew of volunteers and a part time gardener have begun to turn the backyard into an herb, vegetable and flower garden. I saw lambs ear, lavender, fox glove, basil and garlic to mention just a few of the thriving vegetation in this green area.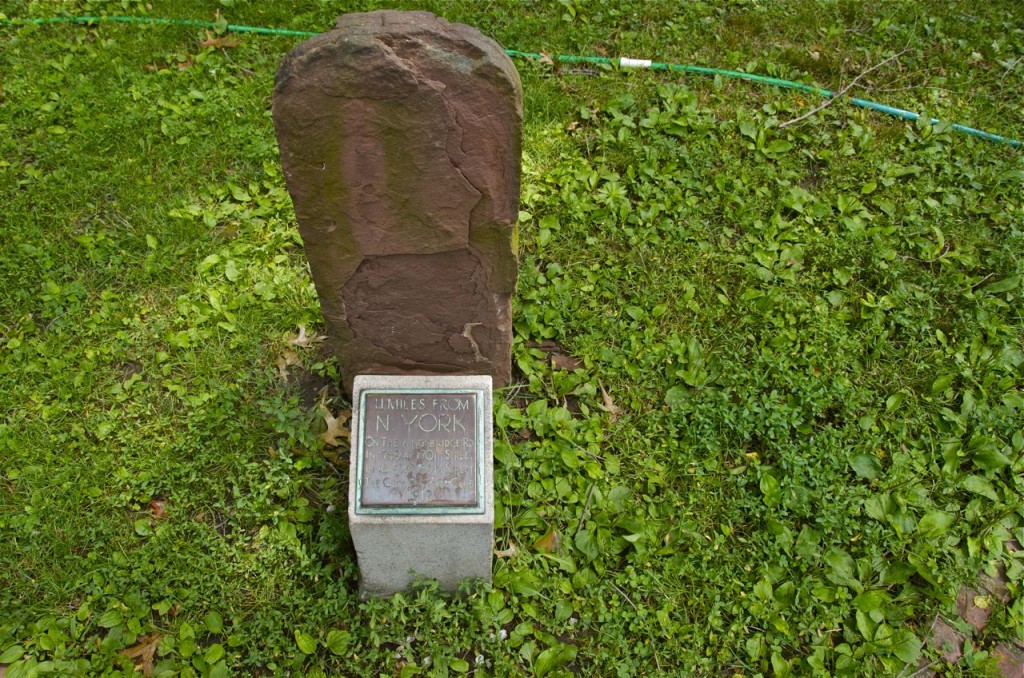 There is a milestone in the back yard. These milestones were erected in 1798 along the Albany Post Road at every mile to indicate the distance from New York City. This milestone states that standing at this point you are 11 miles from the City of New York.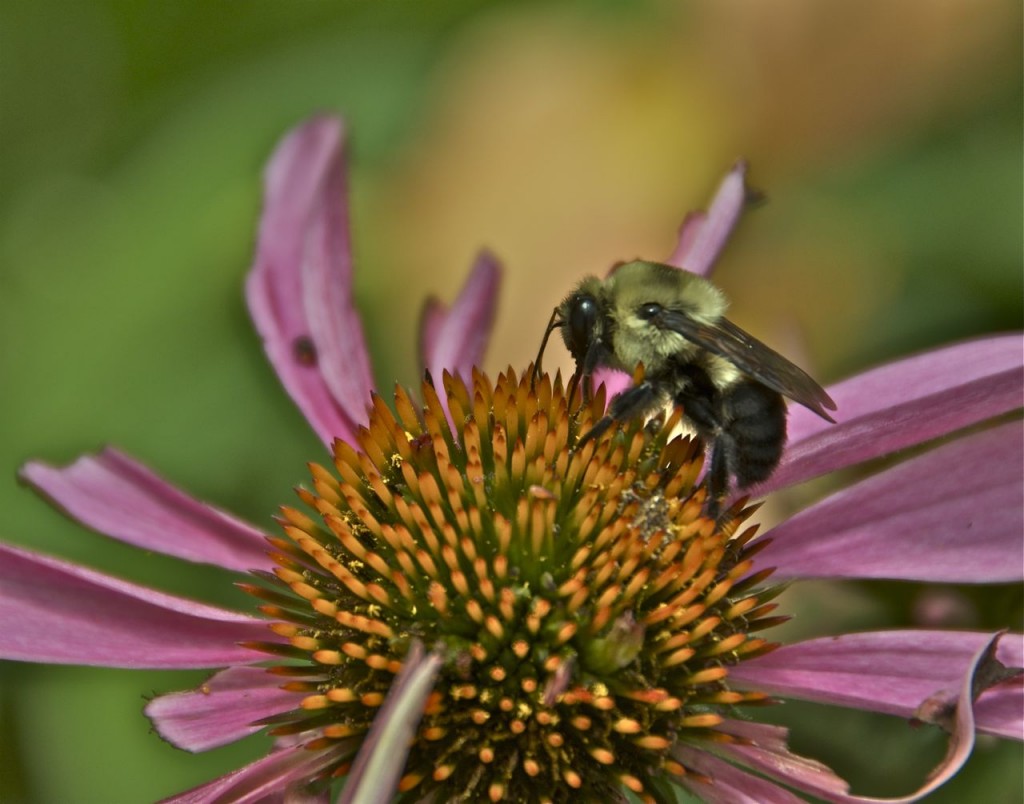 While walking around the mansion's grounds I found it alive with bumble bees. I stopped for a while to watch this fat bee crawl across a giant bloom. The sun slipped in and out of the clouds, there was hardly any street noise and though there was not the majestic vistas of the 1700's, there was still something quiet restful about this location. And I supposed that it might have been a lovely place to go mad.