I've been taking photographs a lot longer than I've been blogging, but for me they have become a marriage that works together perfectly. The camera allows me to capture the world the way that I see it, and my commentary becomes the illustration, the rendering in words of what I capture once I've clicked the shutter. My camera is heavy but I take it almost everywhere I go, just in case there is a photo opportunity.
The other day I went to the wedding of a friend. We hadn't seen each other for some time, she traveling around the world, having a son, settling in a lovely job on a college campus, and me, retiring, writing full time, becoming a grandmother and mother-in-law. But recently we reconnected and she invited me to her wedding. I knew she would have a photographer to document the event, but I decided to bring my camera, just in case, just for my own amusement, and to document the fact that I was there. I so wanted to see her in this happy event.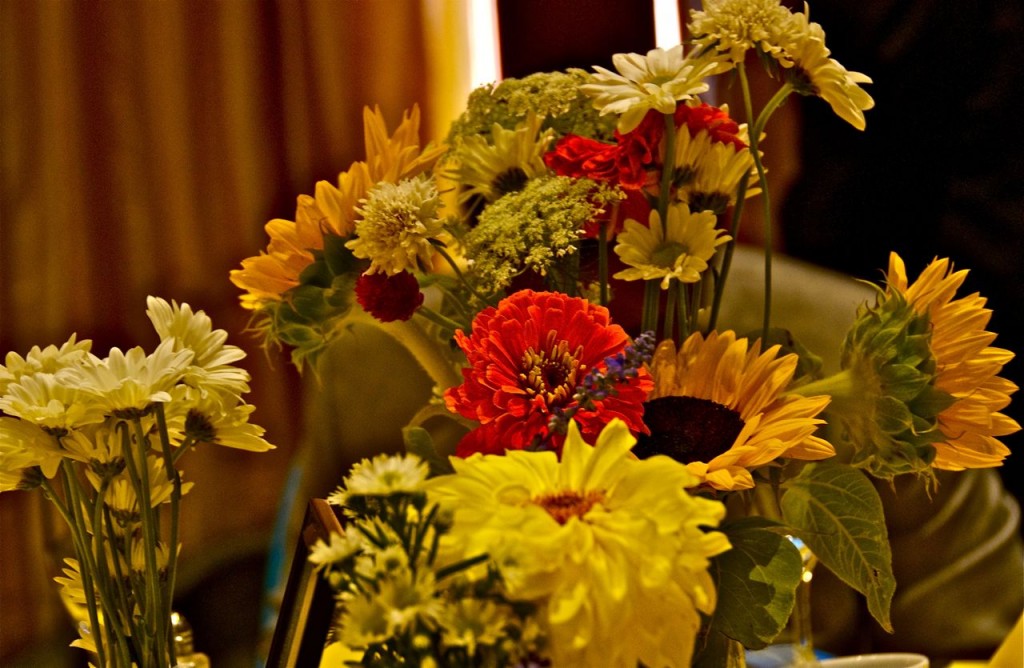 I had heard that the affair would be staged with a 1960s flair and the bouquets of flowers on the tables certainly reflected that feeling. Each table had a lovely arrangement of daisies, sunflowers and other assorted blooms stuck into mason jars or simple glass jugs, all with a sense of  the casual and lots of funk. There was no pretense in these arrangements but lots of nostalgia.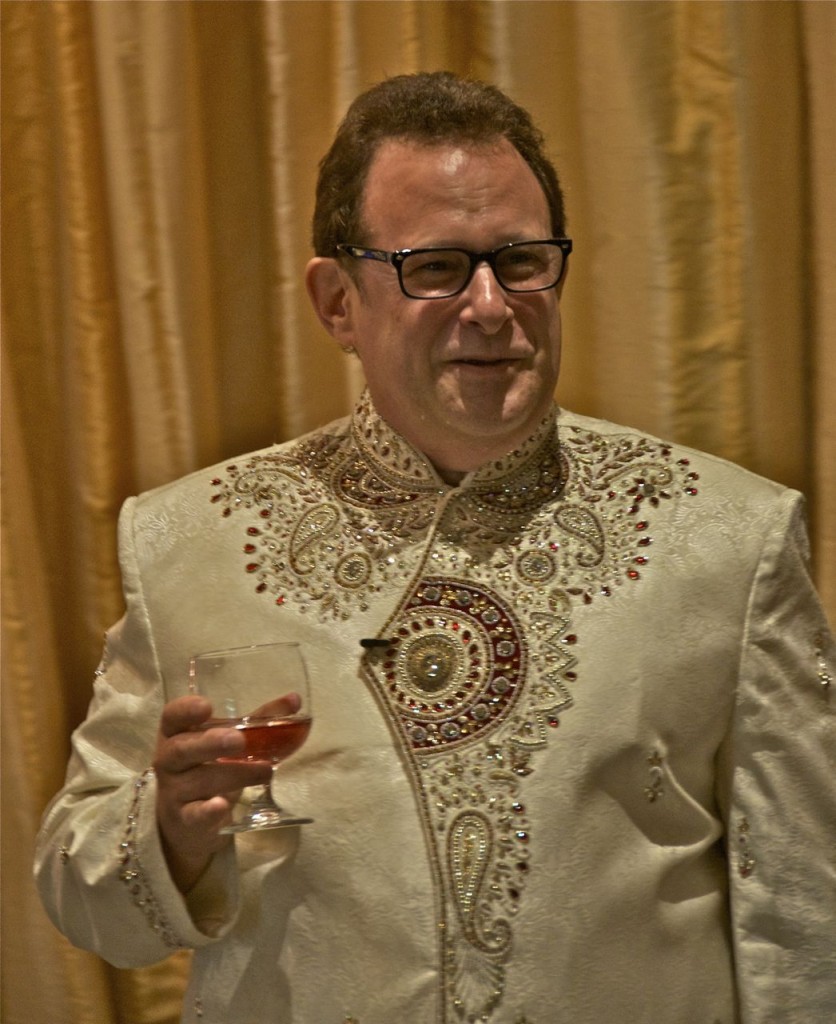 I had never met the groom, but when I saw this guy in a bejeweled Nehru jacket standing to one side of the band, sipping a glass of booze, I knew he the groom. I quickly snapped a photo of him and then introduced myself.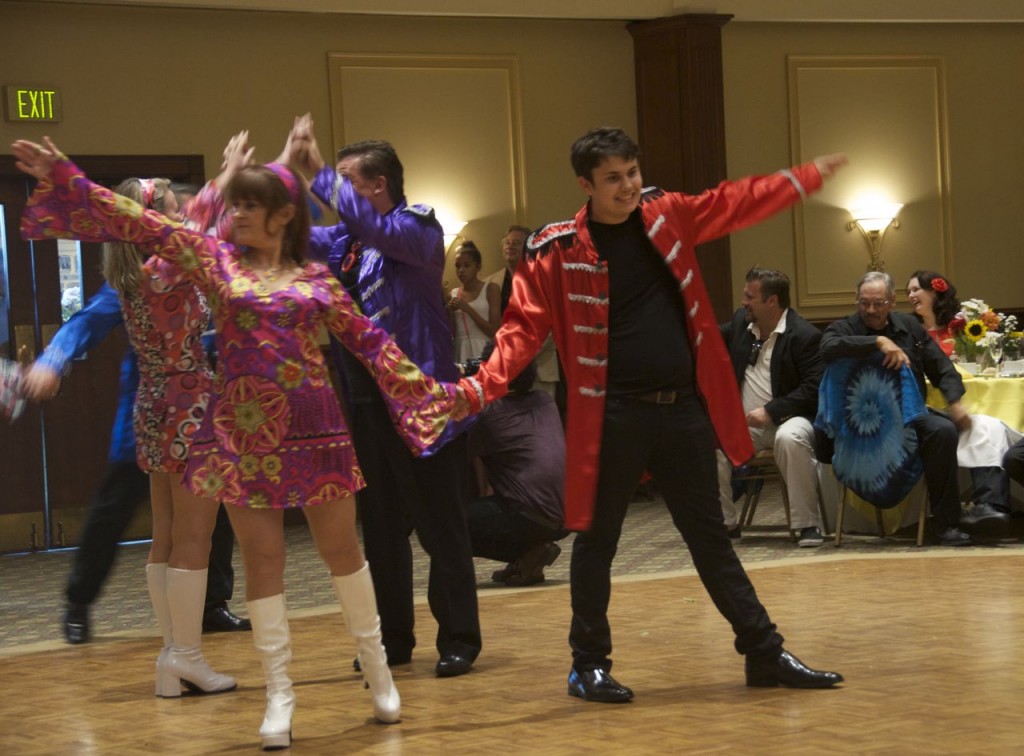 After some waiting, it took the bride longer than expected to get decked out in her dress and then redo her hair and adjust her makeup, the wedding procession began. Her son and one of her best friends lead the entourage of bridesmaids and best men onto the staging area, marching in time with 'All You Need Is Love'. The wedding goers applauded and cheered, and everyone was smiling.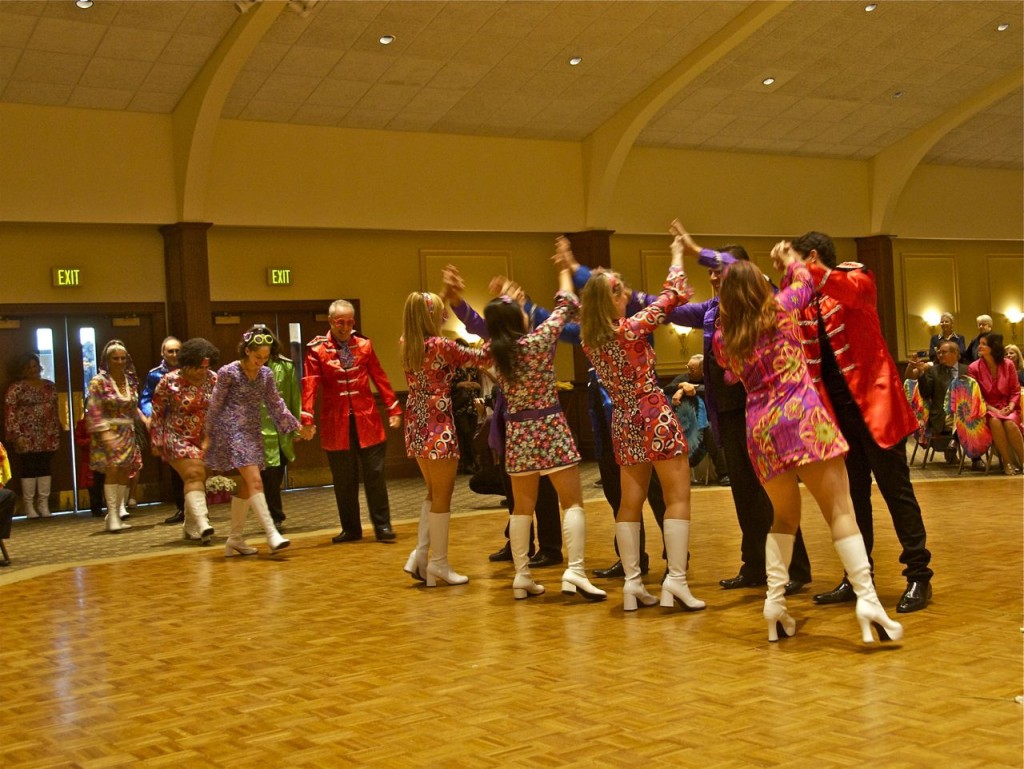 "Lat-ta-da-ta-da, all you need is love, love, love, is all you need…" The brightly colored go-go dresses and boots, the silk Sargent Pepper jackets, what better way to begin a '60's themed wedding than with this fantastic back drop.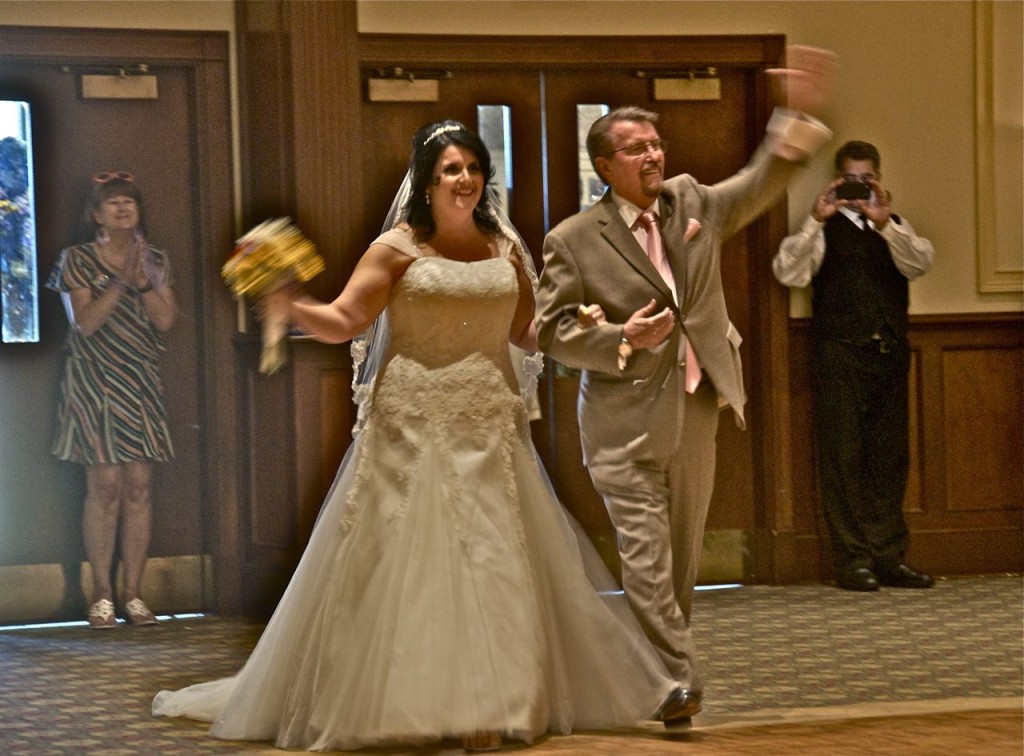 And then the bride came into the room to applause, cheers, whistles and lots of happy faces as she waved her bouquet of daisies and sunflowers. It was a brilliant entry.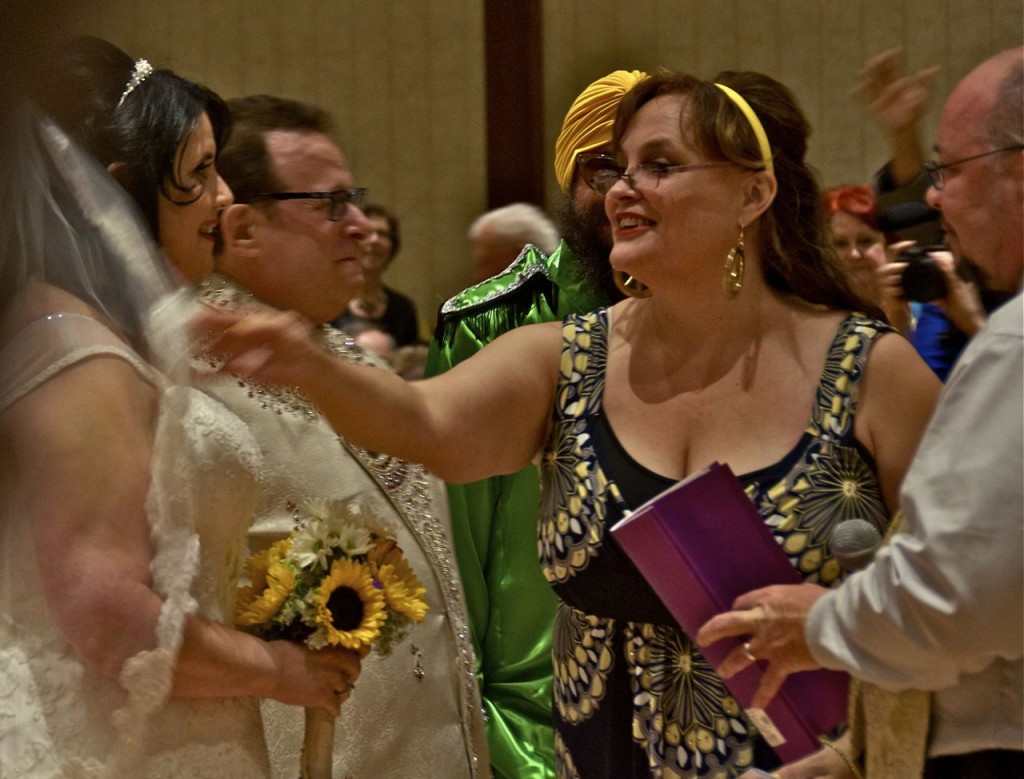 As Pat and Allan stood in front of the minister, a very dear friend of Pat's, and the wife of the minister, lovingly arranged the wedding veil so that the wedding photographer would have a perfect image of the bride on this very special day.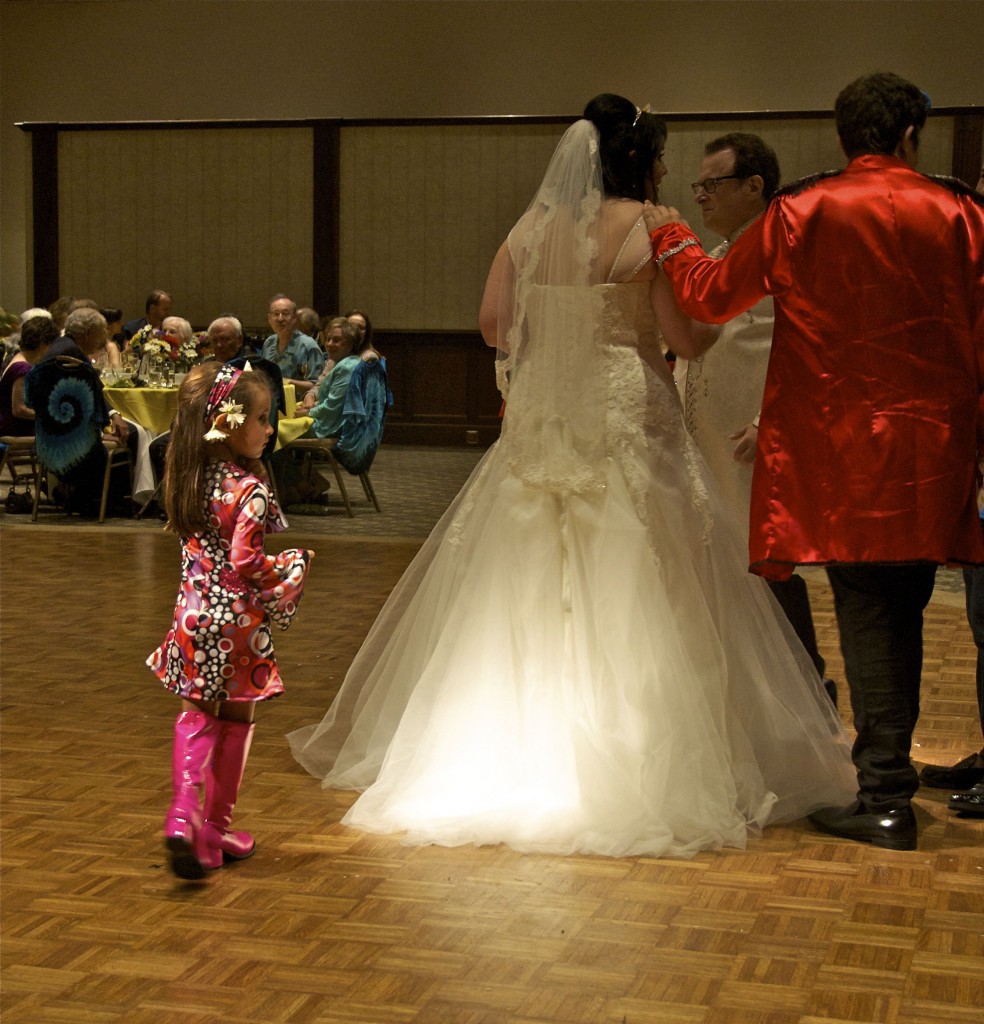 I had a fun time talking with the other guests, some of whom I knew from Sarah Lawrence College MFA Writer's Program, but I did not let the camera sit on my lap for long. I particularly love this photo of the bride standing in this heavenly light after the marriage ceremony. Some of you who follow me on flickr.com have seen this photo before. I have to tell you that this photo, to date has received over 5,589 visits. If it were the only photo of the night, I would have been perfectly content.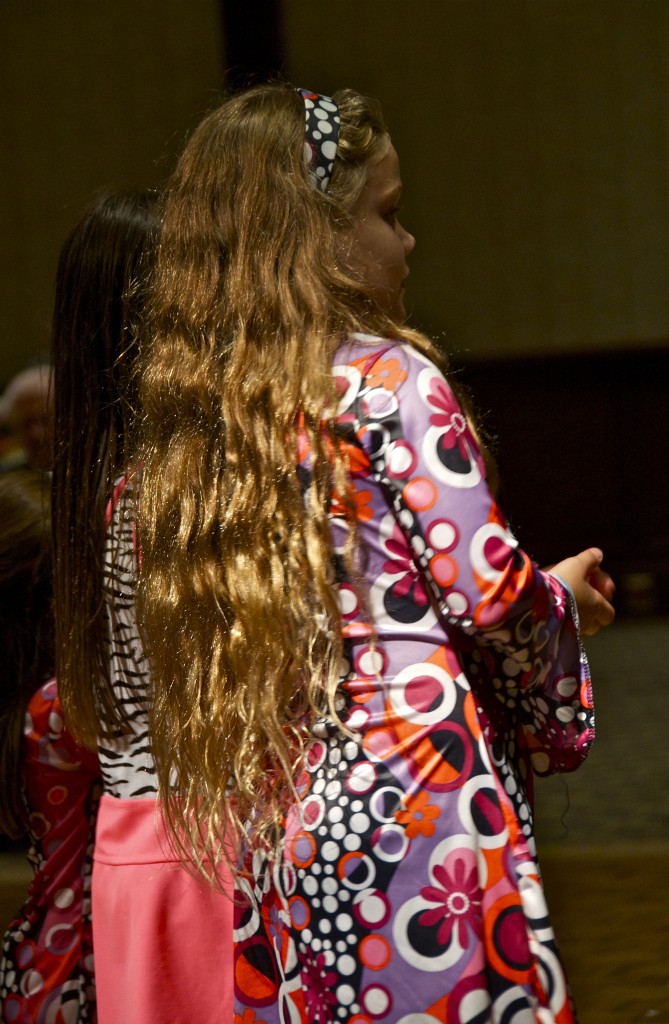 This girl with lovely hair was a delight to see and if it doesn't remind you of the 1960's I don't know what would.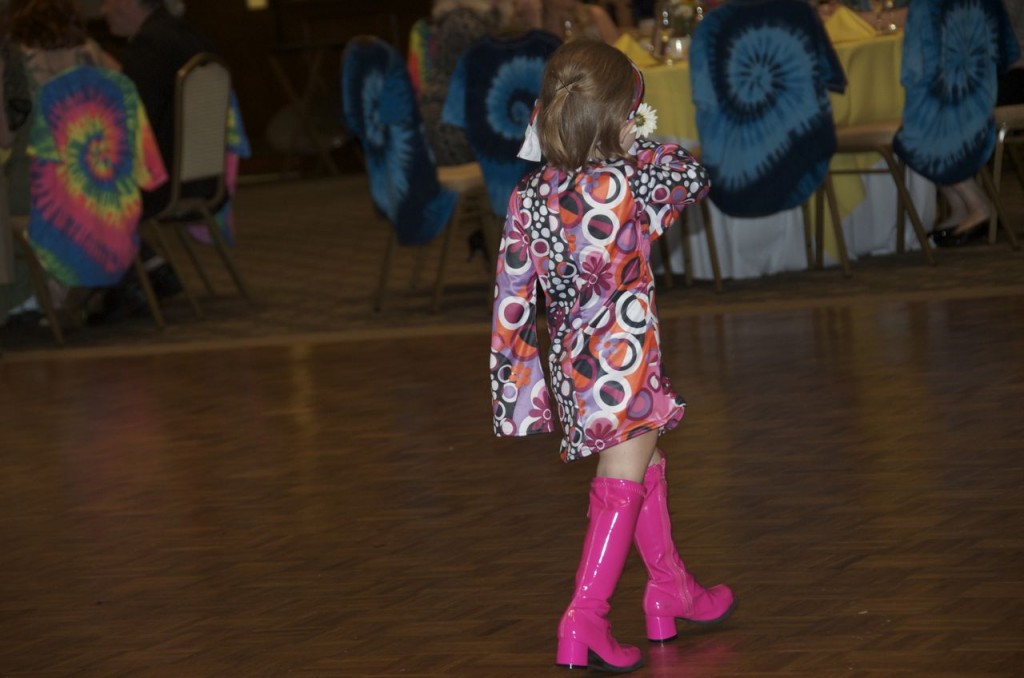 This little lovely in her go-go dress, the bright pink boots and a daisy in her hair, was a wonderful visual treat as she walked back and forth between her relatives and guests.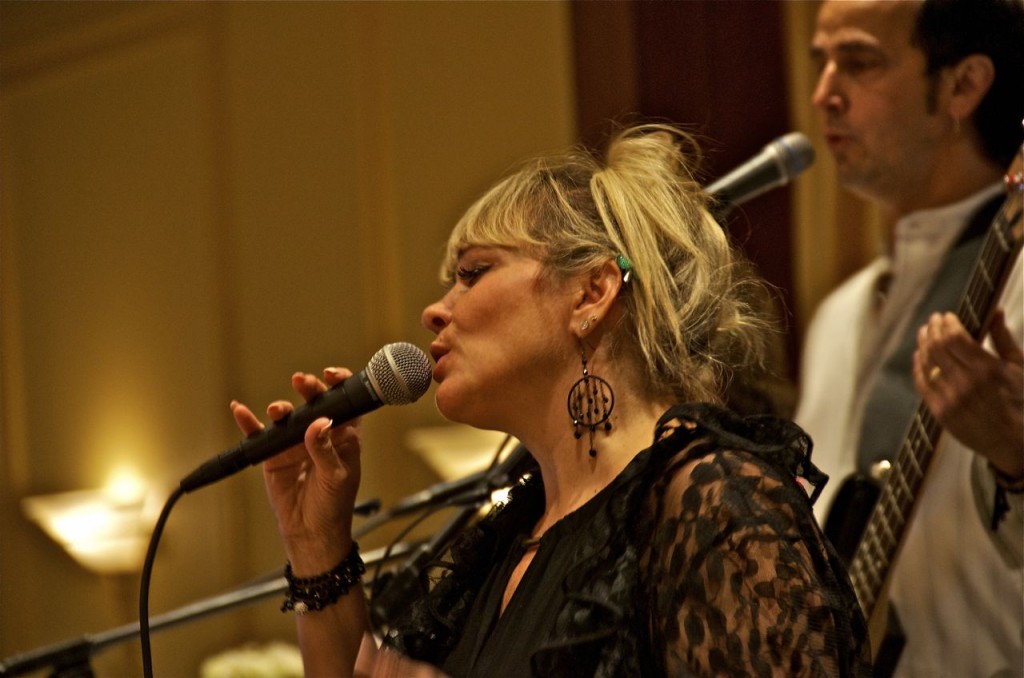 And the music was perfect. I recognized every tune. And even remembered when my husband and I used to dance to this music years ago when we were first 'hooking-up' as we used to call falling in love.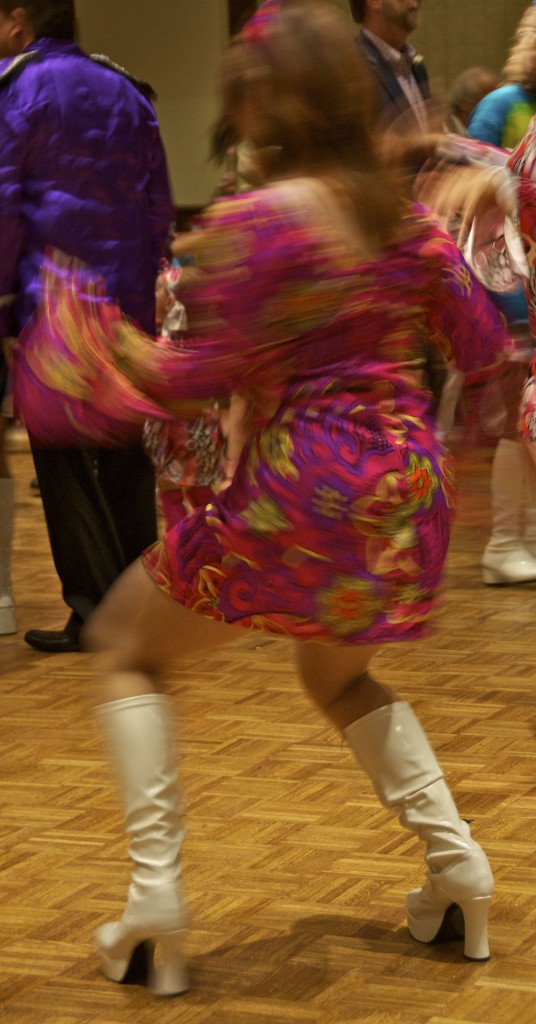 There were a few dancers who could keep up with the beat of those days gone by with the twist, the swim, the shimmy, and the watusi. My husband and I did our version of what we used to do back then, a familiar mix of fast and slow moves, but as I remember those days of dancing we used to be on the floor a lot longer.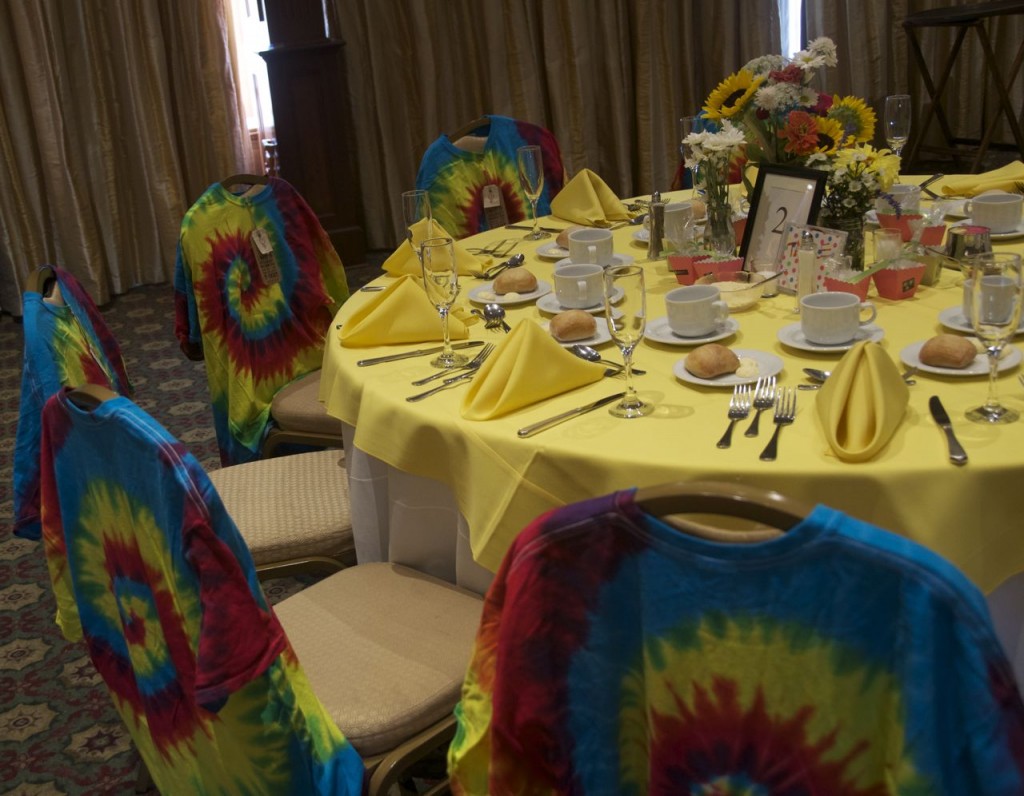 Every guest left with a tie-dyed t-shirt. We now have two in our dresser drawers as a lovely reminder of this celebration. But I came away with much more than a t-shirt. I came away with photos, photos that I really like, that remind me of that evening. They are my personal narrative of how I experienced this 'happening'. I wish the bride and groom much happiness in their life together, and I have the photos illustrating that monumental day of their wedding, documenting how fun beginnings really are.