There's always a lot going on in NYC. Construction, noise, traffic, crowds, tons of places to eat, and lots of music, both in clubs and on the street, and in the subways. A few weeks ago I posted a blog piece about city musicians and promised to do another. Today seemed like as good a day as any to do that. It's mid summer, the weather is hot and sticky with a forecast of rain later in the afternoon. So, get on board, I'm taking you on a virtual musical tour.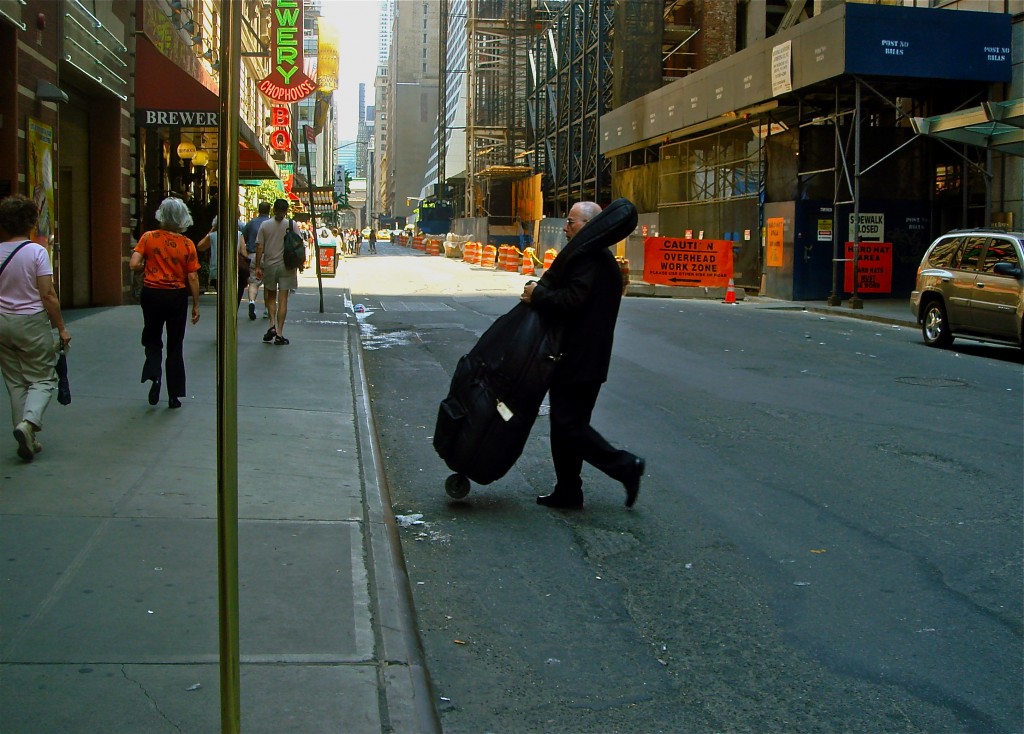 Musicians whether classical, jazz, or contemporary, they've got to get their instruments to work some how. It is not uncommon to see a scene like this with a musician on his way to work or heading home after a long night of performing.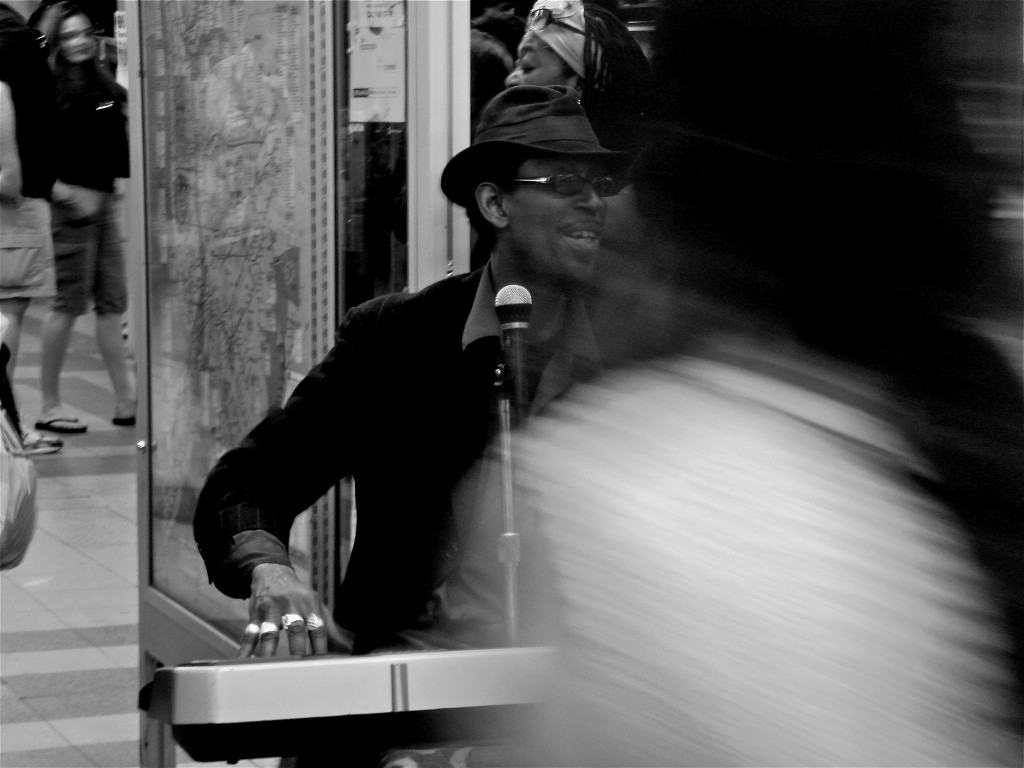 This guy parked himself between two busy subway lines and played for hours. He kept smiling as he sung, and his left hand was also decked out in gaudy rings.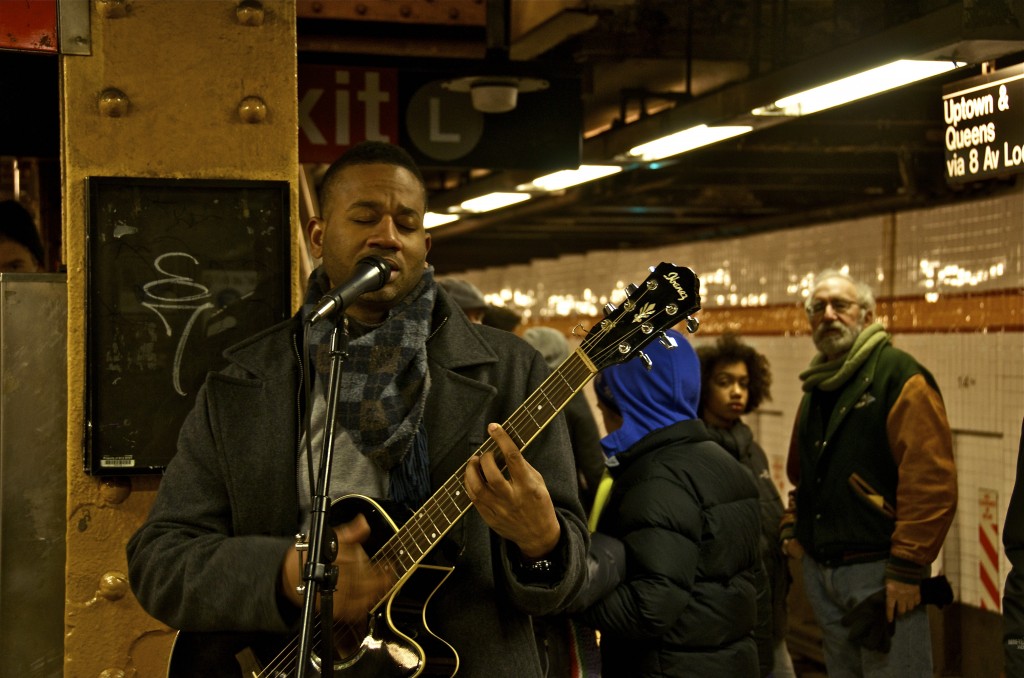 Subway stations have great acoustics and in the winter it's a warm place to spend the day playing to the travelers and gather a bit of change.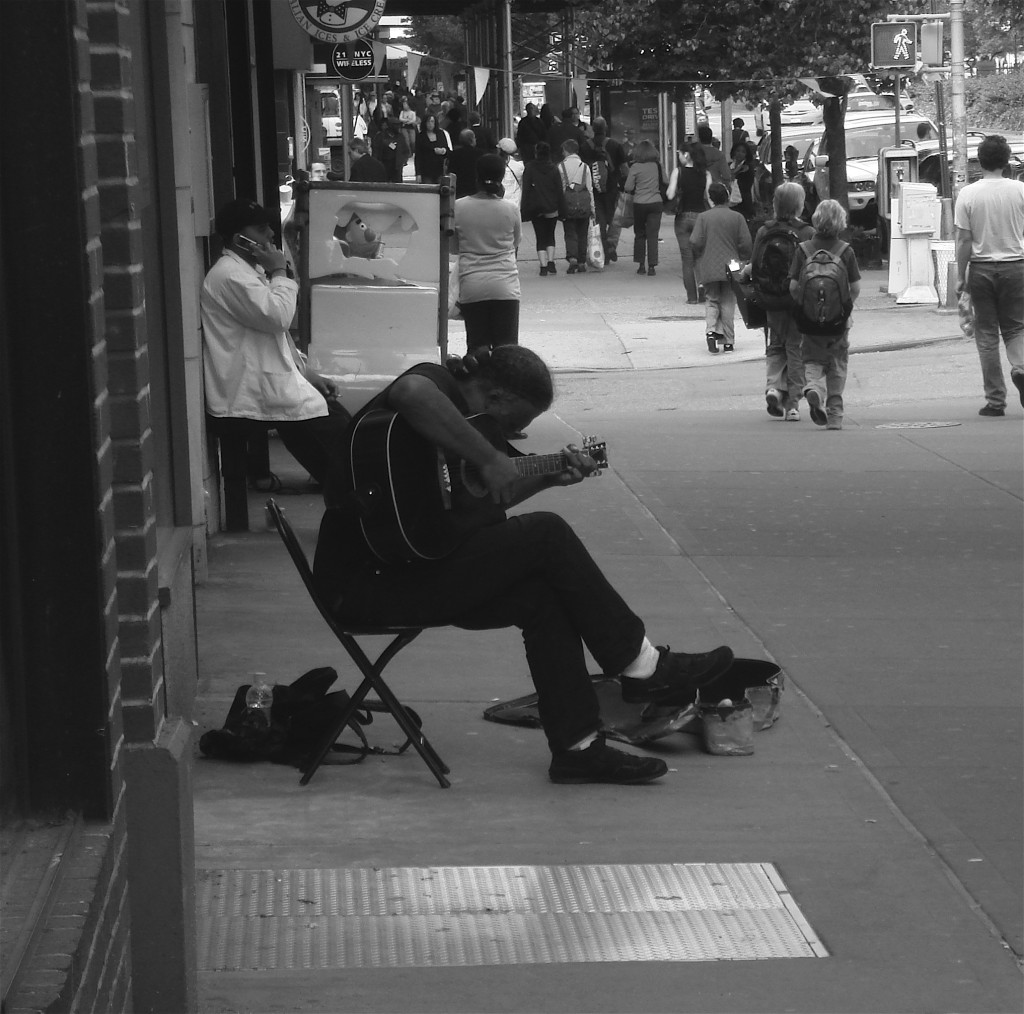 In the summer there is no end to where a musician can set up a private club and entertain.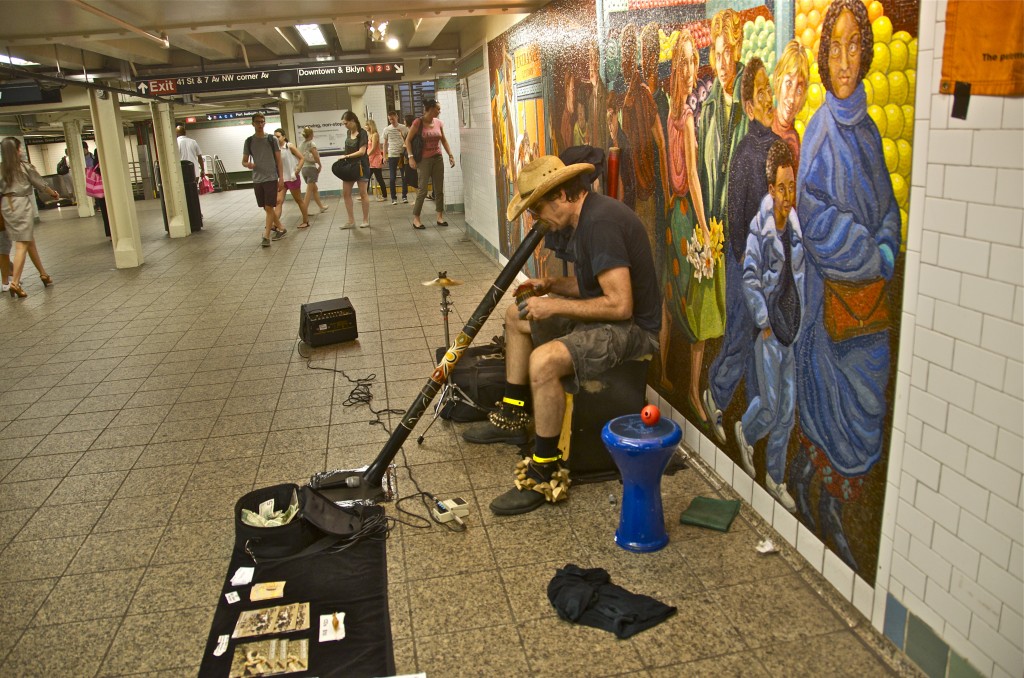 This guy had a lot of equipment to drag around. He was one of the musicians with permission from the NYC Art Council to perform and he had gathered quite a stash of dollars in his pouch. I gave him money and talked to him during one of his breaks and found him to be a bit of a grouch. I definitely got the feeling that he would have much preferred to be somewhere else and not preforming in the NYC subway system.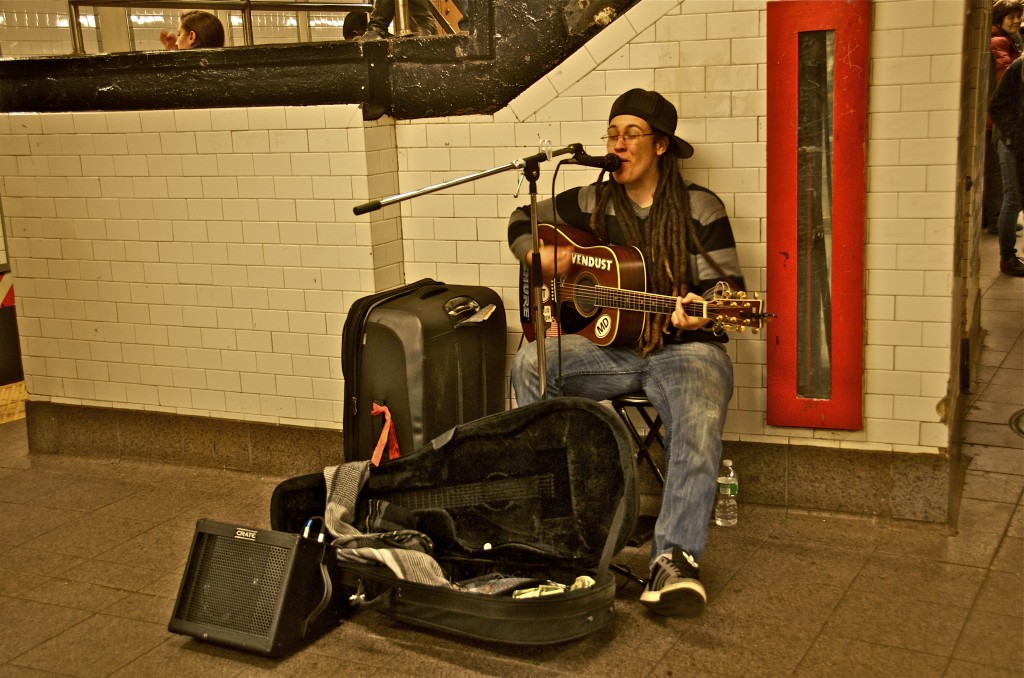 This woman had the sweetest smile when she wasn't singing and it looked like she might have been traveling. She didn't set herself up in the middle of the crowded section of the station, but ensconced herself behind a far wall and it looked like she might have wanted to be left alone to do her thing.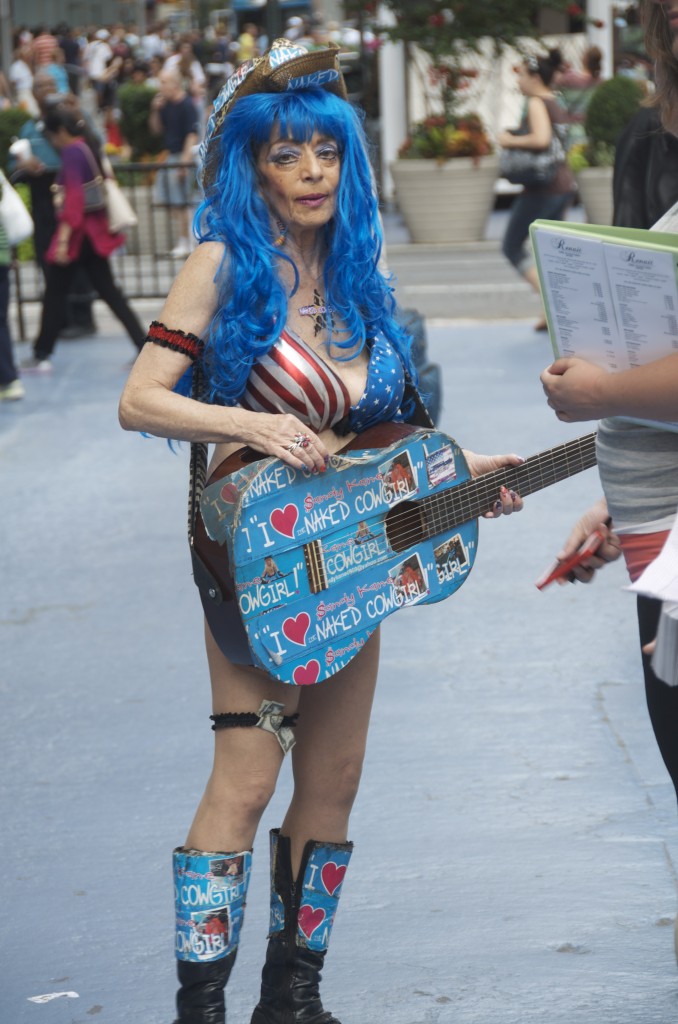 Then you have the wannabe musicians who walk the streets of Time Square. This woman does not play the guitar but instead will pose, for a few bucks, for a photograph with a tourist.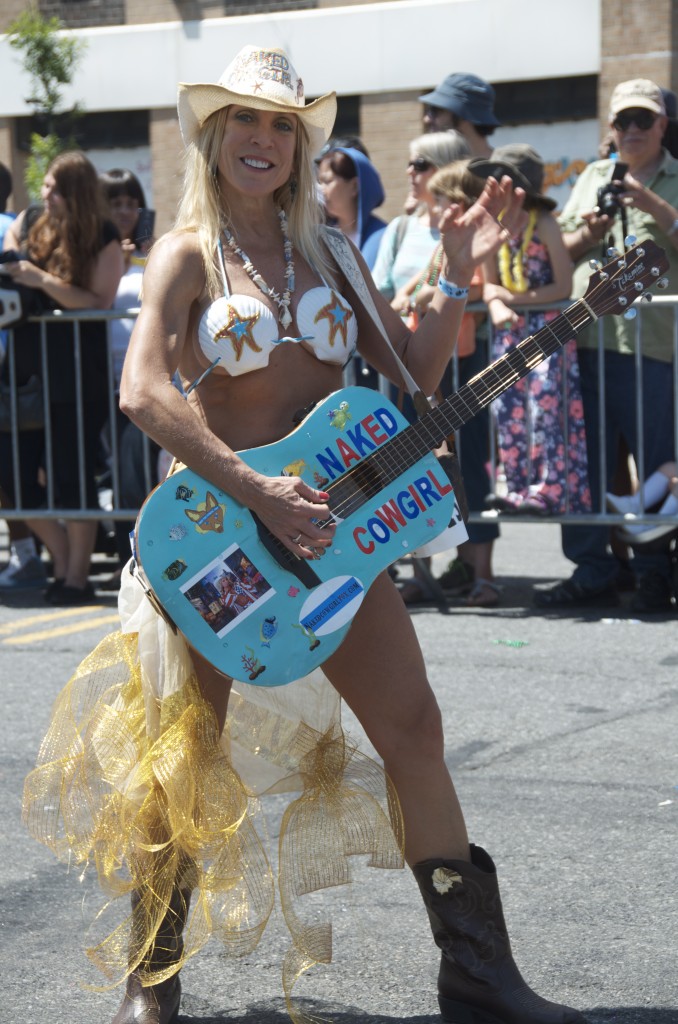 There happen to be two Naked Cowgirls. I've also seen this woman in the Time Square area, but this is a photo of her at this years Mermaid Parade in Coney Island.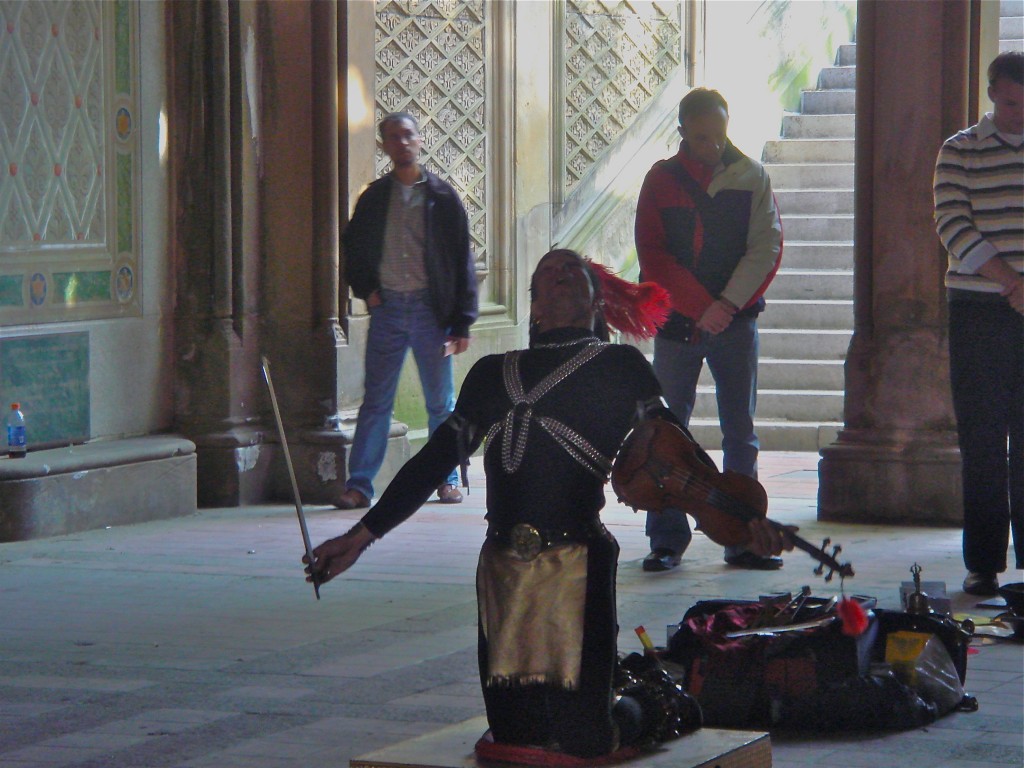 This guy preforms in a underpass in Central Park near the Bethesda Fountain. He plays the violin in a ragged contemporary manner though most of his schtick is done with bells and hoots.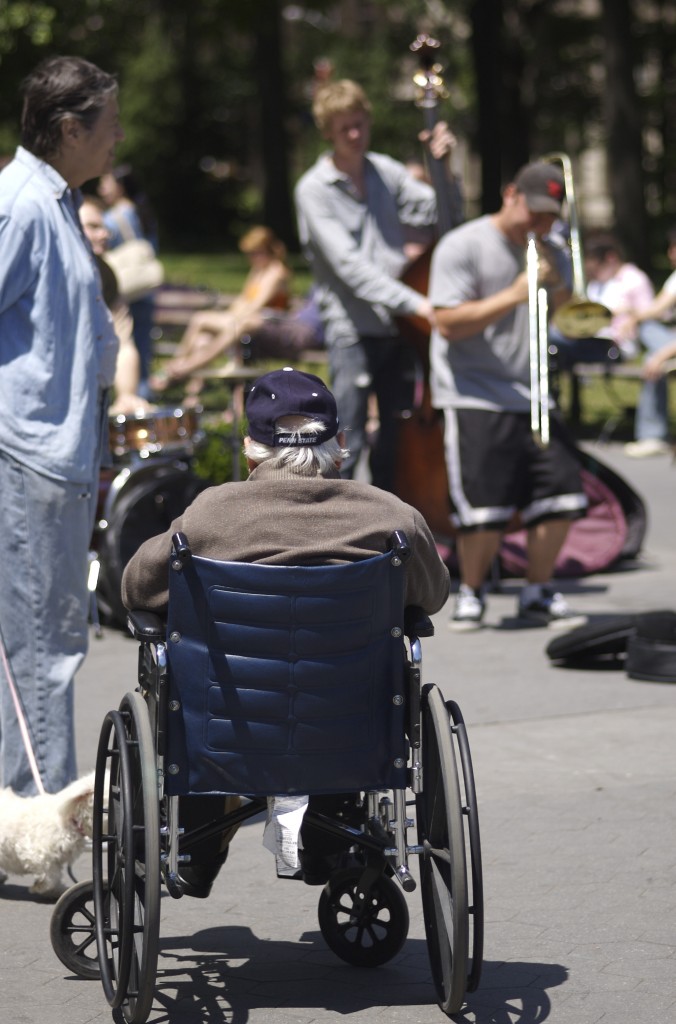 And you cannot forget where there are entertainers, there are watchers. On any beautiful day in NYC you can find musicians preforming in all the parks. Some days in Washington Square Park you can find three, sometimes four, groups of entertainers gathered at either end of the park, with another musical group stuck right in the middle.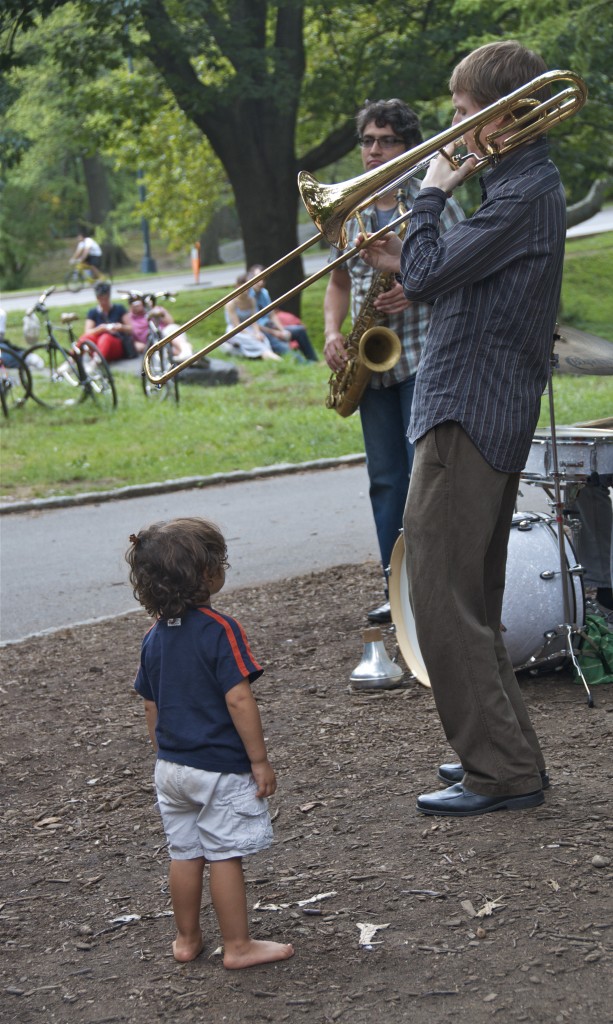 This little guy in Central Park danced and listened for the entire time that these musicians preformed and his mom and dad had a dickens of a time getting him to leave when the music was finished and the instruments were being pack up.
It's been fun for me to go back through my collection of photos and look at all the musicians that I've listened to. I hope you've enjoyed this journey, too.