My mood changes with the seasons. When Spring begins I feel an uplifting in my spirit and a spark ignites a slew of creative energy. It eventually evens out and I settle down to my usual way. The coming of winter also has a particular affect on me, but it's the opposite of spring. I get the blues for a week or two. This year I felt it creeping up on me a few days before Thanksgiving when I looked out the window at the snow gathering on the hotdog lady's umbrella.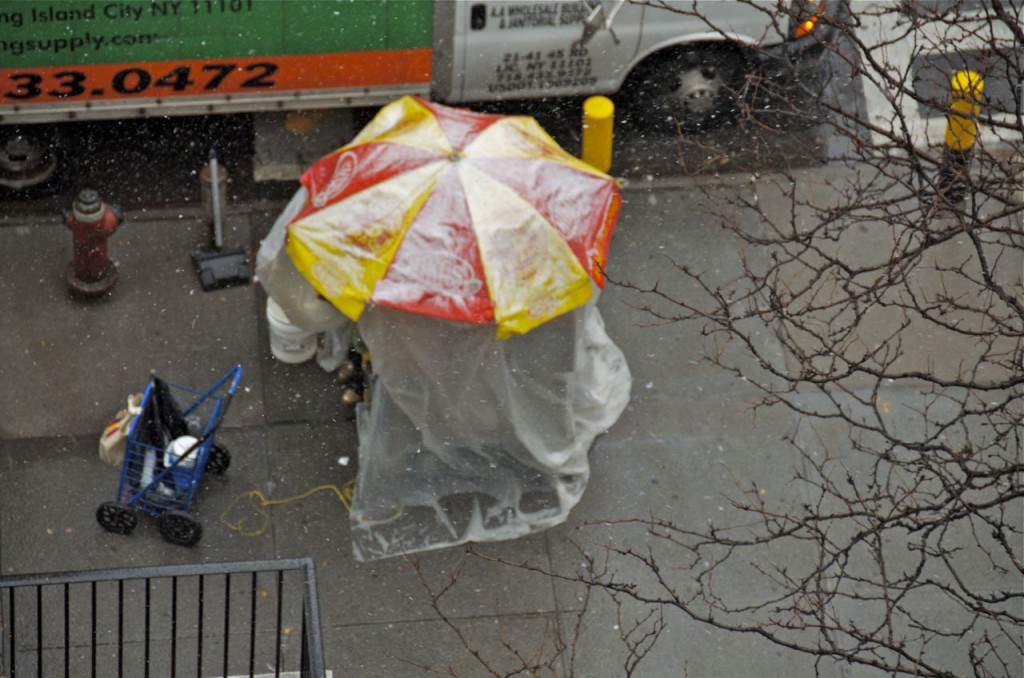 She's there every day of the week but Sunday. Rain or shine she's open for business. In the winter months she and her hotdog stand are nestled under a large umbrella and a swath of plastic. Her regular customers often snuggle in with her. Sometime I see a couple of shopping carts parked outside on the sidewalk next to her stand and I know that she's given shelter to perhaps the old woman who limps along with a small brown dog trailing behind tethered to a ratty old leash, or the elderly lame gentleman who either hangs out with the hotdog lady or keeps company with the owner of the local variety store.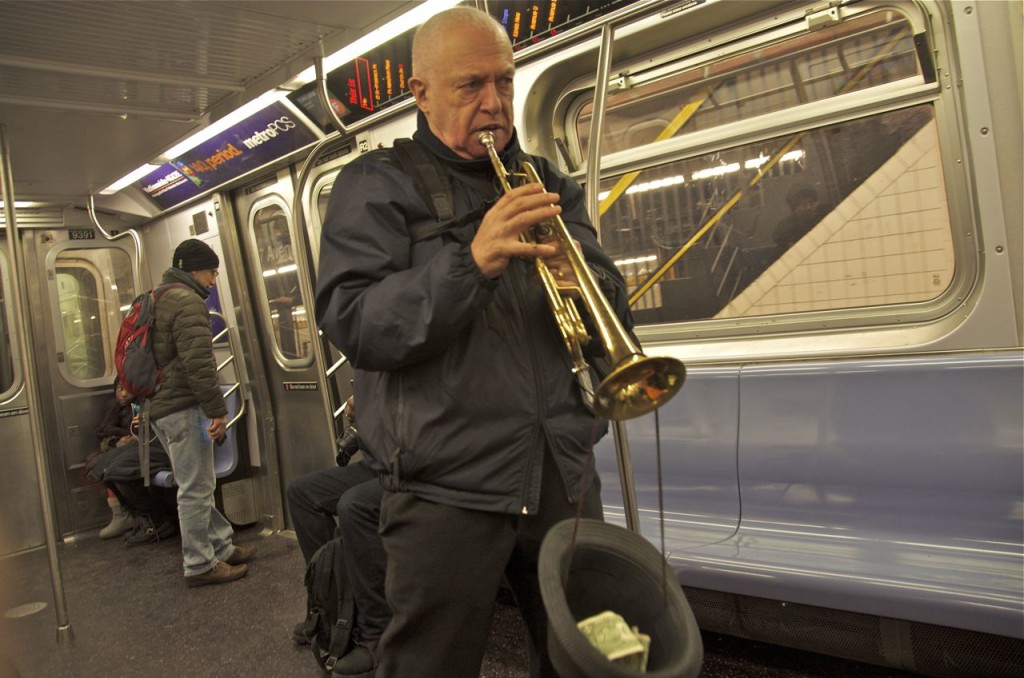 I suppose I'm drawn to situations that match my mood during this changing season. We were on the F Train heading into Brooklyn on Thanksgiving day when we saw this trumpet player. He was playing some great New York show tunes, but I saw no happiness on his face. A few dollar bills peeking out of his b-bop hat hanging from his trumpet, his tunes sounded sad to me and he could have just as well been playing the blues.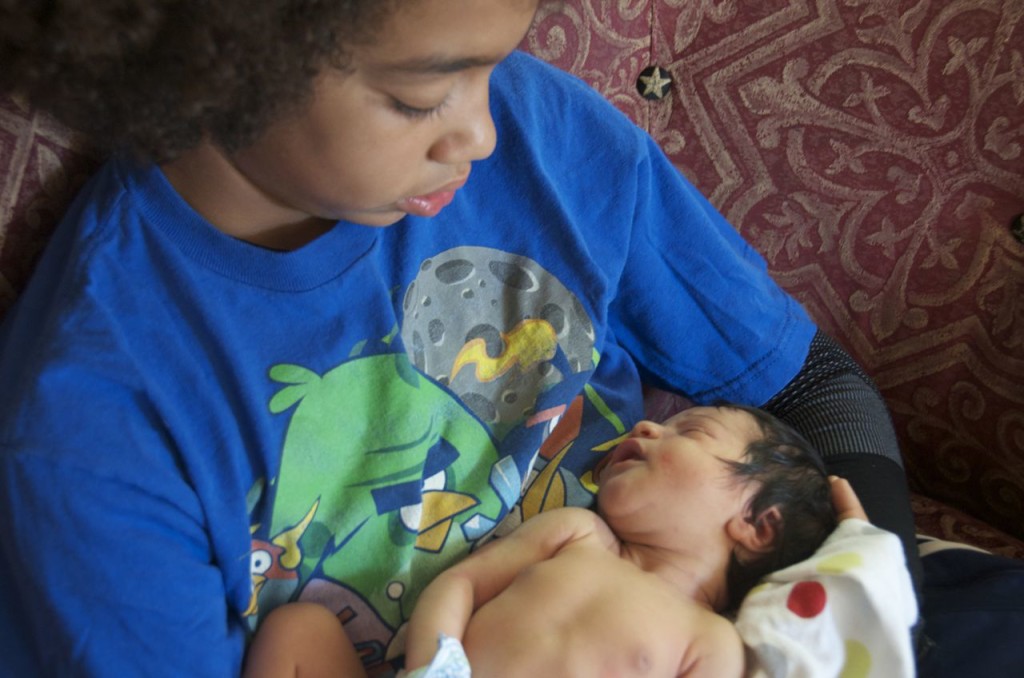 I have so much to be thankful for this year with the birth of another grandchild, a girl, but moods are a funny thing, somber, sometimes simply sadly sweet.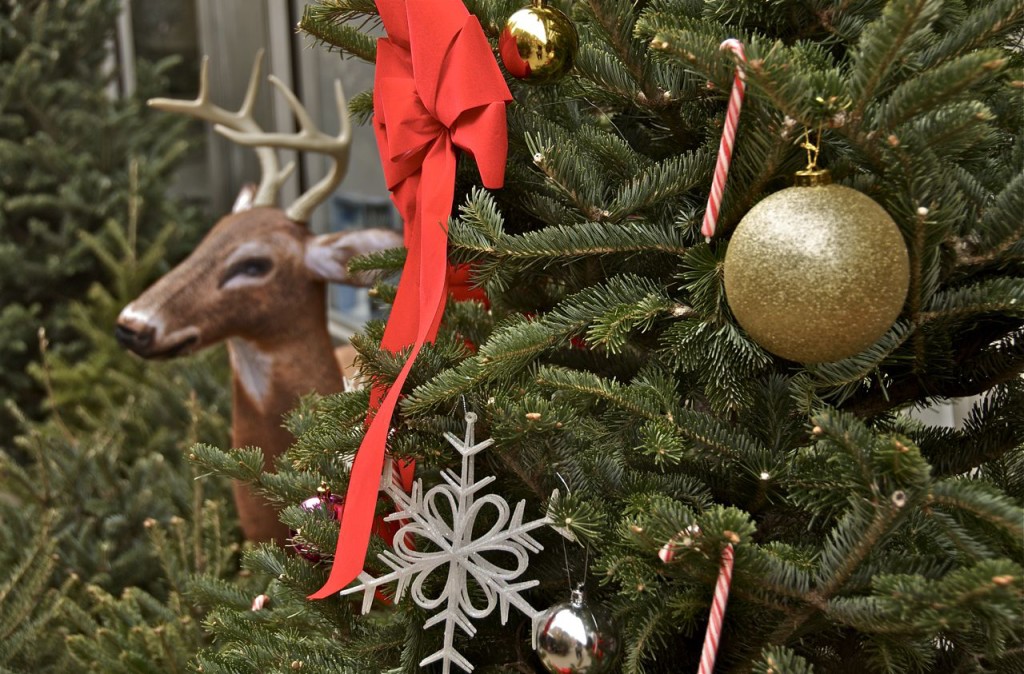 Christmas is just a couple weeks away and there are jolly displays on almost every street corner. They make me smile when I get a whiff of the piney smell, but the closer we get to Christmas I know that this wintery forest odor will be gone and the trees could just as well be made of plastic.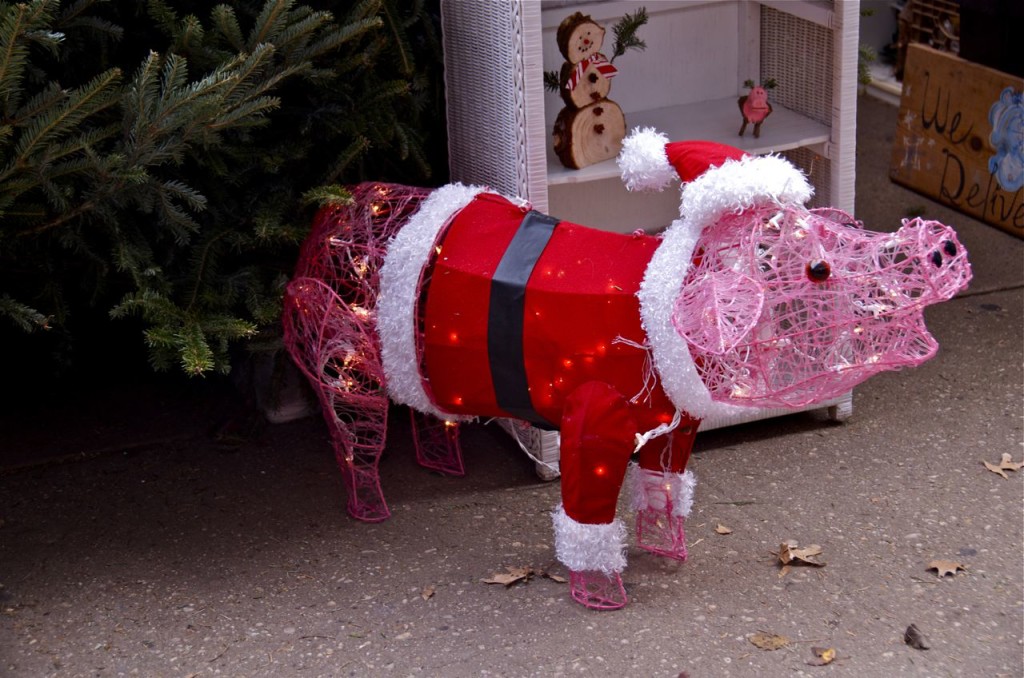 There is jolly couple selling Christmas trees several block down the street and they have a happy looking pink pig that greets the passersby. The woman told me that next year she's going to get more of these decorations because everyone wants to buy her Christmas pig.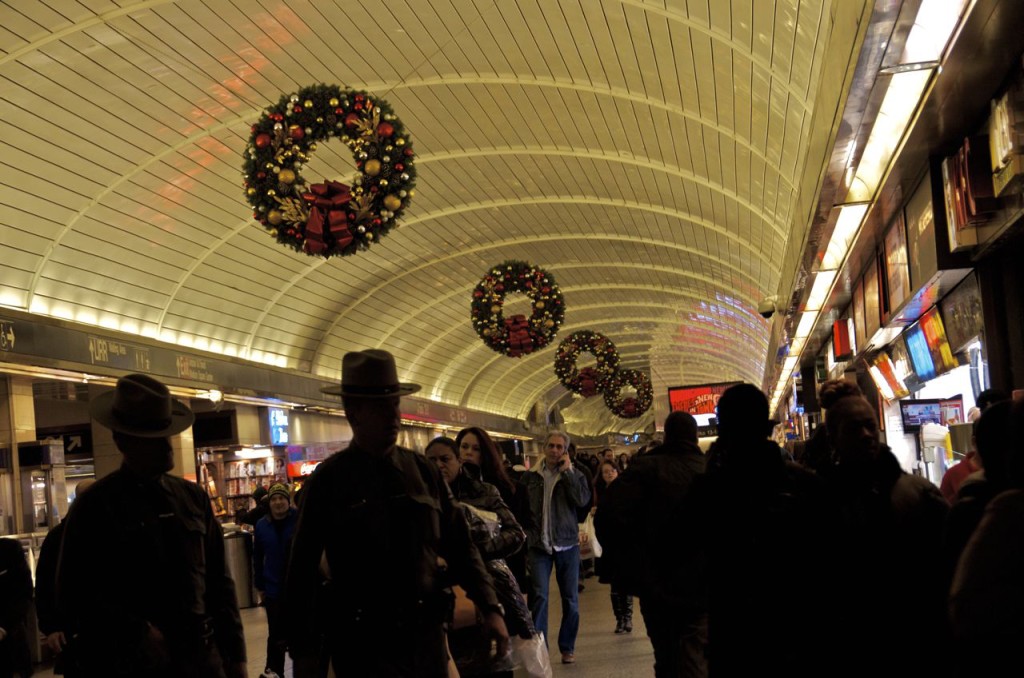 I walked through Penn Station the other day on my way to meet a friend and it's decked out for the Holidays, too.
As I walked through Penn Station, I heard this guy singing before I saw him and I thought Willie Nelson was giving a surprise performance. But it was a man in a wheel chair singing and he sounded just like Willie Nelson.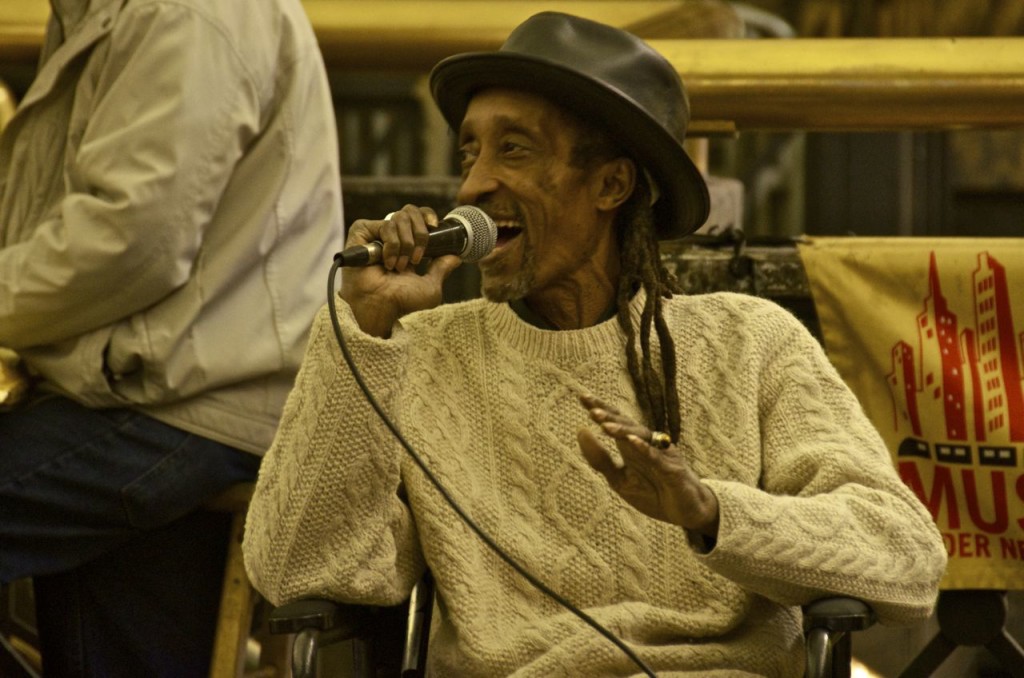 He sang Christmas carols, lovely, wonderful, uplifting tunes.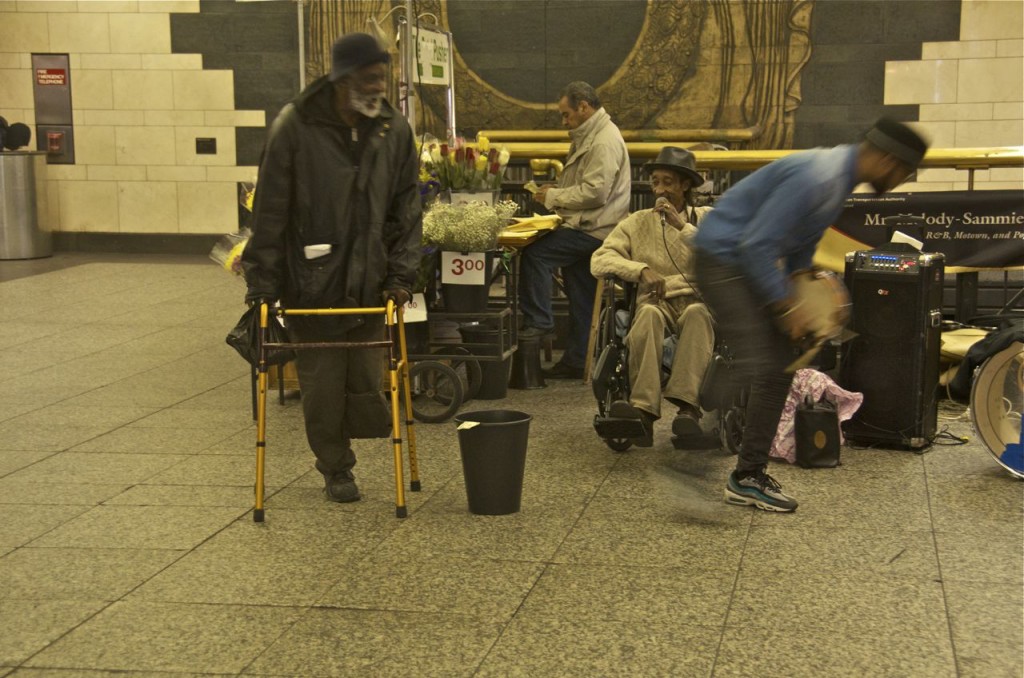 A one-legged man came by to say hello and Mr. Melody didn't skip a beat, kept singing, and smiling with his friend.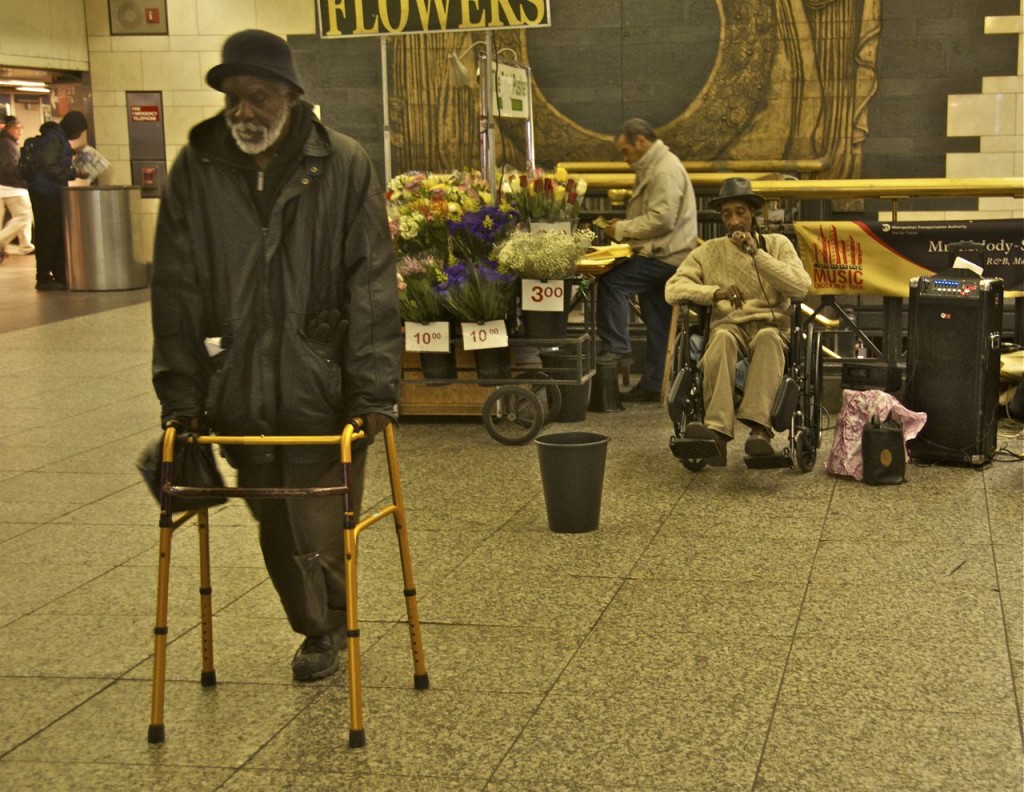 But when they parted a sadness slid across each of their faces. I dropped a couple of dollar bills into the kitty, and went about my business.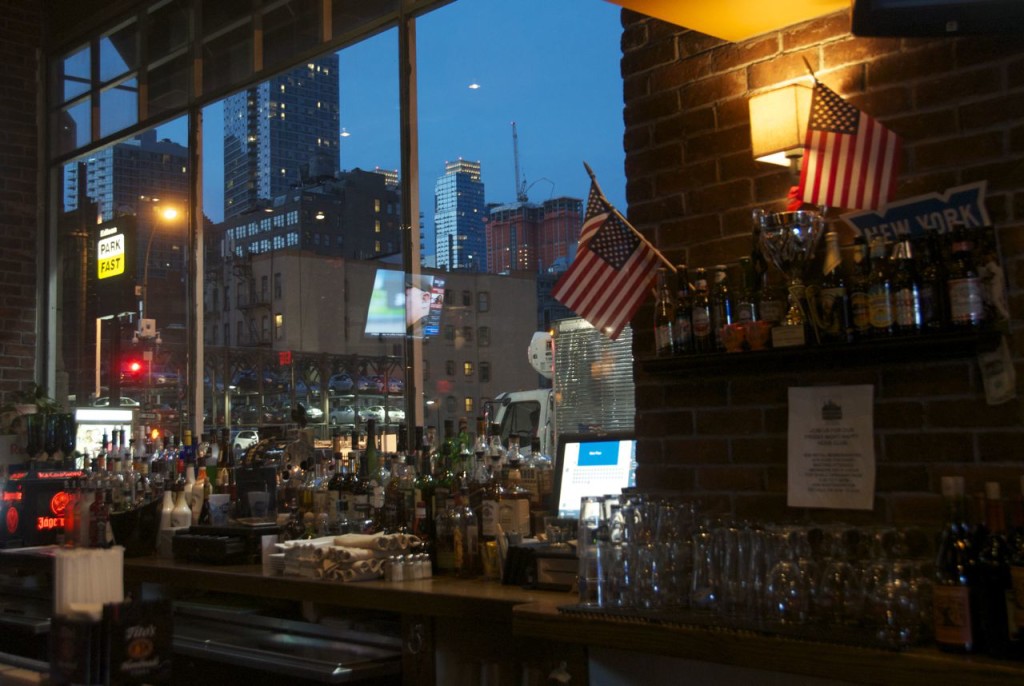 I met my friend on 9th Street. We had a couple of drinks, talked for a several hours and then we packed up our cameras and went our separate ways. As I walked back to Penn Station to catch my subway train I could feel the somberness that had been hanging over me in the last week slipping away. The lights were brighter, the air filled with an excited crispness, and my breathing was not so labored.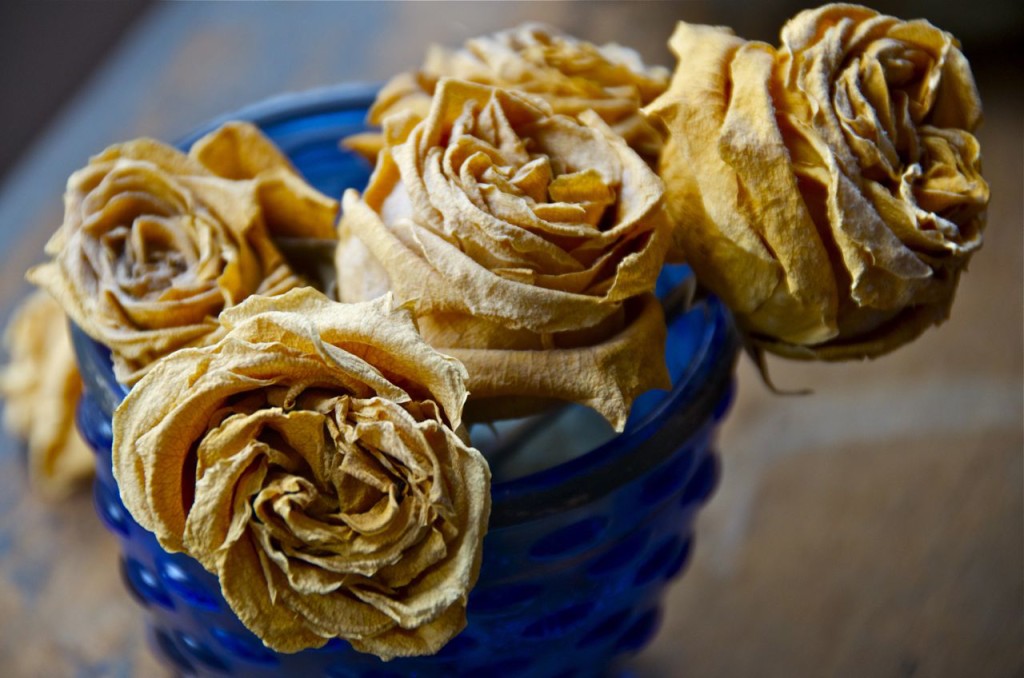 I keep a small arrangement of dried roses in a cobalt blue vase on a glass shelf in the bathroom. They've been there for a couple of years. They are so delicate that if I try to rearrange the blooms they crackle and the petals come loose and fall to the floor. I think they used to be a lovely pink. Their color has long ago faded, they are now a light amber shade and the veins that used to carry the life giving chlorophyl are brittle and empty. I love this arrangement, these fragile flowers frozen in a beautiful sad reminder of what they used to be.
I brush my teeth, wash my face and look forward to what the next day will bring.