Spain is famous for it's tapas, small bits of food that originally had a utilitarian use, a slice of bread placed on top of a glass of wine to keep the flies from getting into the drink. Tapas in Spanish means cover. But over time the lowly slice of bread, the tapas, has been adorned with cheese and other flavorful bites of food. Now tapas is an industry in Spain with bars and restaurants serving many varieties of tapas, or what is also sometimes called small plates, and a glass of wine no longer  comes topped with a slice of bread.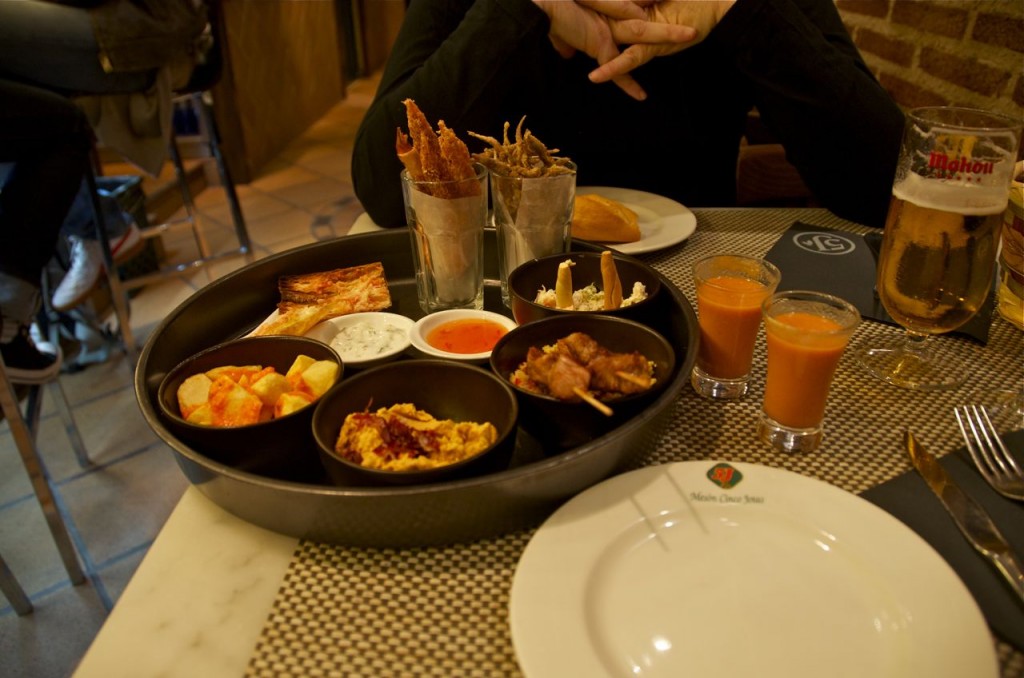 This was our first tapas meal and to get a feel for tapas we chose a mixed platter. You can see my husbands hands in the upper portions of the photograph as he patiently waits for me to quickly take this photo before we dive into the food. At the top of the tray, in the water glasses are fried baby squid and batter fried shrimp. Then going clockwise is a cold potato-cod salad with croutons, next are two lamb kabobs with couscous, a vegetable frittata, then comes golden fried potatoes drizzled with a spiced tomato sauce. We also were served toasted crusty bread drizzled with fresh tomato sauce, and the two small glasses to the right of the tray contain a delicious gizpatcho.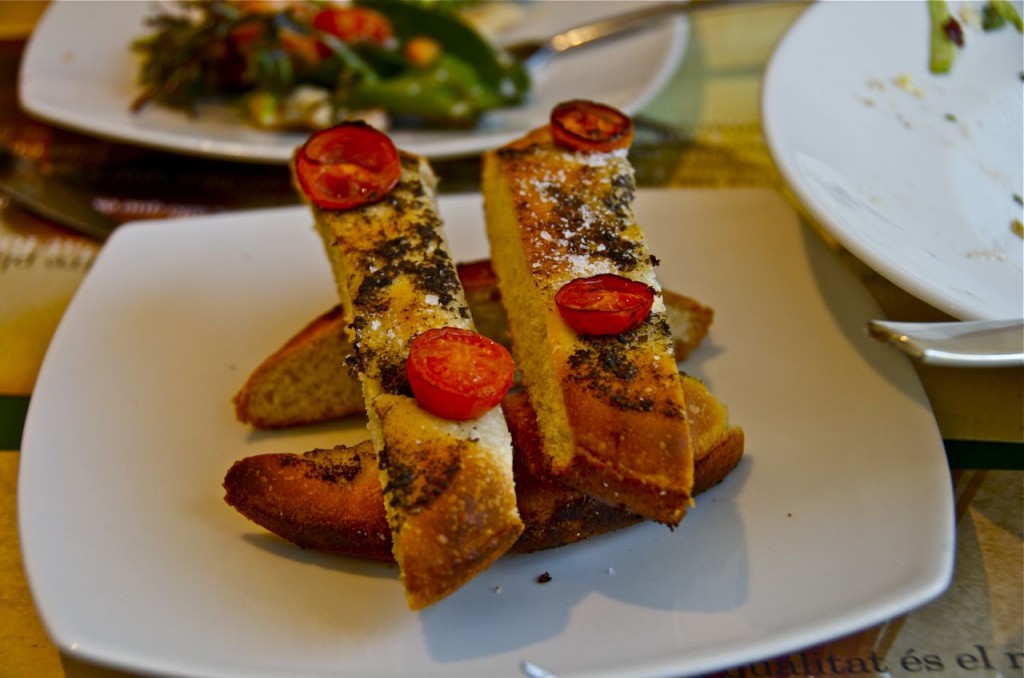 Another place we ate served a stack of sliced crusty bread. The bread was cut into finger sized slices then drizzled with olive oil, dusted with a sharp grated cheese, a good portion of smoky Spanish paprika is  sprinkled over the top and  then small garden tomatoes are placed on top before the bread is slid under the broiler for a minute or two.
I have a problem with gluten, it gives me a stomach ache, and I have to be careful how much bread I eat, but I certainly could not resist tasting these  delicious looking slices of bread. Some days you just have to make a decision to pay the price.
Another tapas bar served us 'tomato bread' that was also delicious and ridiculously simple to make. The first step is to rub a raw garlic clove on top of bread that has been grilled or toasted to a crisp and crunchy texture. Then slice a tomato in half and rub the flesh of the fruit on top of the bread, sprinkle with grated cheese and the tasty tapas is done. I could see adapting this by using a non gluten bread.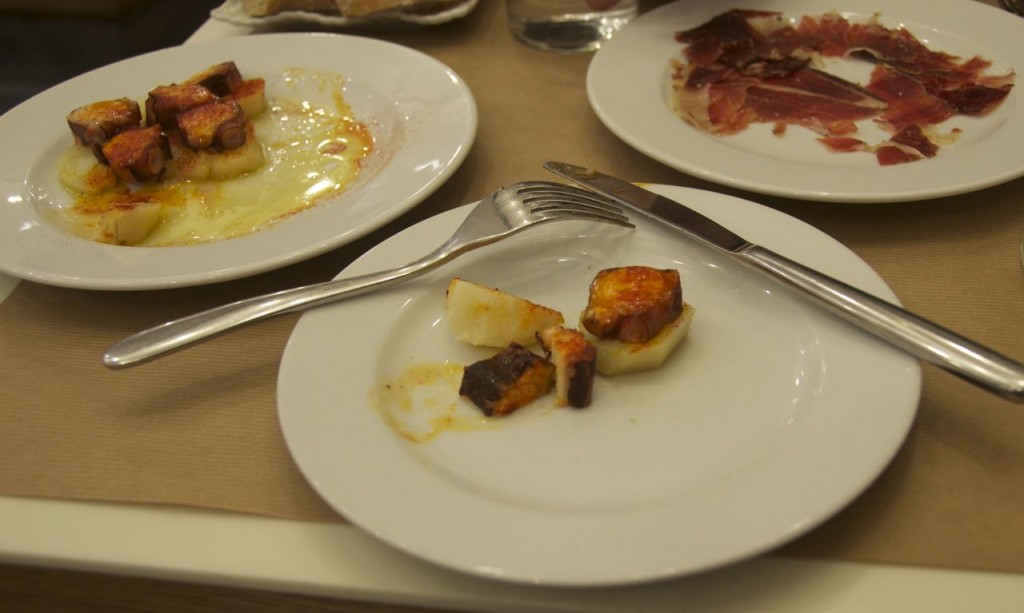 Cured ham is a major offering in a tapas menu and we are tasting as much of dried meat as we can. And here is an interesting bit of food, grilled squid served on top of sliced roasted potatoes, drizzled with olive oil and covered with a good dusting of paprika over the top.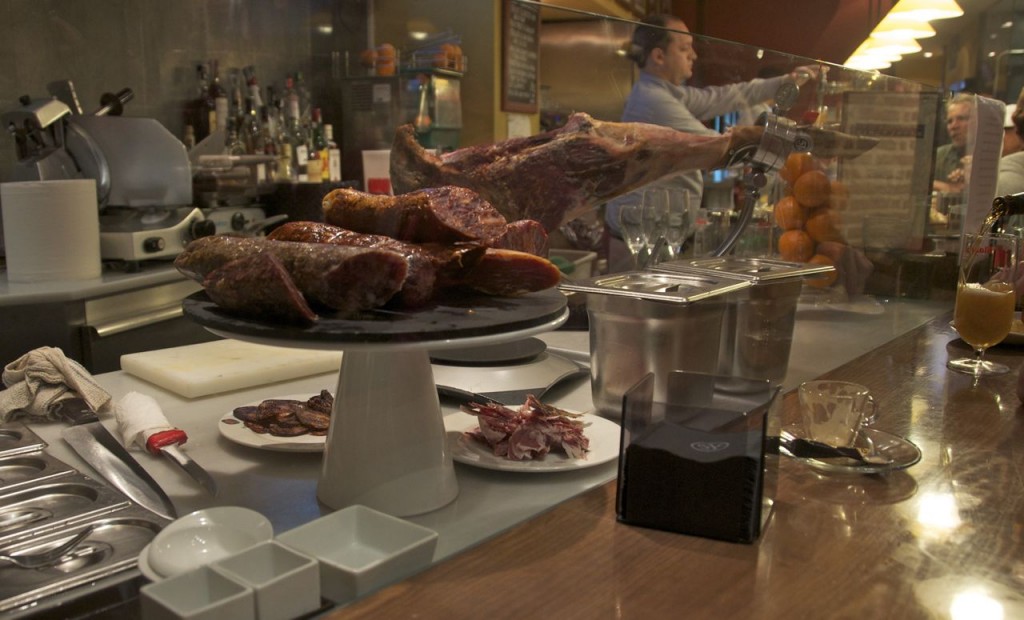 Cured ham is prominently displayed in most bars and small restaurants. You can even watch the waiter slice your meat while you drink a class of wine or a beer. Spain does not have a lot of pasture land and the best animals to raise in the hilly and rocky terrain are goats, sheep and pigs. Consequently, there is not much beef on the menu. But this country has perfected the art of drying and curing meat.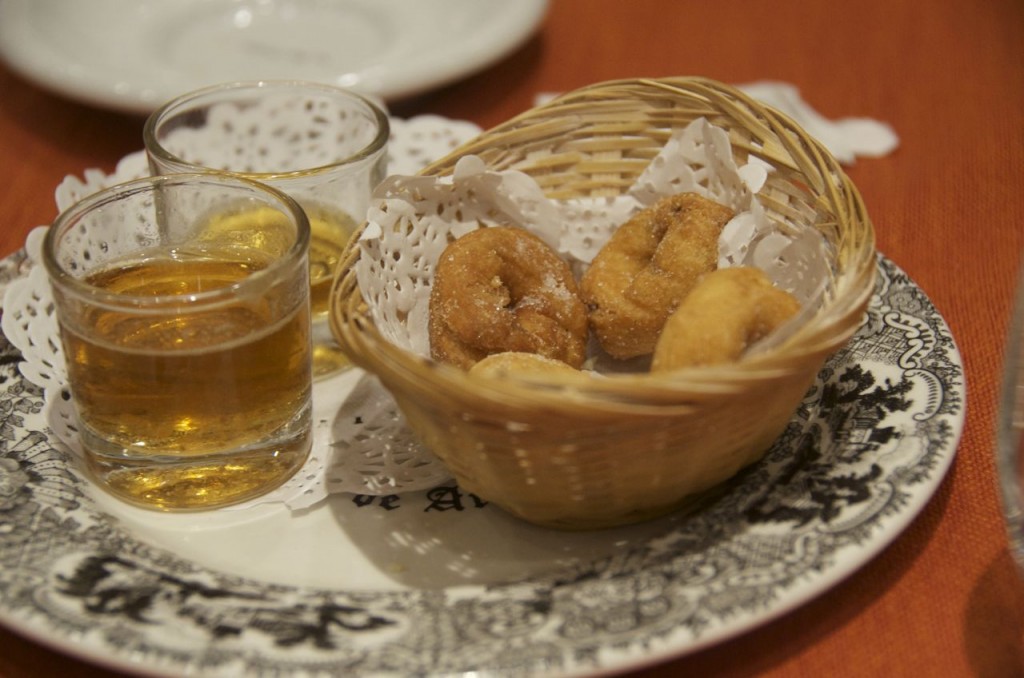 This is one of the deserts we ate, small sugar dusted doughnuts accompanied by a delicious brandy. Again I had to be careful about the gluten, but really who could resist these? I had one yummy tidbit and did not regret a moment.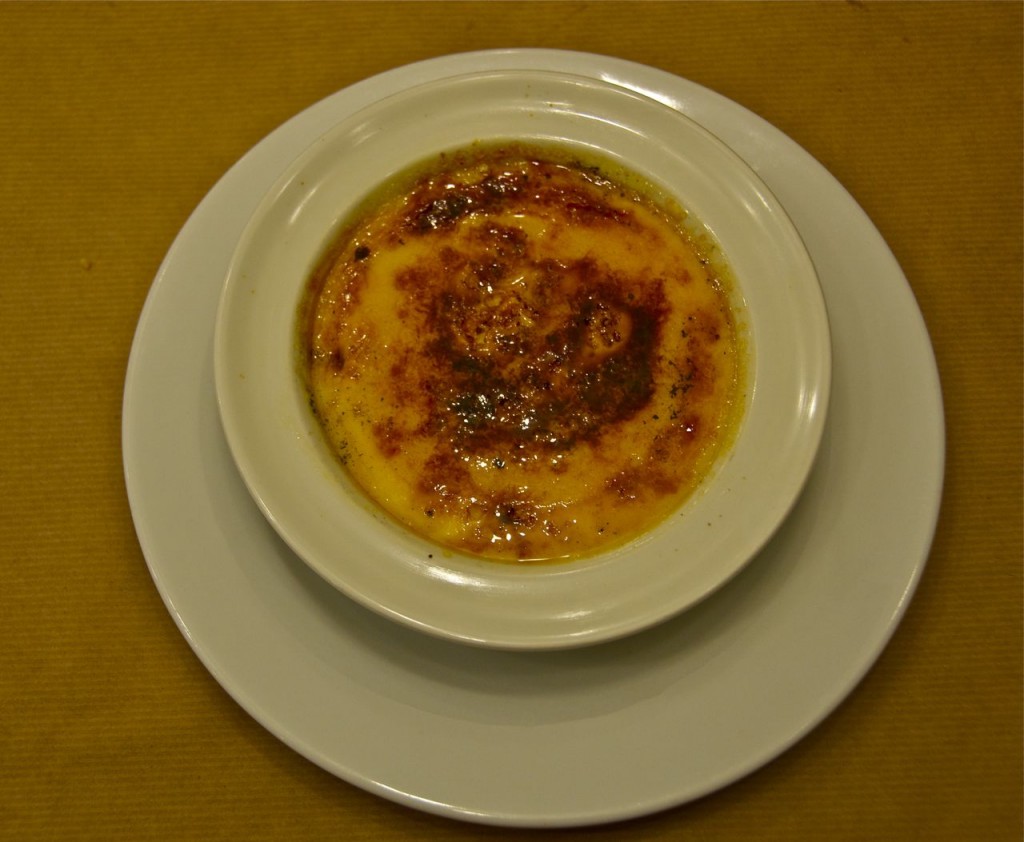 Yes, there is dessert after tapas. Though the diners drink long into the night, sweets are very much a part of the menu. One of my favorite deserts has always been a creamy vanilla pudding. I suppose it takes me back to my childhood when my mother took special care in making her creamy delight from scratch. In Spain I found a wonderful substitute for that childhood memory, 'crema catalona'. It's a luscious slight grainy textured vanilla pudding dusted with a thin layer of  sugar. The bowl of pudding is then placed under the broiler briefly until the sugar melts and turns a rich caramel color. When cooled the sugar becomes hard and brittle like a thin sheet of glass that must be shattered by banging it with a spoon in order to get to the creamy delight. This dish is somewhat similar to Creme Bruele and flan, but crema catalona is less custard-like because it has less eggs.
Tonight we'll go out again to dinner. There is always something new and interesting to taste in Spain.