Last weekend my husband and I celebrated our wedding anniversary by taking an hour and a half train ride to Philadelphia. The weather was lovely, the sky dotted with white cotton-ball clouds, and the temperature was in the high 70's and low 80's, perfect for touring. And though I brought my writing with me, in case the muse struck, I did no writing all weekend and took a holiday.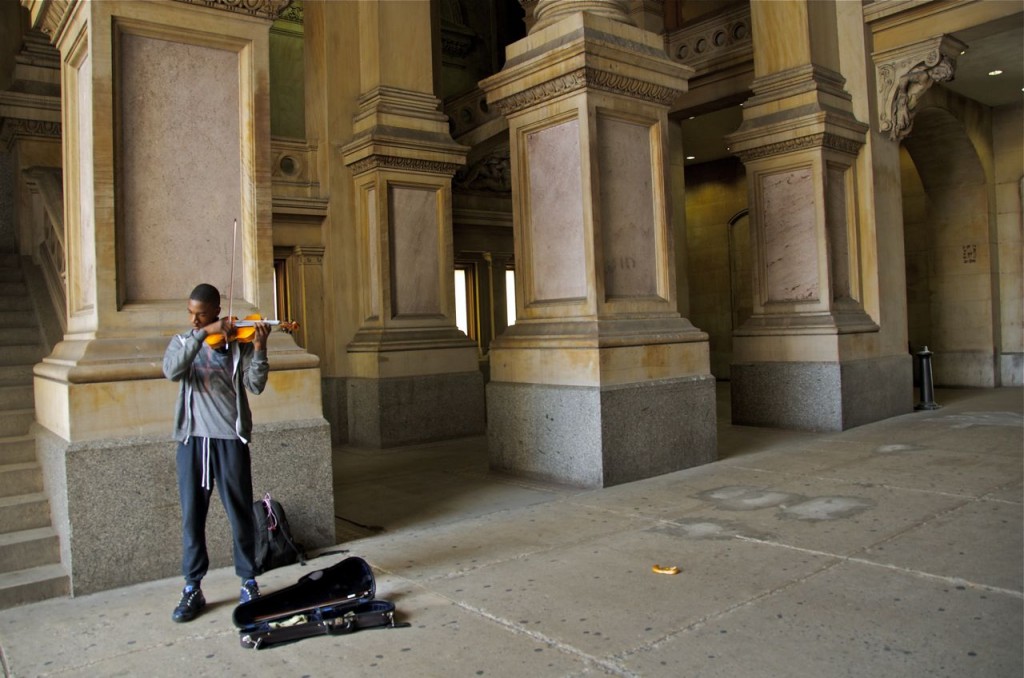 After checking in and dropping our luggage in the room we took a walk. We'd visited Philadelphia one time before but it's the kind of city where you cannot see everything in only a couple of days. The aim of this weekend was to go slow, taking our time to see and explore without going nuts. We heard this young man playing wonderful classical music just outside of a tourist information booth. The acoustics were perfect and he played solemnly with grace and ease.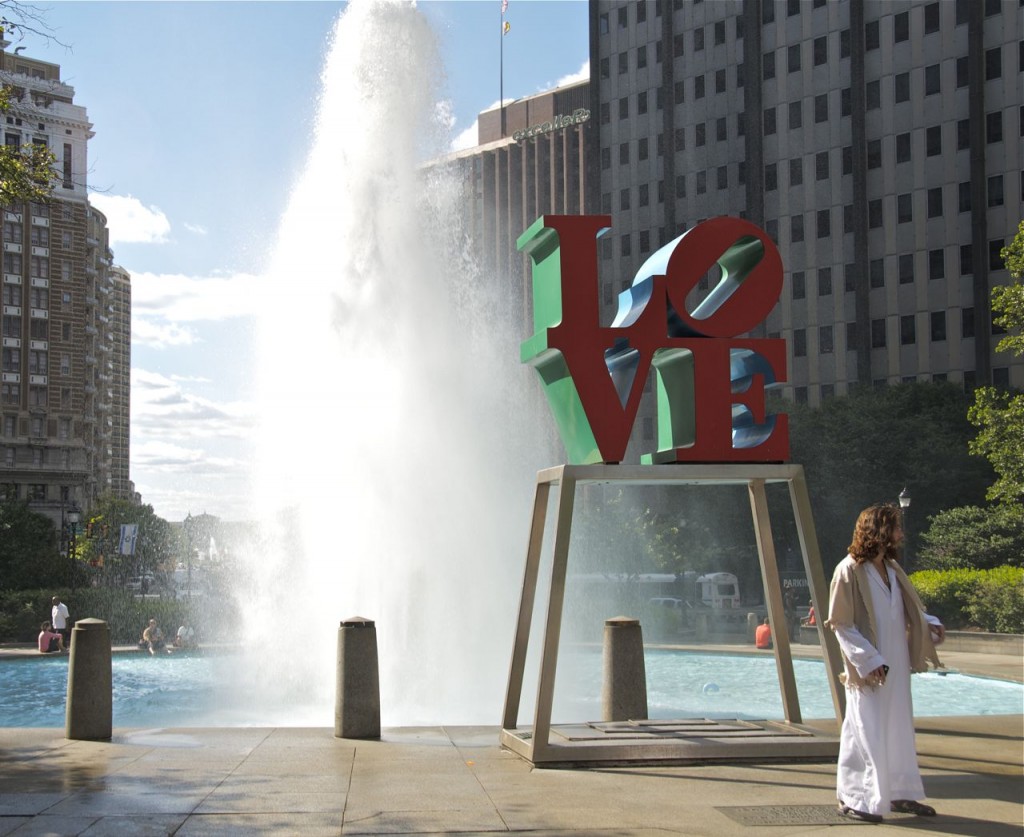 Though touristy, the Love Park is a must see when visiting Philadelphia. The spray from the fountain is refreshing and almost every minute of the day and night there is a different group of people posing for a photo in front of this statue. I couldn't help but notice this Jesus like character busying himself offering to take photographs of couples. We walked past this statue several times during our weekend stay and he was always standing near the statue, smiling, offering his help and looking quite out of place in his long robe and earthy sandals standing next to the visitors wearing t-shirts and jeans.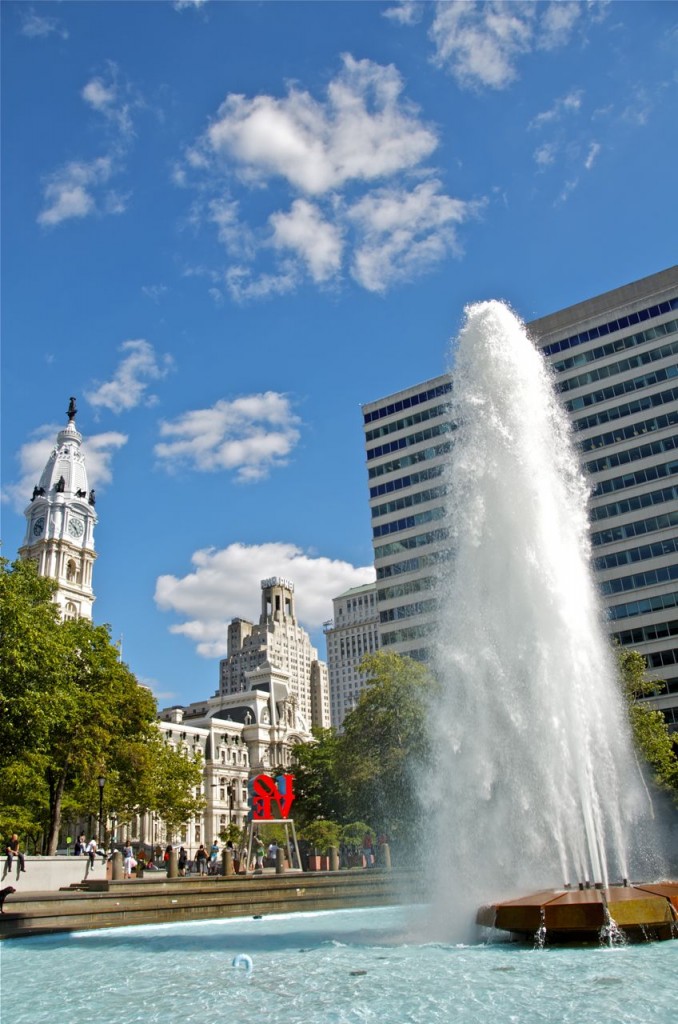 I couldn't help but take a photo from the other side of Love Park with the Historical buildings in the background. Yes, and the Love sign is back-word.
It was late afternoon, the sun still brilliant and we were on our way to the Barnes Foundation Museum. We had never been there before but it came highly recommended, boasting of holding one of the finest collections of Post-Impressionist and early Modern Paintings. It was an outstanding visit with 25 rooms of art. Unfortunately no photography was allowed. Though there were so many paintings on view it was The Studio Boat (1876) by Claud Monet that kept me spellbound. (Google this painting and let me know what you think.) I could see myself ensconced in that covered boat, floating along a flower and treelined shore, working out plots and developing characters, falling into a daydream and then coming to life with a new idea for another novel.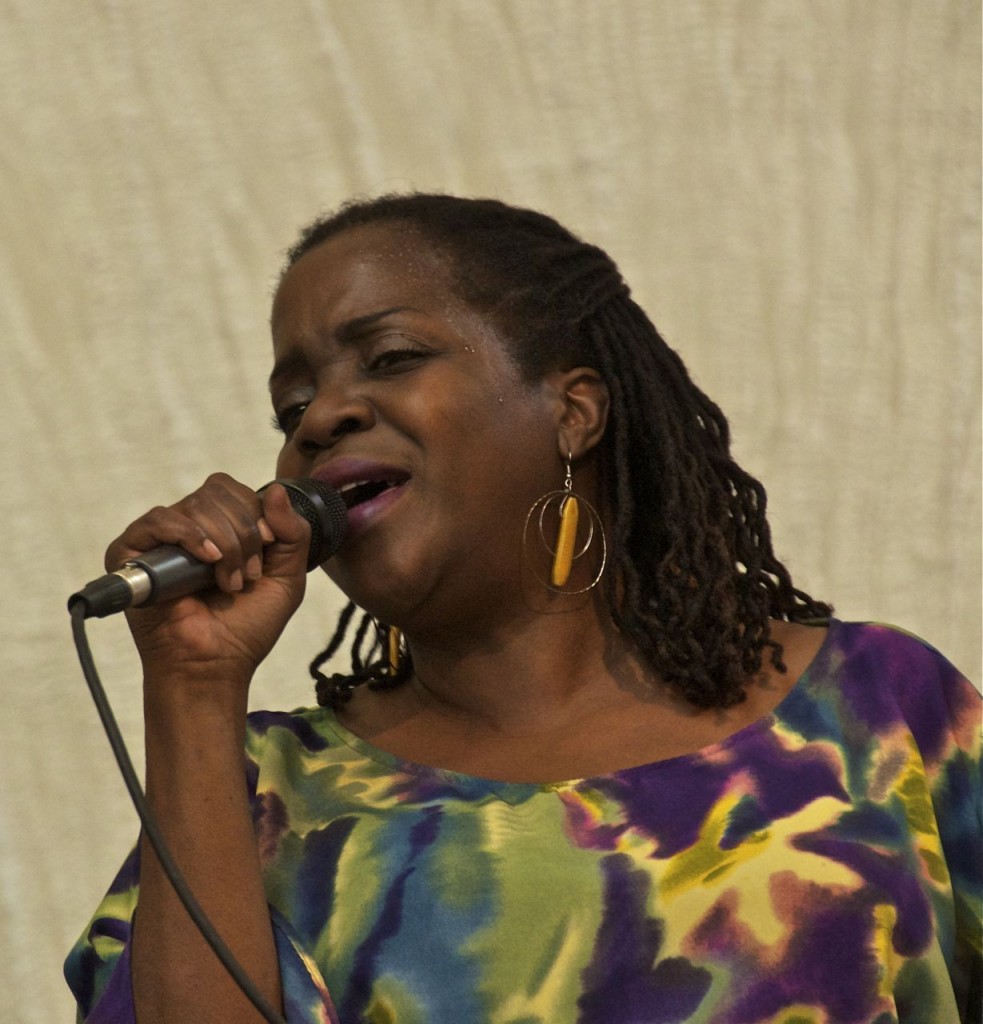 On the first Friday of every month the Barnes Foundation has entertainment with a cash bar. Carla Cook preformed the evening we were there. What a treat! She sings Jazz, Blues, Gospel and everything in between. We heard some Ella, Miles Davis, and because she said she had a soft spot for Motown, she sang some Marvin Gaye tunes. There were no restrictions on photographing the entertainers and I got a lot of good photos of Ms. Cook.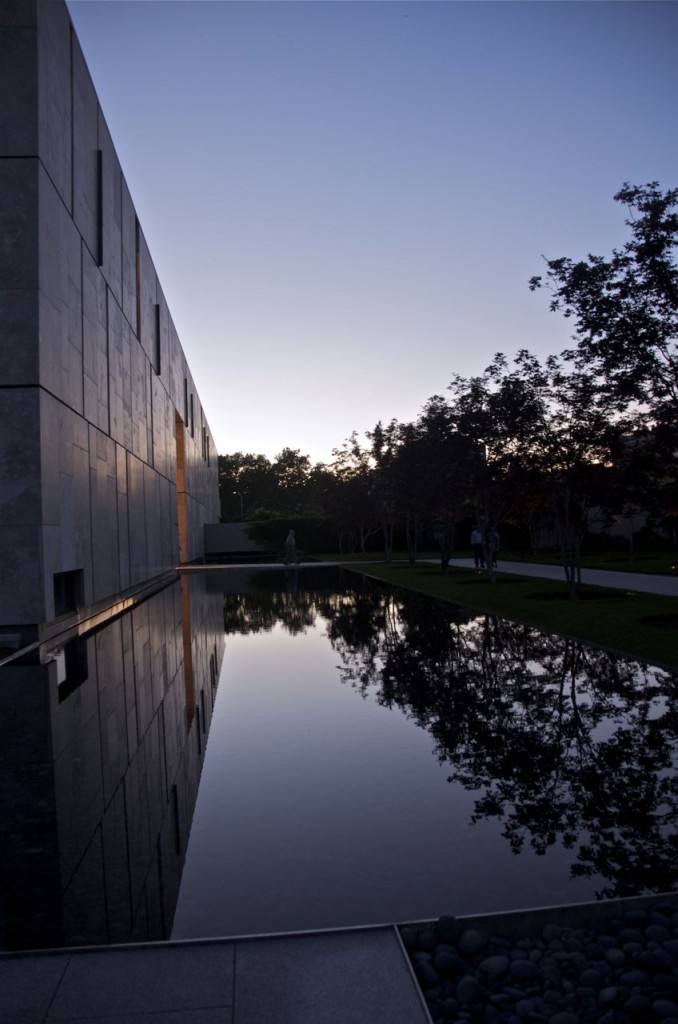 When we left the Barnes Foundation the evening was in the throes of a beautiful sunset with just enough light to reflect the building and surrounding trees in the pool alongside the entrance way.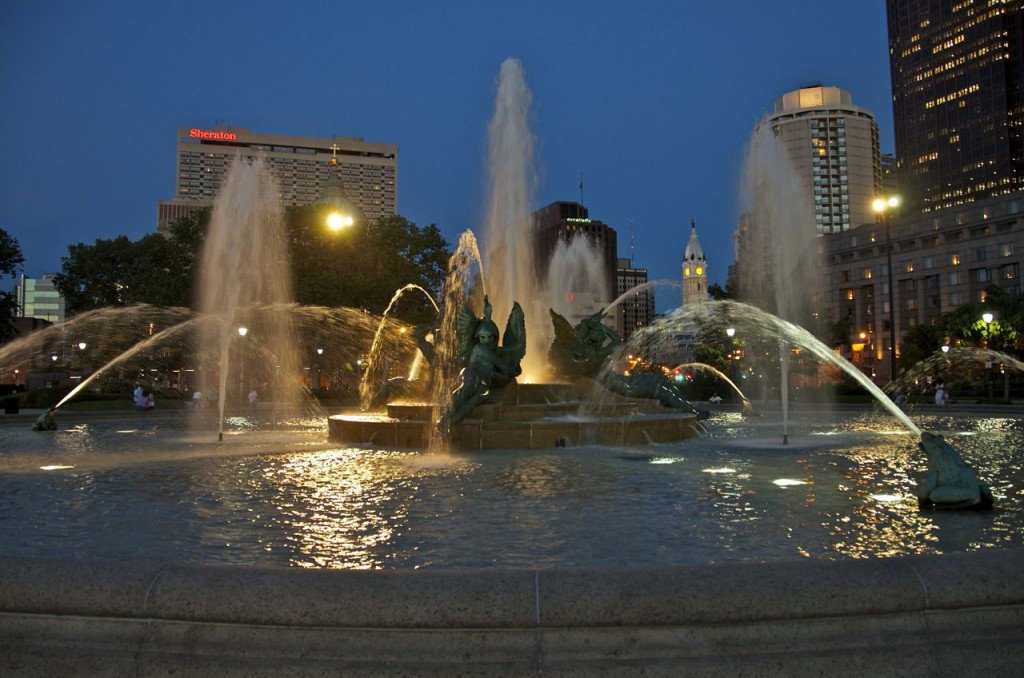 On our walk back to our hotel we passed the Swan Memorial Fountain. The warm evening air was freshened by the spray from the water features.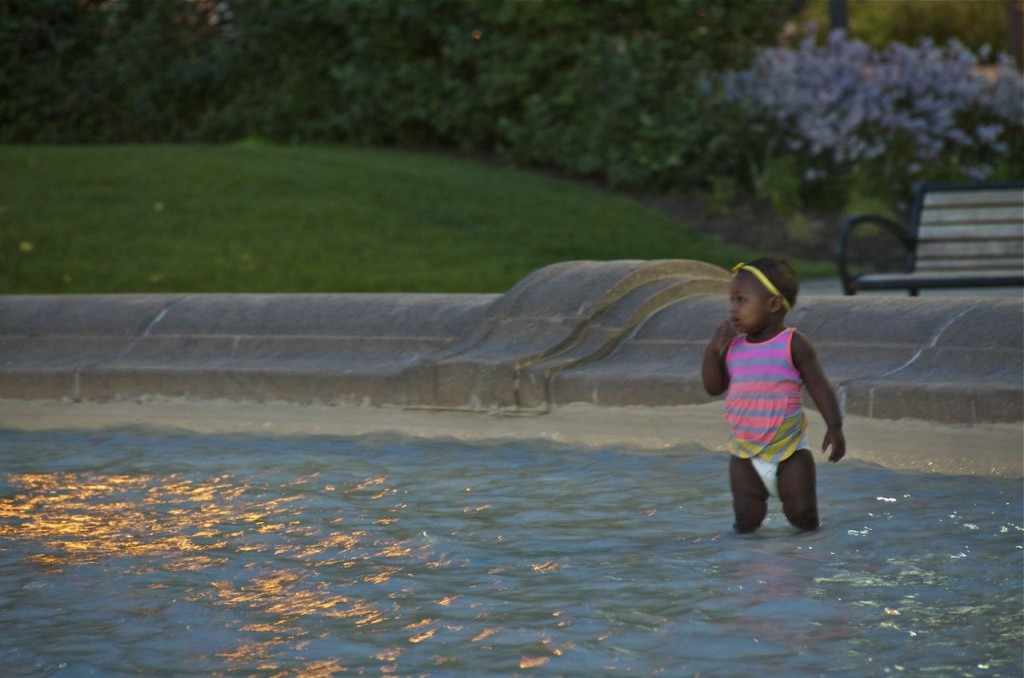 And this little cutie stood watching and watching the giant frogs spewing water at the statues in the middle of the pond.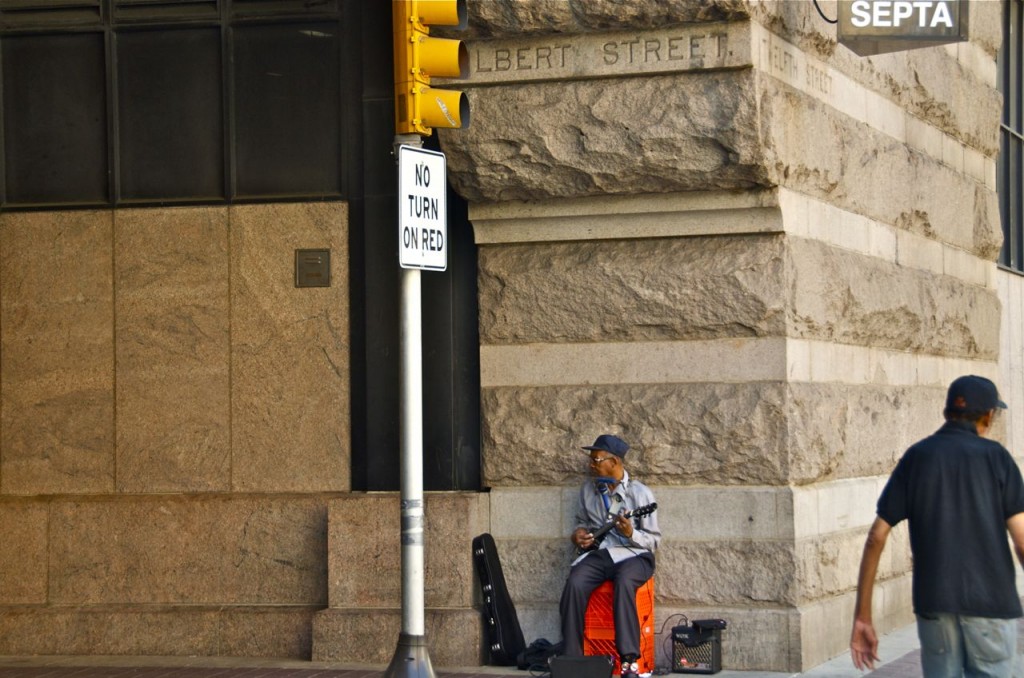 The next morning instead of making a right, we turned left and walked toward the Market. We had no destination. On this corner a guy played some pretty funky Blues. He was there from mid morning until quite late in the afternoon when we returned back this way.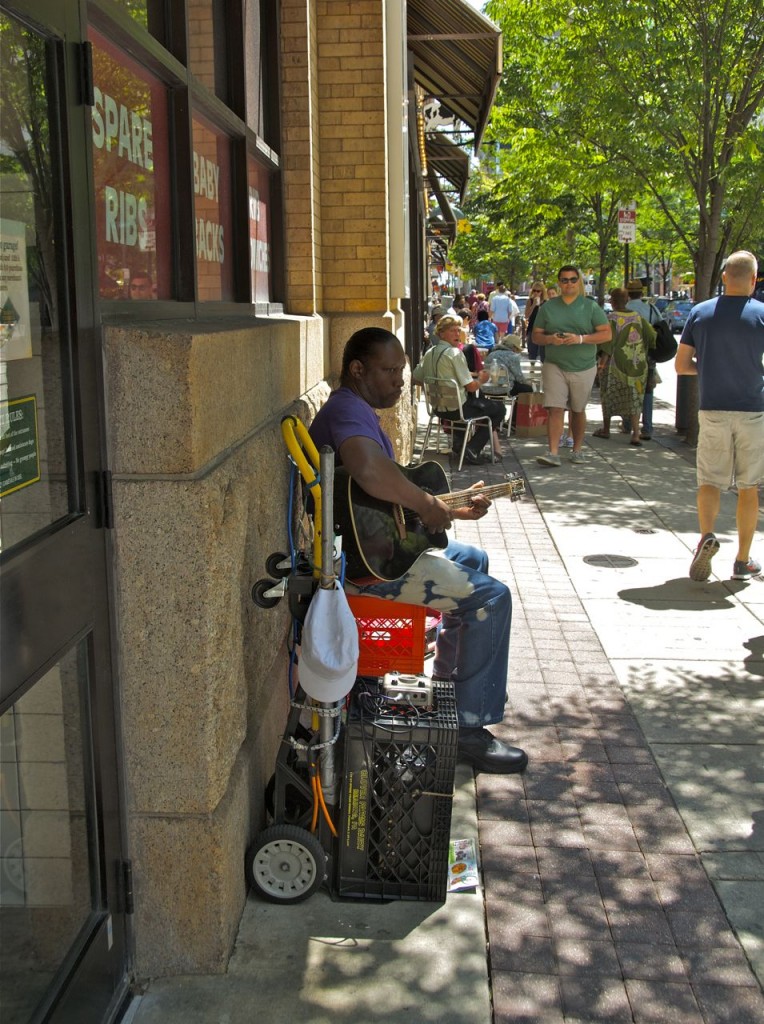 On the same street a block away this man was kicking out some pretty intense guitar riffs from the 60's.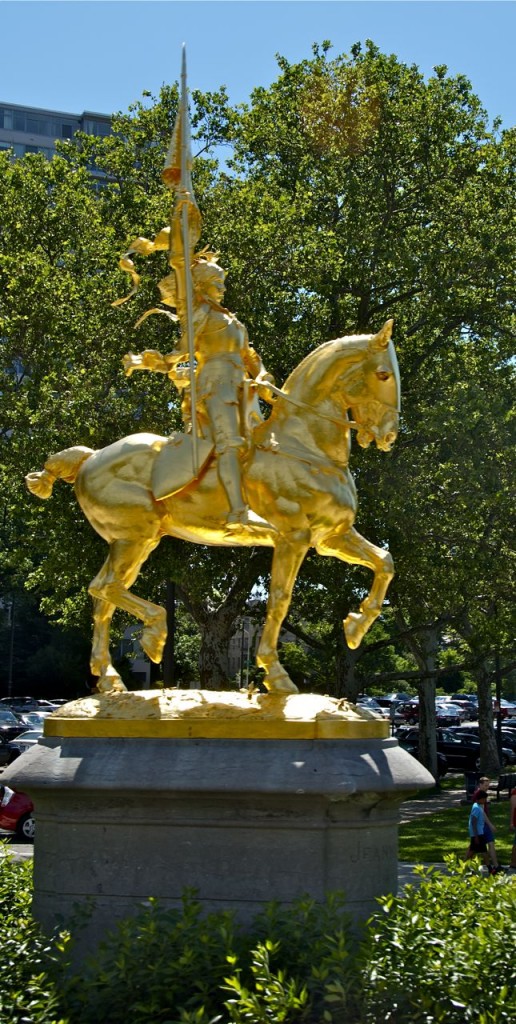 The Association of Public Art estimates that this city has thousands and thousands of public art work tucked away in every community. The Smithsonian lists more than seven hundred statues on their register for Philadelphia. I had to giggle when I heard that  this brilliant gold statue of 'Joan of Arc' was referred to by the locals affectionately as 'Joanny On A Pony'.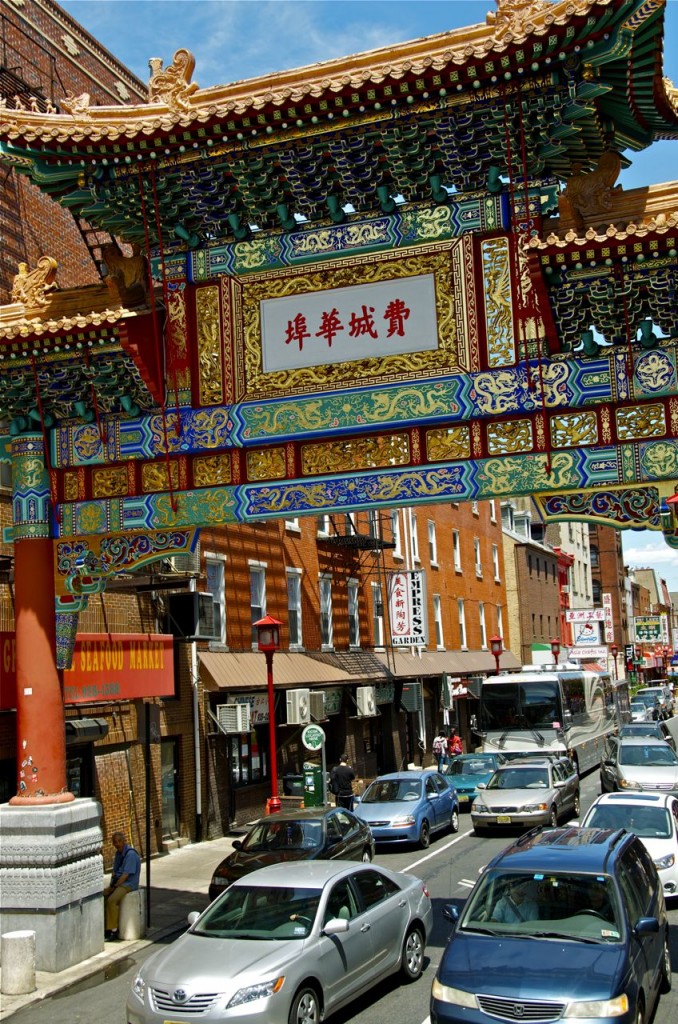 We took a walk through China Town. A local tour guide told us that Philadelphia has the third largest Chinese community in the country.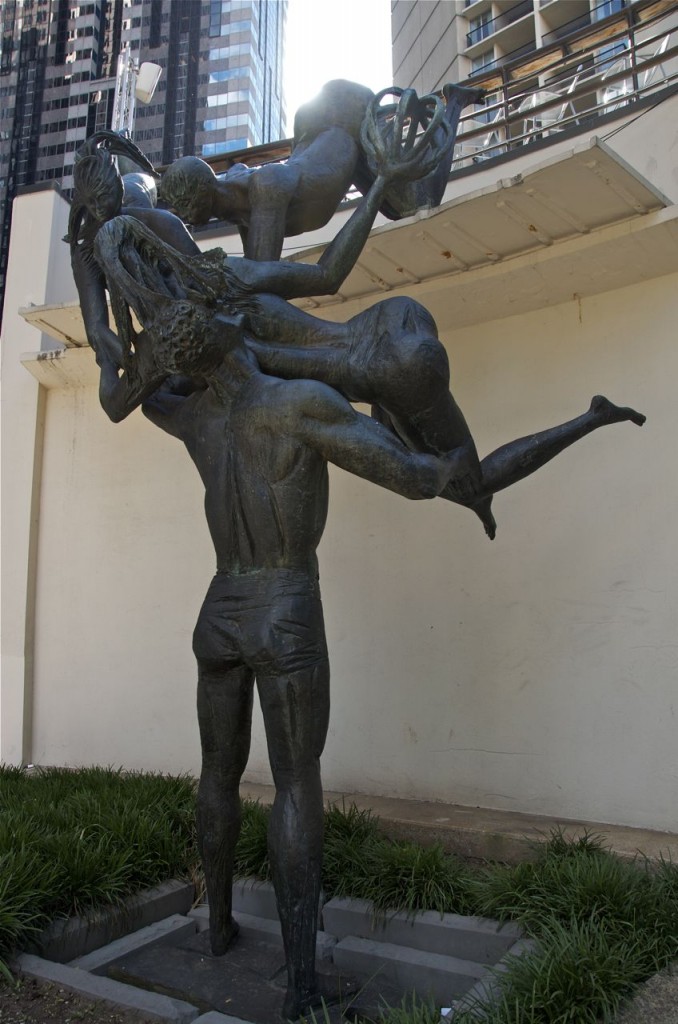 Statues are literally everywhere. This one with people seeming to fall from a terrace and into the arms of a standing man (I forgot to get the statue's name) is located outside a fast food eatery and in the evening loud music and a boisterous crowd hang out with this piece of art.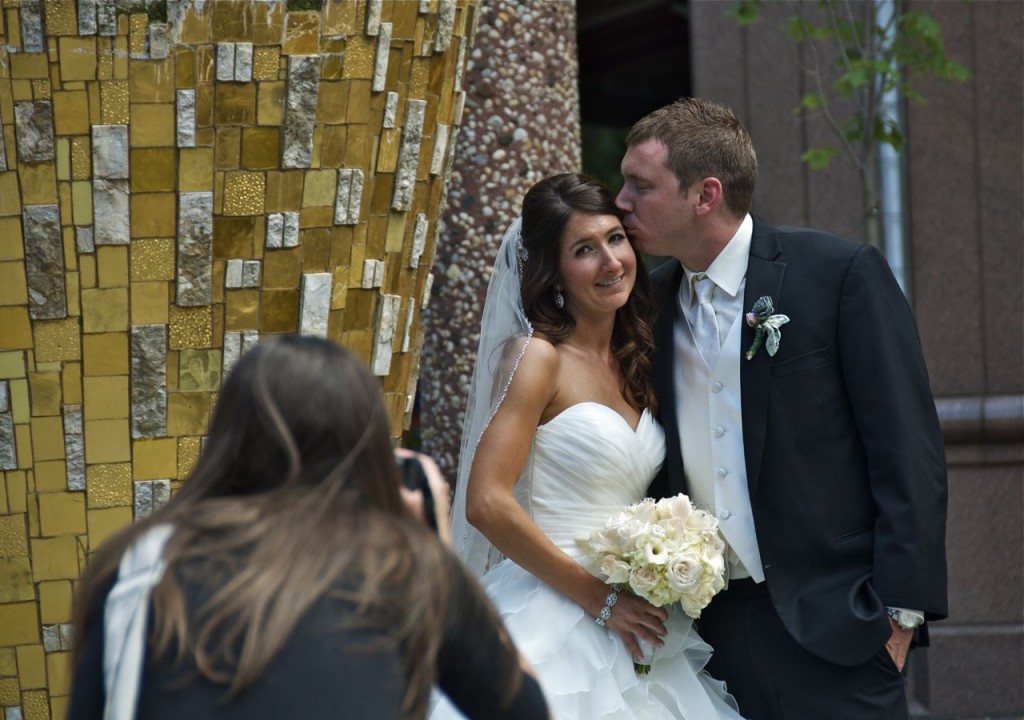 It was June, a time of year when many marriages take place (like ours had) and we saw two wedding photo setups on our walk through the city center. This couple is posing beside a large sculpture and I wondered if this might have been where they first met, or maybe when the marriage proposal took place.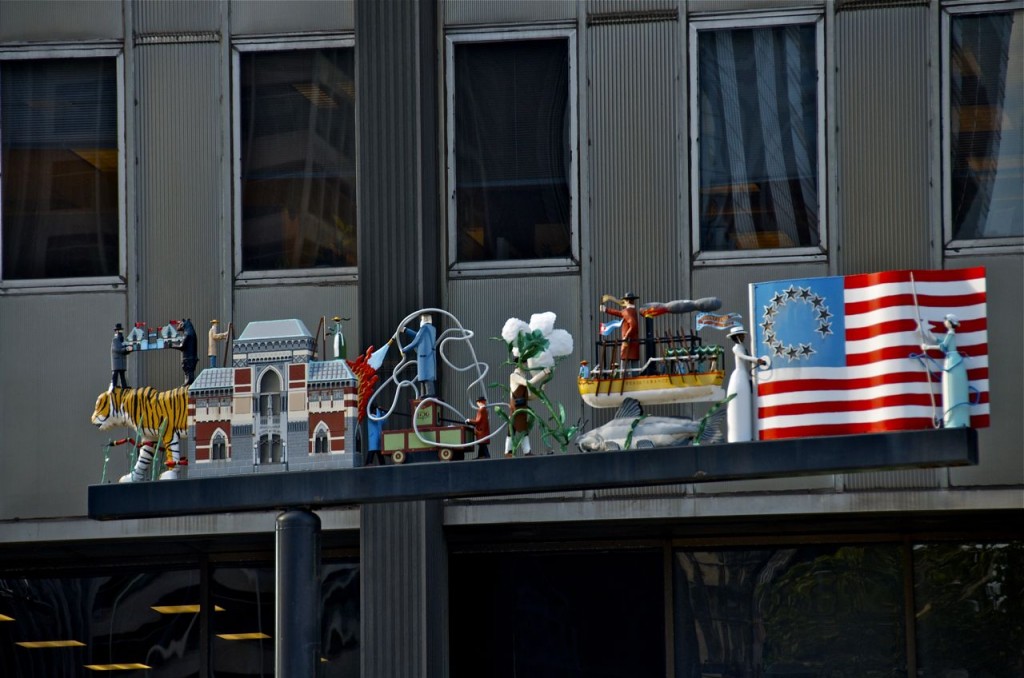 This is a statue that depict the 'firsts' in the country that happened in Philadelphia. I cannot pick out all the events, but Philadelphia was the first to have a tiger in their zoo, the first to have a fire truck, and the first to have a hospital. Betsy Ross, a Philadelphia resident, made the first United States flag in this city. By the way, the founding politicians brought her the project not because she was just a seamstress, but she was a woman who owned an upholstery  business and they knew she could handle the project. Initially they wanted a six pointed star on the flag, but she suggested that a five point star would look better, and they went with her idea.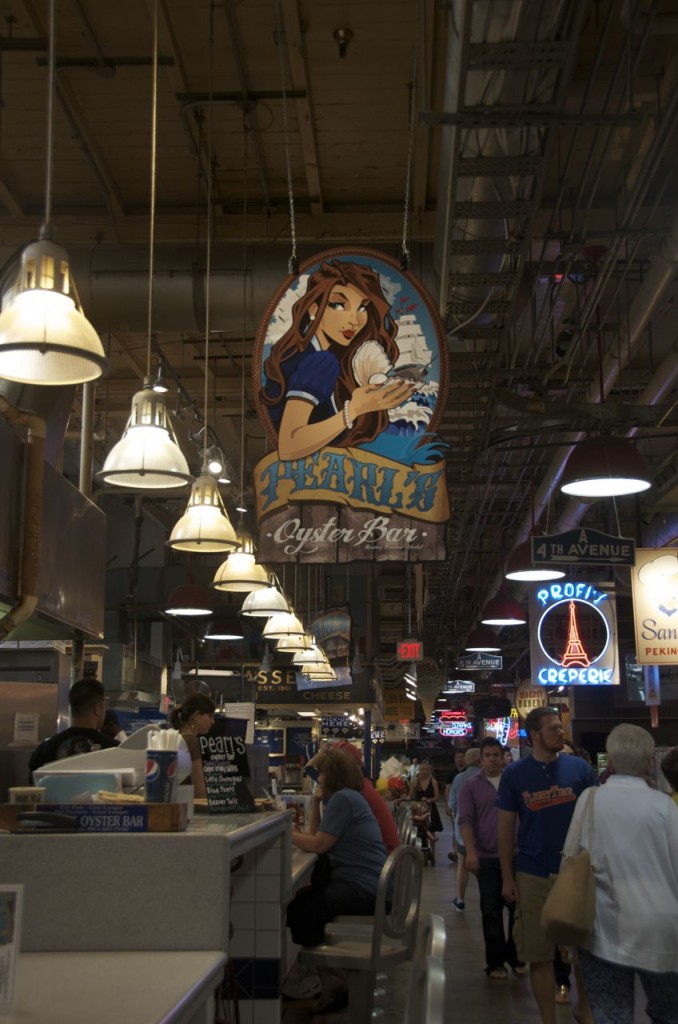 The Market is fun place to shop and eat. They have everything from beef jerky to Amish baked goods. You can buy fresh fish or pig snouts. There is good strong coffee and weak watery coffee. You can get fresh fruit or fresh fried doughnuts. There are enough meat stands to satisfy any carnivore. On our last morning in Philadelphia we had breakfast at Pearl's. I had grits and shrimp and my husband had crab cakes drenched in hollandaise sauce, topped with poached egg and a small mound of home fries.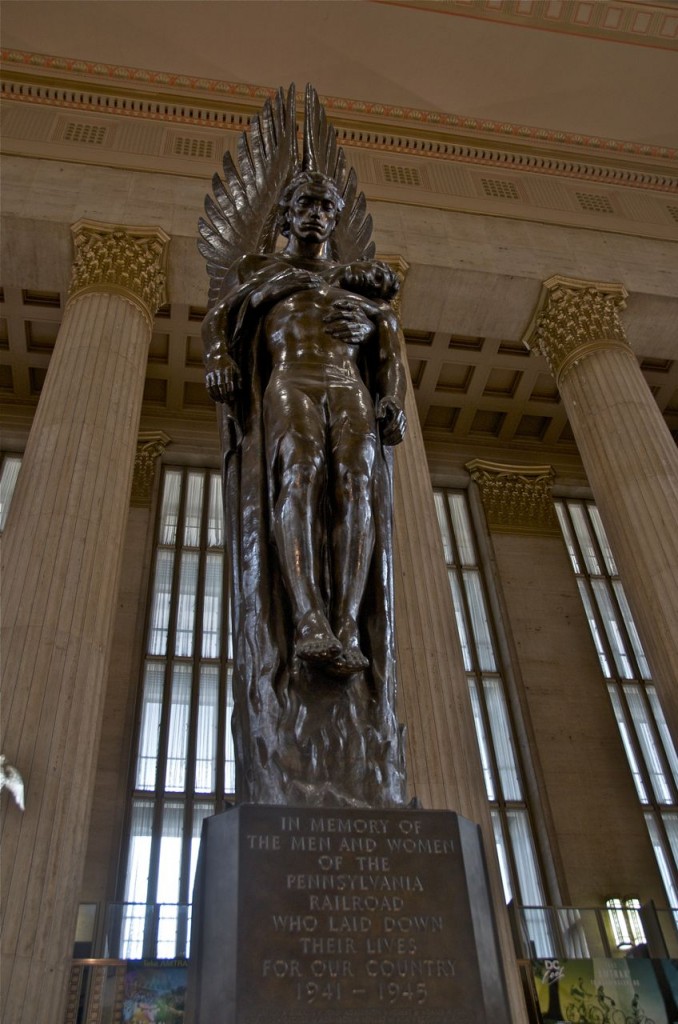 While waiting to board our train back to NYC this WWII memorial statue towered over us.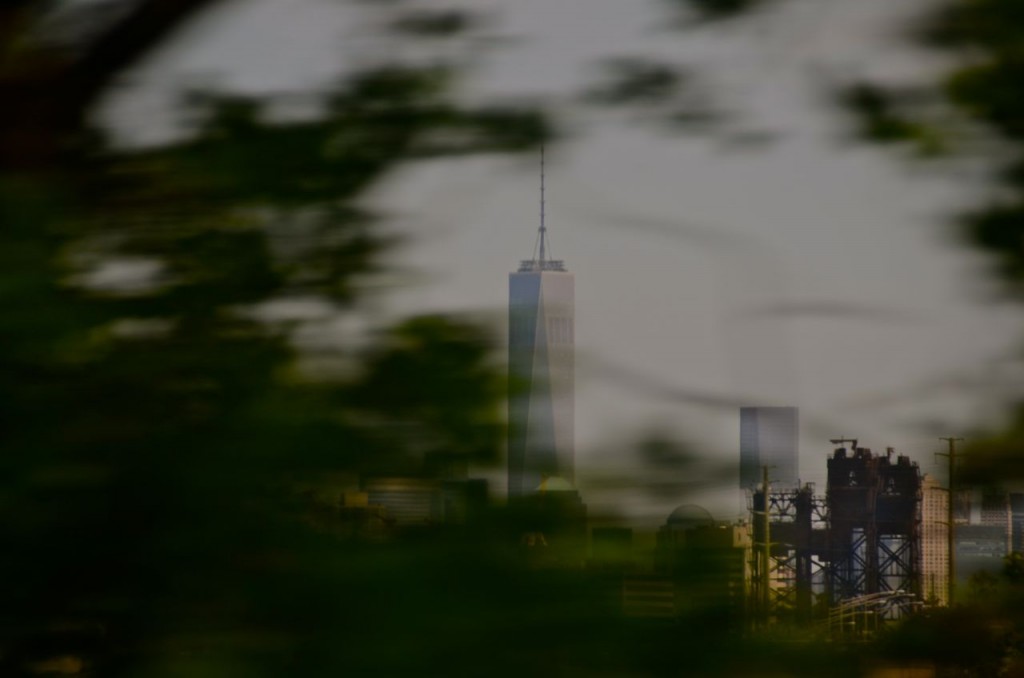 I dozed off and on during the ride back into Manhattan, and while we were still in New Jersey and about 15 minutes outside of Penn Station I took this photo of the last view a rider gets before the train heads into the tunnel that crosses under the Hudson River and travels into Manhattan.