The other day a friend and I decided to walk across the Williamsburg Bridge, have lunch and then head over to the art installation, Kara Walker's Sugar Sphinx, at the Domino Sugar Factory in Brooklyn. Heavy grey clouds hung low in the sky and the morning air was thick with dew. But with cameras in hand we got out of the train at Delancey Street and headed for the entrance to the bridge only a couple blocks away.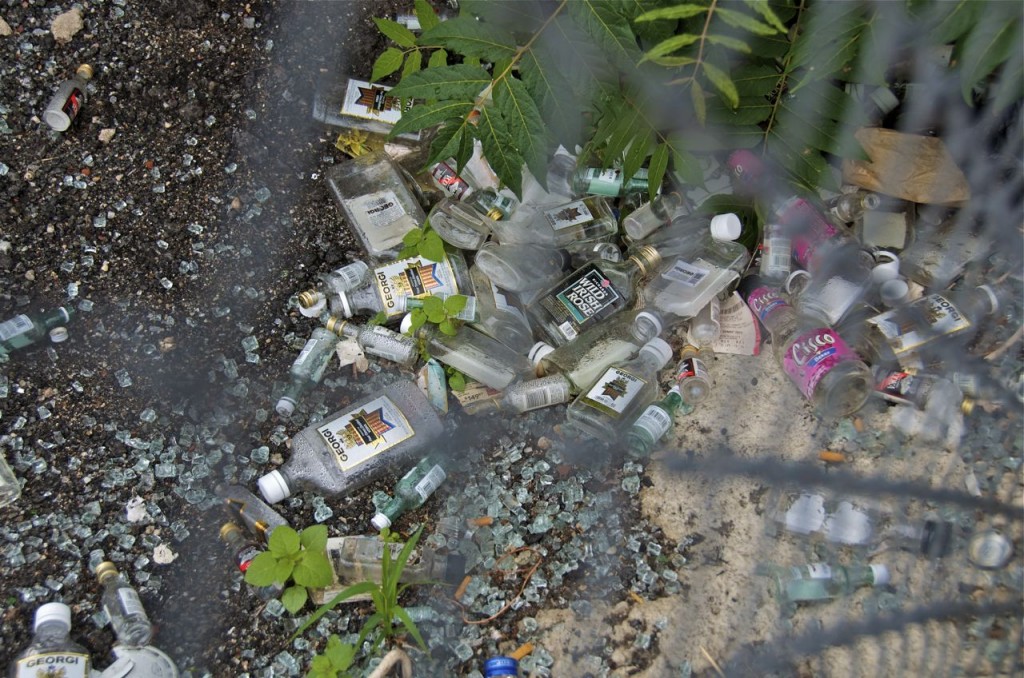 There's no telling what you'll see when walking in the city and in a parking lot only a block from the subway we saw piles of vodka bottles. There had to be well over a hundred bottles in one corner of the lot and then all across the area were dozens of other bottles. They were all Vodka bottles with a few Wild Irish Rose bottles scattered amongst the mess. We stopped to take a few photos and then continued on our way to the bridge.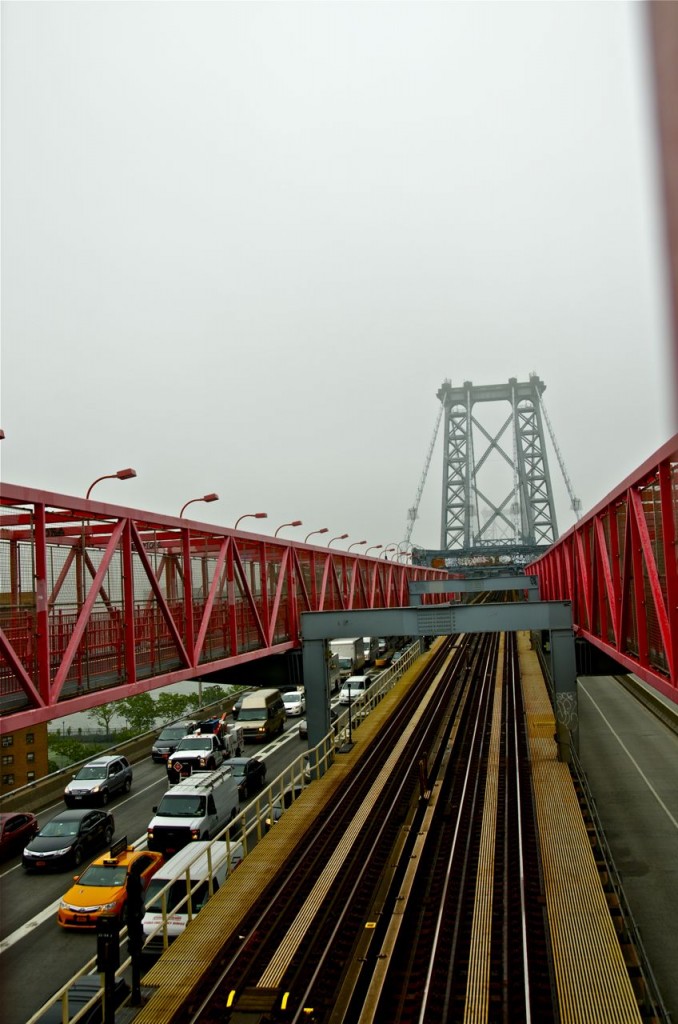 The Williamsburg Bridge is a suspension bridge that crosses over the East River, connecting Manhattan with Brooklyn. It is one of four toll-free crossings between Manhattan and Brooklyn or Queens. This bridge and the Manhattan Bridge are the only suspension bridges in NYC that still carry both automobile and rail traffic. In addition to this two-track rail line, there were once two sets of trolly tracks. In 1999 a pedestrian bridge was installed.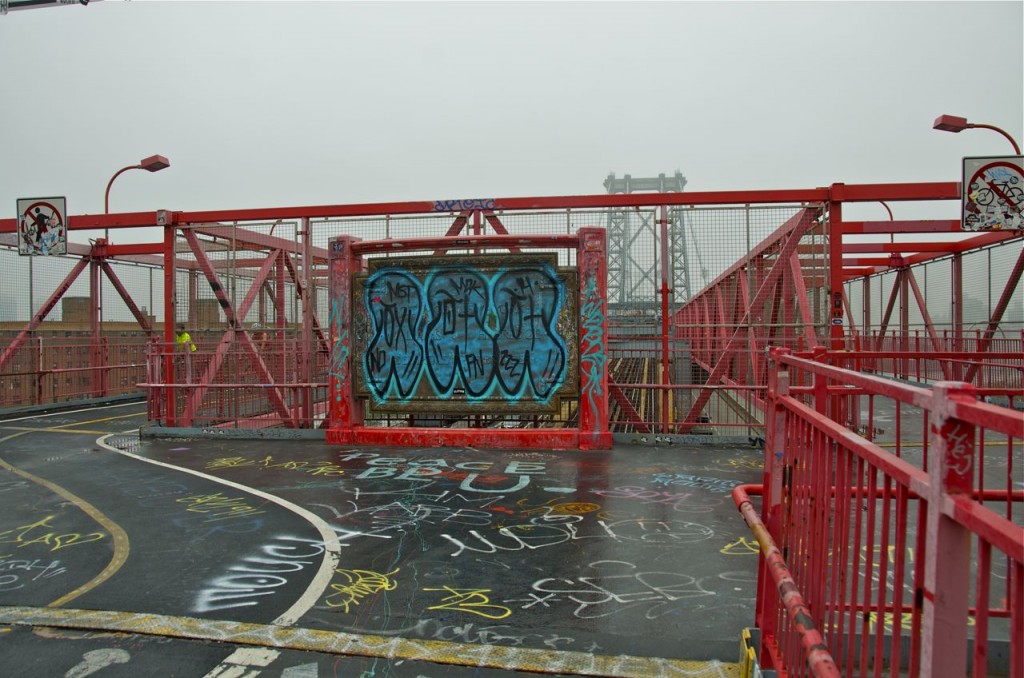 The pedestrian and bike paths are separate for safety reasons.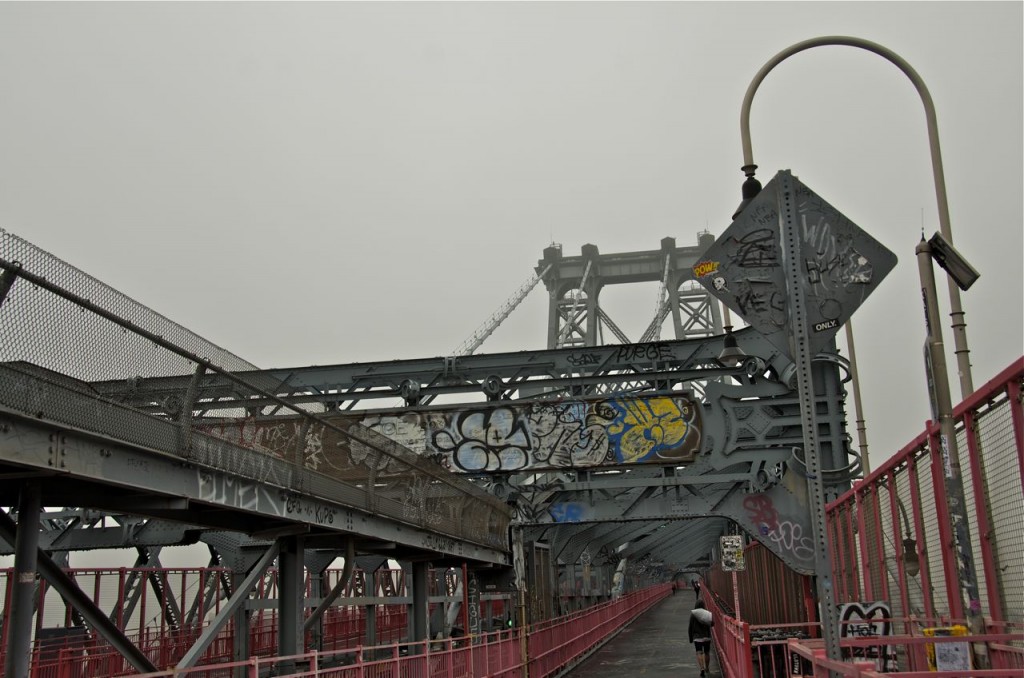 Our view of either side of the East River was shrouded by fog making the walk a bit mysterious. What surprised me was the amount of graffiti that adorned the bridge. Nearly every flat surface was decorated with some kind of art.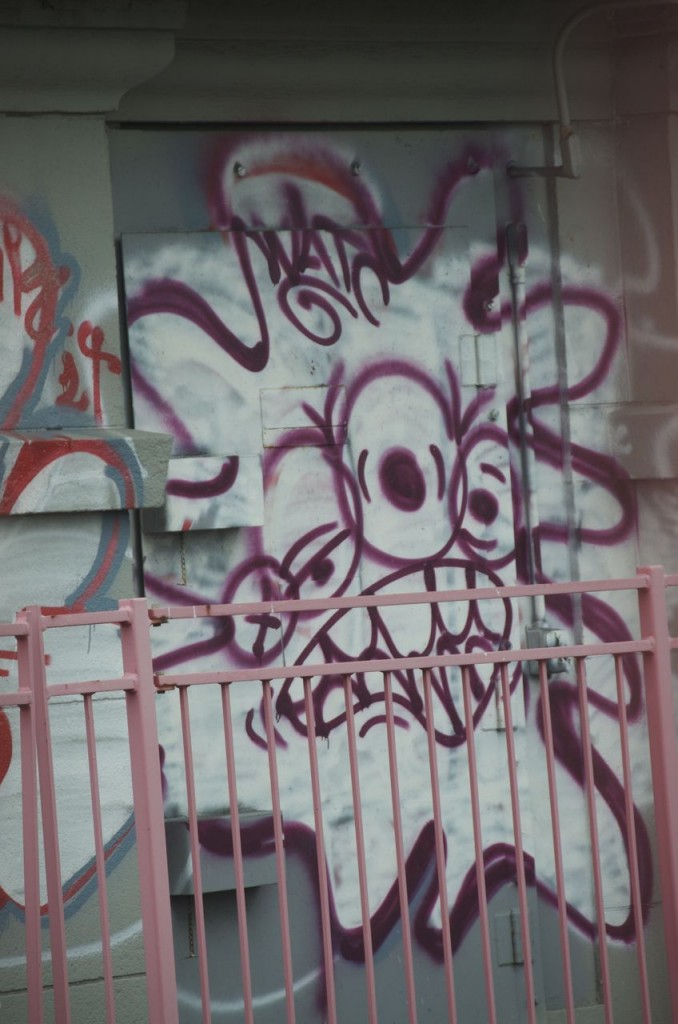 Some of the art was whimsical and bold.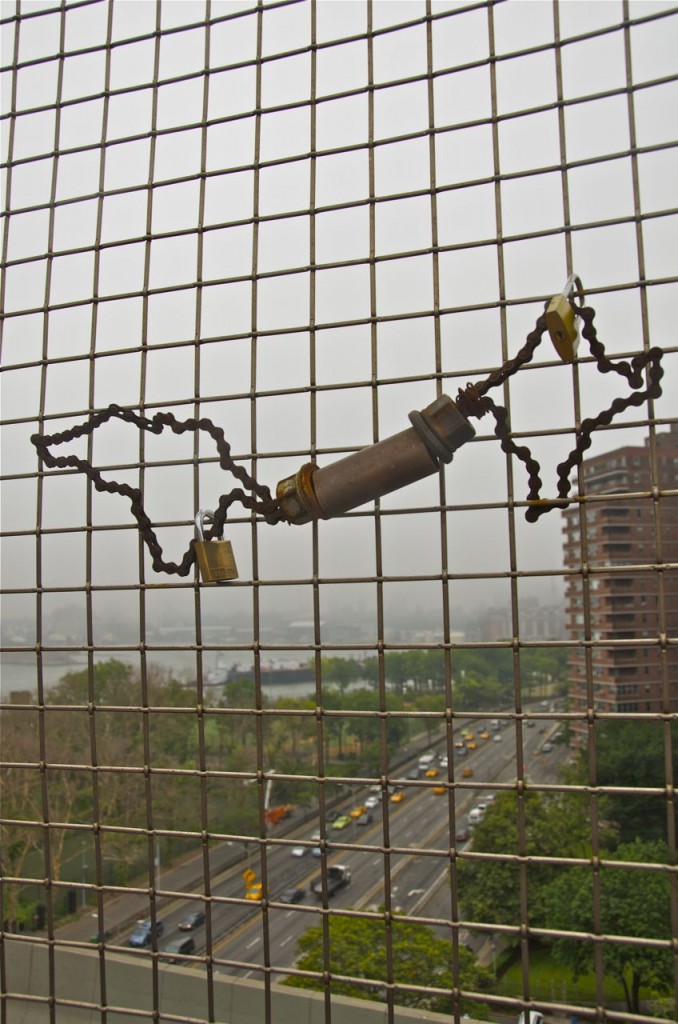 Then there was what I would  describe as sculpture instillations. This item, bicycle chains and metal cylinders padlocked to the bridge's safety grid, is one example of some of the things we saw along our walk across the bridge.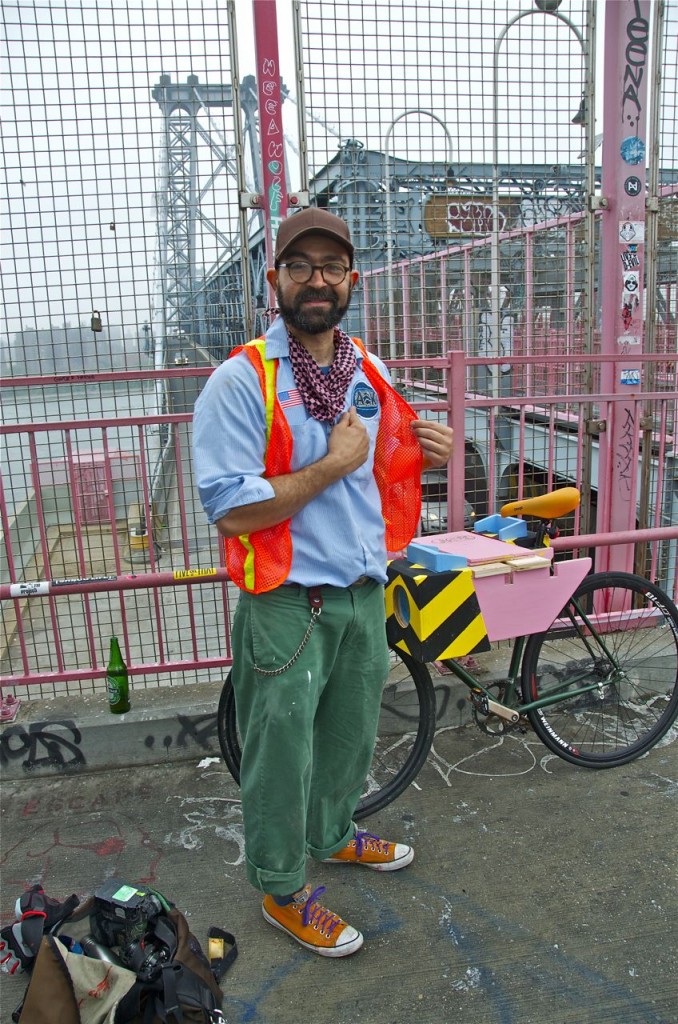 This fellow, who I'll refer to as AOL because of the badge he wears, was in the process of installing one of his 'art boxes' on the bridge. He's been doing this for years and though they are frequently removed, he continues to build and bolt them to the bridge's railings.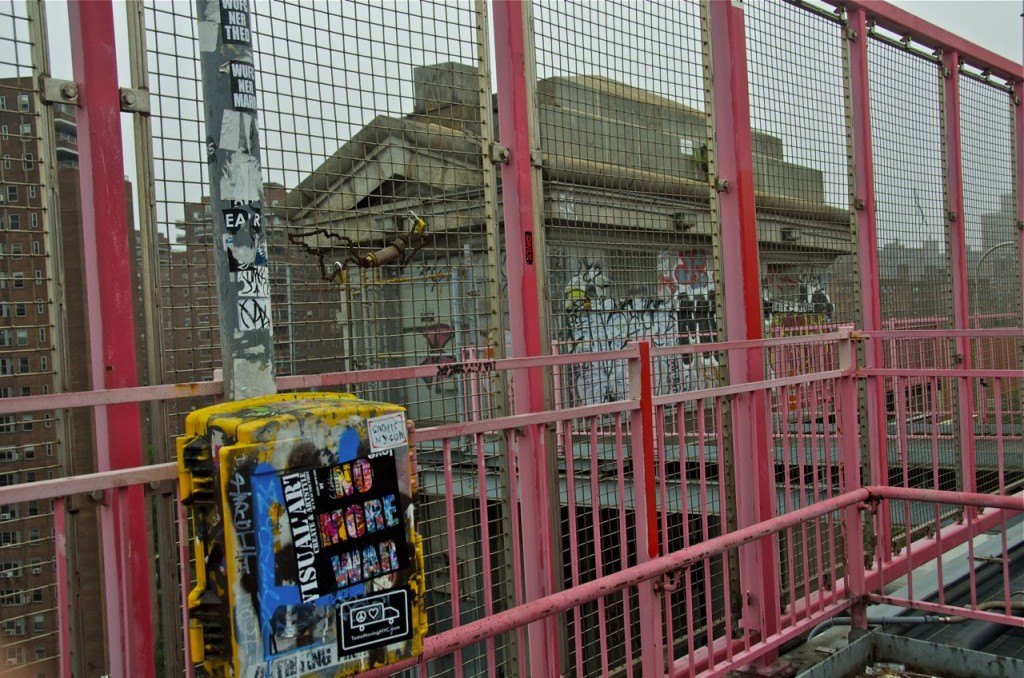 I think this is one of AOL's instillations. Over the years it's been spray painted, plastered with stickers and graffitied by other bridge walkers.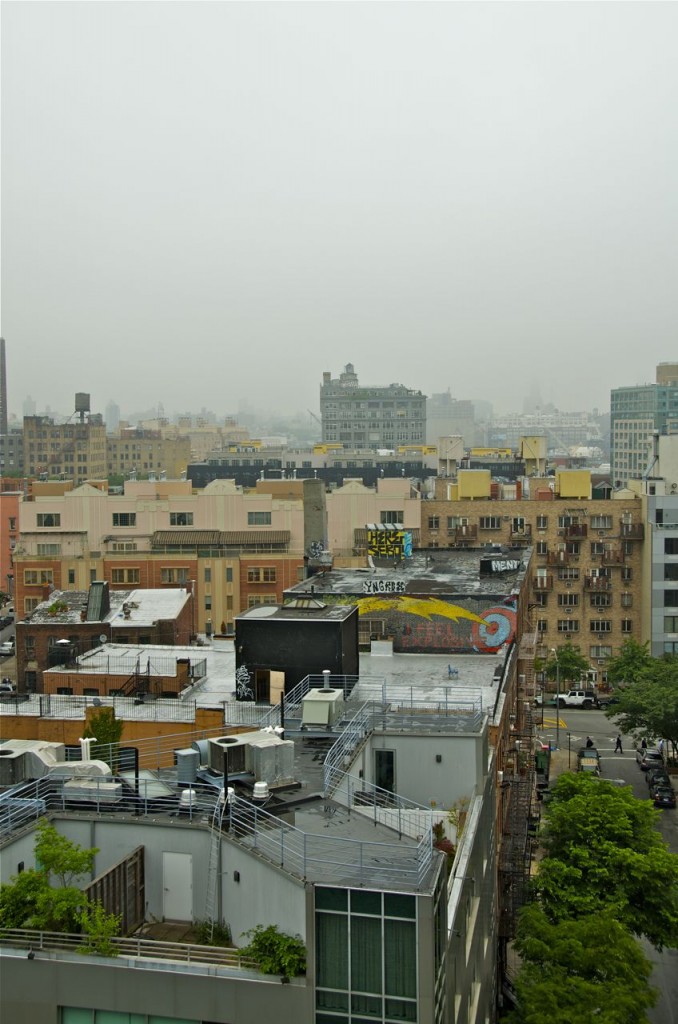 Looking out from the bridge as we crossed over into Brooklyn we saw the tops of buildings that had been decorated by other graffiti artists.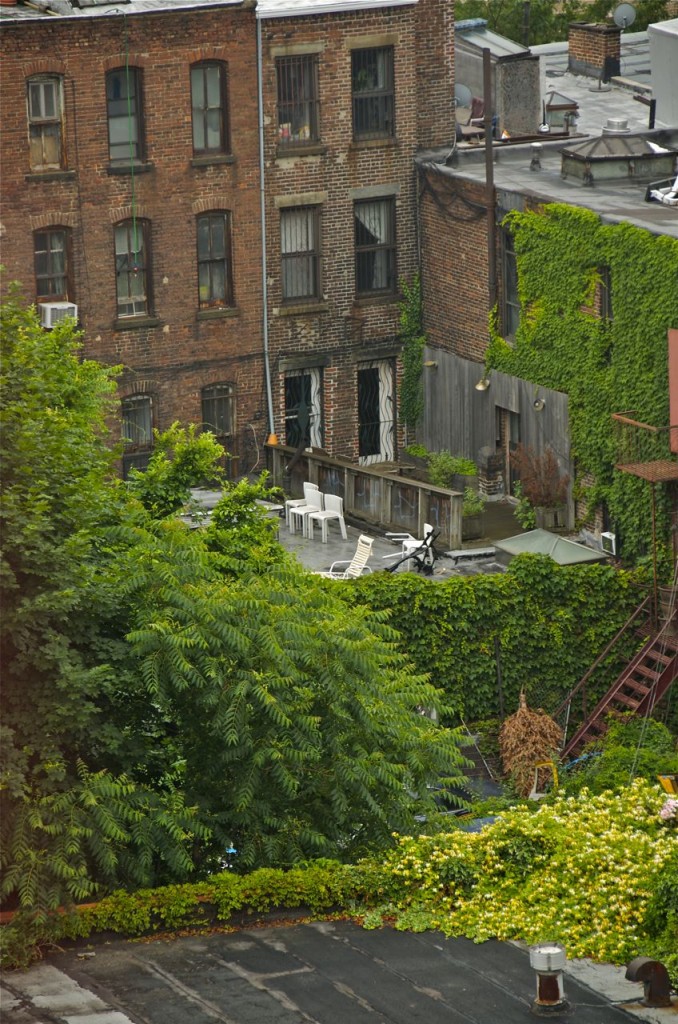 And don't forget that there are secret places scattered throughout the five boroughs. I'll bet you need a private invitation to sit in this garden.
This was the view as we exited the pedestrian ramp and stepped into Williamsburg, Brooklyn.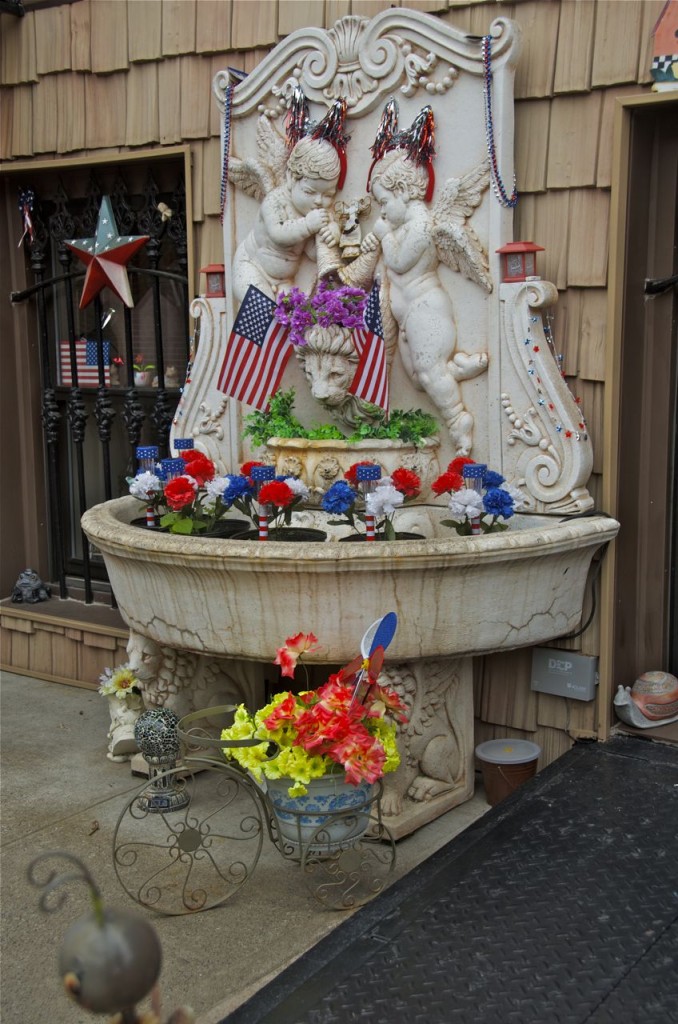 On our way to the Domino Sugar Factory we passed several houses with front patios decked out in their fineries. This garden was getting ready for the 4th of July.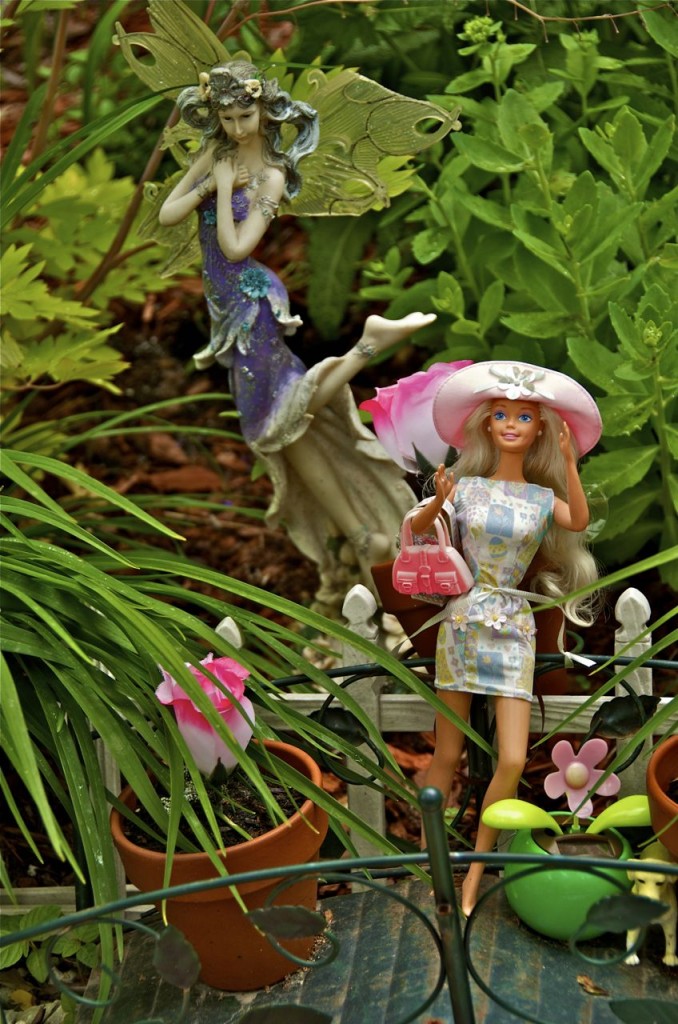 I've never seen a Barbie Doll as a garden decoration before, but why not. She looked good in all dressed up standing among the greenery.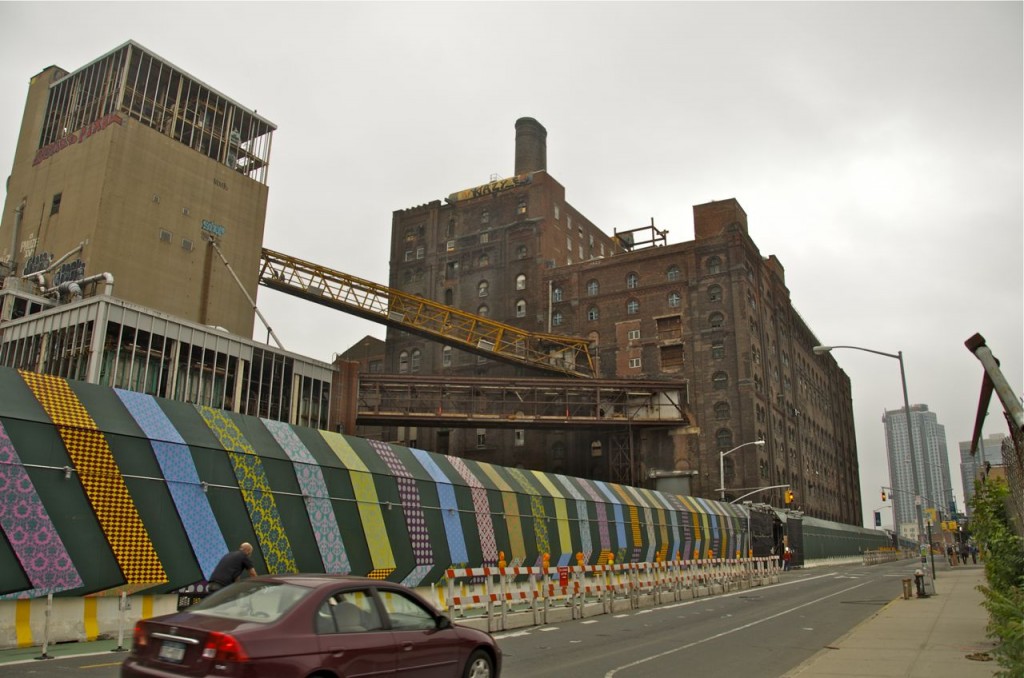 It took us about three hours with all the stops we made and having a bite to eat at Pies And Thighs, a great fried chicken place, before we reached the huge complex of the Domino Sugar Factory. But where were all the people? I thought there would be a long line. Something wasn't right. What a disappointment. The exhibition was closed Monday through Thursday and we were there on a Thursday. We just assumed the exhibition would be open. We'd have to come back on a Friday the guard told us, and he suggested we get there early.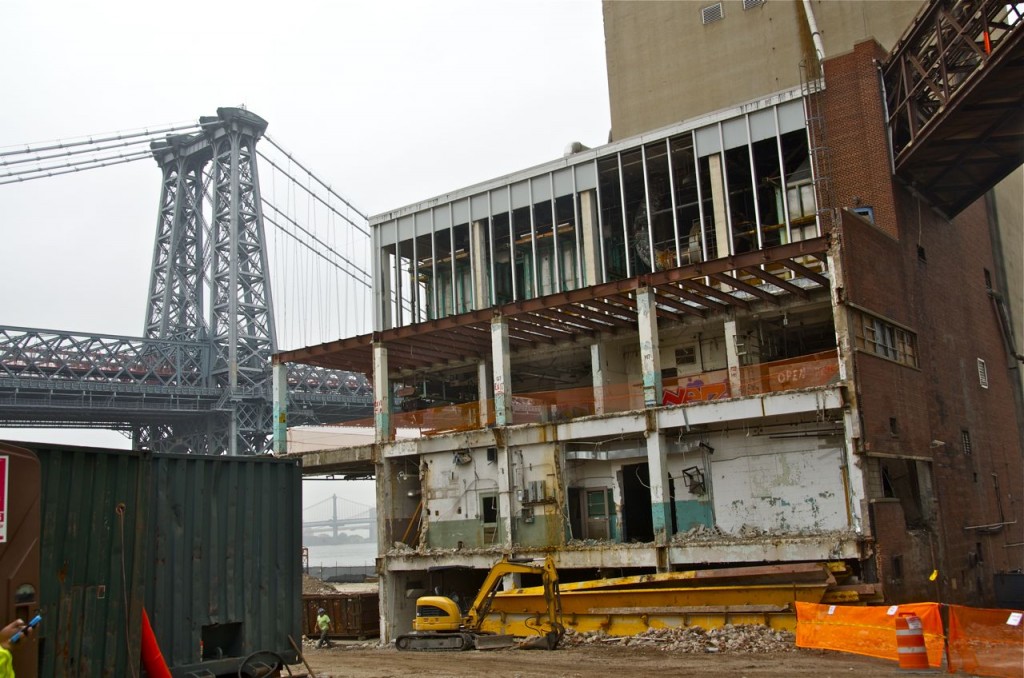 We chatted for a while with the workmen standing by the closed gate. They told us the larger building of the Domino Sugar Factory is going to be converted into condos, while the other, smaller buildings are being torn down. Some of the buildings they tore down they said, dated back to the civil war, with the wood and other salvageable material recycled to be used as flooring someplace in Virginia.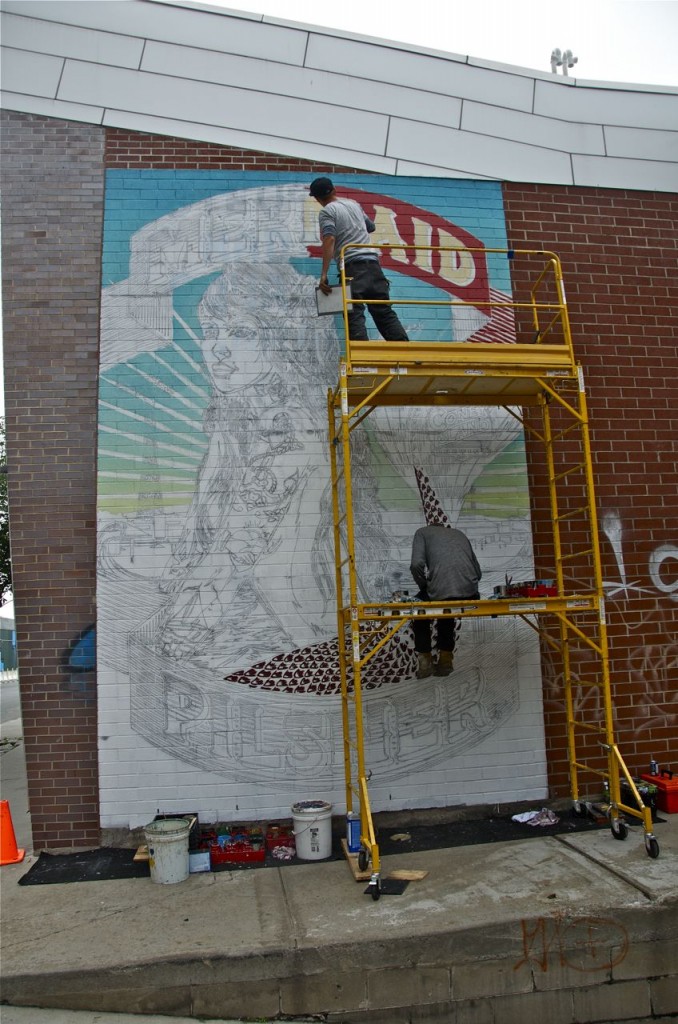 Across the street from Domino we saw two men on a scaffold, painting a mural. These guys work full time and their job is to fill in with colored paint the artists rendering.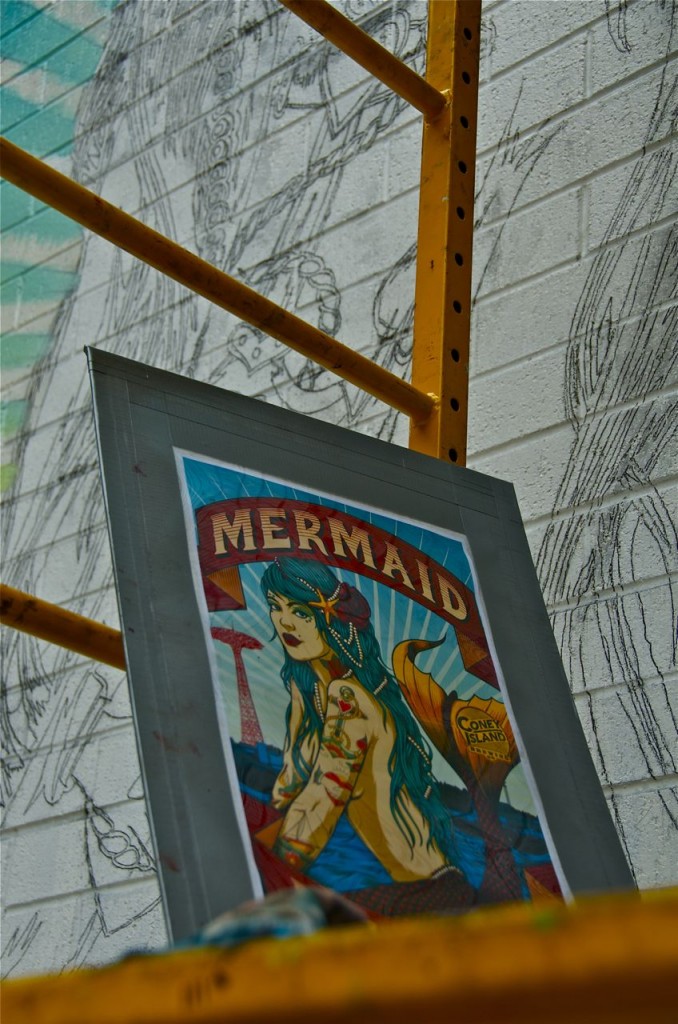 They were working from a copy of what the mural was to look like. It was an advertisement for Coney Island Mermaid Pilsner, a German style Pilsner which is pale and light golden. I ask them if they were going to the Mermaid Parade in Coney Island next weekend and they said they had other plans.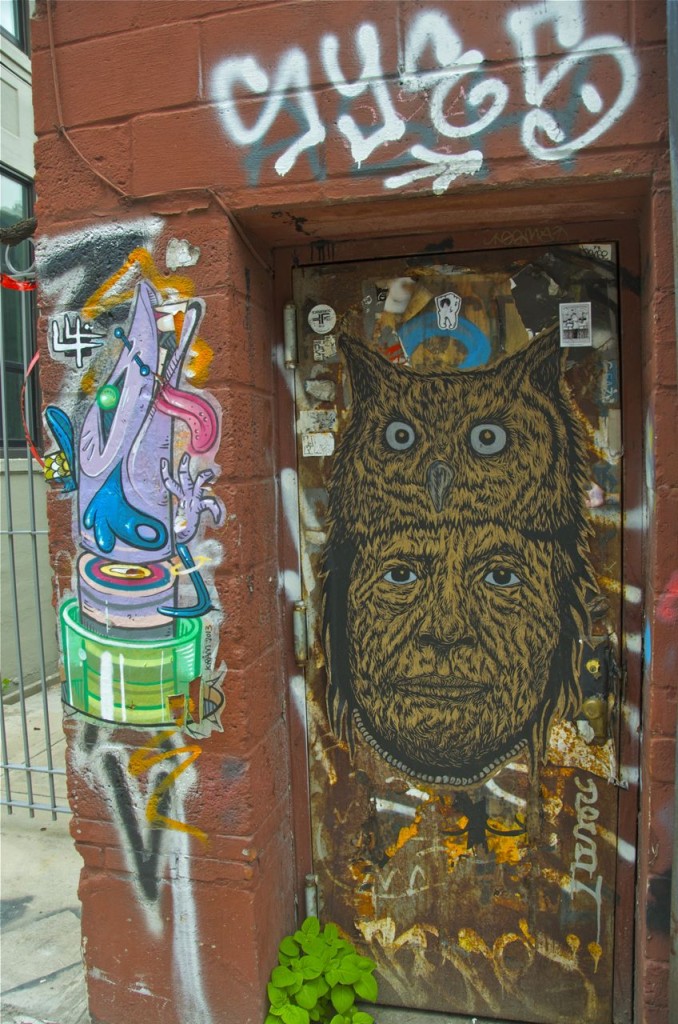 There is no limit to the kind of art that can be found in Williamsburg, like this feather faced man with an owl on his head.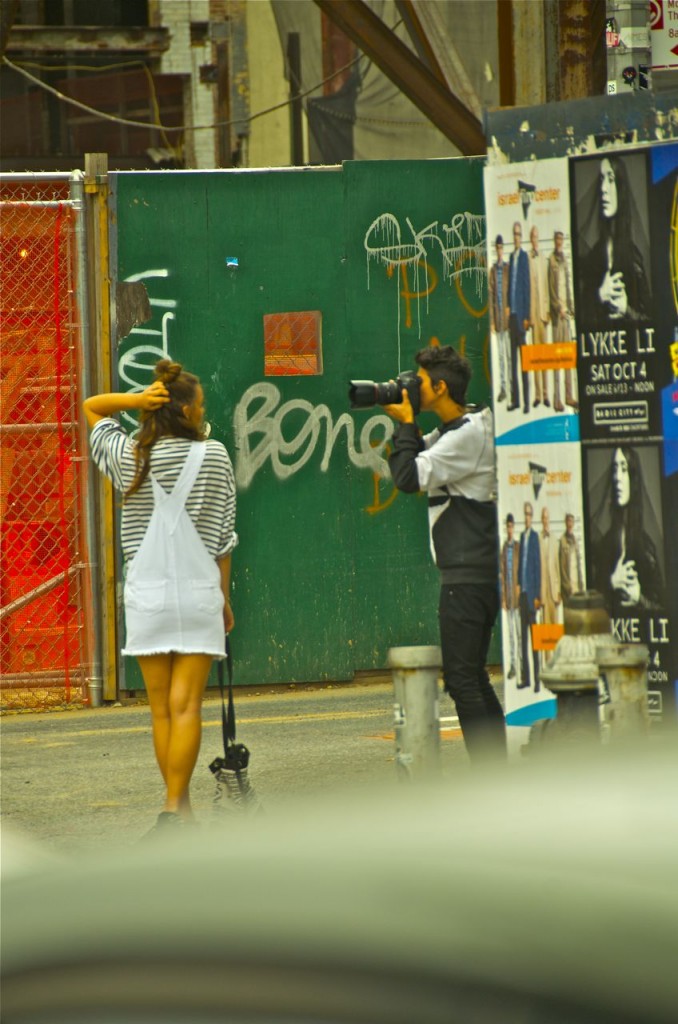 And the fashion industry loves the Williamsburg area, too.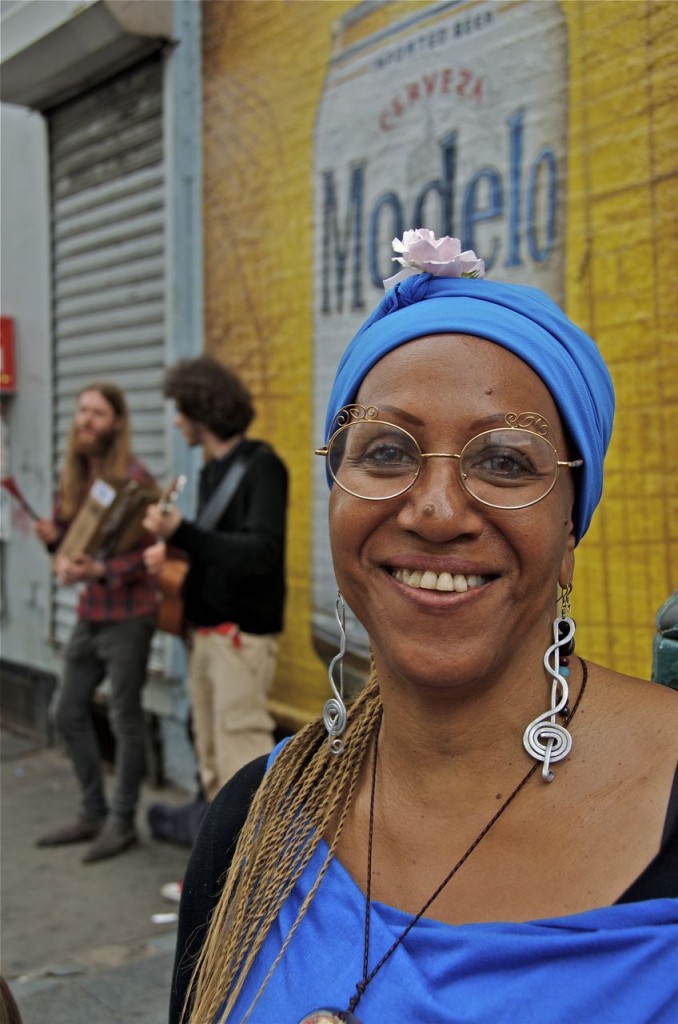 Rather than walk across the Williamsburg Bridge again to catch a subway home, we opted to taking the L Train from Bedford Ave. Before we descended  the stairs, a charming woman handed us a  flier offering a special Father's Day deal at a local massage and spa boutique. She was very open and chatty, and don't you love those glasses. She said they were her grandmother's.
This cutie with her American Girl Doll was traveling with her grandmother and brother. They were tourists and trying to get back to 37th Street and 7th Ave. in Manhattan. The grandmother was very tired and spoke with such a heavy southern accent that it was difficult to understand what she was saying. We told her we were going in the same direction and that we would help her get back to her hotel.
We had a great day even though we didn't get to see the Kara Walker instillation. But next Friday we'll travel back to Williamsburg, get in line early as was suggested and I'll tell you all about it in another blog.