This wasn't a day that I would call 'same'ol, same'ol'. The temperature was cool and that felt good after the heat wave that passed through NYC a week ago. The morning started out with a light rain, and with the dense grey clouds hanging so low to the ground, I didn't think we'd get any sunshine until the next day.
Not that I paid much attention to the weather in the last couple of weeks. I was in the final stages of  revising a novel and I didn't notice much  around me. Single minded and determined to get the edits done, I scarcely left the apartment. I was also waiting to hear from a publisher about another novel FISH KICKER that I was shopping around. My mind was locked into writing and it looked like it was going to be a day like any other day.
Writers, even if they are married and have a brood of kids, frequently live as though they're hermits. Single minded and intense, published or not, the writers I know must have solitary blocks of time where the world does not exist outside of their creative minds.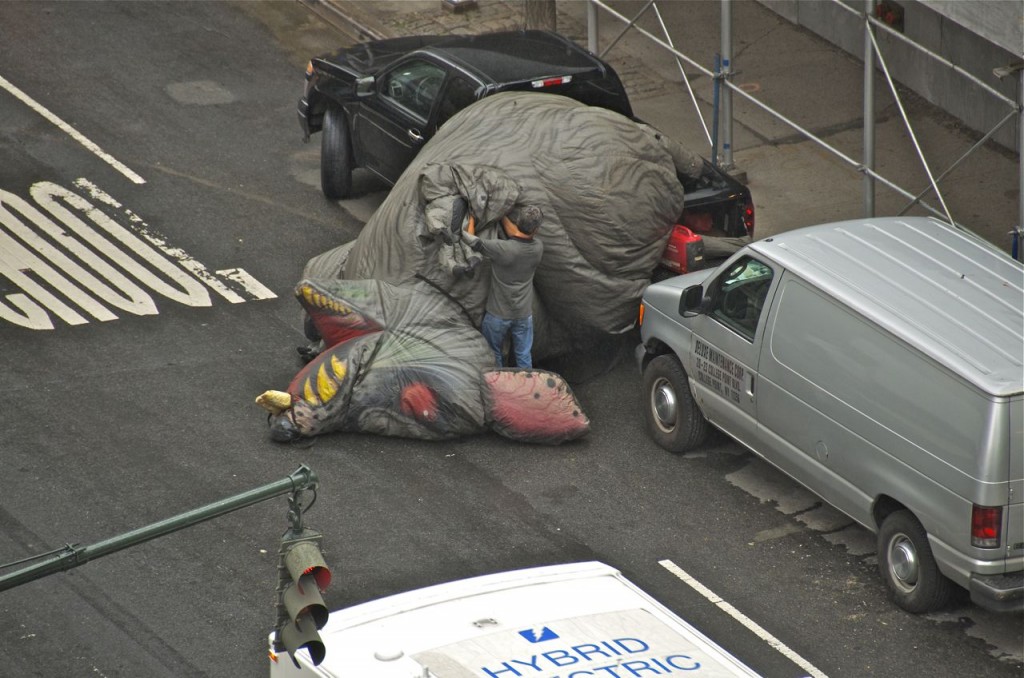 But I am a mortal and I need to take breaks to disengage my eyes from the computer screen, stretch my back, eat and get fresh air. I was so single minded about getting my project done that I didn't think anything could pull me away from the writing. Well, I was wrong. When I stepped out onto the terrace to take one of my breaks, there was a half inflated rubber rat seeming to be crawling out of the back of a pickup truck.
For months we've been dealing with the noise and dust from a major construction project across the street. There have been jackhammers, pile-drivers, and all kinds of other noisy heavy equipment that start up at 8:00 in the morning and keep at it until 6:30 in the evening. And I know what this rubber rat means. There are nonunion workers at this construction site.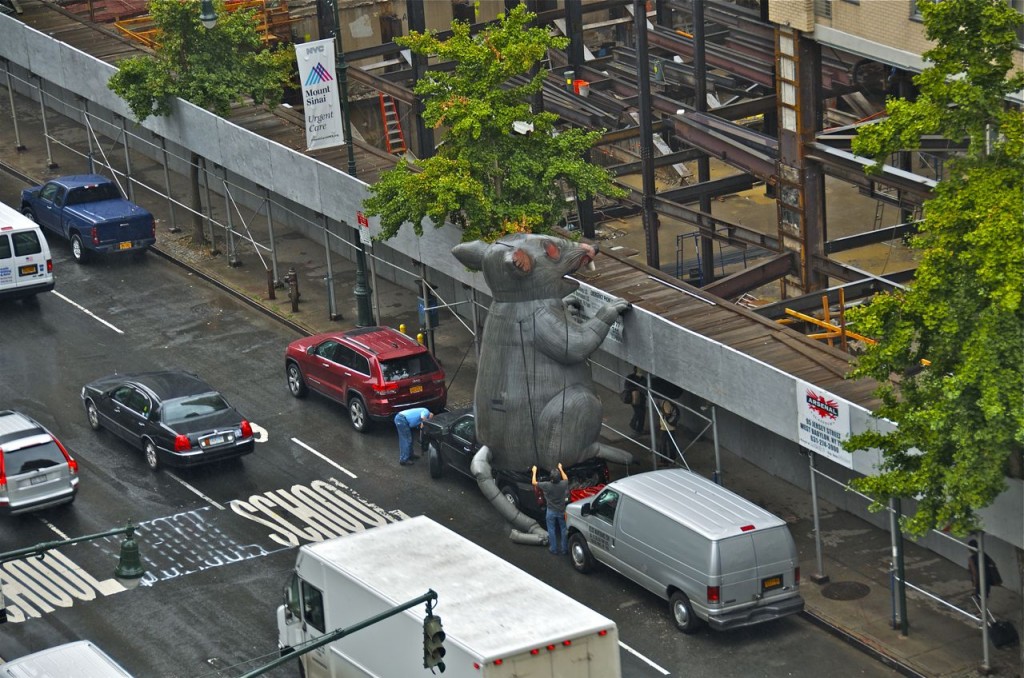 This rat belongs to the Carpenters Union and when these guys get wind of a construction site like this where there are nonunion workers, they  load the rubber critter into the pickup truck, deliver it to the work site and set it up. I've seen this rubber rat at other construction locations in the city, but I never watched one being inflated. It looked like a lot of work and it took three guys about 20 minutes to get the job done.
It got pretty exciting at one point when a fierce gust of wind nearly blew the rat into the oncoming traffic. I watched for a while, feeling confident that the cables would hold the rat in place and that I wouldn't see it blowing past my terrace, and then went back to my computer screen to knock-off a couple more pages.
I was wrong about the sun not coming out that day. It turned out to be a lovely afternoon. A nice comfortable, low humid day with a lovely golden glow everywhere from the late summer sun. On another one of my breaks I looked down at the bus stop across the street from our apartment building and saw one of the locals snoozing at the bus stop. A couple weeks ago this guy commandeered a cast-away office chair from someone's trash and I see him now in various locations during the day languidly lounging about in his comfy chair, eating, chatting with friends and passersby, and sometimes taking an afternoon siesta.
Going back inside I sat at the computer and decided to look at my e-mails before I jumped back into the editing. There were a few new communications, but one in particular caught my attention. It was from the publisher that had FISH KICKER. My heart raced. I could not decide if I wanted to hear the bad news now, after all, rejection is a large part of a writer's life, or if I would wait and get the bad news later. I decided to open the e-mail.
OMG!!! It was an acceptance letter with a contract for me to sign. FISH KICKER is going to be published! I couldn't believe it. But it was true. And it would be an e-publication scheduled for release in the Winter 2013/2014!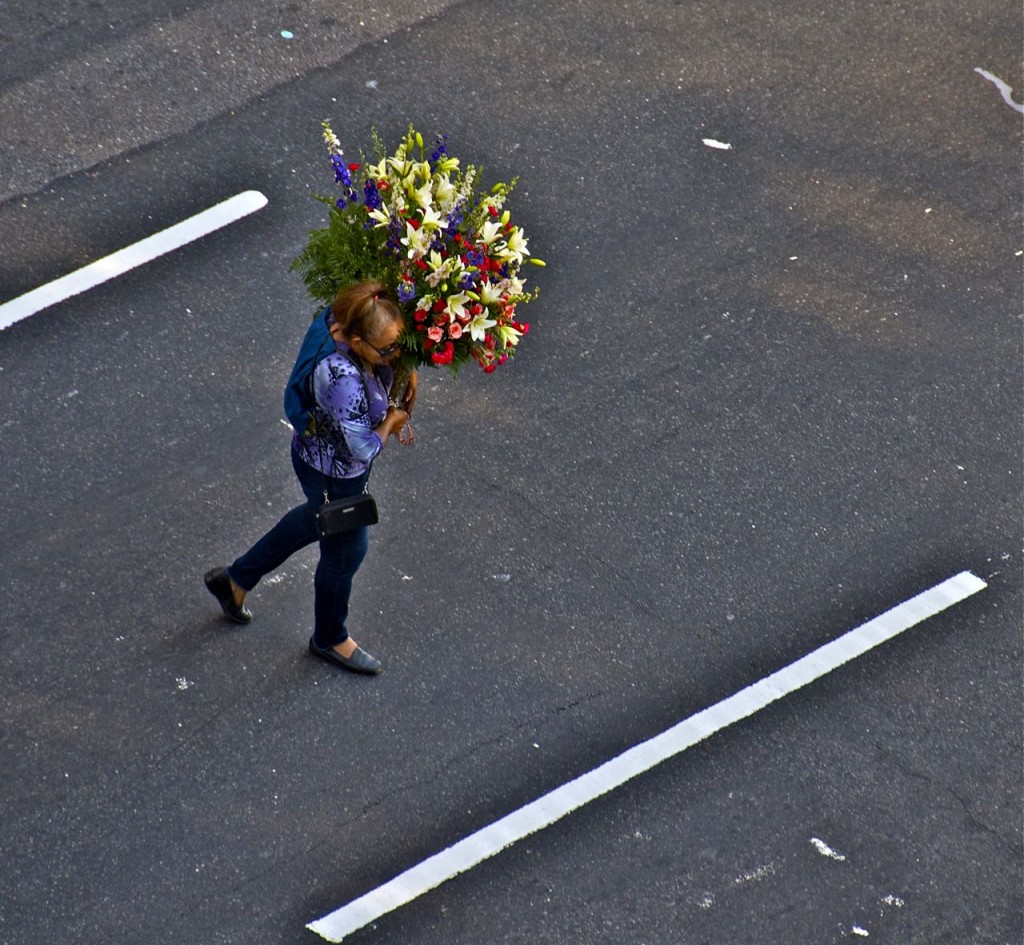 This day was certainly not like any other day!! It was special, very special. Unable to work, I went back out onto the terrace. The construction was just as noisy as ever and the rubber rat was still hanging over the fence glaring at the workers. I looked down at the street and watched a woman jaywalk while holding the largest bundle of flowers that I had ever seen. It was an extraordinary bundle of flowers to see on such an extraordinary day.