I saw Casa Batllo for the first time while riding on a bus heading for Park Guell on the far side of Barcelona. I couldn't believe my eyes. Right then and there I vowed not to leave Barcelona until I'd made a visit to this fantastic building.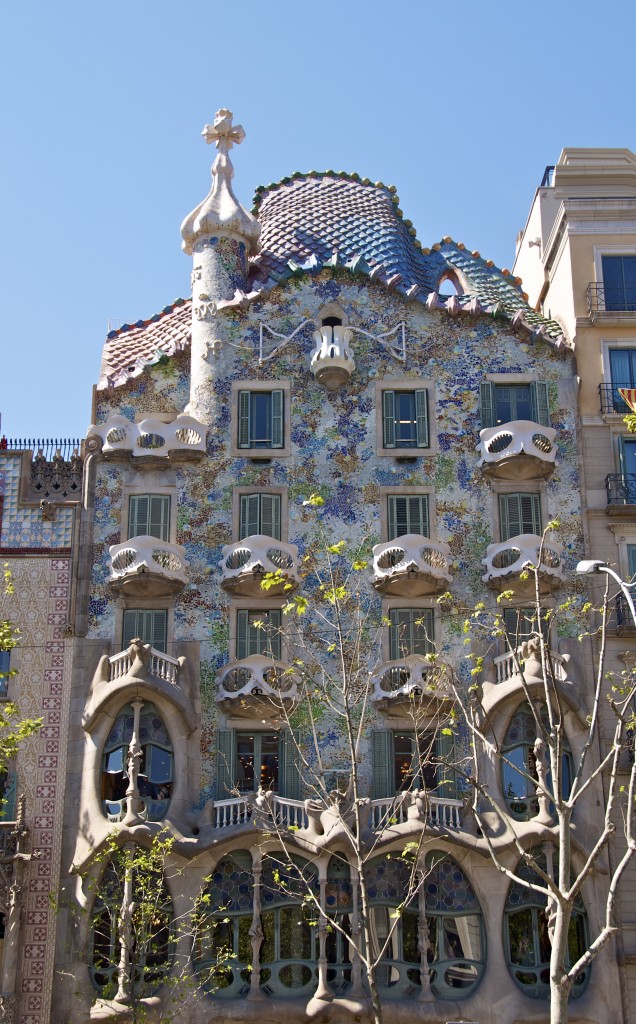 In 1904 Josep Batllo, a textile industrialist, consigned Antoni Gaudi, the renowned Modernist Spanish architect, to renovate the lackluster four-story family residence he had recently purchased in the heart of Barcelona on Passeig de Gracia. He gave Gaudi complete creative freedom and told him to do something different and innovative.
The renovation took two years to complete. Initially Batllo suggested that the entire home be torn down and that a new building be constructed in its place. Guadi had other ideas and instead designed a new facade and completely altered the interior. Initially it was a four story structure with a simple exterior and a flower garden in the back. When Guadi finished with this building it looked nothing like its old self.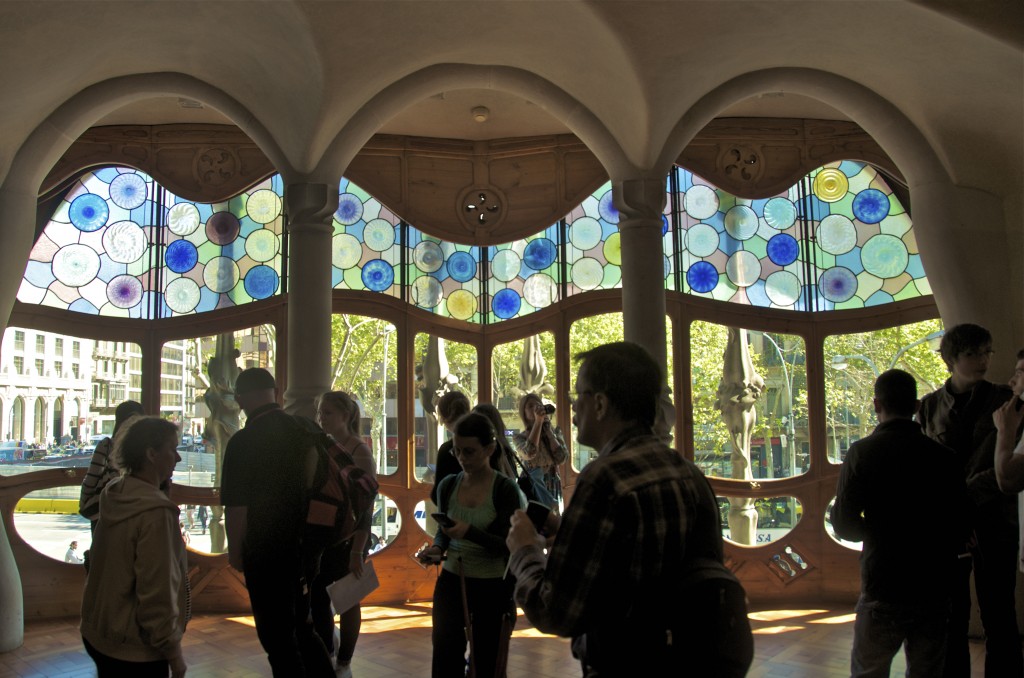 The floor of the grand room on the second floor was pushed out so that it is extended a slight bit over the sidewalk below and curved walls were constructed to soften not only the exterior but the interior as well. Colored glass was positioned in all the rooms making the walls change in tone, color and texture as the bright Spanish sun moves across the sky.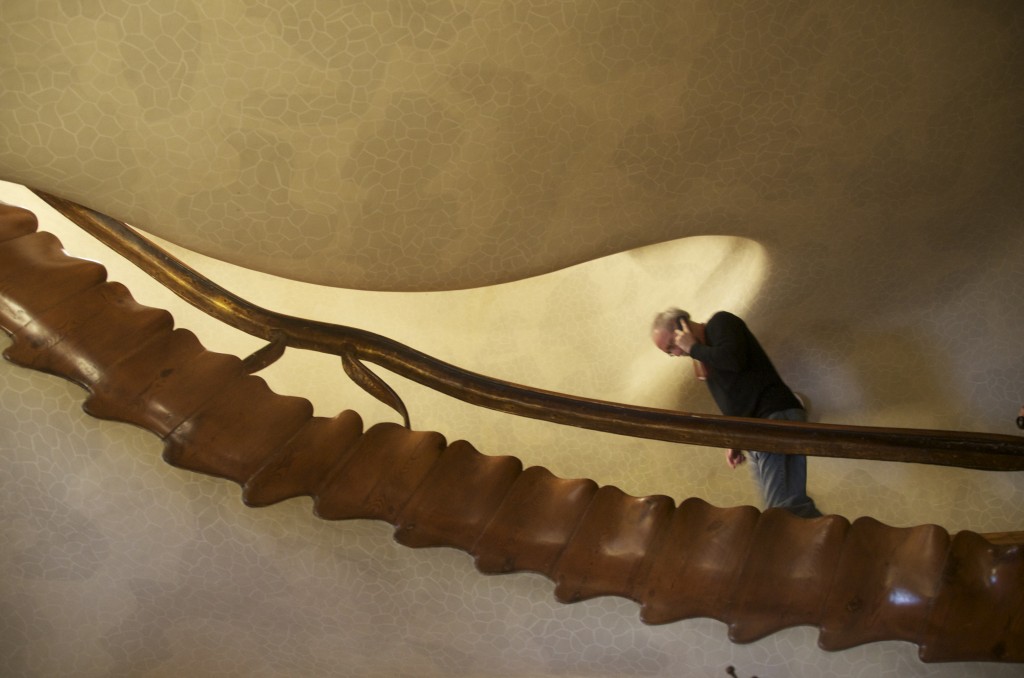 Stairways, seen as moments of transition, were constructed with the utmost care and often treated with whimsy. Looking up at this particular staircase it appears that the man in this photo is ascending an animal's backbone.  The handrails on all stairways, regardless of whether they are made of metal, wood or ceramic were all expertly crafted to perfectly fit the grasp of a hand.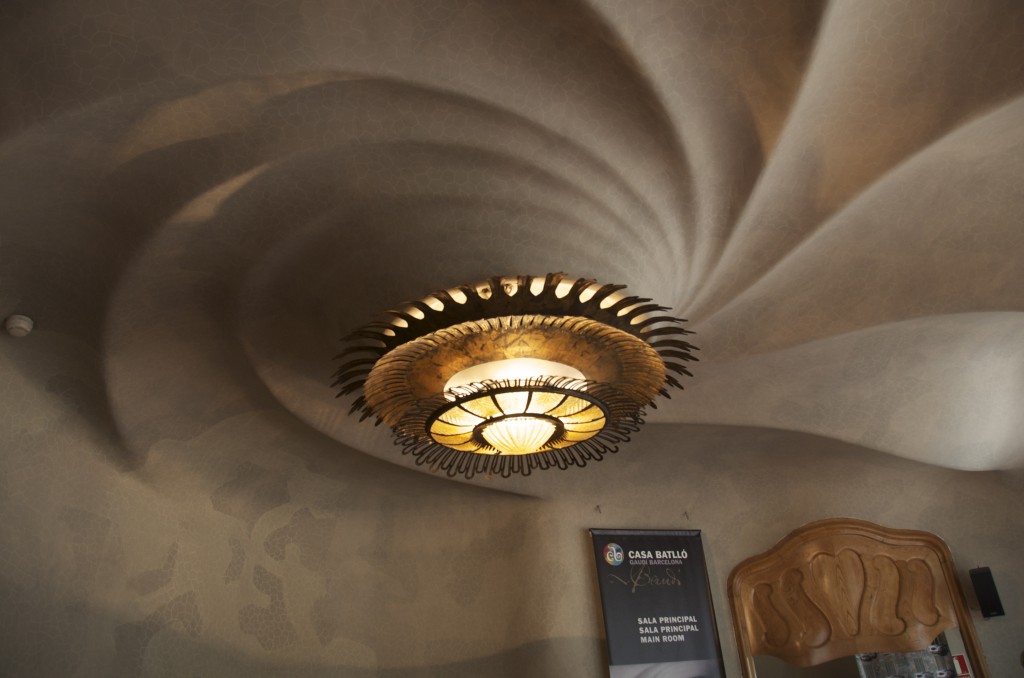 Every detail, including light fixtures are constructed with unique designs and material. I loved looking up at the copper and amber glass light fixture in this room with the whirlpool effect on the stuccoed ceiling and the curved wall.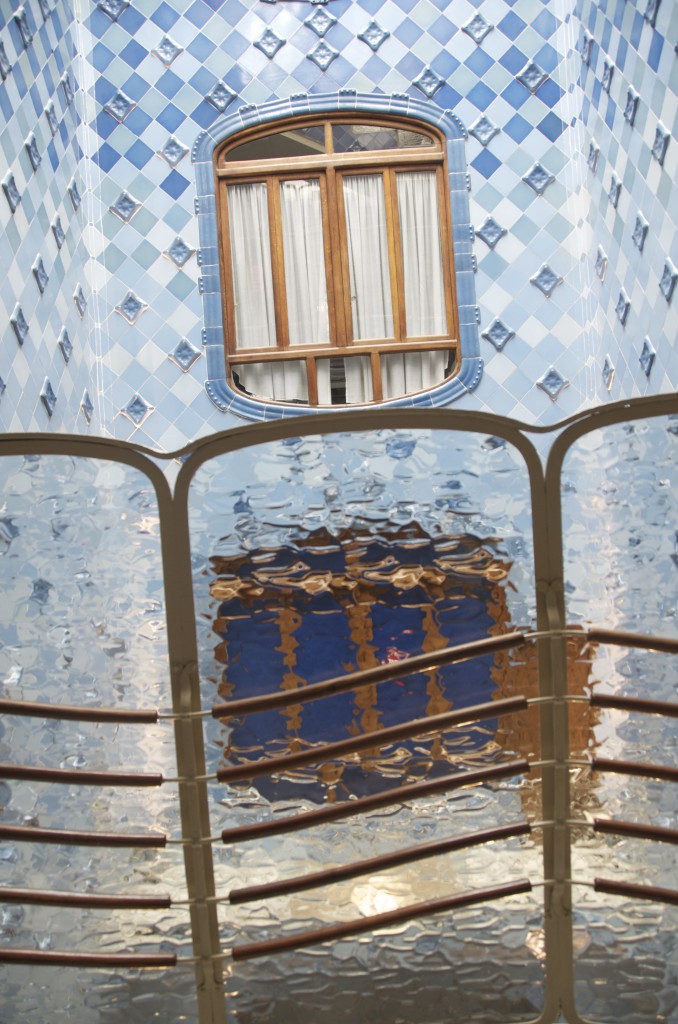 Textured glass is used throughout the building as a banister along the interior staircase. So much of the design and decoration in Casa Batllo are sea motifs and this glass certainly adds to the whimsical nautical theme. I liked this photograph because not only does it look as though we are partially submerged in water, but the tilt of the camera gave me a sense of motion.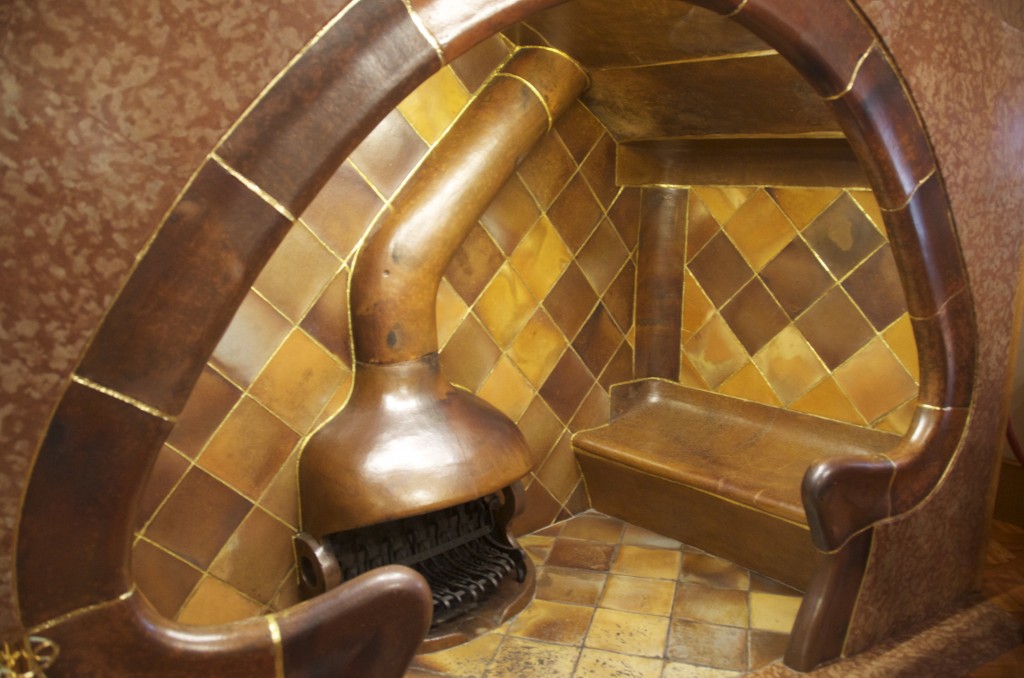 This was a one of a kind conversation area in the home, a sitting nook with its own fireplace and the two benches facing each other, the floor and walls are all made of ceramic tile.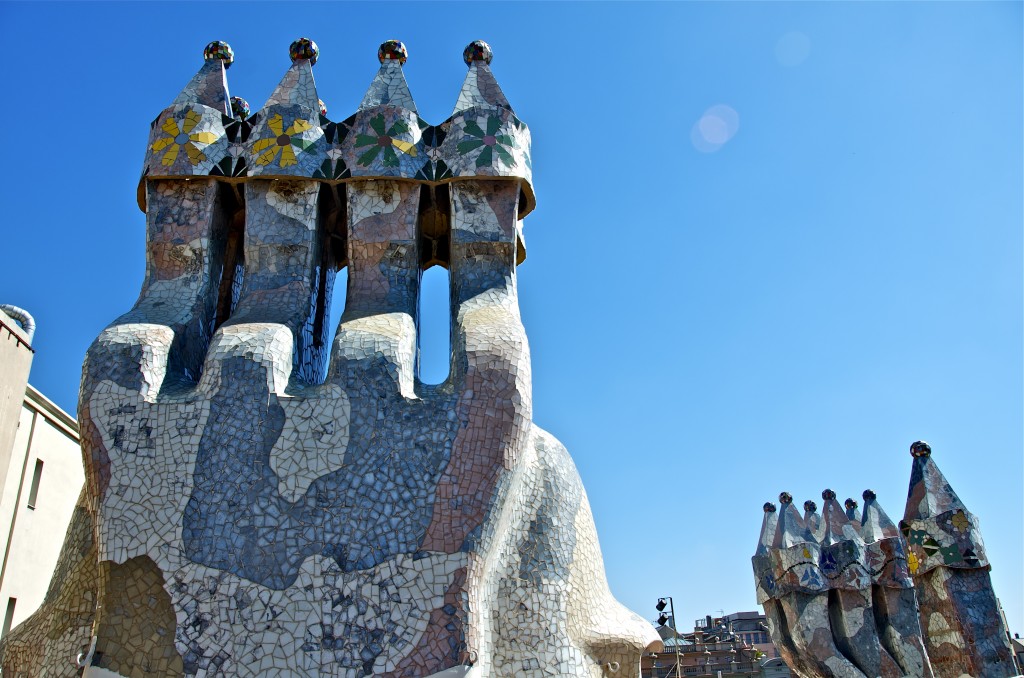 These are air vents and chimneys for the fireplace.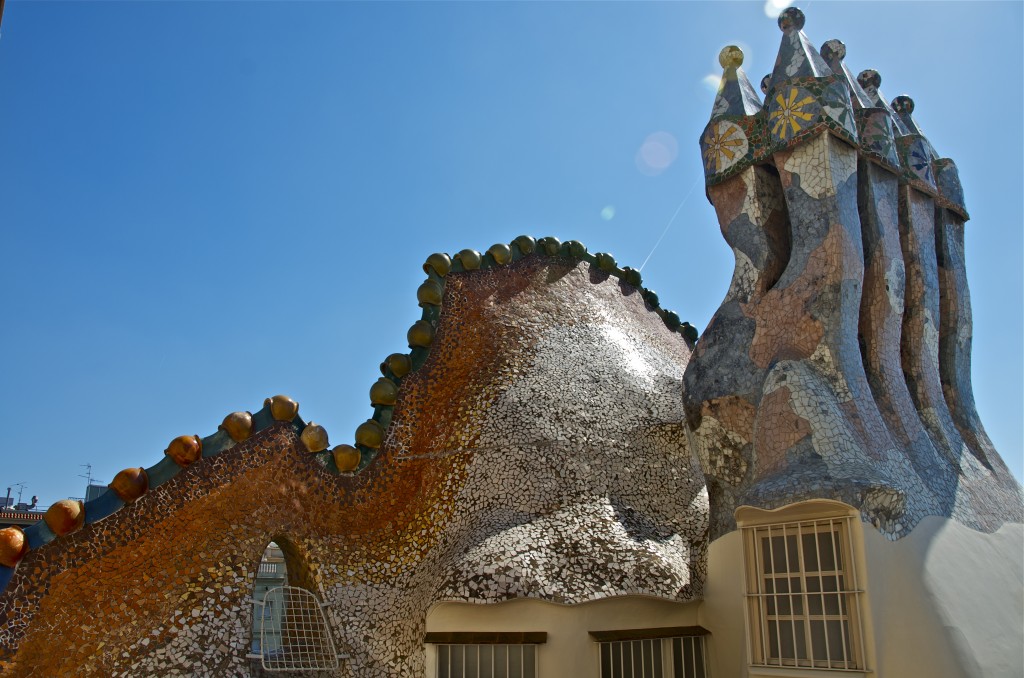 This is a view of the structures on the roof, and this area is  known as the dragon's back. The Spanish sun was in full bloom the day we visited Casa Batllo and the mosaic tiles glistened brilliantly in the bright noonday light.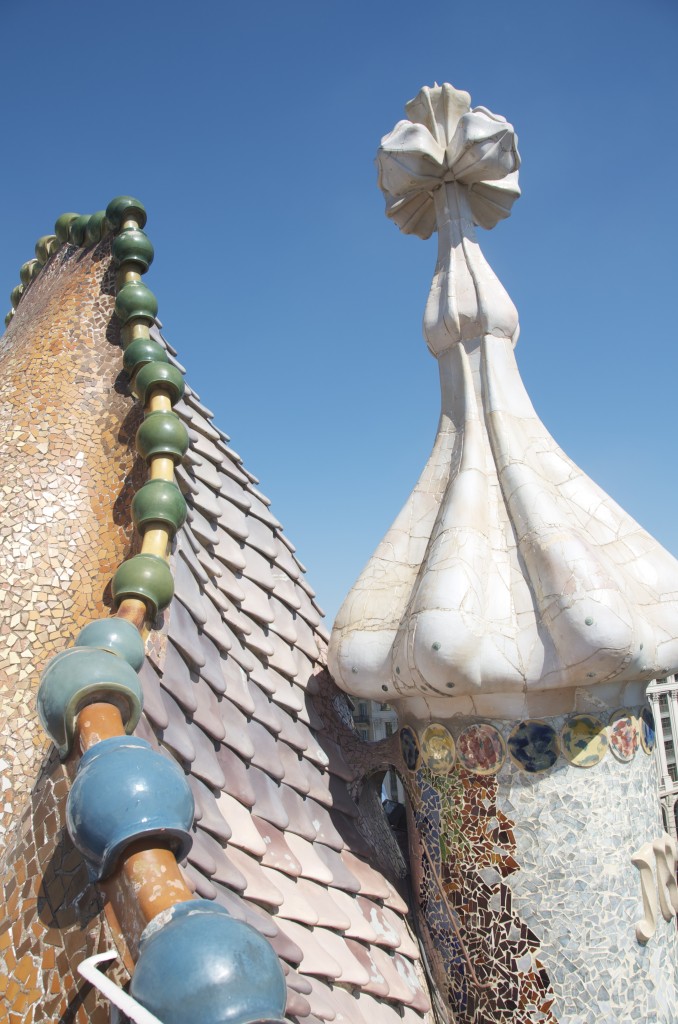 This is a closeup view of the spine of the dragon's back and standing next to the spine is a tower with four arms that point north, south, east and west.
Gaudi's designes and inovations have been written about and discussed and even after all these years his work is difficult to pigeonhole. Was his work Nouveau? Was it Surrealism? Was his work representing myths and legends? But whatever drove Gaudi's imagination he left behind magnificent buildings to explore.
The Casa Batllo is no long a residence. It has been sold and bought several times since it's construction. Once it was owned by an insurance company and the rooms were used as offices. Within the last 20 years it has under gone major work to bring it back to it's original beauty. Now Casa Batllo is a UNESCO World Heritage Site and those lovely rooms are used to entertain world leaders, famous artists and other dignitaries. And I'll bet they are grand parties, too.