When you look out the window in the middle of winter and see a bright sun shine, the sky a deep blue, don't be fooled, it could still be mighty cold out there. That's how it was the other day when a friend and I went to check out the Malaysia Food Festival in Bryant Park. The sun was brilliant but it was a bitterly cold day. An icy wind blew across our faces while a few white clouds zipped above the New York City skyline looking as though they were jet propelled.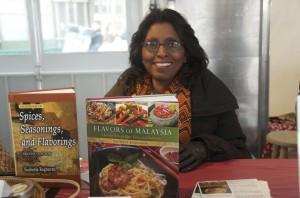 The festivities were being held in a tent that was set up on the edge of Bryant Park. We wanted to get there early because the advertisement for the affair said that food would be served as long as it lasted and I wanted to taste Malaysia. We first stopped at the booth of Susheela Raghavan, a food scientist who has written two books, a cookbook "Flavors of Malaysia" and a more technical food book, "Spices, Seasonings, and Flavorings". She has also developed a product line of six different spice blends. She promised they would bring the flavor of her country to your table. I purchased several containers of these spice blends and after using them, I can testify that  they are indeed delicious.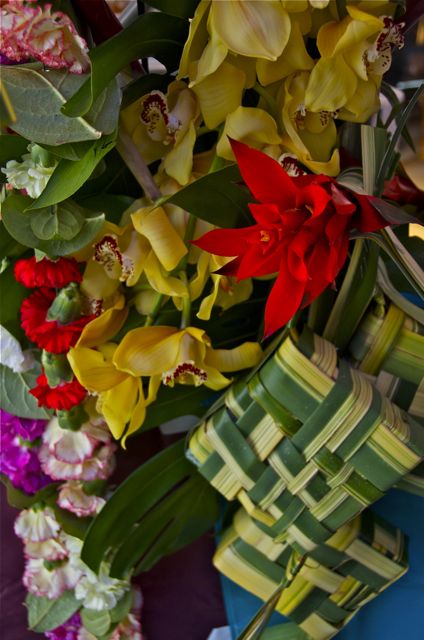 The poles separating the booths were decorated with tropical flowers but they did not give off any scent. In fact, when we first entered the tent there were no smells, not even the slightest hint of curry, a widely used spice in Malaysia. I could not tell what was being served as I walked past the booths to get a whiff of what they had posted would be their specialty of the day. But then as people began to walk passed us with their steaming bowls of noodle soup, the beef seta, the curried stew, then the wonderful odors of food began to move about in the crowd, the individual dishes behaving like playful invisible ghosts tickling our noses.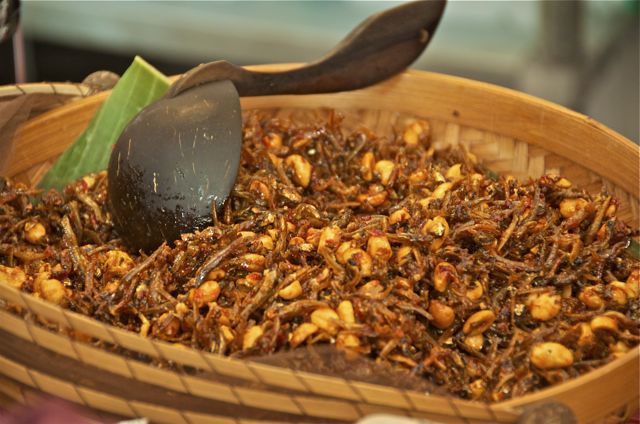 I've never been to Malaysia, but I have tasted a lot of food from that region of the world in restaurants and I was looking for something out of the ordinary, something that I had never tasted before. Well, I found it in a dish called Ikan bills goreng. It is made from small dried fish that have been deep fried, probably fried twice to insure crispness, and then the little fish are mixed with sugar, chilies, peanuts and sometimes a bit of turmeric. This dish is served cold or at room temperature and is considered a snack food that is to be eaten with the fingers. I used a fork to eat my Ikan bills goreng. And I must say it was the most unusual food I've tasted so far. In one single mouthful there is a combination of salty, sweet, fishy and nutty flavors. For the first time taster, my suggestion is to take it slow. Put only a small portion into your mouth initially because between the very crisp, sharp pieces of little fish and the burn of the chilies, it is quite a sensation overload. I'm glad I experienced this delicacy but I don't think it will sit very high on a 'to do' list for my next cocktail party.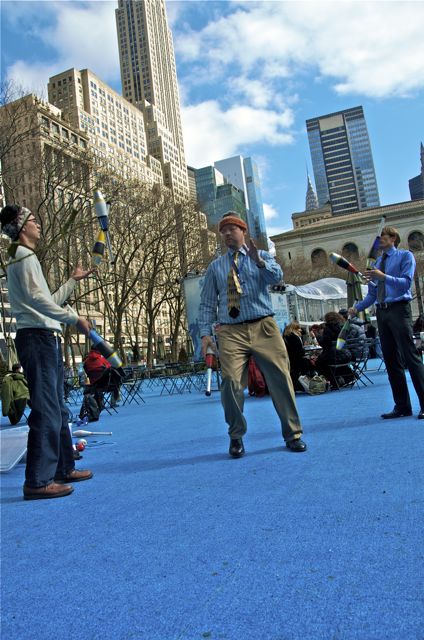 It didn't take long once the clock struck 12:00 for the place to be filled to capacity with lunch-goers waiting in lines that twisted around inside the building like a conga dance line, then snake back outside and into the cold. There were not enough tables for everyone and people were ambling around inside the tent seeking some place to sit and eat their soup, to slurp their noodles, or to munch on a deep fried wanton wrapped morsel. So, my friend and I finished our plates of food and then went out into the blustery afternoon where we watched three guys practicing a juggling act. They weren't too bad  but obviously beginners. And they were not deterred by people watching them nor were they bothered by the cold because they wore no coats. They were having a great time running around, catching the juggling clubs while their work-a-day ties flipping every which.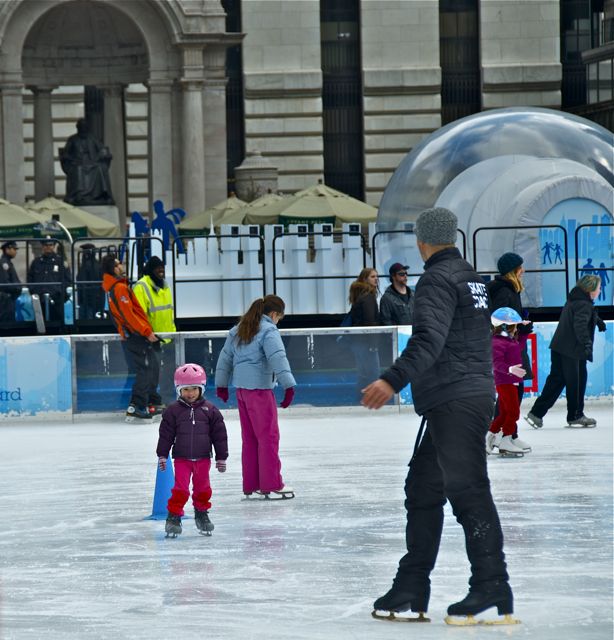 During the winter months there is an ice skating rink in the middle of Bryant Park. The rink was filled with all levels of skaters, even on this miserably cold day. I watched one little person getting a lesson from a skate coach. She was smiling, having a grand time in the freezing afternoon sunshine. But then I wonder if there wasn't a bit of a tropical glow leaking out from the Malaysian Food Festival tent that might be bringing a warming spicy element to this freezing New York City afternoon.