The more I see of the world the greater is my appetite to experience other locations, food and cultures. When we reached Elba Island, Italy, the last destination on our Mediterranean cruise, I fantasied that I might come back to each one of the ports we visited, to spend a week, maybe a month, to write short stories, perhaps start a new novel, or just blog about the people and the local culinary delights while lazily contemplating the change in the weather. I doubt that will happen, yet it was fun to consider.
Elba Island is located between the mainland of Italy and the Island of Corsica. It is the third largest Italian island with a population of about 30,000 inhabitants. However, that number drastically increases during the summer months with the influx of tourists.
Our ship docked in Portoferraio, the island's principal town.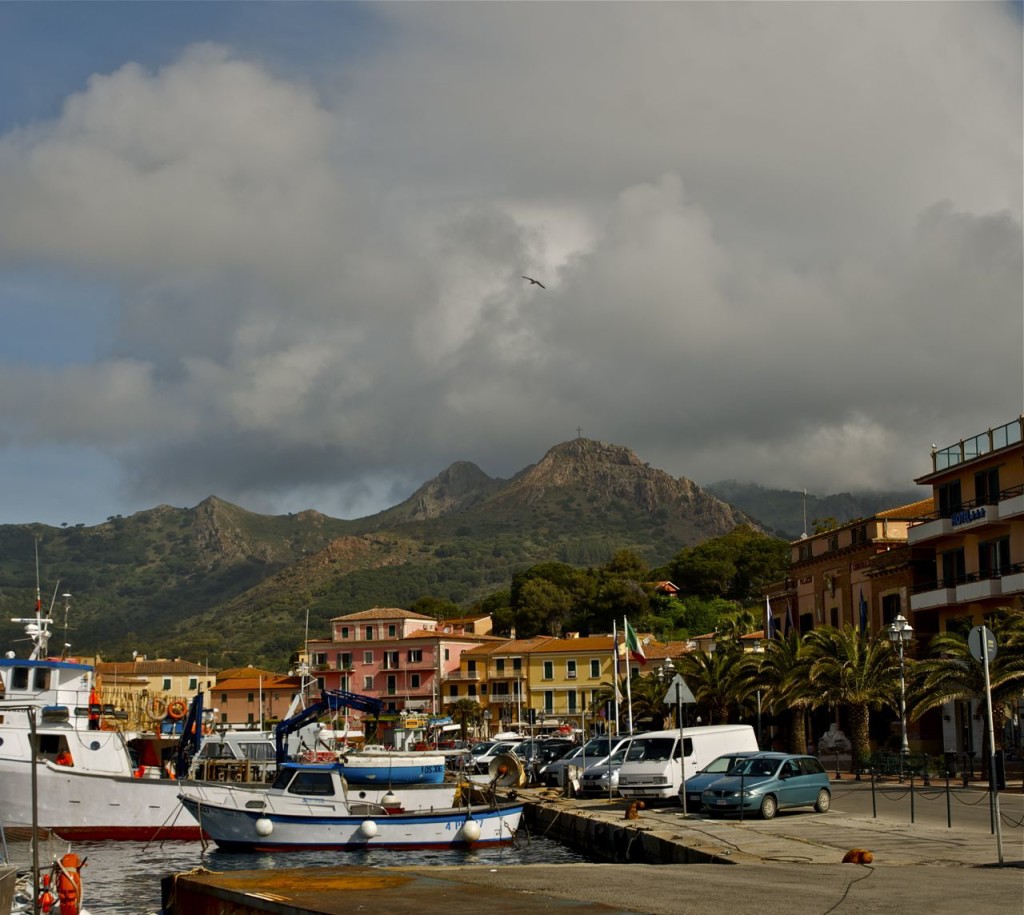 From Portoferraio we boarded a bus and traveled to Porto Azzuro, a picturesque fishing village. The island is filled with dozens of coves, beaches and harbors, and this little port was as beautiful as any we had seen so far on our voyage.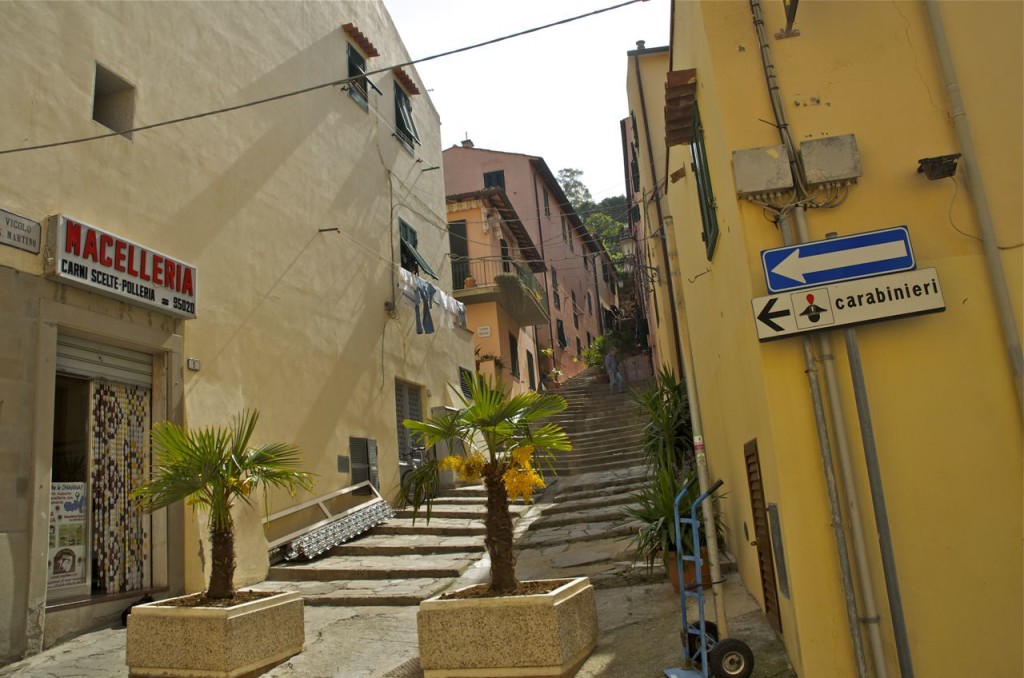 Like all the towns along the coast of Elba, this small enclave is built on a hilly terrain. Its cobbled streets and walkways twist and turn up and down the hills in a web of intricate paterns created by the ancient Greeks who first inhabited this island.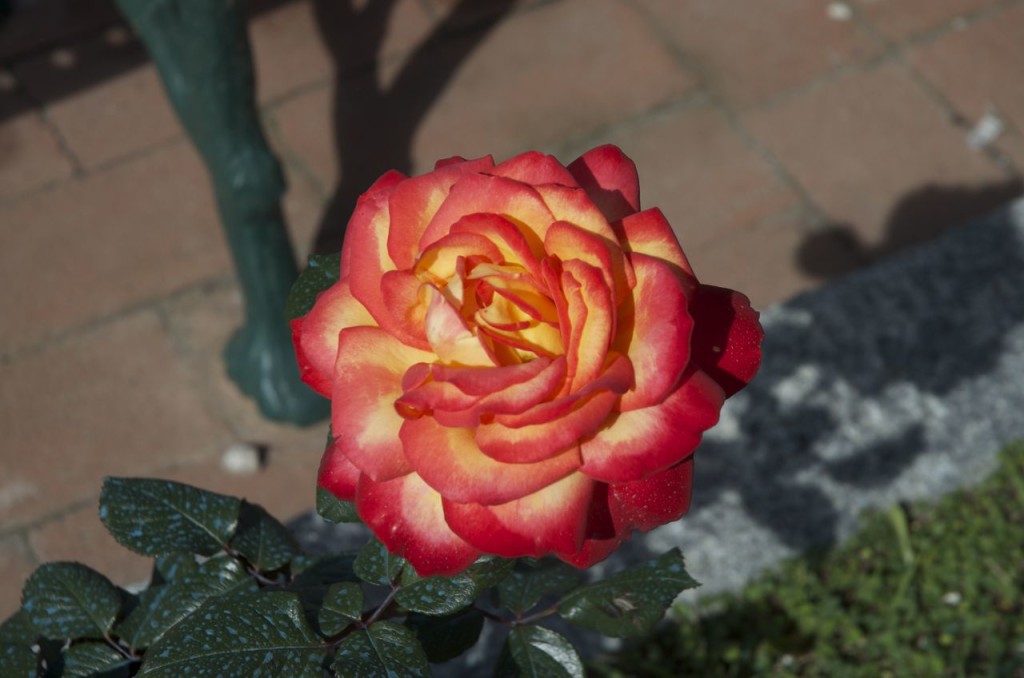 I could not help but take a photo of this rose. The street along that harbor is lined with comfortable benches facing the water with waist-high hedges of luscious roses everywhere.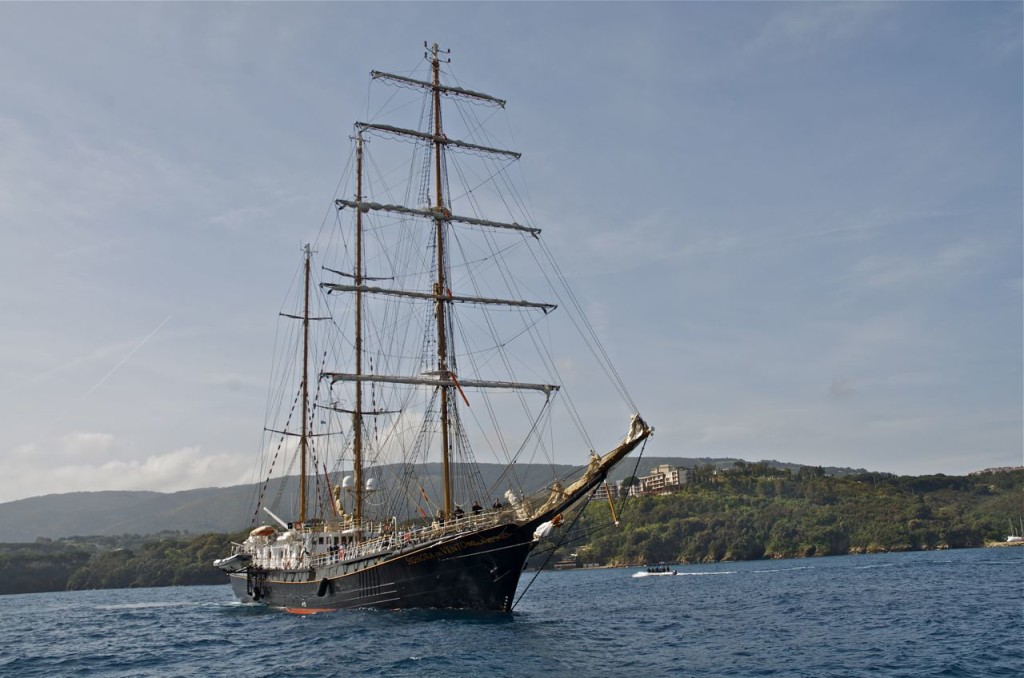 As I looked out at the harbor a tremendous sailboat slid into port. A crowd gathered to watch as deck hands threw huge ropes to the harbormasters standing on shore.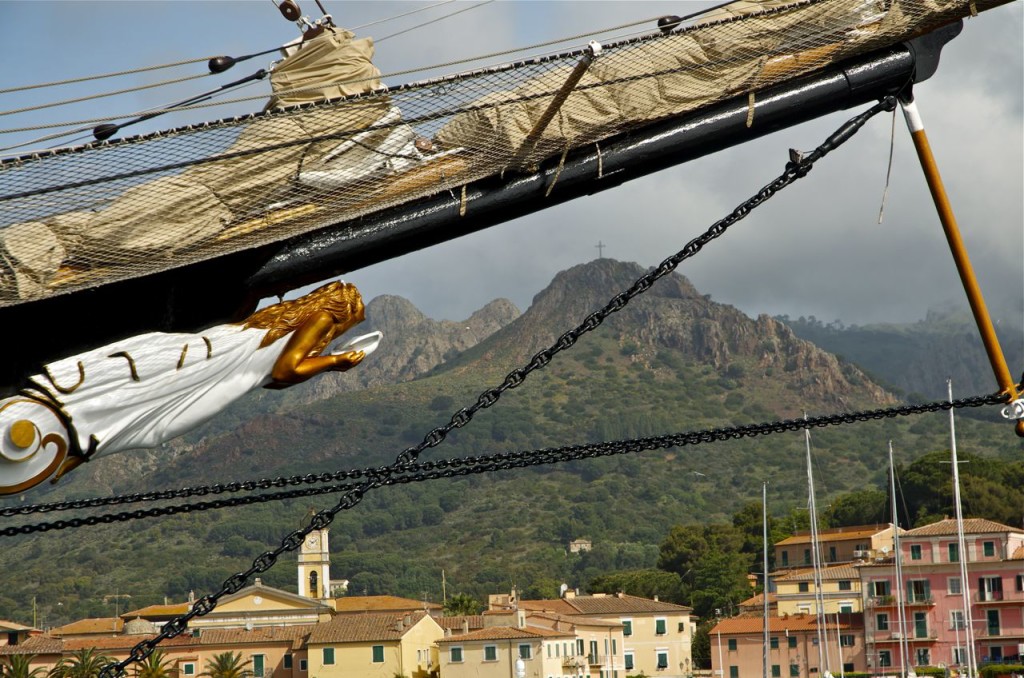 With the boat securely tied to the dock, I could not help but notice the masthead, a beautiful maiden holding a white dove. It looked as though it had been freshly painted with its torso and flowing hair gleaming a brilliant golden tone in the early morning Mediterranean sun. I thought about the countless number of ships that had entered this harbor and the thousands of mastheads that must have looked out onto this rocky hills.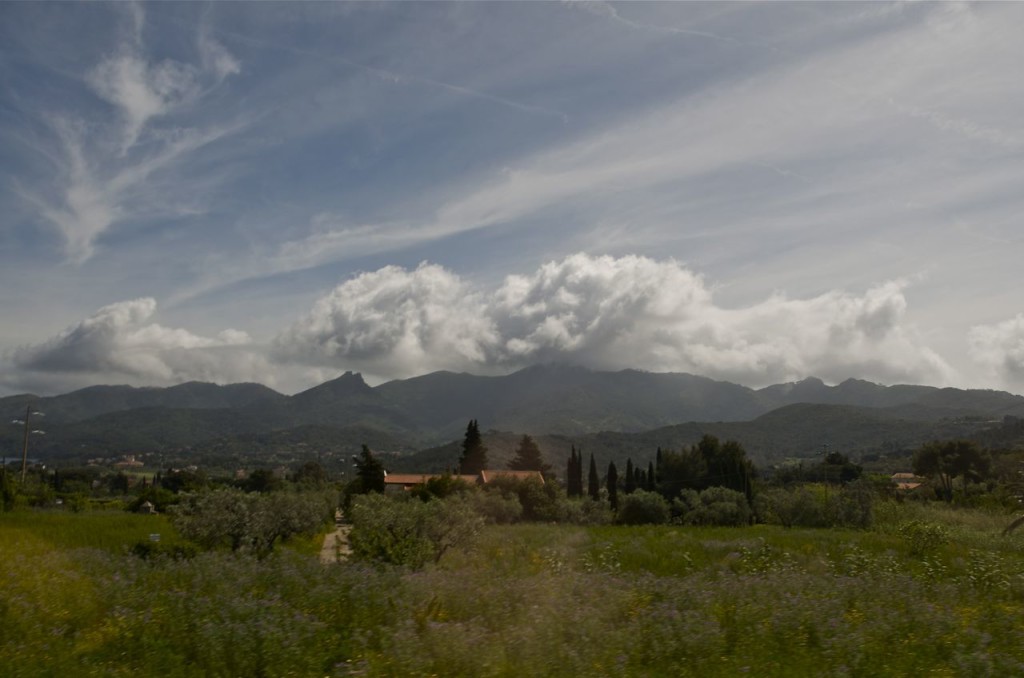 After walking along the harbor and exploring the hilly streets of Porto Azzuro we got back on the bus and headed for Azienda Dgricola La Chivsa estate to taste some local wines.
In 1814, Napoleon, forced to abdicate, was exiled to Elba. He stayed on the island for 300 days, visiting this estate several times before he escaped in February of 1815. This old French Emperor was discontent to be the sovereign of Elba with a mere six hundred men in his personal guard. He had his sights on a grander vision. However, after his defeat at Waterloo a year later, he was exiled again, though this time it would be on Saint Helena, an island with a rugged terrain in the South Atlantic where he would live out the rest of his life in a place he detested, a place that he called "this cursed rock".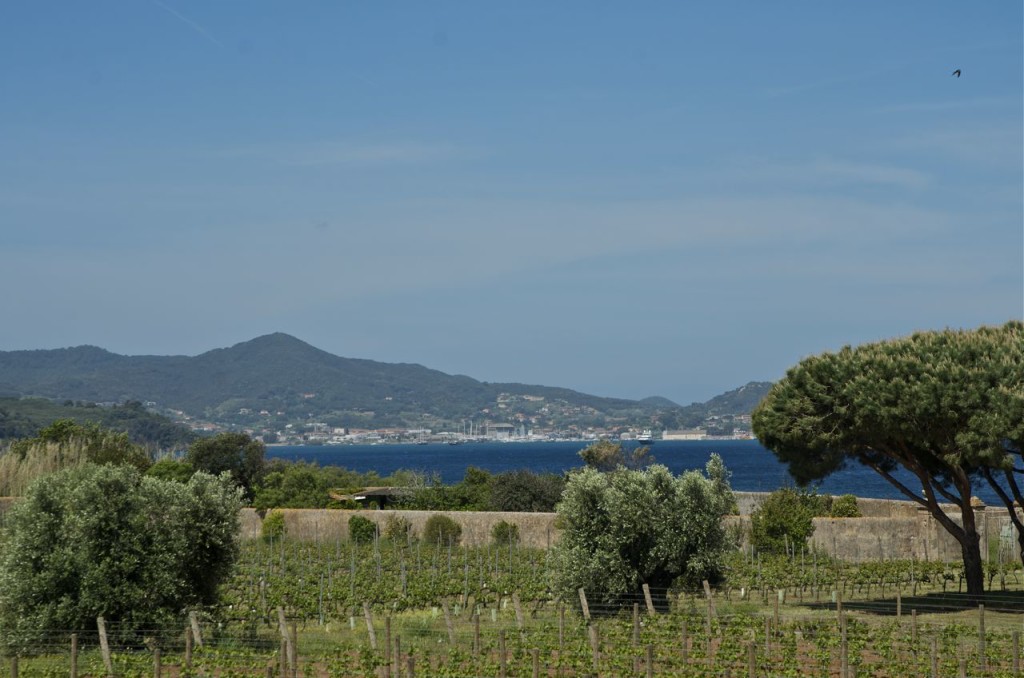 Azienda Dgricola La Chivsa estate vineyard is located across the bay from Portoferraio with a fantastic view of the brilliant water. Though Elba has always had vineyards, in the last forty years this island has become a large wine producing area, priding itself on quality over quantity.
It is also an area that has a large number of olive tree orchards and now has a growing extra virgin olive oil business.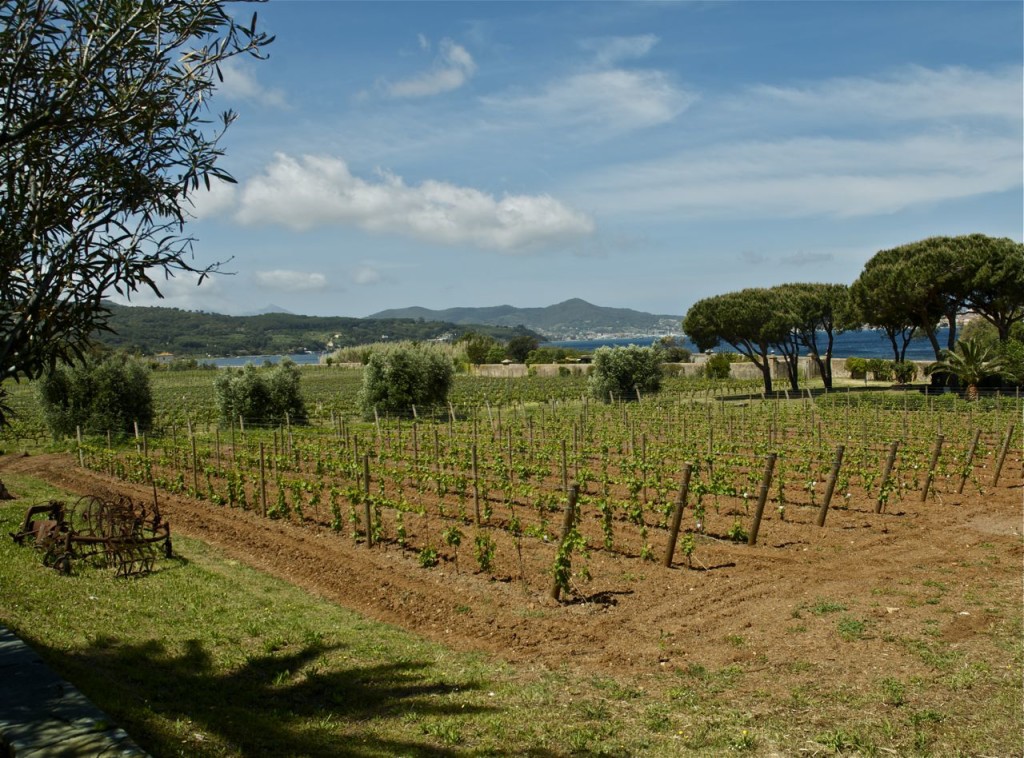 Elba Island has been continuously populated since ancient times with land highly coveted because of the rich deposits of iron that run through the rugged hills. It was invaded by the Etruscans, the Romans, the Barbary pirates from North Africa. It has been under the rule of France, Italy and Spain. For years the furnaces for the production of metal spewed fumes out across the landscape, choking the earth with so much soot that little or no vegetation would grow in some location. Then in the 1970's mining of the iron oar was stopped, the furnaces closed down and the land began to heal itself.
It's hard to believe that this lush island was once a grey, nearly treeless, place. As we drove along the coastline and through the hills, where the island is still richest in iron, dense forests now cover the land, with hardly a trace of the scars from mining.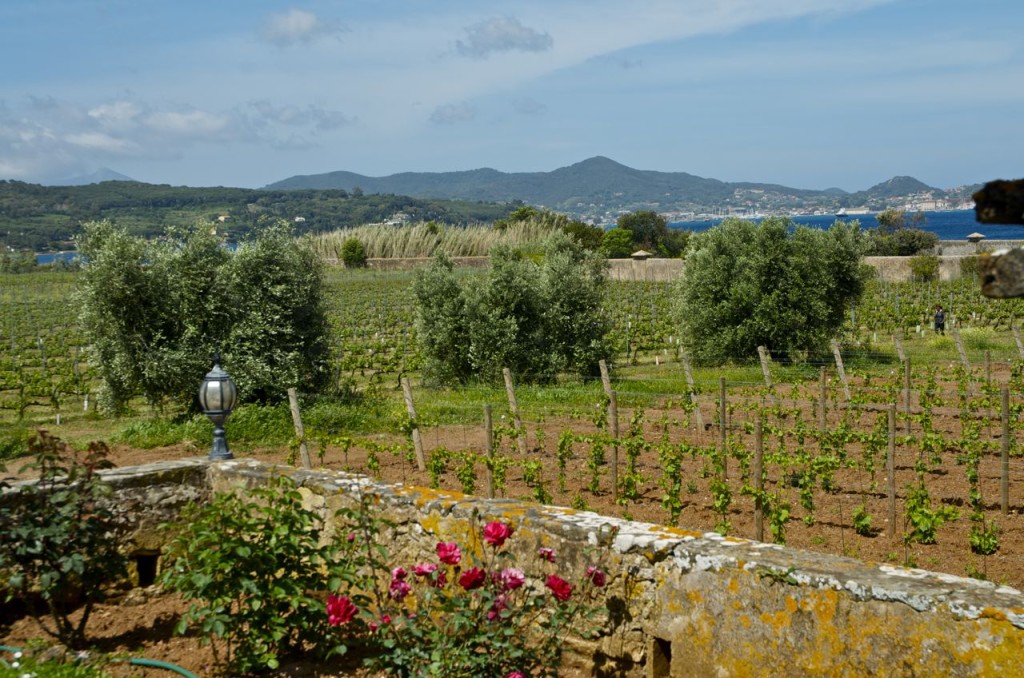 The huge warehouse of the winery provided us a deep shadow of comfort from the heat of the noonday sun. Roses were plentiful, not only the grape vines. We learned that roses have an important role in the production of wine on this island. A rose bush is planted at each end of the rows. It looked like such a lovely thing to do, to have roses everywhere. Though as it turned out these rose bushes are the Sacrificial Lambs of the vineyard. If a disease or infestation begins to spread from one field to another, the roses will be the first to be affected and not the grape vines.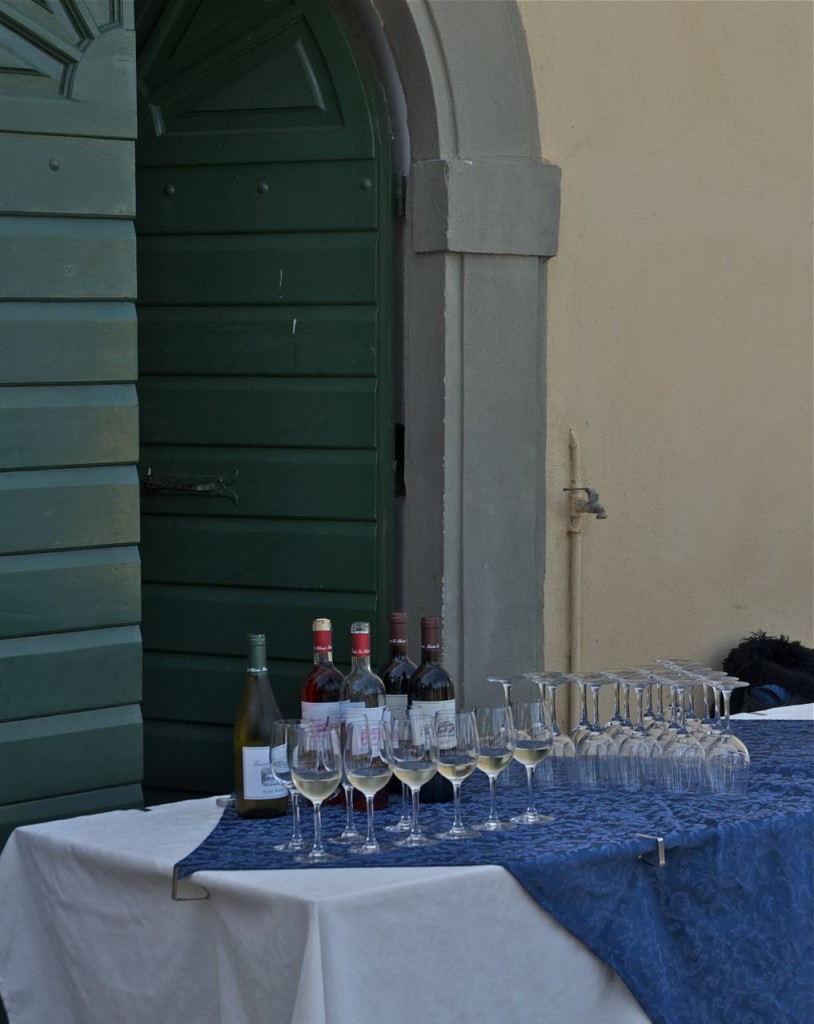 Ah, and then the wine. The sun was brilliant and after tromping up and down the streets of Porto Azzuro, the chilled white wine was more than welcomed. As we worked our way through the four bottles of table wines, even though the afternoon grew quite hot and more sultry, no one seemed to mind the weather. My favorite was the chilled white wine. The reds were good, but I am a white wine drinker.
There were also yummy snacks of artisinal cheeses, salami and two platters of hearty-crusted bread sliced into chunks. One platter of bread was drizzled with a strong, almost bitter, local extra virgin olive oil. The other dish of bread chunks, and my favorite, was bread that had been drizzled with the olive oil infused with truffles.
Then there was one bottle left to sample, the dessert wine. It was a sweet, though not syrupy, sun warm wine, rich with the flavors of Mediterranean fruit.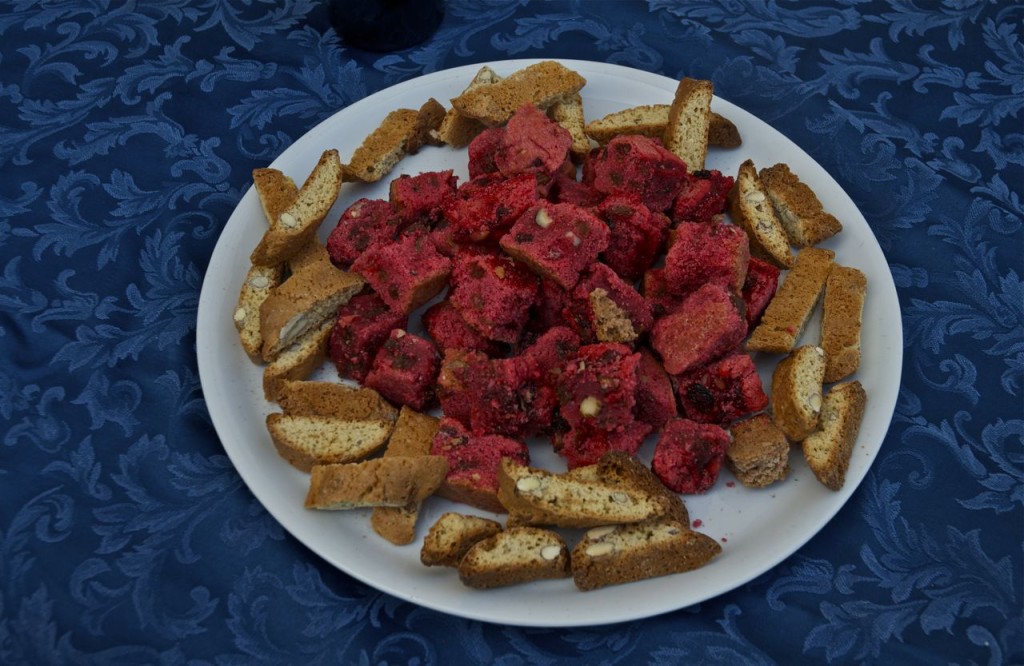 Served along with the dessert wine was a tray of biscotti and slices of a brilliant red cake filled with raisins and pine nuts. This cake dates back to 1743 and is unique to Elba. It was a slightly dense cake similar to a classic fruit cake, though not as heavy, a delicious accompaniment to the sweet beverage, a perfect way to end the wine tasting experience. I have included a recipe in this of this red Elba cake, though instead of using wine from Elba, which the recipe suggests, I have used substitutes.
Gobbling up the last bits of cookies and cake, and swallowing the remaining drops of wine, we were invited to step into the gift shop where the wine was for sale. I knew there was no room in my luggage for bottles of wine, though I bought a small bottle weighing less than an once, of the truffle infused olive oil. I suspected that the only place this precious bottle of oil could fit was in the toe of one of my shoes.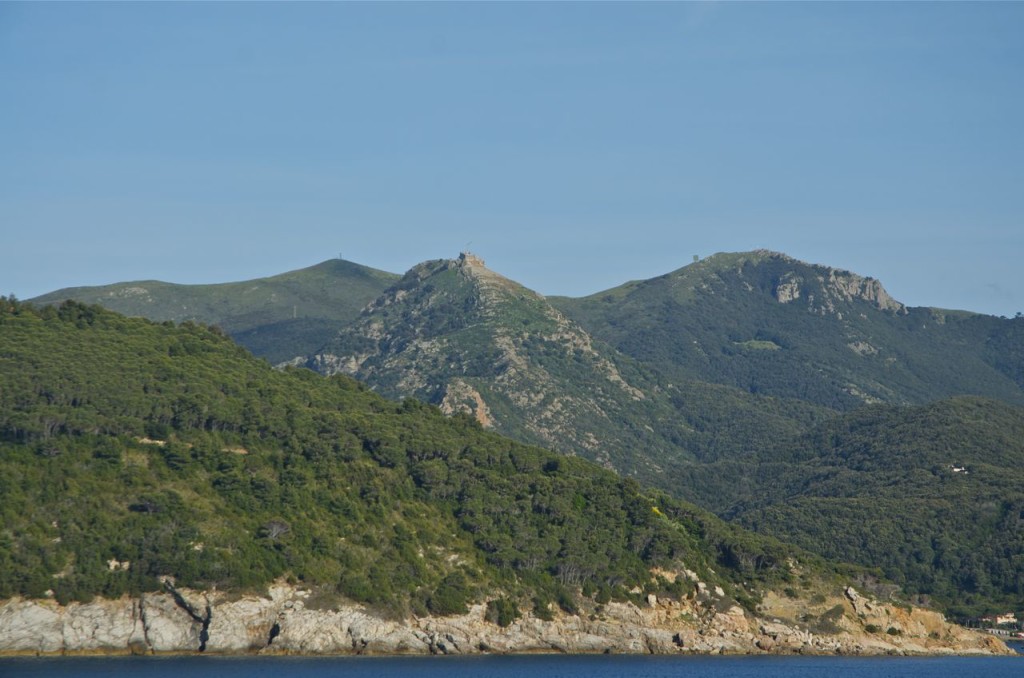 This ancient island has experienced many battles, takeovers, and numerous changes in governments. Now it is an international vacation destination. We sailed passed this lush and peaceful island on our way to Rome where we would disembark. So here I was, ending one leg of my vacation with a tiny bottle of luscious truffle oil, which I'll use sparingly, and a recipe for the wine cake waiting for me in my computer. These are the souvenirs that endure.
RED WINE CAKE OF ELBA
2 cups flour
3/4 cup raisins
3/4 cup sugar
1 Tbl. baking powder
a pinch of salt
8 fluid ounces red wine
1/2 cup dark sticky dessert wine
3/4 cup olive oil
1/4 cup pine nuts
Preheat oven to 350 degrees. Soak the raisins in a bowl of hot water until they become soft and plump. Combine the sifted flour, baking powder, salt, raisins and most of the sugar (set aside a few tablespoons for later) with the olive oil, the red wine and the sweet dessert wine until just combined. Be careful not to over mix the dough or it will become hard and chewy rather than crumbly. Let the dough rest for up to an hour before baking.
Press dough into a greased and lined round baking pan and top with the pin nuts, a sprinkle of the dessert wine, a drizzle of olive oil and a few tablespoons of sugar. This will give the cake a crusty pink top.
Bake for about 45 minutes or until a knife inserted in the middle of the cake comes out clean. This cake keeps well and is best eaten a few days later.