Last Thursday I took the #11 bus to the Chelsea art gallery district where I'd planed to check out a couple galleries. The first gallery was the Magnan Metz Gallery where my friend Kimberlae Saul's husband, David Opdyke had a one man show. I had not met David before but Kimberlae had told me a little about his work. And I must say, I was awestruck by his art. She mentioned that one of the art pieces would be a large telephone pole and that there would be a huge drawing with hundreds of guns. I must say hearing about his instillation and seeing it in person are two totally different experiences. The title of his showing was "The Future Aint What It Used To Be."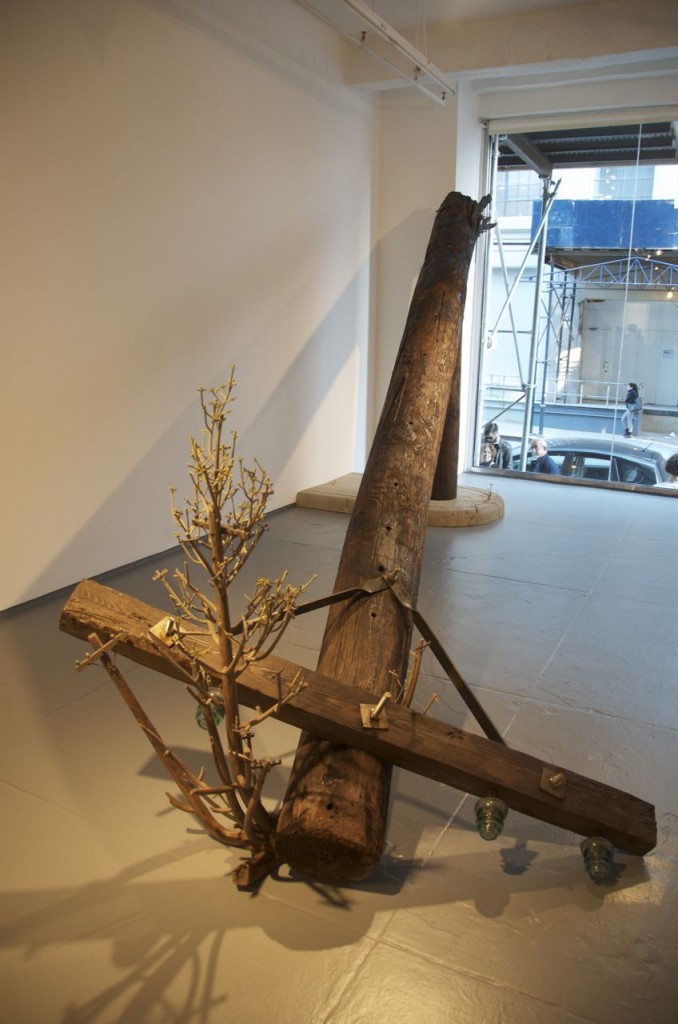 The telephone pole she had told me about was literally a full sized pole coated in creosote laying across the floor of the main room in the gallery.  It was an unexpectedly powerful image. But what was delightful about this particular piece of art was the interpretation of what happens to fallen poles. Have you ever wondered where all those long lines of telephone poles come from? David has come up with one possible answer. In this exhibit we are shown that they sprout from the fallen, from the broken, from the dying poles that crash to the ground. It is as though these poles can give life to their own kind, because where this pole touched down on the floor, a small bush sprouting dozens of baby poles grows up from the decaying fallen pole.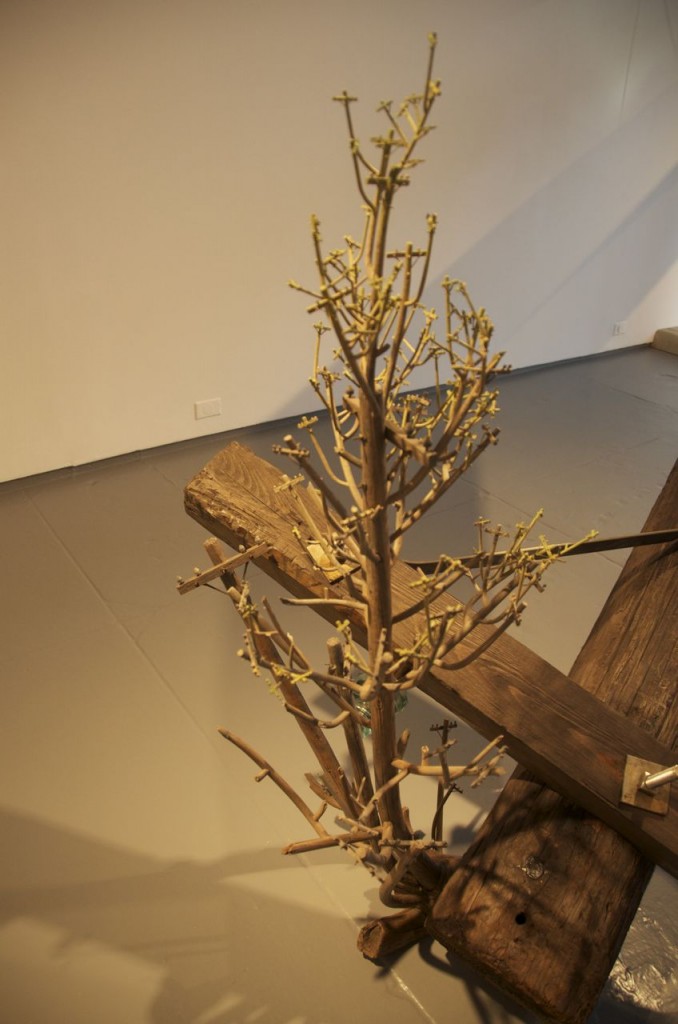 I took a closer look at the small bush and there they were, little poles in various stages of development growing out of the mother pole. David came of age in the 1970's in Schenectady, NY, a once important center in the American industrial development. Here is a quote from David Opdyke Accumulated Thoughts 2012 that gives some insight into his work. " Opdyke witnessed the rapid decline of manufacturing and nature's subsequent takeover of a city's abandoned architectural remains. Those images of transformation and decay permeate his work today."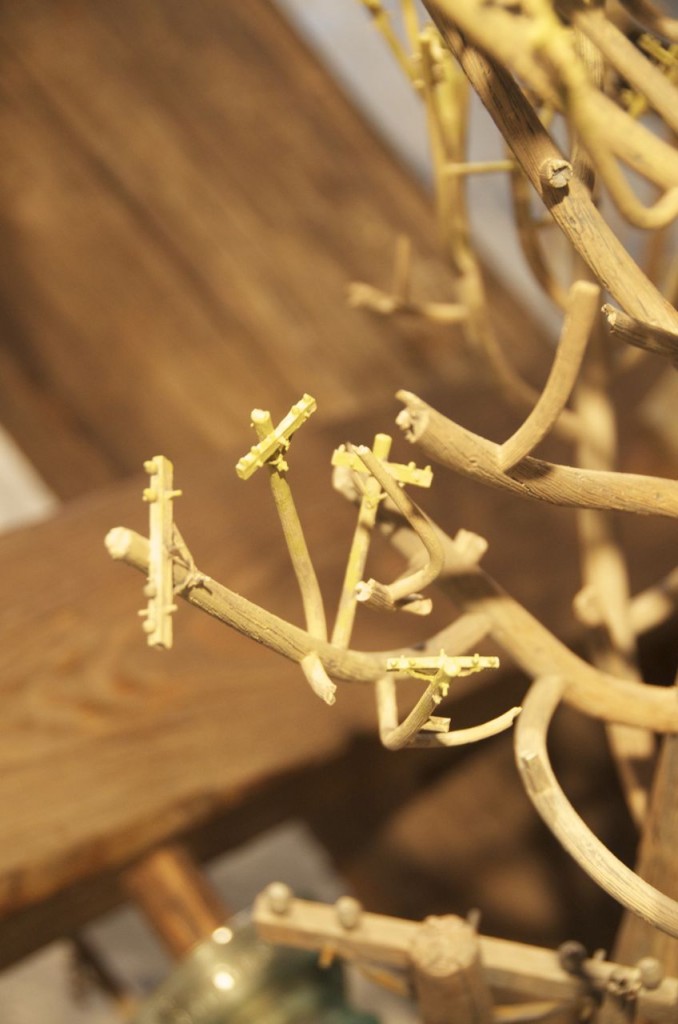 Little telephone poles growing out of the fallen giant.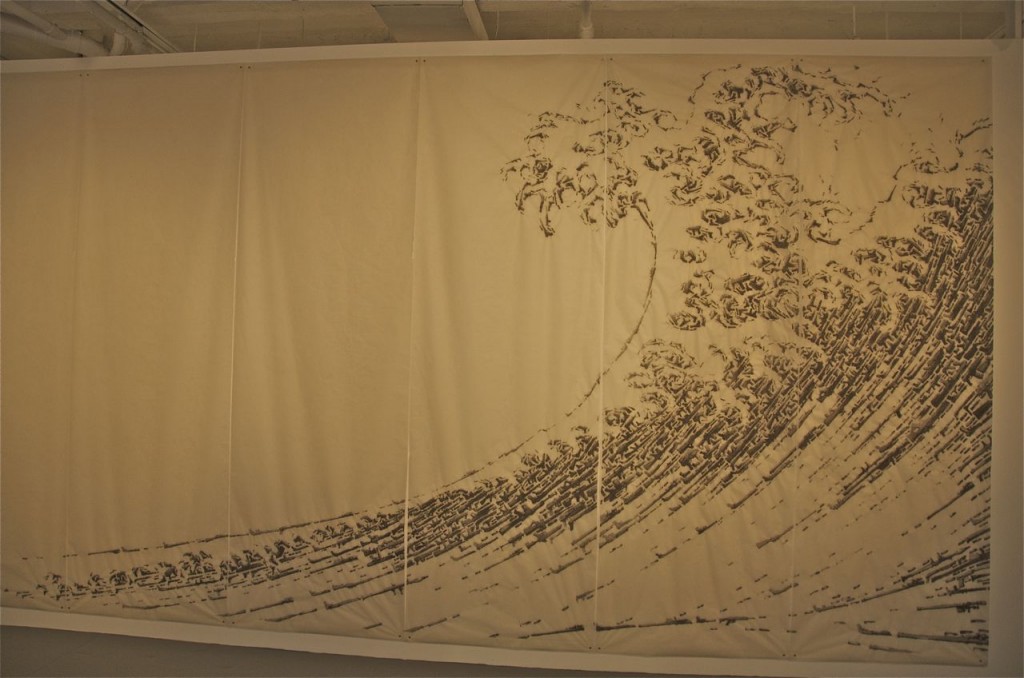 On the other wall across from the fallen telephone pole was David's interpretation of the classic Japanese painting "The Great Wave Off Kanagawa." It was a powerful beauty and had been hand drawn. I'd heard Kimberlae talk about how her husband had drawn each gun and bullet individually. Though again, hearing this I did not know what to expect.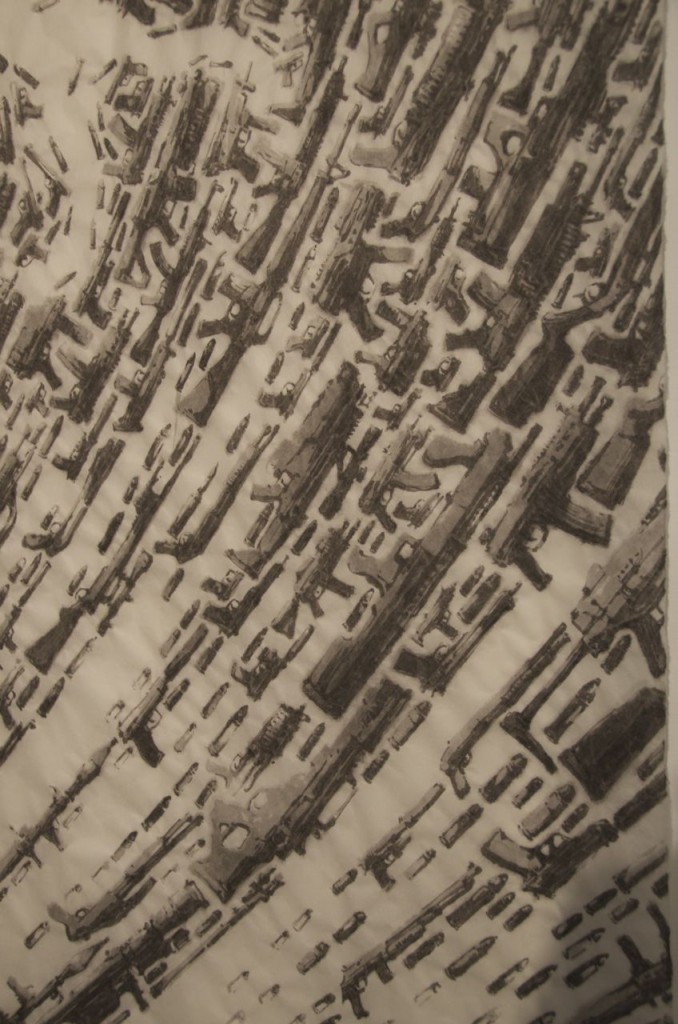 Moving up close to the drawing I saw the artists interpretation of light, space and design. Each section of the wave, the deep creases, the foaming edges, and the volume and power of the wave were created by drawings of little guns, machine guns, rifles, handguns, and bullets of every size imaginable. The image of an ocean of guns is really quite overpowering.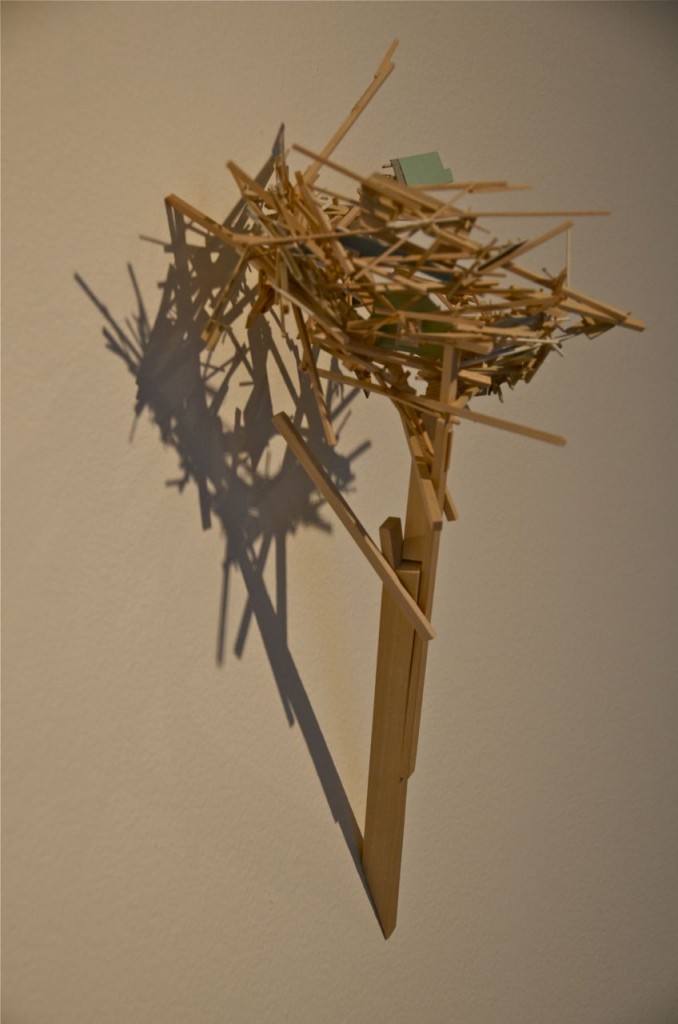 On one wall was a display with a delicate and gentler sensibility. They looked like replicas of bird nests perched on precarious stilts. I loved the way the light cast interesting  shadows of the tumble of sticks.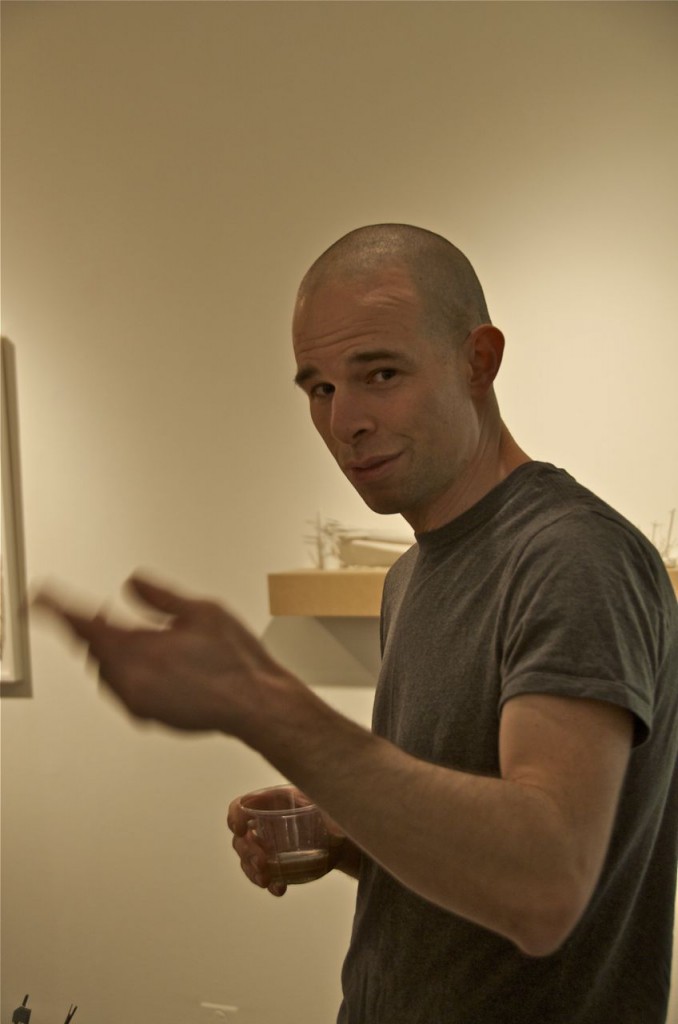 And this is the artist, David Opdyke. Here is a link if you are interested in seeing more of his work: David Opdyke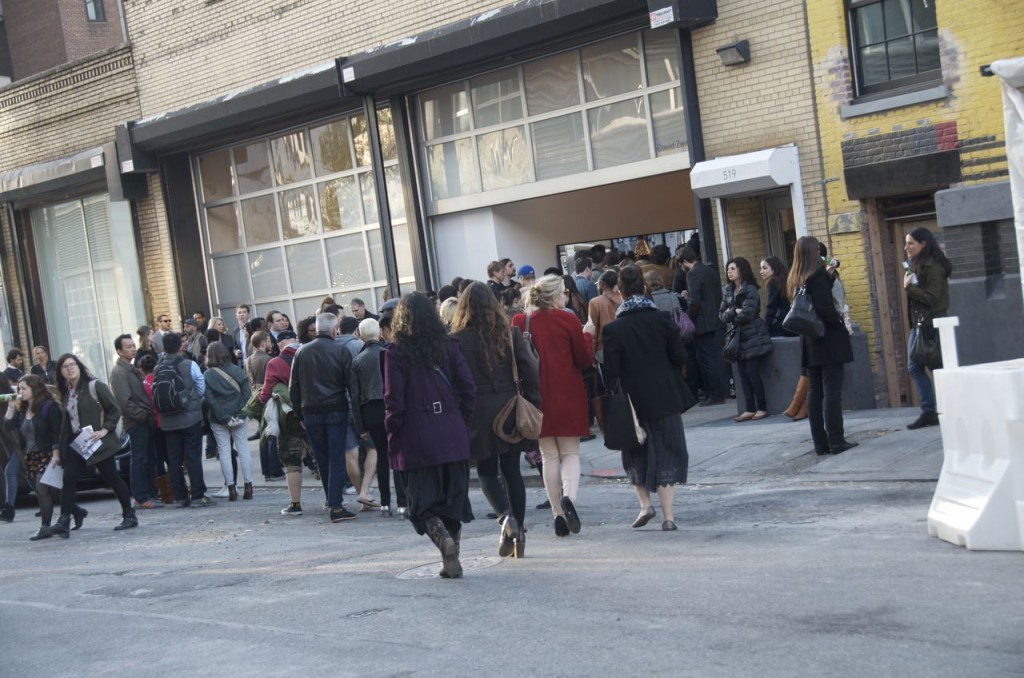 Next I traveled eight blocks uptown to the David Zwirner Gallery to see Oscar Murillo's A Mercantile Novel exhibit. I wasn't sure what to expect when I got there, but it was quite evident that I was not the first one to arrive. Hundreds of people had all ready queued up to get in, and the reception had been open for less than an hour.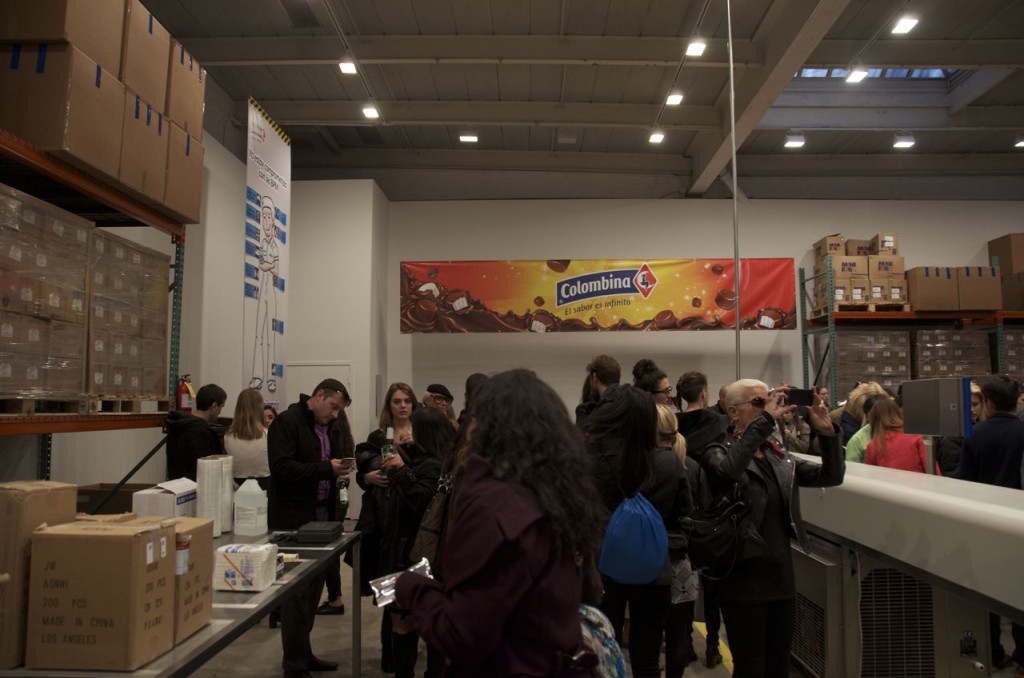 Oscar Murillo, a successful painter from La Paila, Columbia, has imported and installed an entire candy factory from his home town in this huge warehouse of a gallery. Instead of artwork there are packing boxes, conveyor belts, ladders and shelving stacked to the ceiling with hundreds of boxes of chocolate and other sugary ingredients. This real chocolate candy factory is the art.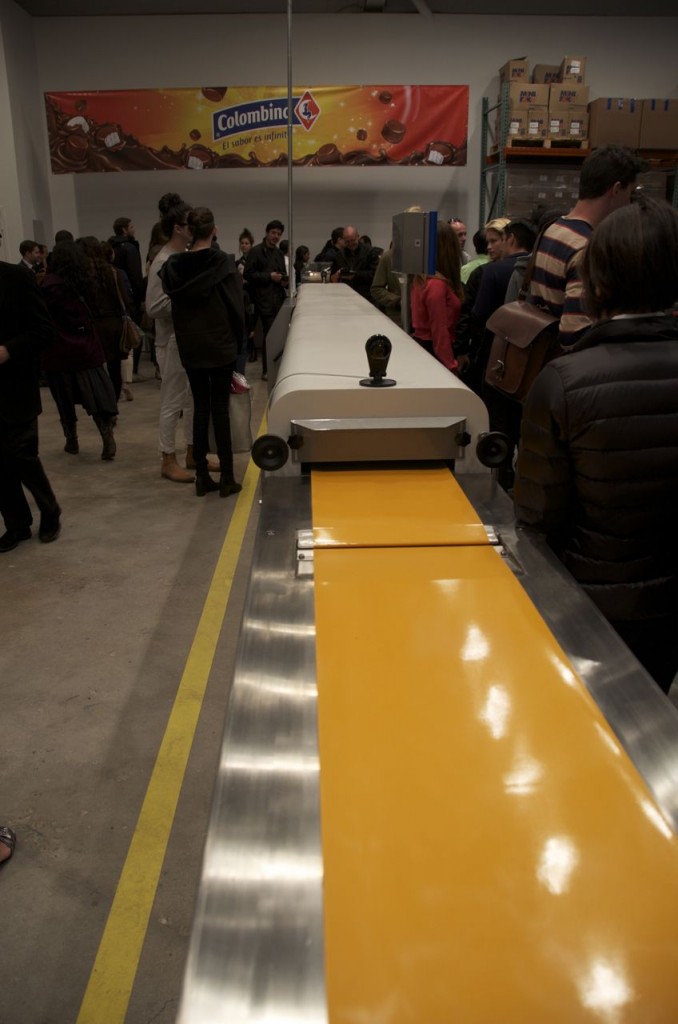 Though Murillo is an abstract painter with his art bringing in upwards of $400,000, this exhibit addresses his interest in immigration and social interaction. Not only has he brought a real Columbian candy factory to NYC, he has also included workers, men and women from his hometown who have never been to New York. He plans to take theses workers to visit the five boroughs and introduce them to the diversity of the city. Their reactions will be documented, becoming a part of the instillation.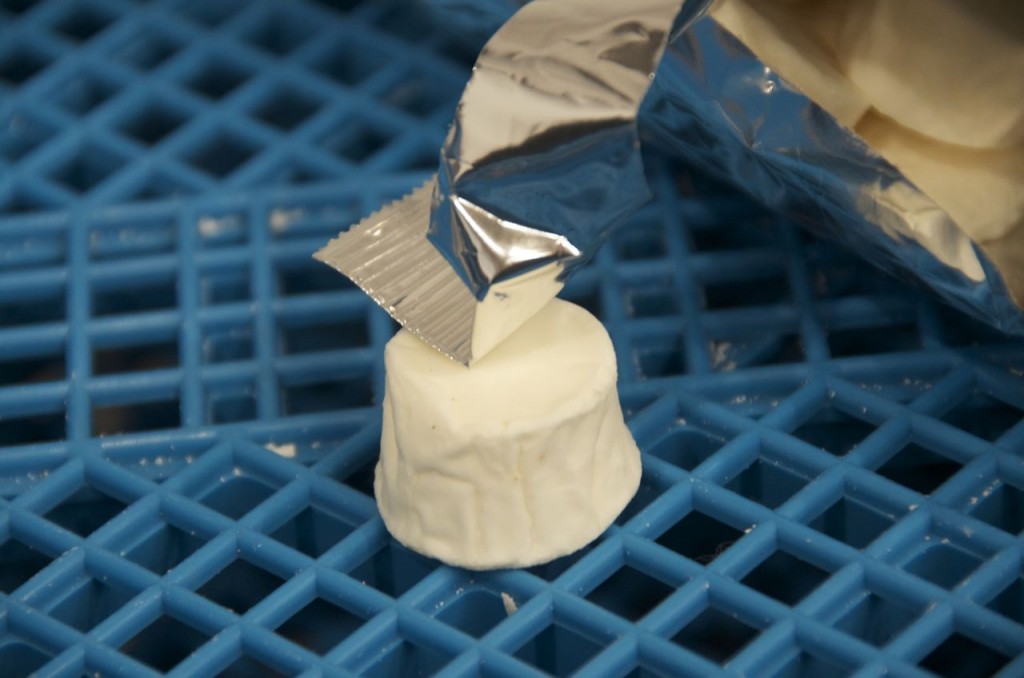 Instead of the traditional glass of wine, bottles of beer were handed out to the gallery goers. But the smell of the brew was overpowered by the luscious odor of sugar and chocolate, not a common smell in an art exhibit. But then this was not your average gallery exhibition. A marshmallow was on display, one lowly marshmallow that represented one of the main ingredients in the candy.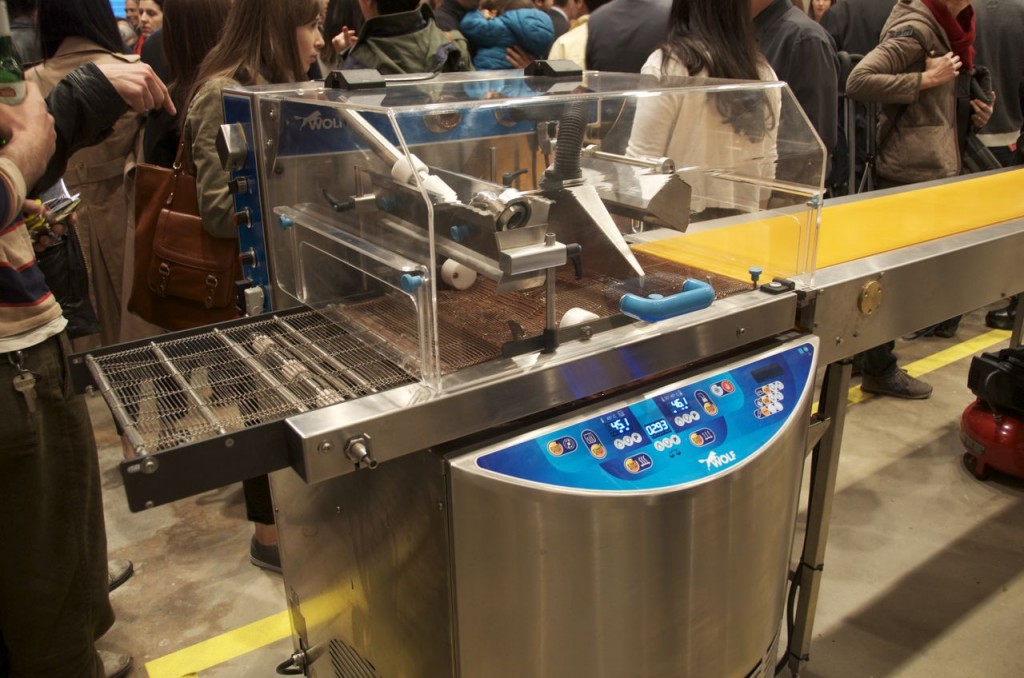 A conveyor belt with a chocolate dispensing unit took up nearly the full width of the gallery. The reception was to acquaint the public with the project. The factory would be put into full operation on the following day and at that point gallery goers would only be allowed into the factory when the workers were on their breaks.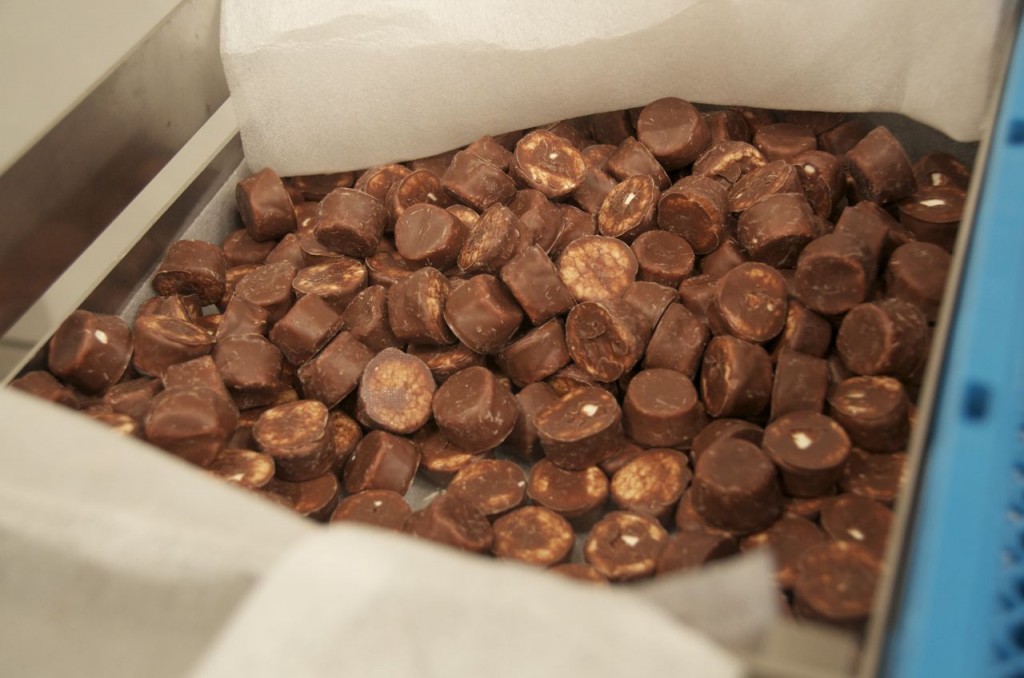 There were boxes of the candy that had been made the previous day to insure that all the machinery was in proper working order. That's when I saw what the candy looked like, chocolate covered marshmallows, talk about a sweet treat.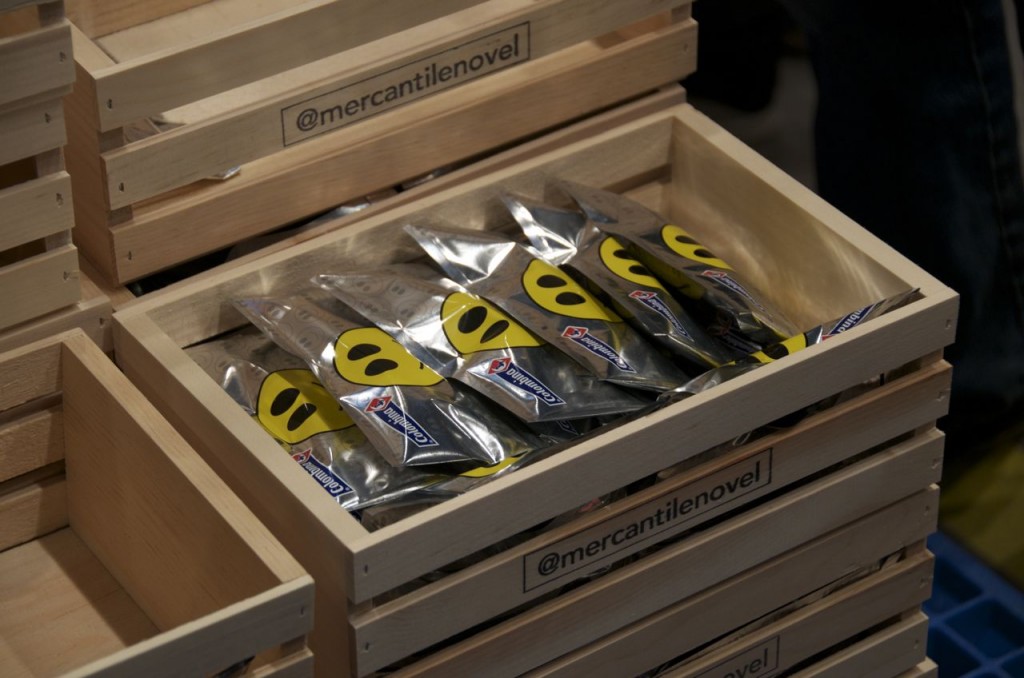 Part of the social interaction aspect of this instillation is the disbursement of the candy. The gallery goers will be given packages of Columbina goodies and asked to distribute them in NYC and elsewhere, documenting the interaction with photographs of the recipients. A website (http://www.mercantilenovel.com/) has been set up to receive the photos which could also include a brief blurb describing the who and where. I grabbed up a handful of the packages and intend to participate in the photo fun.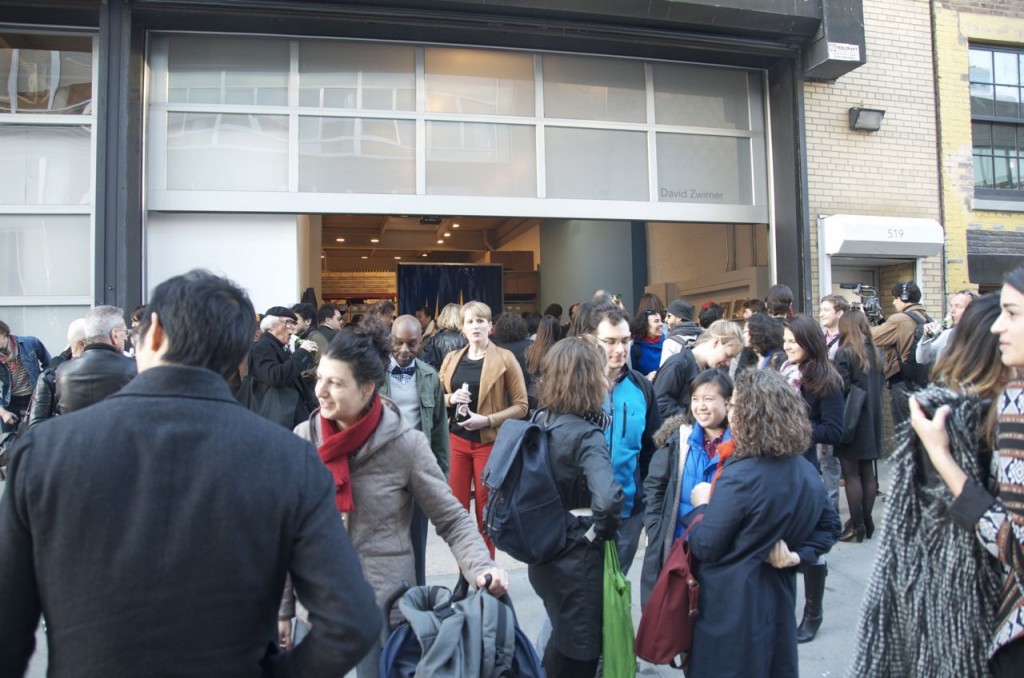 By 8:00 when I left the exhibit, the crowd had grown even larger, not just a crushing mob inside the gallery but outside, as well. The next day I heard from someone who had also attended the exhibit's reception that the  festivities lasted for hours and that at a little before midnight the attendees were dancing and that the reception turned into a party.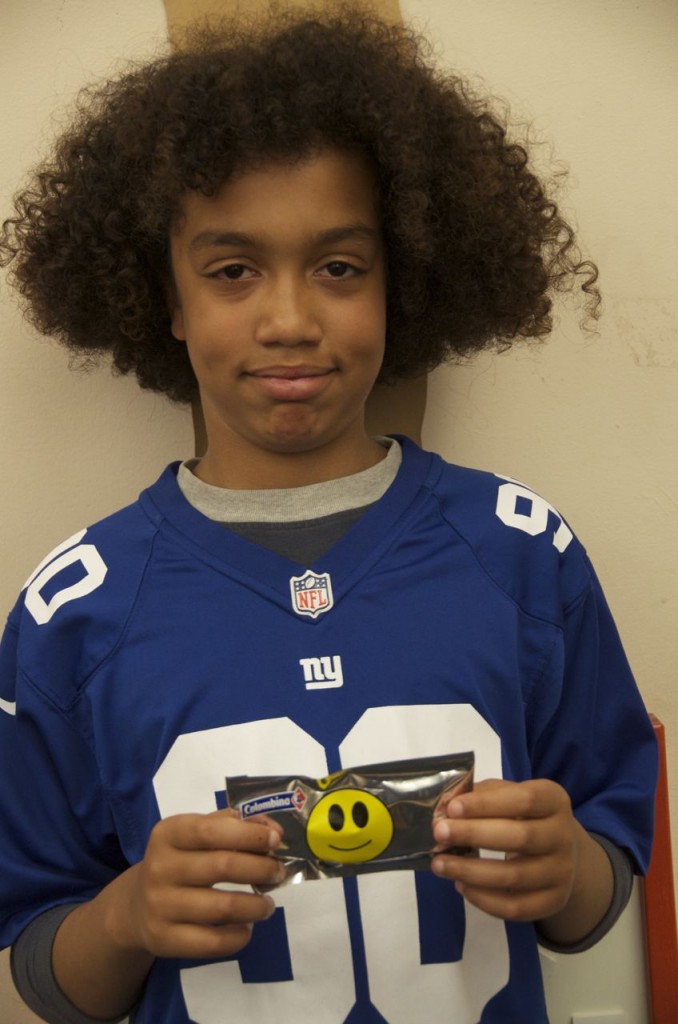 The first person I thought about giving this candy to was Devon. We don't get to see him too much these days with his school homework, drum practice, soccer games and sleepovers with his friends, but we had managed to squeeze our way into his life shortly after I visited the galleries, and I brought one of the Columbina candies with me. It was a rainy day in NYC. We met him and his mom at the library not far from his school. He had a drum recital that evening and he had to catch up with his homework but I got him to stand still long enough for me to take a photo of him holding the package of candy before he dashed off to finish a computer game with a playmate at the library.
I'll be taking several packets of the candy with me to Washington next week when I visit my sisters, attend a high school reunion and have a reading of FISH KICKER at the Latte Da Coffee House and Wine Bar in Vancouver WA. It will be interesting to see what other photos I come back with, either with or without the candy.