Visiting La Sargrada Familia Basilica is a fascinating experience. And that's an understatement. I knew it was an architectural project started in 1882, but I had no idea how amazing it was until I visited the place. Antoni Guadi, first began construction of the cathedral 130 years ago, a devout Catholic, he worked tirelessly on the design, supervising every detail, and even in his later years before his death, lived in a small room in the basement of the construction site. Though it is estimated that Sargrada Familia is still 30 to 80 years away from being finished, the construction continues with private funds, donations and help from the UNESCO World Heritage Foundation. In 2010 Pope Benedict XVI blessed the building and it is now a Basilica.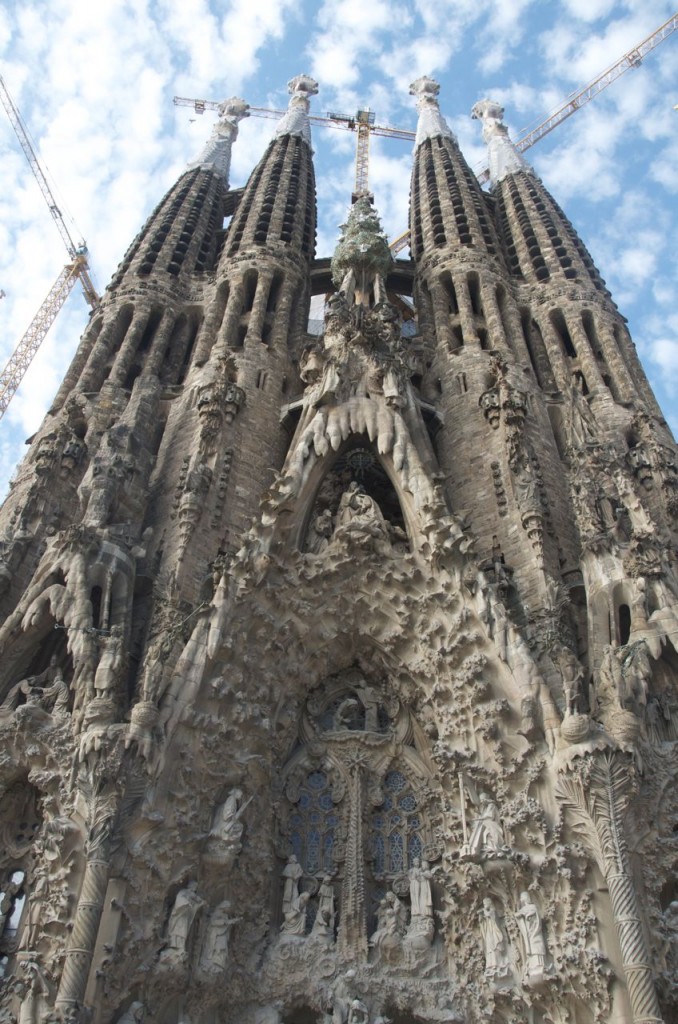 This is one of those places where photographs alone cannot tell the story, and words are vague descriptions when conveying the experience of visiting Sargrada Familia. But let me tell you about the experience of my visit.
I didn't know what I would see when I heard that it was under construction. I thought surely after 130 years it must be nearly completed. We'd taken the subway from our B & B and coming up the steps to the street level my first view of Familia was obstructed by a newspaper kiosk on the sidewalk. And then when I took a couple of steps to my right, there it was, a magnificent, ornate building with cranes stretching high above the tallest spires. We opted to hire a guide, a young Spanish woman, a world traveler herself who gave us a tour that we'll never forget.
There are two entrances to Familia, one facing east and the other facing west. This is significant in a couple of ways. The east entrance is beautifully ornate and decorated with scenes of Christ's early life. The significance of the east facing facade is that it faces the rising sun and symbolizes all beginnings. The west facing facade, as you will see farther down in this post, is totally different  depicts of the end of Christ's life. The western facade also represents death as symbolized by directly facing the setting of the sun.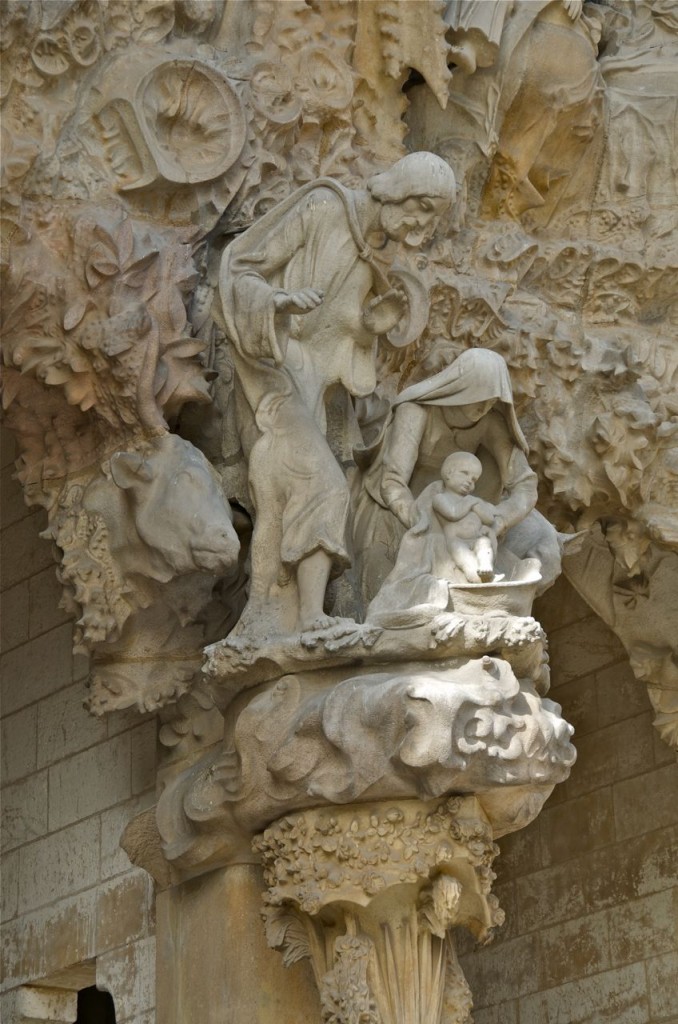 Gaudi had a vision and the authority to supervise every aspect of the construction. He was not only in charge of every architectural element he also interviewed and hired craftsmen and artists to depict the stone vignettes he decided would go on the both the east and west facade. The scenes on the east side of the building are elaborate, highly decorated with thousands of floral and animal designs.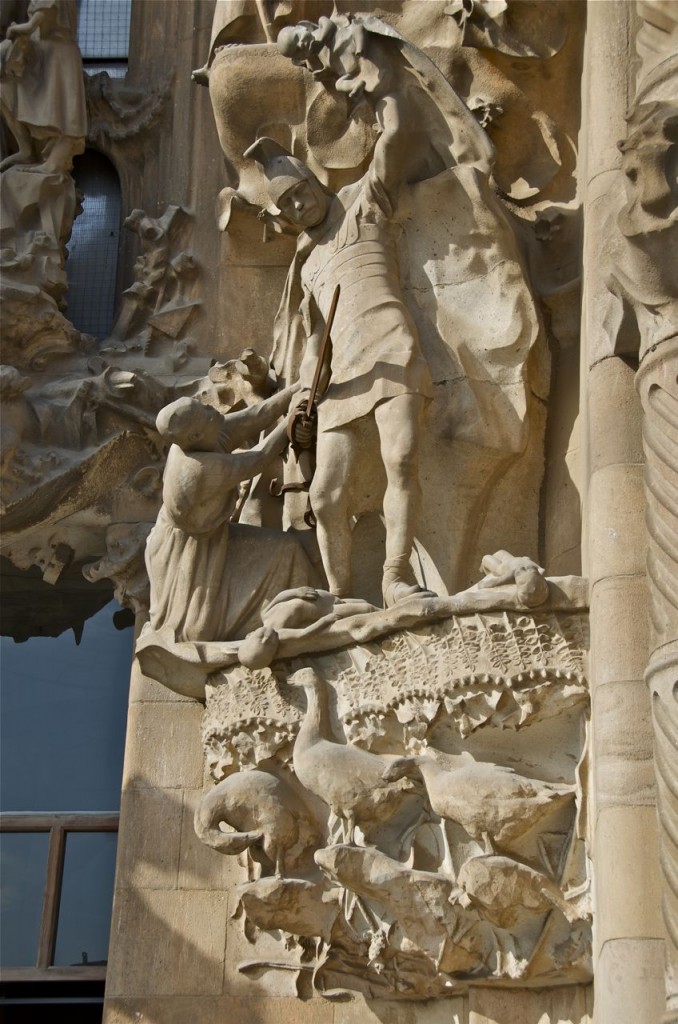 I found this depiction of one of Harod's soldiers killing babies particularly startling. I hadn't seen this on the outside of a cathedral before but was an aspect of Christ's birth that Gaudi felt was an important story to tell. But look at the fauna beneath the slain babies hanging lifelessly over a cliff, the geese strolling, unaware of the tragedy, they go about their business, while a nearly faceless woman pleads for the soldier to spare the life of her child.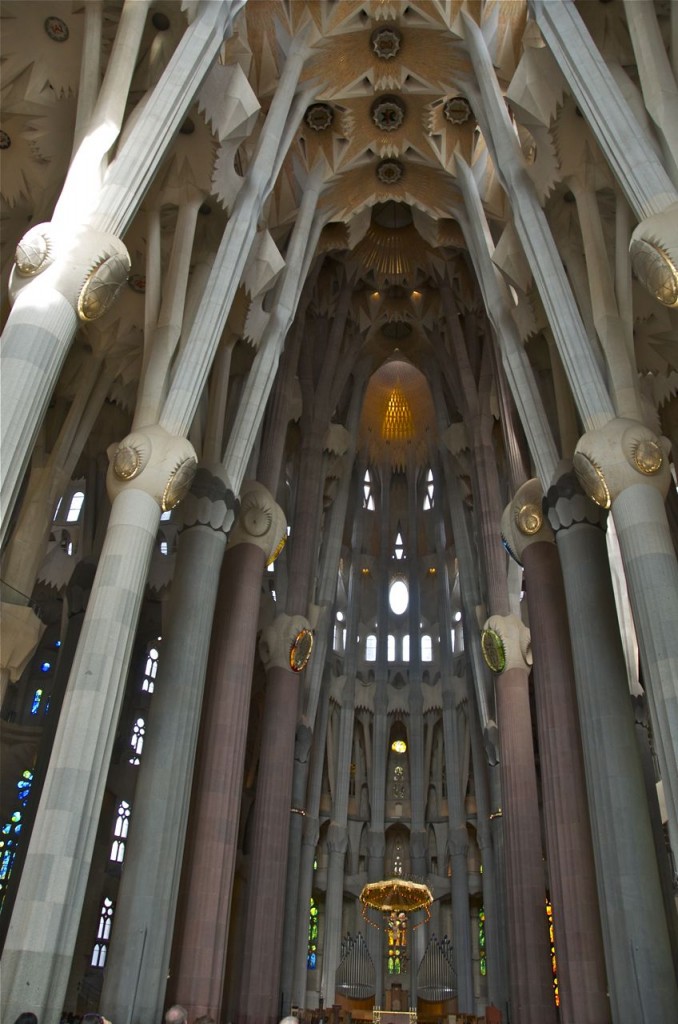 I could not get a photograph that I thought fully expressed the immensity and power when I first stepped into Sargrada Familia. It was overwhelming to think that a single person 130 years ago came up with this design. His concept of the columns is based on a forest with the branches stretching out to support the upper structure.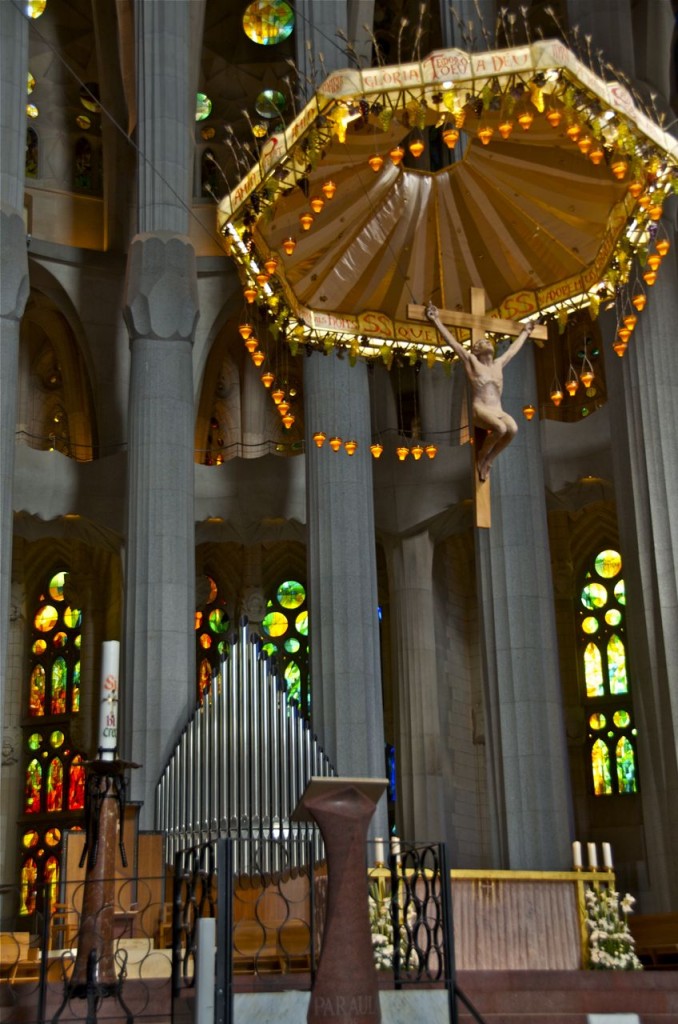 The crucifix, suspended by cables, appears to hover above the altar.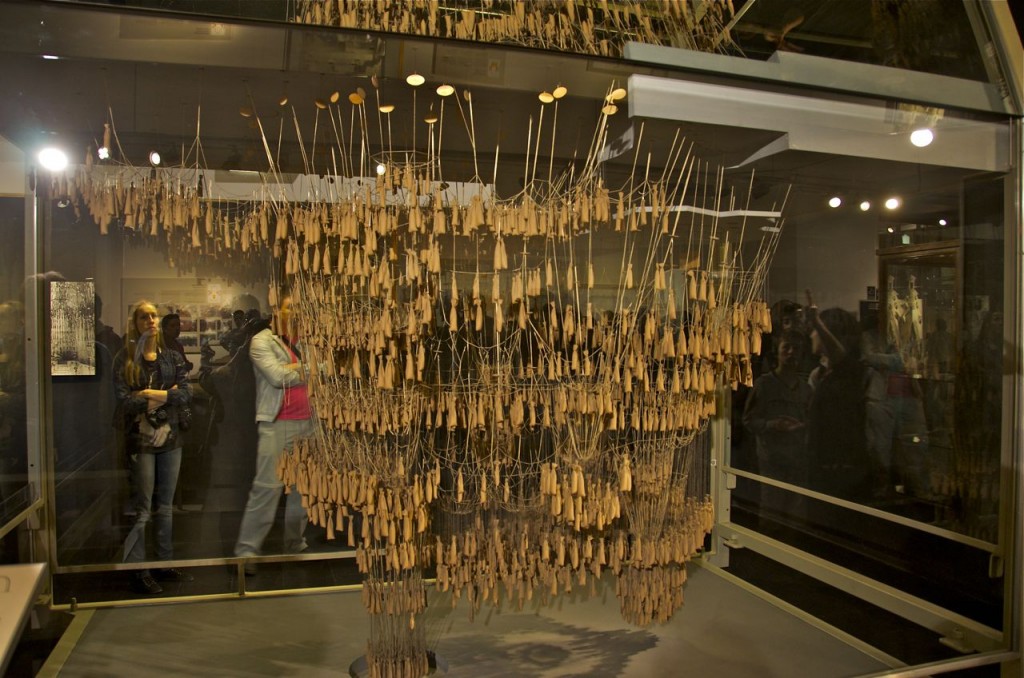 Gaudi designed all of his projects upside down. He attached little sand bags along a string to illustrate how tension would affect a particular design quality that he wanted to achieve.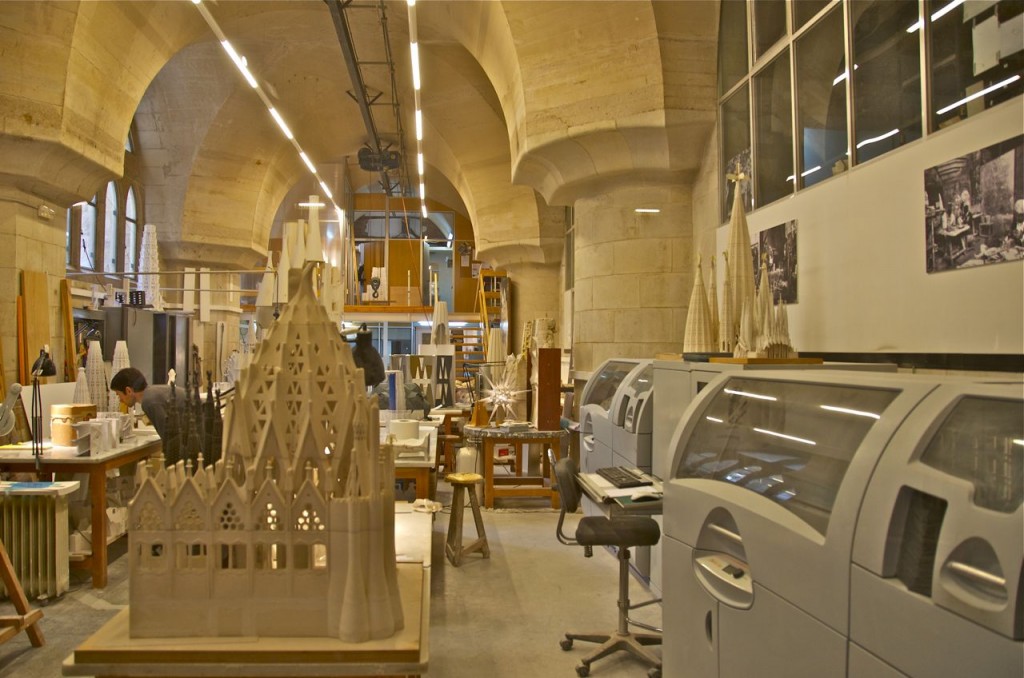 The basement contains the design workshop. When Gaudi, a true genious, died much was left unknown about how to accomplish his design concepts. He had built models of every aspect of what he wanted to accomplish but they were destroyed in the Spanish Civil War.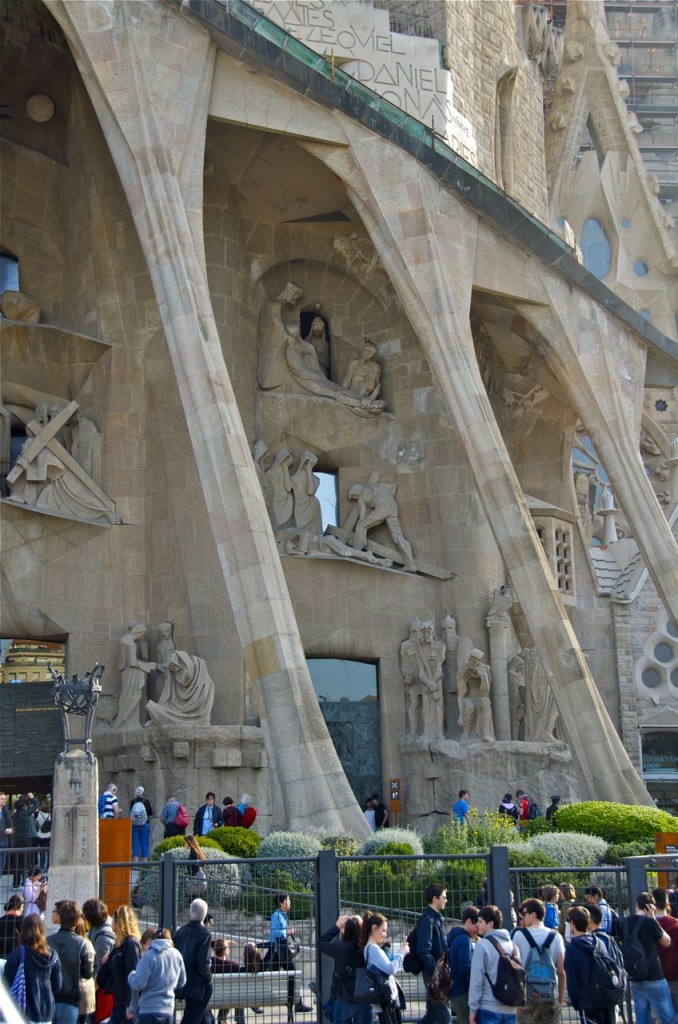 This is the west entrance of Sargrada Familia. As you can see it is totally different from the east entrance. Stark and rugged,  this is Guadi's concept of the end of Christ's life and his interpretation of death.
Mathew 26:34  "Truly I say unto you. That this night, before the cock crow, you shall deny me thrice and he went out and wept bitterly."
Simply and magnificently powerful the pillars and ledges portray the end of Christ's life.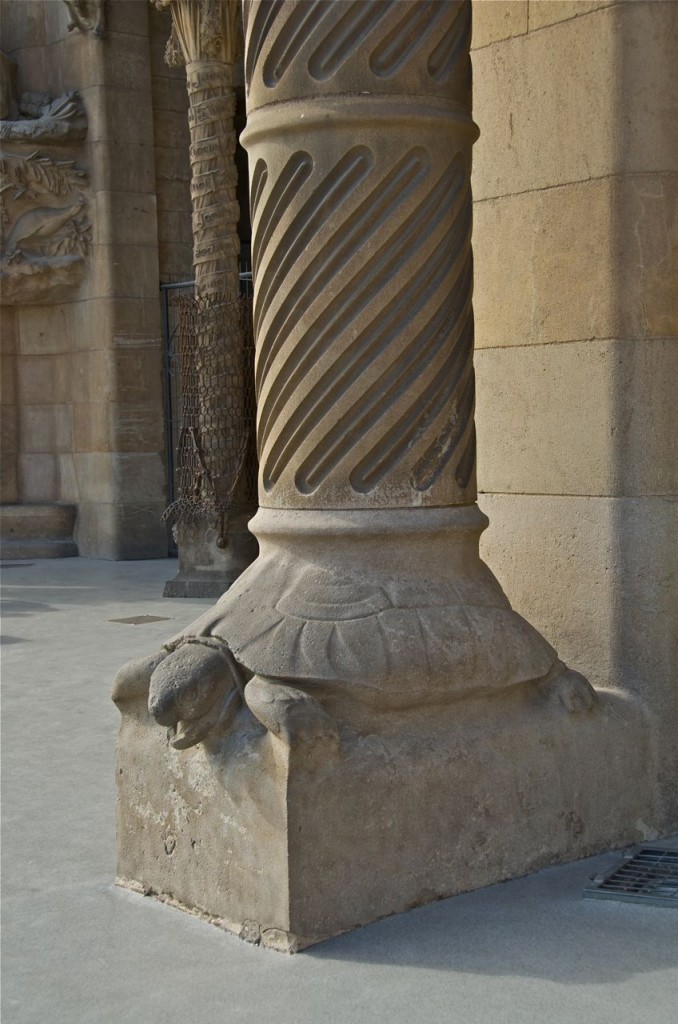 There are stunning details everywhere, so many in fact, I almost missed this lowly turtle balanced on a simple block of concrete holding-up one of the major columns of the east entrance.