Traveling is the most fun when I have one unexpected experience after another, and I'd put our trip to Toledo in that category. Our adventure in Toledo started with a most delightful treat when we entered the Madrid Train Station to purchase our tickets to this Medieval hill town. When you walk into the station the first thing you see is a huge atrium with a giant tropical garden growing in the center of what resembles a great hall with a glass roof to let in a diffused light from the brilliant Spanish sunshine. At one end of the garden is a pond filled with dozens of turtles that laze about on rocky outcrops or paddle slowly in the water. The air is cool but slightly humid. The rest of the building is filled with eateries, gift shops and it's packed with travelers dragging their wheeled luggage every which way looking for departure gates. We couldn't get tickets for Toledo that morning, the seats were all booked, but we reserved two seats for the following morning, and then we sat on a bench to 'people watch' while we munched on churos, a delicious fried sweet dough sprinkled with sugar .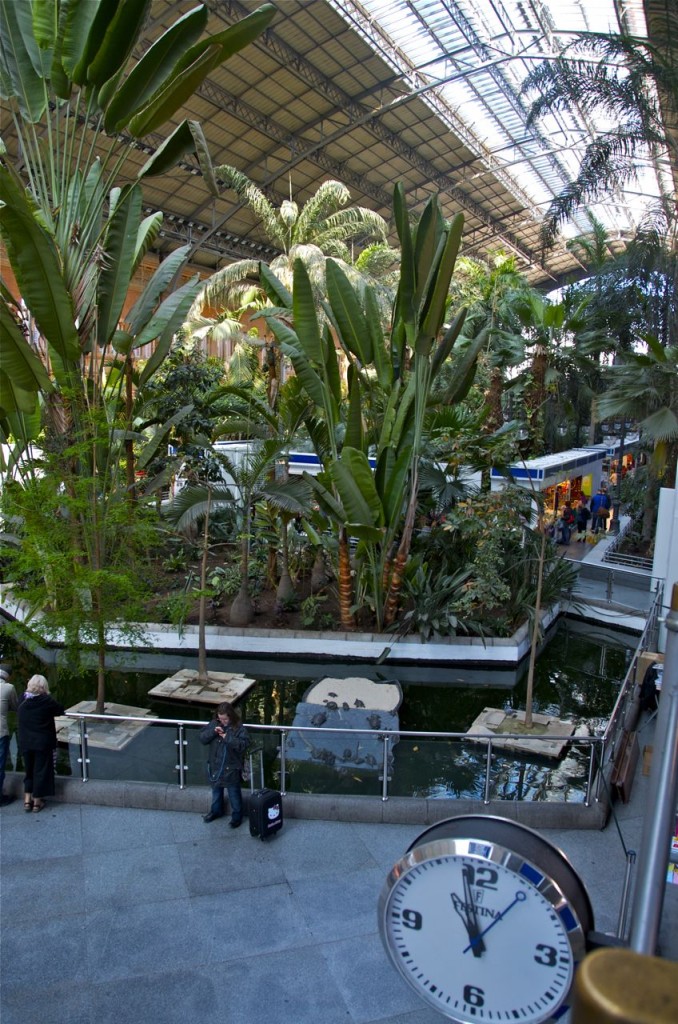 That next morning we got up early, headed for the train station, tickets in hand, ready for our adventure in Toledo.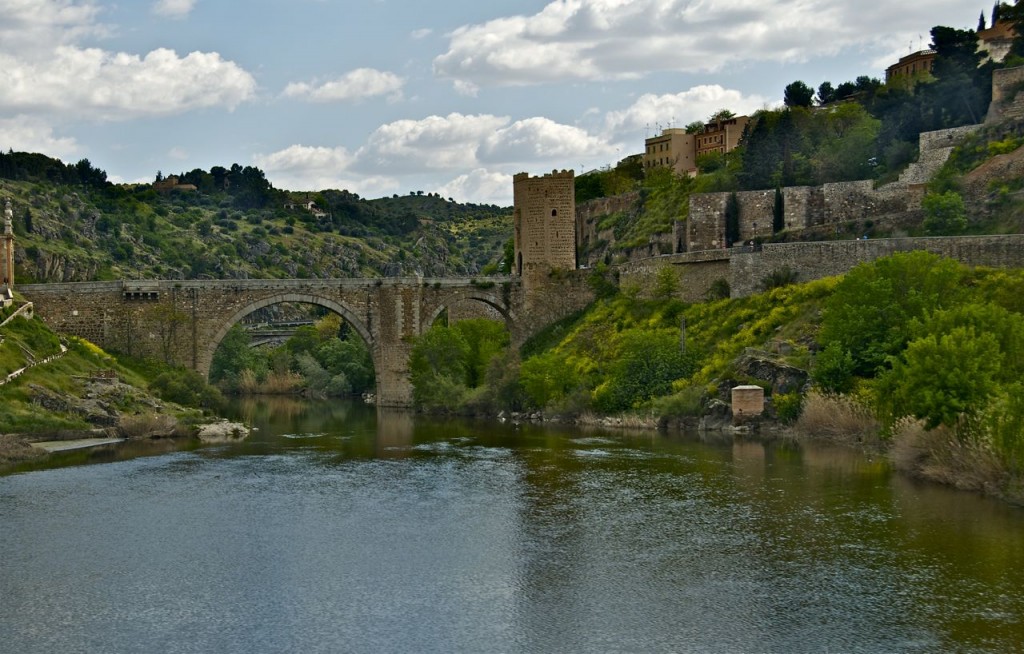 The trip from Madrid to Toledo took a little under an hour on a super fast train that cruised at a speed of 228 km/h (141 mph). When we got to the Toledo station we boarded a bus that took us to the center of the city, though the ticket master in Madrid had said the city center was a short walk from the Toledo train depot. He also told us that it was an easy walk. I'm glad we took the bus because the center of the city turned out to be at least a one mile walk up a rather steady incline.
Our bus crossed the Tagus River where we got a look at the Puente Alcantara Bridge, a stone structure built by the Roman's in the Second Century. During the Middle Ages this bridge was one of several entrances into the town. In 1921 the bridge was declared a national museum.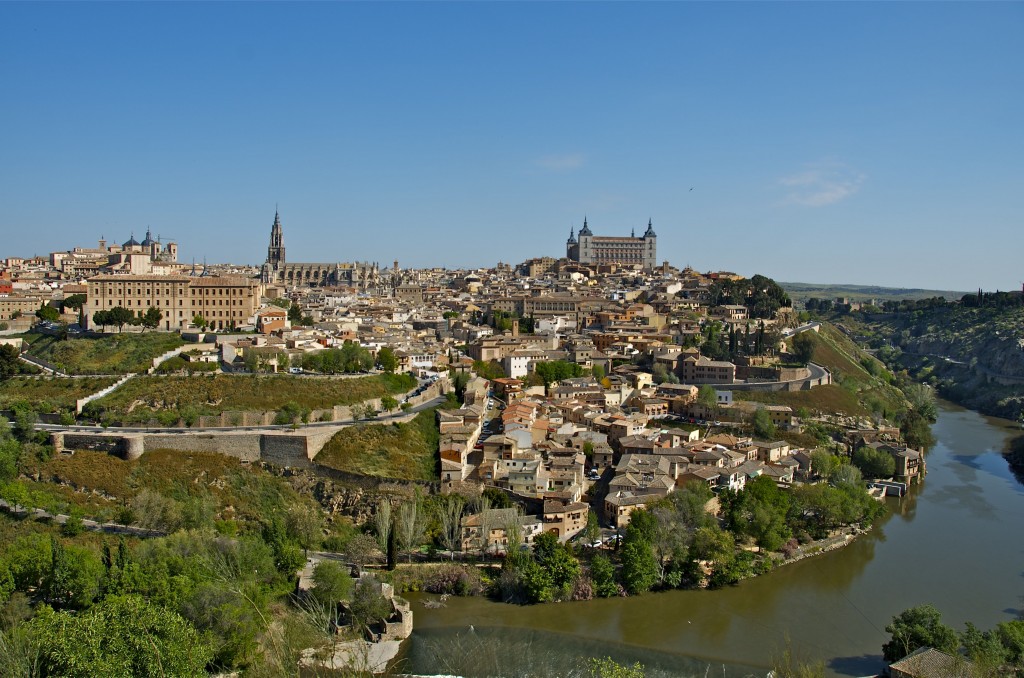 Toledo is an intact Medieval hill town filled with narrow streets that wind and twist often dead-ending unexpectedly, leaving any first time visitor to this city bewildered and easily lost. We opted not to take a guided tour and decided to manage on our own. Initially we wanted to find a major destination site, Primate Cathedral of St. Mary of Toledo, a structure begun in 1226 under the rule of Ferdinand III. But we found no street signs pointing the way. We tried following a map, and that was useless. Most of the streets were unnamed, or we found that if they did have a name it didn't match the name on the map. We wandered up and down these cobbled streets, not frustrated, but curious about how the locals got around in this confusing place. So, we just set out to see what we could see. We stopped to have a late breakfast at an eatery in the middle of a shady courtyard. We chomped down on fried eggs, potatoes and local sausages and then fortified, we set out again to see what else this town had to offer. We sort of had a plan, but everything was so extraordinary and unlike anything that we'd seen before, that it didn't matter where we were headed.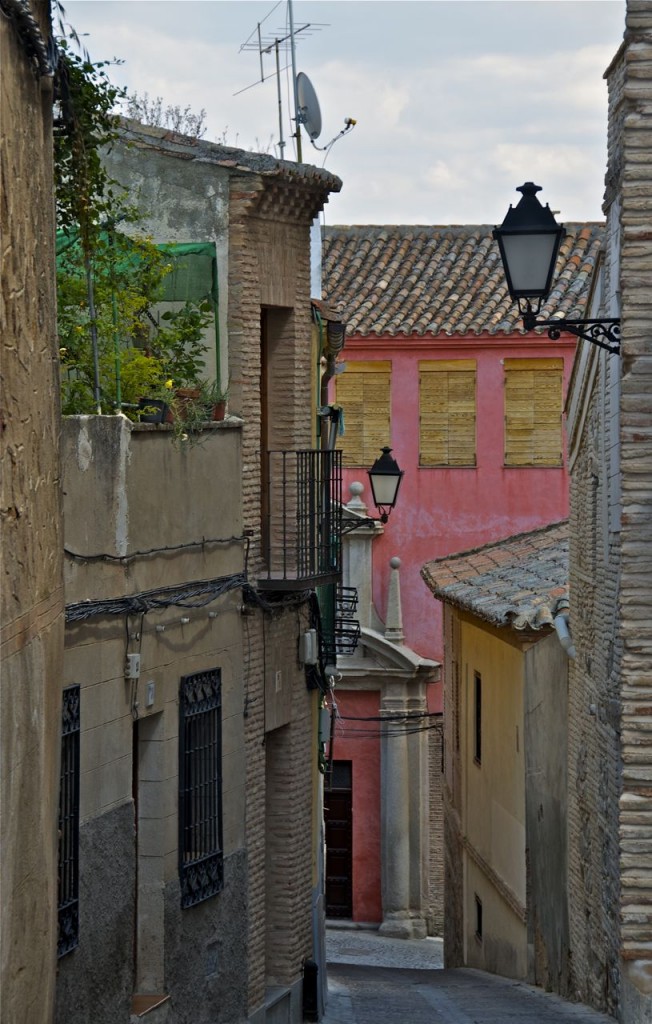 We walked up one street and then down another, frequently having to make left or right turn decisions. These narrow streets are just wide enough for the smallest compact cars. We watched one woman maneuver  her car into the tiniest garage I'd ever seen. She went back and forth quite a few times until she finally managed to pull into the garage, and as she made a last turn we heard the shrill sound of a rubber bumper squeeze against the outside wall.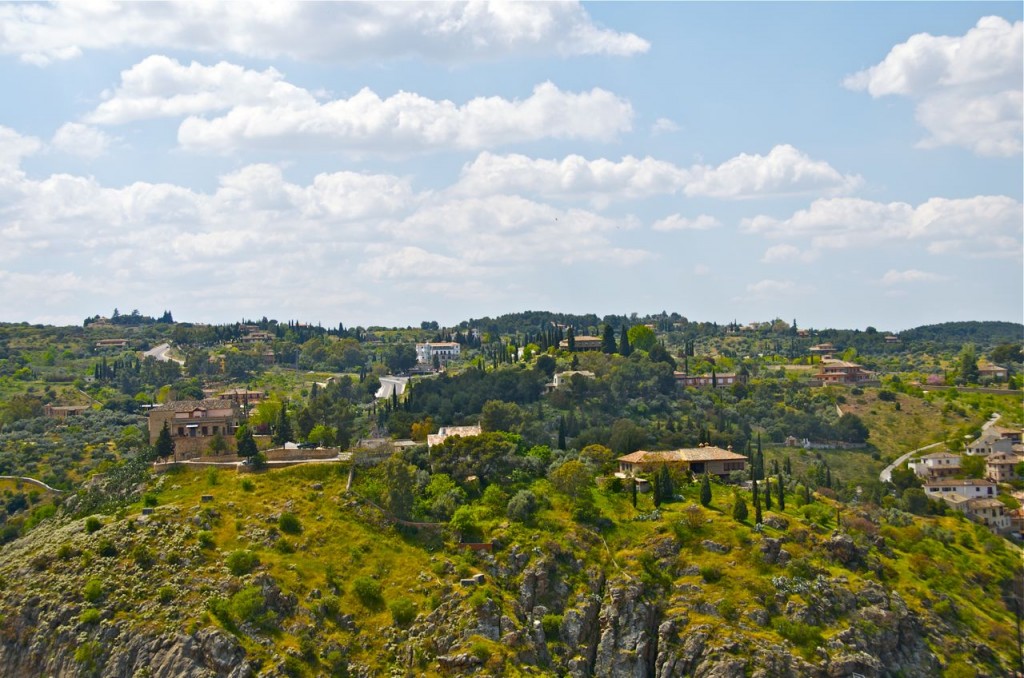 One street dead-ended in an area that looked out onto the homes, some quite palatial, that were built on the hills surrounding the city walls of Toledo.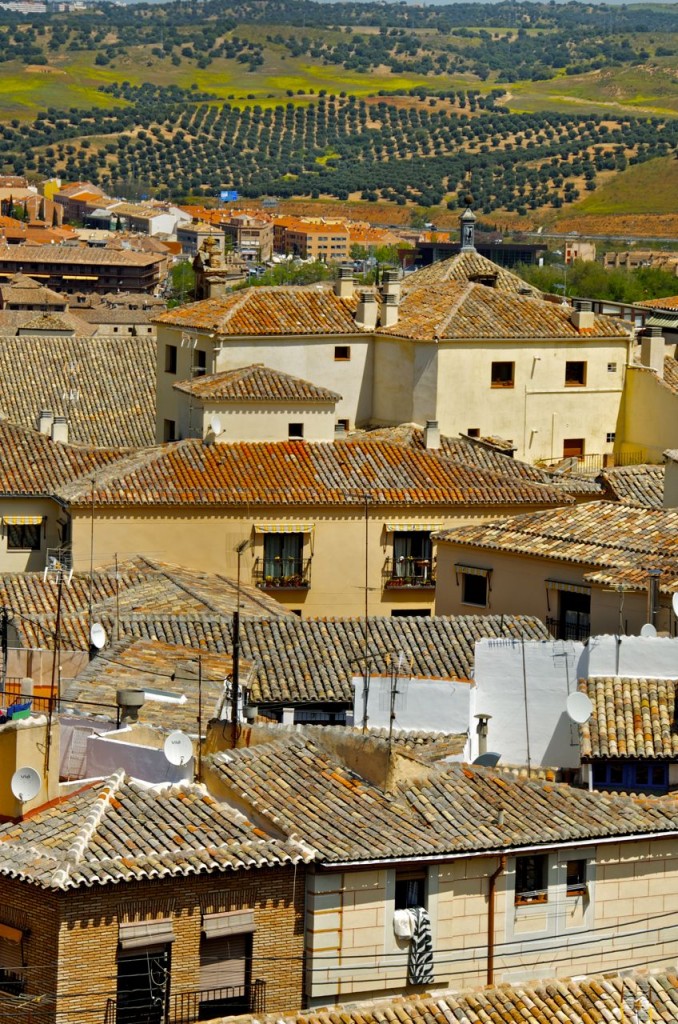 This is a view from atop one of the places that looked out onto the houses contained within the walls of Toledo with an olive tree orchard in the distance.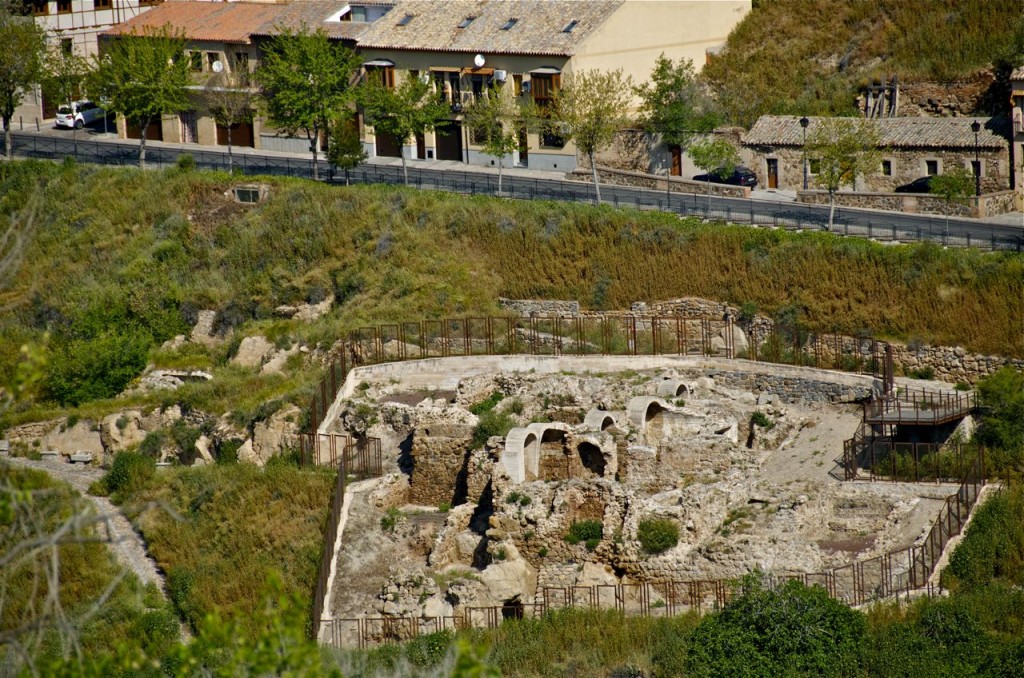 On one street we looked down onto what we thought was an ancient burial crypt.
Deeper and deeper we walked into Toledo, totally oblivious of where we were or how to get back to the train station. We were hot and tired but the excitement of the unknown pulled us onward and we made a left turn and then a right, wondering what we would find around the next corner.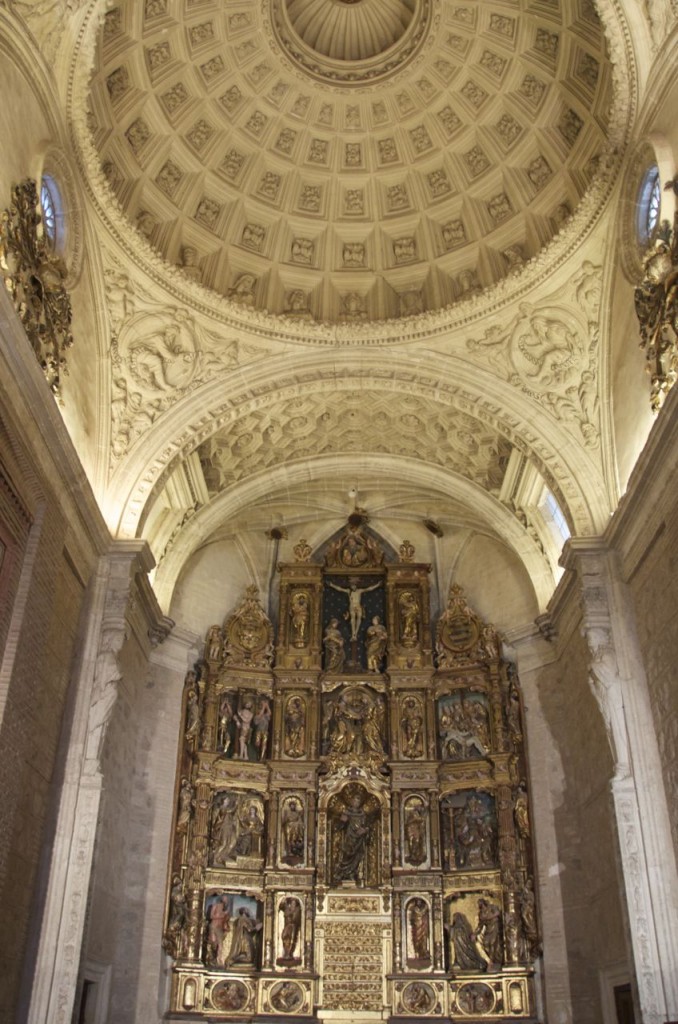 There are small churches everywhere in Toledo, hidden away, no longer houses of worship, but now historical destinations for tourists. For 700 years Jews, Muslims and Christians coexisted in this hill town, each faith participating in their own places of worship. But then in 1411 a repressive era began in Spain. Jews and Muslims were forced to convert to Christianity. Synagogues and Muslim temples were converted into Churches and in 1492 unconverted Jews were expelled from Spain. The Muslims were expelled in 1502.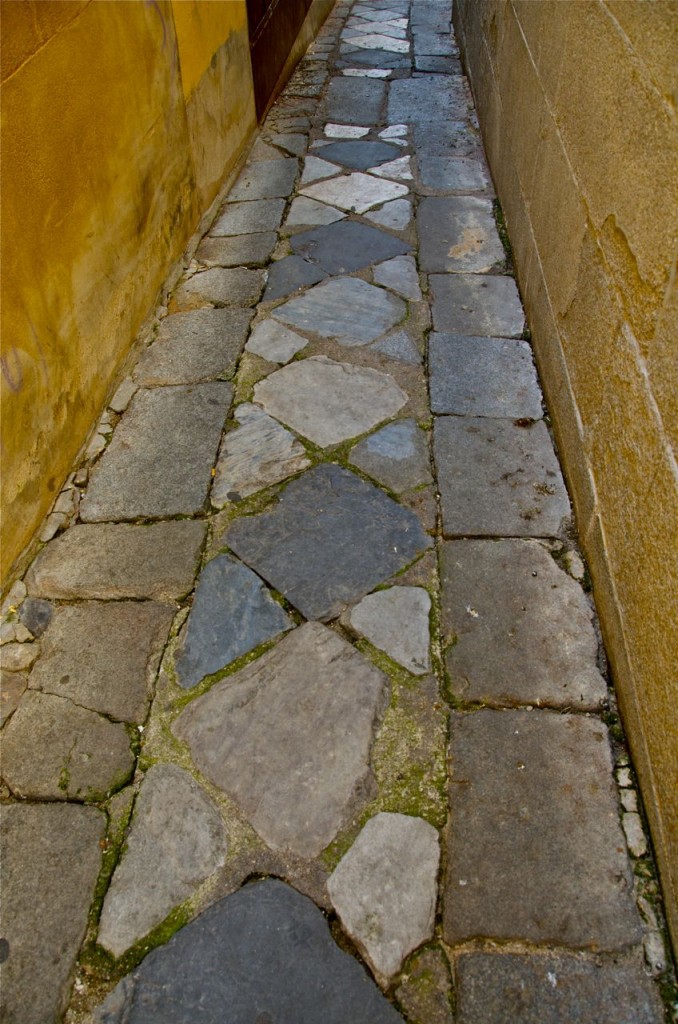 Many of the walkways and alleys are inlaid with decorative stone patterns. New construction is restricted within the walls of Toledo. In 1941 the city was designated a National Monument and then in 1986 it was declared a World Heritage Site.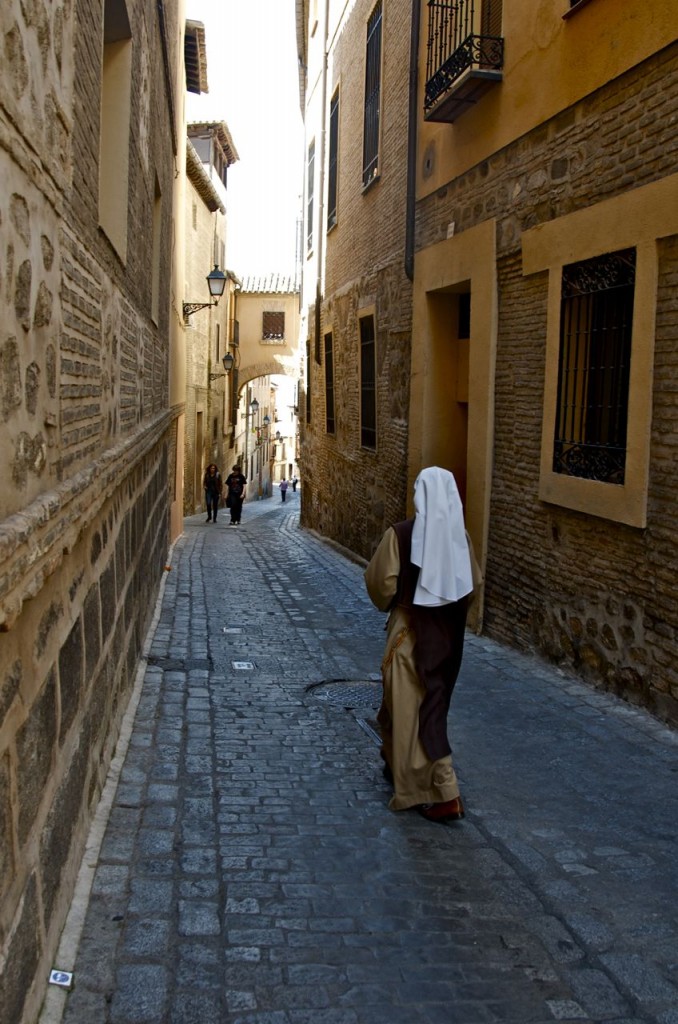 We had been exploring Toledo for hours. We saw so few people on the streets that several times we believed for a while we were the only people in this town. And then we turned a corner and saw a nun walking along a deeply shadowed street with the bright sunshine splashed against the wall in the distance.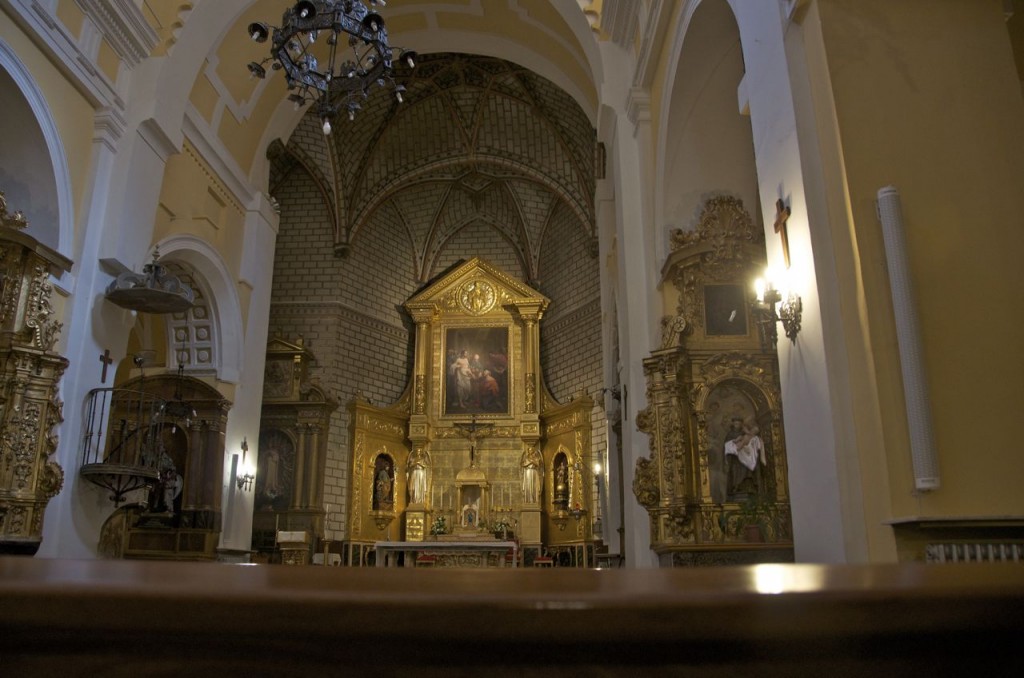 Wandering along the off-beaten streets in Toledo, having given up the use of a tourist map, no longer knowing where we were, we realized that it didn't matter. Being lost in this Medieval town was enough of a pleasure.
Then totally unexpectedly we came upon the Church of Santo Tome where El Greco's painting The Burial of the Count of Orgaz is on permanent display. In 1577 El Greco (the Greek), considering Toledo to be a city suspended between Heaven and earth, traveled to this hill town to seek his fortune. I was unable to take a photo of his painting because there was a very observant guard standing nearby a 'no photo' sign, but I did manage to quickly snap a shot of the Church's interior.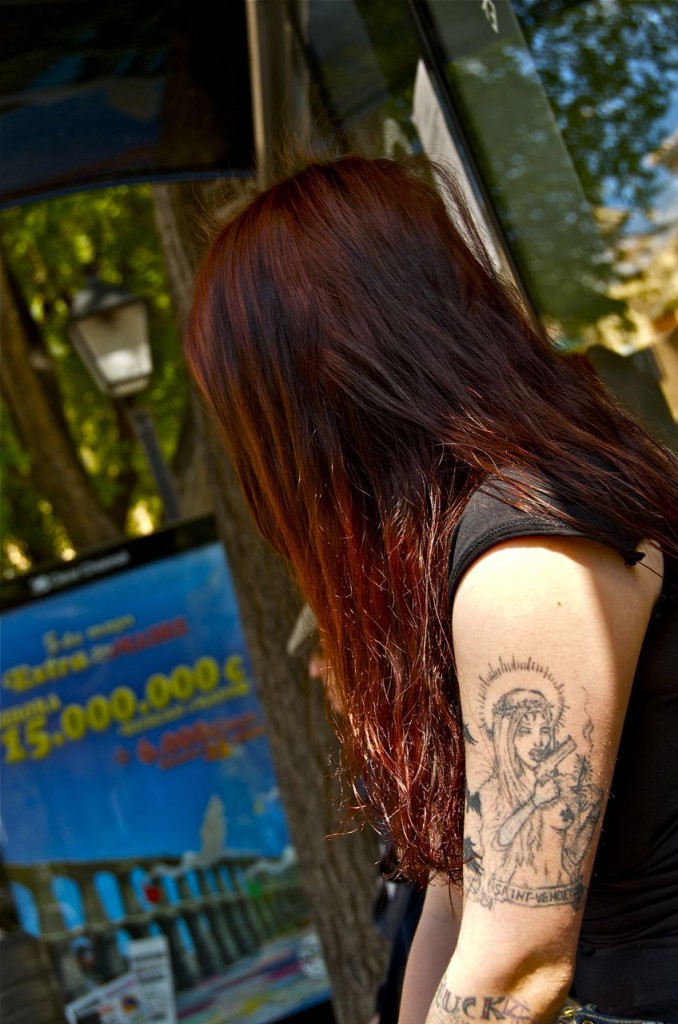 We had been walking up and down Toledo for many hours, the Spanish sun beating down on us and at one point we didn't think we'd ever find our way out again. We'd seen Medieval Knight's armor and learned that Toledo had been a traditional sword-making, steel-working center since 500 BC and that Hannibal used Toledo weaponry in the Punic Wars. We learned that this city was famous for Manchego cheese and that it has a special sweet delight,'mazapan de Toledo'.
But it was time to leave. And it didn't look like we'd find our way out on our own and then we saw a young woman with brilliantly dyed hair sitting in the sunshine at a bus stop. We quickly crossed the street and asked for directions to the center of the city where we knew we could catch a bus to the train station. Her English was very limited, our Spanish even worse, but with the help of an elderly gentleman sitting next to her they managed to assure us that if we got on the bus with them that we'd end up in the middle of the city. Relieved, we leaned against an ancient rock wall and I couldn't help but take a photo of the tattoo on this young woman's arm.