Last year at Christmas we bought a live tree, a short thing standing about three feet tall. It's a prickly tree with a funky bald spot, probably the result of the burning sunshine and under-watering during one of last summer's hot spells. It serves it's purpose though and we decorate it as though it was the princess of trees. But it's mid January, time to dismantle the holiday decorations, put them in the cupboard and move the tree back out onto the terrace.
Yesterday as I was packing away the Christmas and New Year decorations I got an email from Charlotte, the art designer for the cover of FISH KICKER, my novel that will be published by MuseitUp.com in March. She sent a questionnaire to be filled out regarding the main character, Sharon, the setting of the book, location, the era in which the story takes place, and she wanted to know if there was anything in particular that I wanted to be included on the cover. Well, you can bet after reading that email it took me no time to pack up those decorations and get busy with this new task at hand.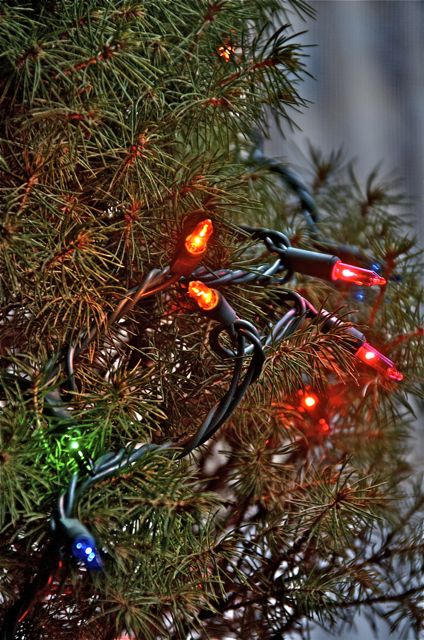 Every year taking the lights off the Christmas tree has the same effect on me. I unravel the string of lights from around the limbs of the tree wondering what the new year will bring. I've stopped making New Year resolutions. They're really only wishful thinking and any list I've made in the past got tucked away on the bottom of a pile of notes that were on my list to clear away.
This year is different, after writing for more than three decades I have a novel coming out in March. Sure, I've had short stories, memoirs and articles published, but this year it will be a novel. For years I've put "get a novel published" at the top of my New Year resolution list.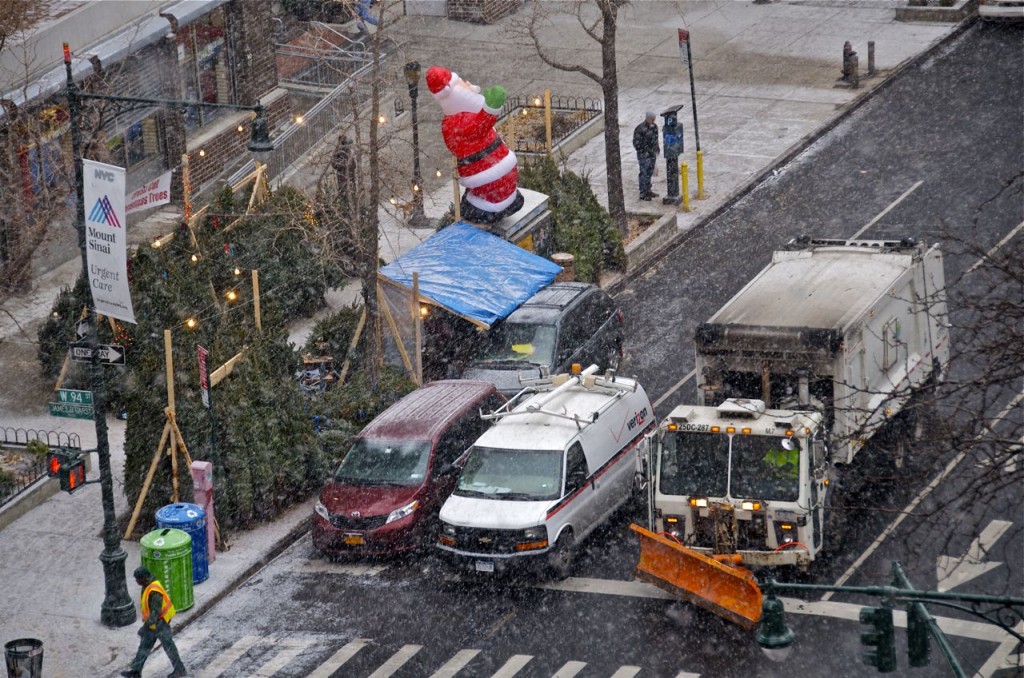 We had a couple hearty snow storms this year before Christmas Day. On one of these snowy days I emailed the publisher to ask when I would hear about the cover art for FISH KICKER. She told me to be patient and assured me that it would happen.
I remember looking out onto the street that day, Christmas trees for sales sparkled with the new fallen snow. Garbage trucks, busy collecting debris, ready for the snow storm with heavy plows attached to their front bumpers. I was excited anticipating a blissfully snowy Christmas. But the accumulations was poor, lasting only a couple days.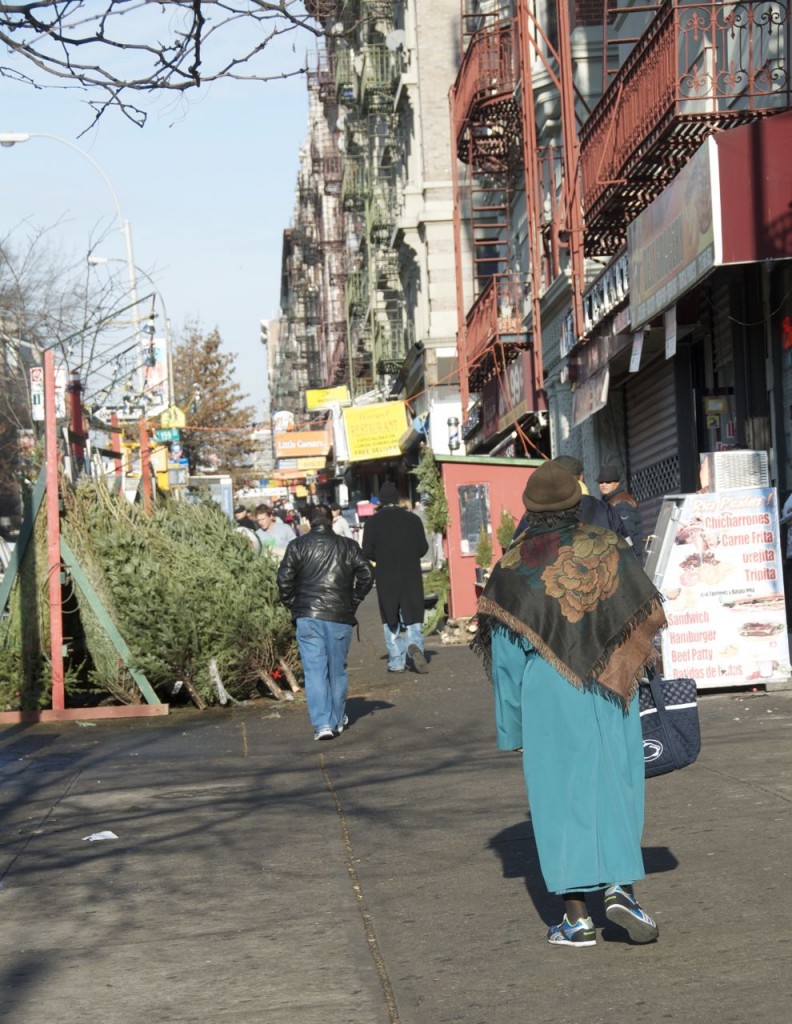 Several days later the weather turned so beautiful it felt like spring. Christmas trees lined up on the street now looked out of place in the bright sun and warm temperatures.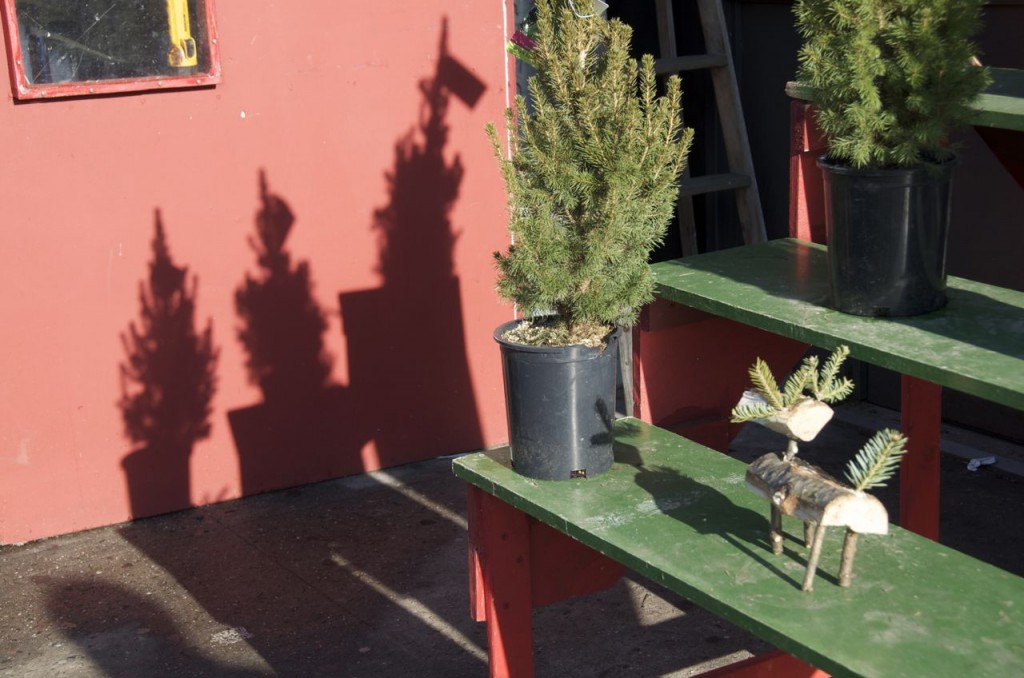 This unseasonably warm weather lasted only a couple of days. I took a walk, stopped by a Christmas tree concession and took a couple photos. The people who work in these seasonal popup tree stalls also make little forest creatures out of broken and discarded tree pieces, crude reindeer that look like they'd hobble comically if they were to come alive.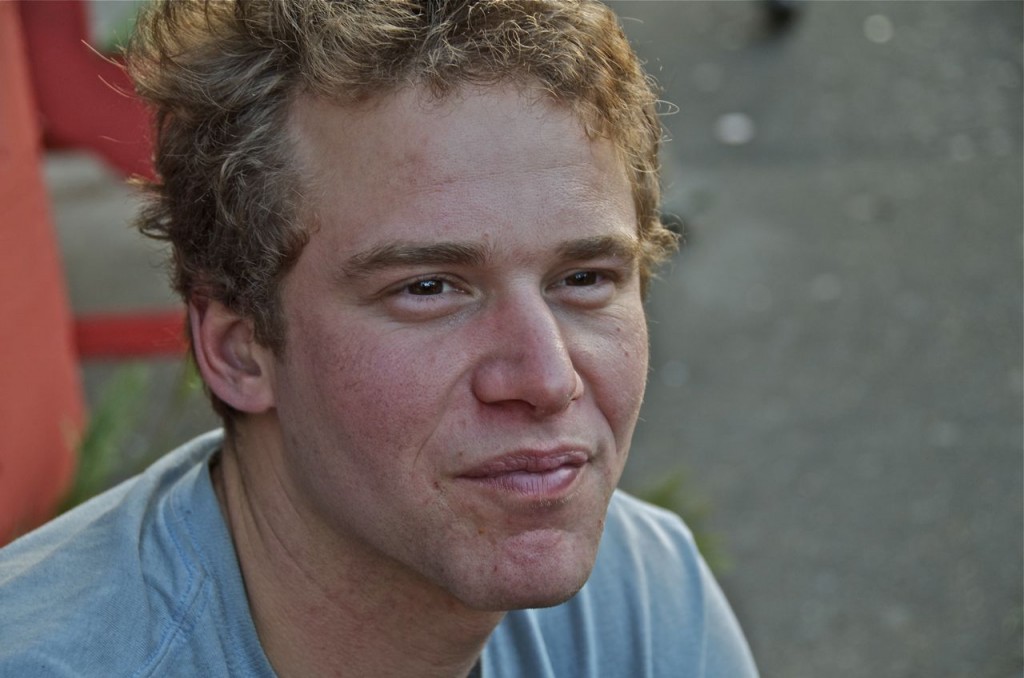 I talk briefly with the young man attending to the tree concession. Most of the Christmas trees trucked into the NYC area come from Vermont and the workers who manage the sales are also from Vermont. This young man works 12 to 14 hour days, sharing the stand with one other guy. They are open 24 hours a day, not that someone might purchase a tree in the middle of the night, but they make sure that no one runs off with the greenery.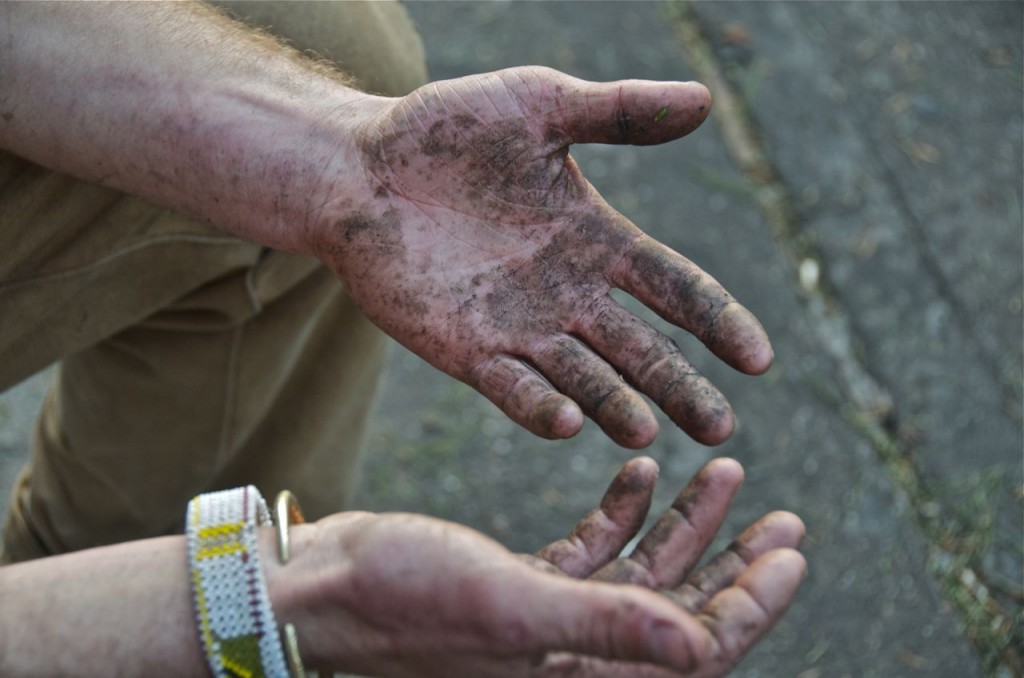 There are few creature comforts for these Christmas tree vendors and these hands, filled with pitch, pine needles stuck in the crevices, will take days, perhaps weeks to get clean again.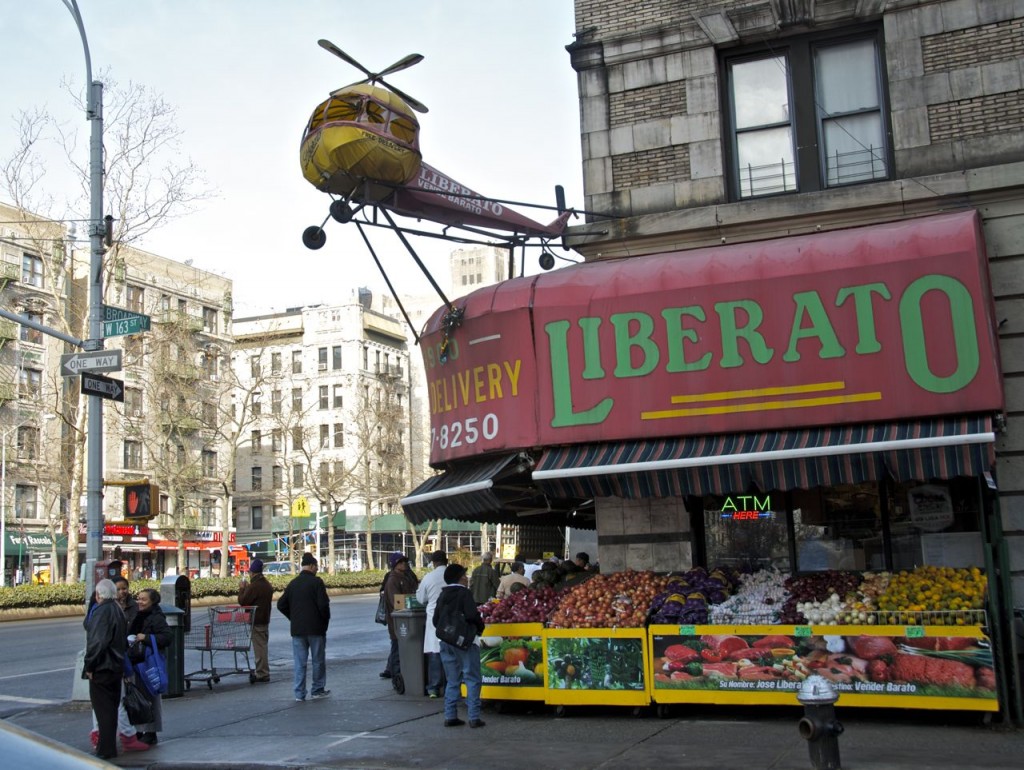 On this lovely day I continued up the block. I had not expected to see a helicopter flying above a vegetable stand. But then there are lots of things I haven't yet see in NYC. A sign said they have a delivery service and…. No! They wouldn't deliver it in that old beat-up flying machine.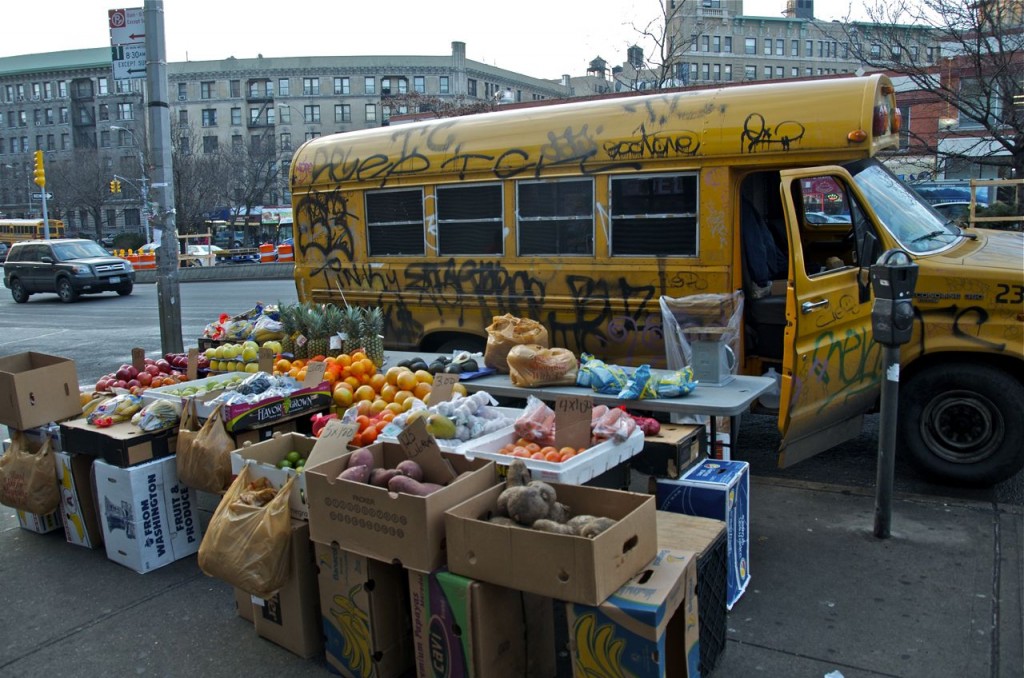 A little farther up the street was a veggie and fruit street vendor. He had a late afternoon set up time. The sun was slipping behind the tall apartment buildings. A chill had  settled in, but the owner unloaded his delivery truck, a yellow school bus.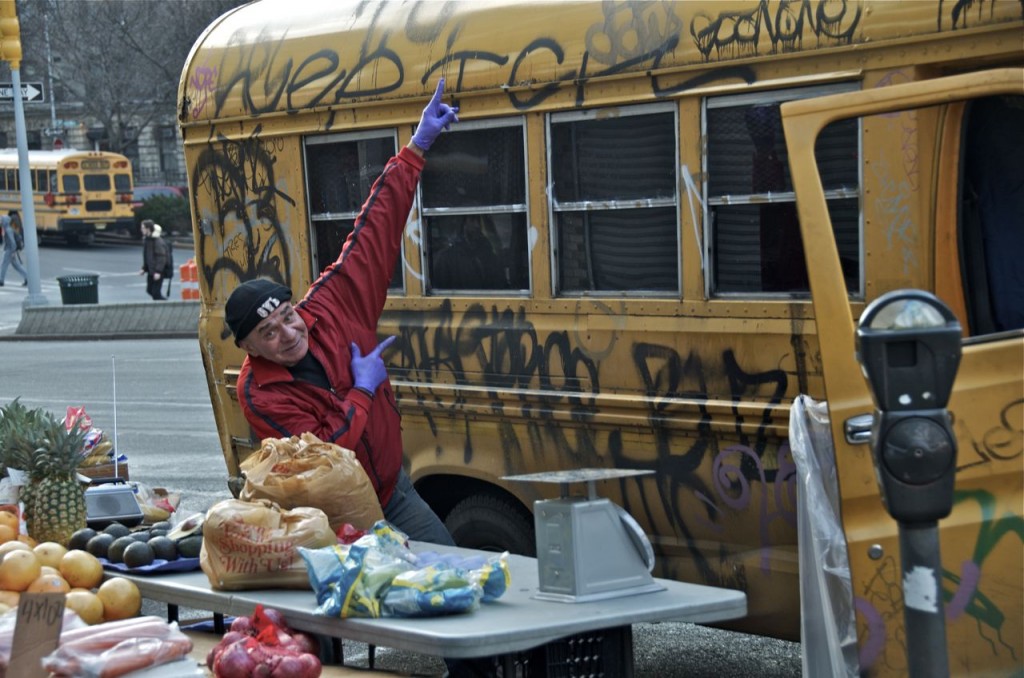 We stopped and talked for a while with this guy. He was proud of his yellow bus, even with the graffiti. Don't you love his purple rubber gloves. He sets up his vegetable stand every Sunday, rain or shine. "Hey, a guy's got to make a living," he said.
As I write this blog post, NYC is in the midst of a major snow storm. They predict up to 5 maybe 8 inches, and right now the stuff is not falling, but blowing horizontally across the streets. The Christmas tree stands are gone, the Vermont vendors are home where they probably already have at least a foot of snow. It's hard to tell what the weather will be like this Sunday for the veggie guy. I suspect that if this city gets dug out by the weekend, he'll open his stall.
When I finish writing this blog post I'll finish filling out the questionnaire Charlotte sent me and send it off to her in an email.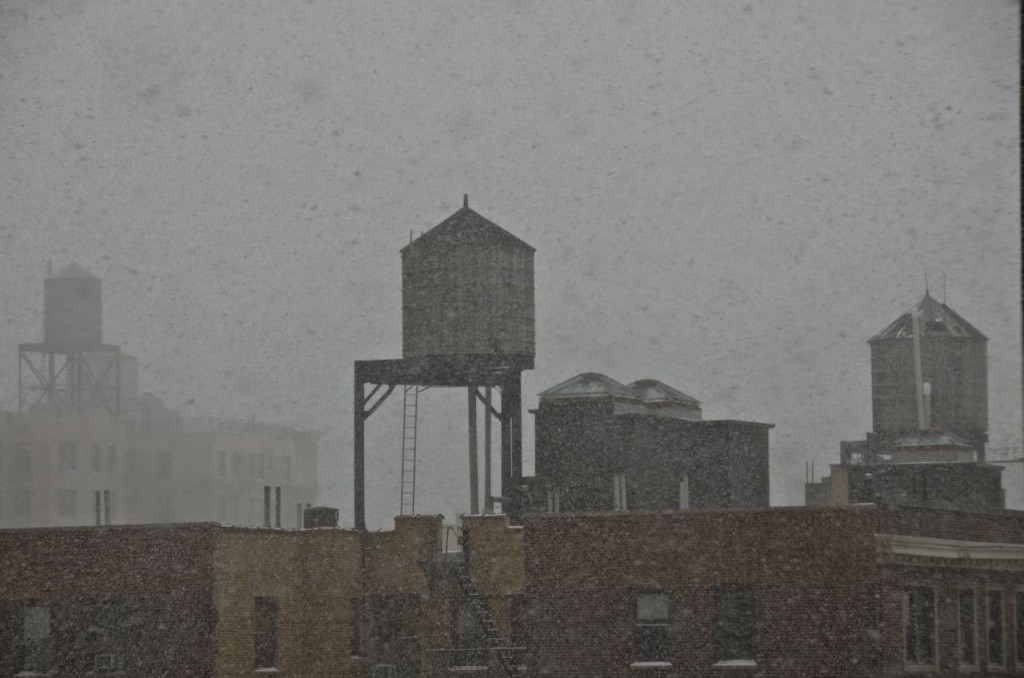 By the way, this is what it looks like outside at this moment.
So, now I wait to see what Charlotte comes up with as a cover for FISH KICKER. Stay tuned.