A couple weeks ago while I waited for FISH KICKER, my novel, to be launched I decided to take the subway into midtown and see what kind of celebration had been erected in honor of Super Bowl. This year New Jersey hosted the Super Bowl. But by the looks of NYC you'd have thought we were the State throwing the party. Broadway was decked out in Super Bowl activities in the 9 blocks from 42nd Street to 34th Street, and for the week prior to the game that area was named Super Bowl Avenue.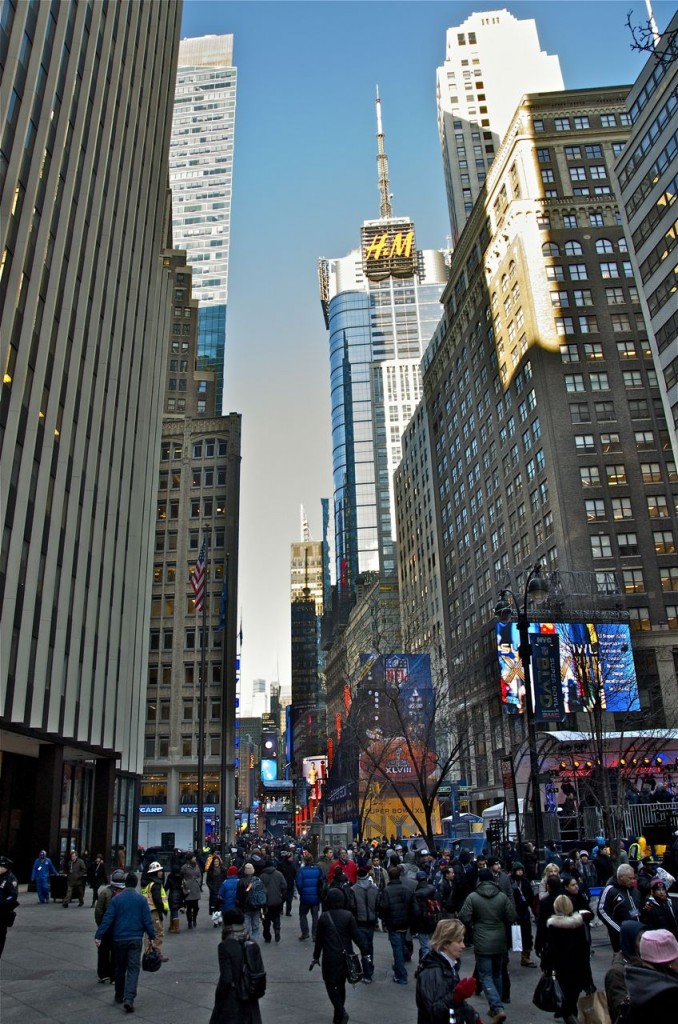 The weather was freezing the week before the Super Bowl and everyone was bundled in heavy coats and hats with the fans of the Broncos and the Seahawks displaying their team's colors with scarves, hats or jackets. Early in the week it looked like there were mostly Bronco fans, but then as we got closer to the weekend, Seahawk's fans arrived in droves and the city had a good mix of fans from both teams.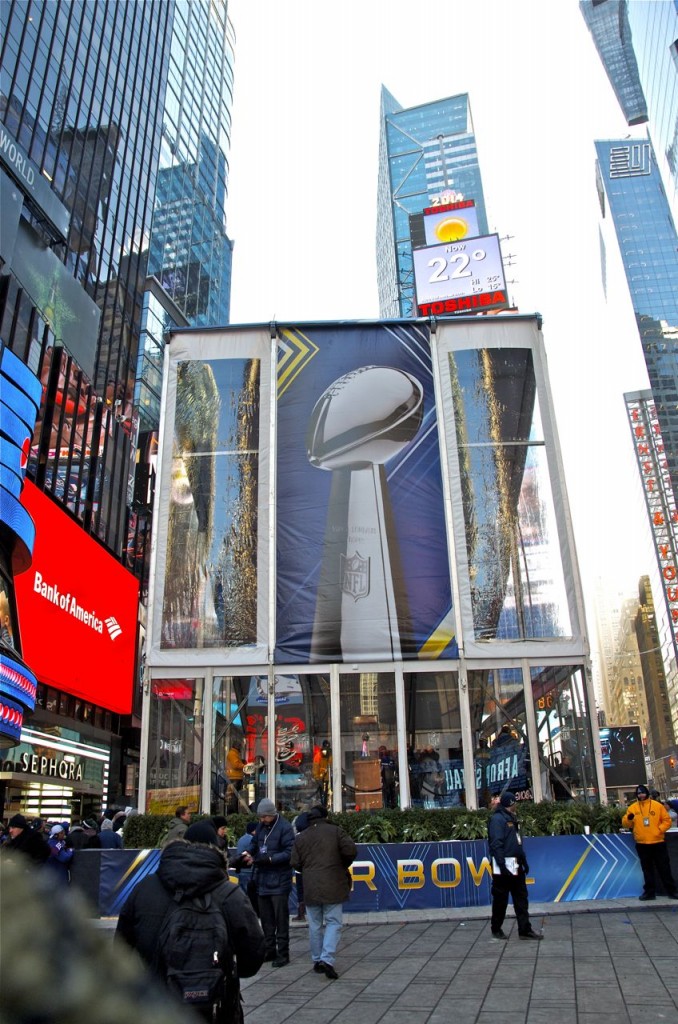 The Super Bowl torphy was on display in Times Square and people waited in line for hours to get a photo op with this silver award.
This guy, when I spotted him standing in line, had at least another two hours to wait before he and his pooch would get their photo taken with the Super Bowl Trophy.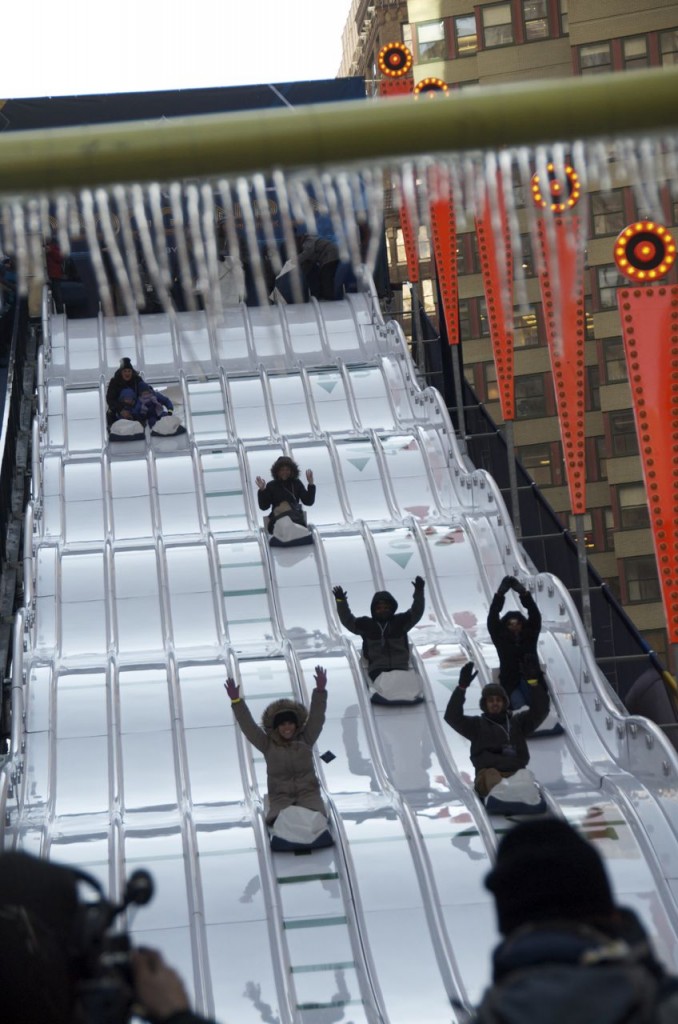 One block of Super Bowl Avenue was taken up with a giant slalom. I visited this area on a freezing Thursday afternoon and watched as a long line of people waited to climb up the stairs of the slide to take the 15 second ride, which cost $5. On Friday my daughter took Devon to Super Bowl Avenue after school. The day was bitterly cold and she was told that it would be a 3 hour wait to take this short ride. They opted to do something else.
There were statues of players for visitors to stand behind and get a pretend shot of a running Seahawk or Bronco player.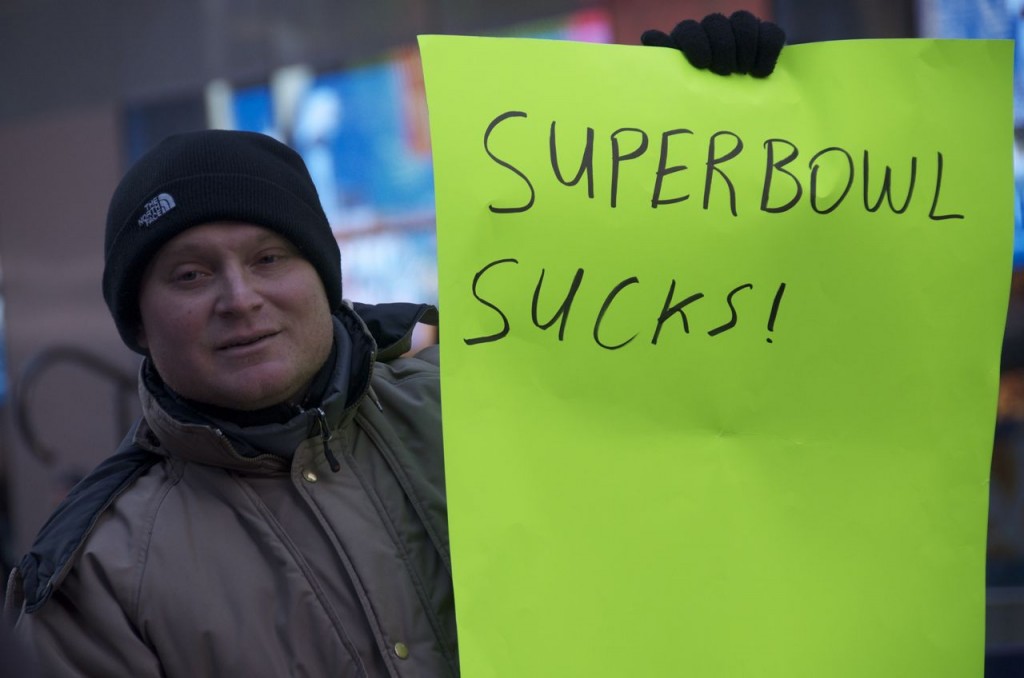 There was one guy, a Super Bowl protester. He didn't say anything, but stood stoically, and held his sign while tourists took his photo.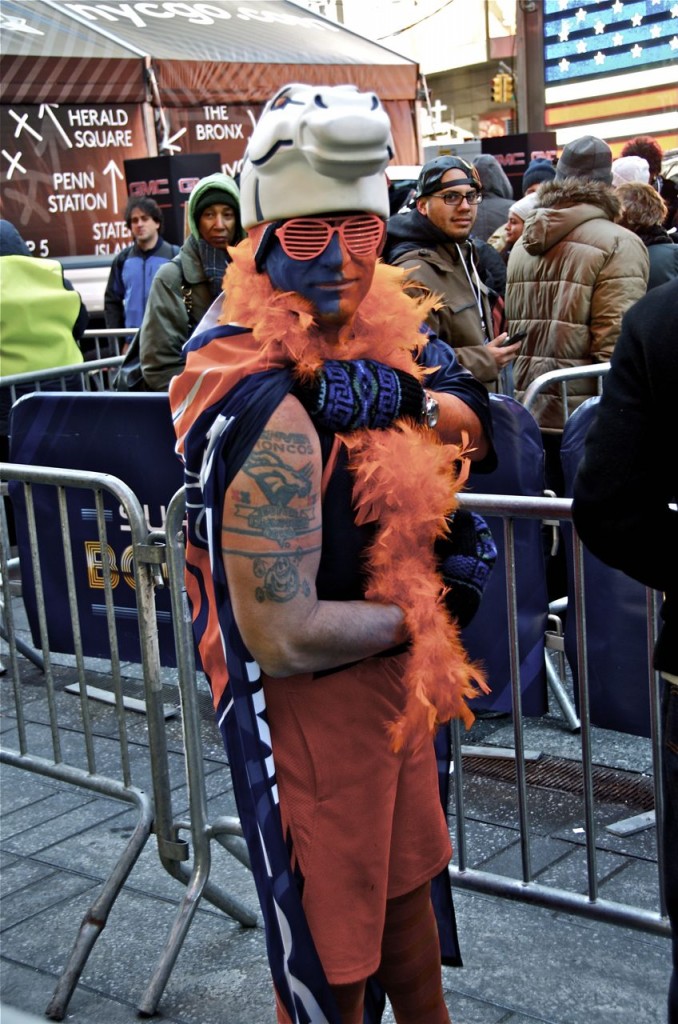 The score of the Super Bowl game was  Seahawks 43 Broncos 8. I watched the game at home on my TV. I was disappointed, not that the Seahawks won, but that the game was so lopsided and boring. I expected excitement. I wanted to see great plays and tons of energy. Instead the Seahawks tromped all over the Broncos. The game felt flat to me.
I remember seeing this guy, dressed head to toe in Bronco colors, waiting in line to get his photo taken with the Super Bowl trophy. His face painted blue and orange, wearing a horses hat, he unabashedly bragged about how the Broncos were going to win the Sunday game, hands down, no problem. He said he went to all of the Bronco games and always dressed this way at every game. He rolled up his sleeves, flexed his muscles to show off his Bronco tattoo, and though he had at least another two hours to wait for his photo op with the trophy, he was sure his team was going to come out on top.
That Sunday night the NYC airports were crowded with Super Bowl enthusiasts catching red-eye flights back to the West coast and I wondered how this orange and blue Bronco fan would dress when he caught his flight back to Denver.
The weather was delightful for the Super Bowl Game, a balmy 43 degrees. But the following day, well, that's another story. It started to snow about 7:00 AM and three hours later it was still coming down and I couldn't help but wonder if the game would have turned out differently if the weather had been less idyllic?